Lees Den – Houston's newest speakeasy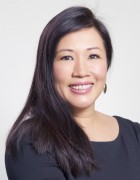 Click the Buzz Me button to receive email notifications when this writer publishes a new article or a new article in this column is published.
What's on the menu?" asked Chrisanna Shewbart.
"Broadbent ham and Gouda cheese on Japanese milk bread," replied executive chef Maria Gonzalez. "Have you tried this ham? It tastes a little like prosciutto. But it's more affordable, about $90 for an eight-pounder."
Italian prosciutto runs about $140. Maria read about the dry-cured, hickory-smoked Kentucky ham at the start of the pandemic. She had time to pour over magazines. It was a scary moment. "I wasn't sure I would have a job," said the Art Institute of Houston culinary graduate. Her brown eyes darkened with recollection.
The moment passed, and Maria smiled when LFM – Local Foods Market general manager and wine director Chrisanna launched into pairing food with wine. After six years, their working relationship has grown into an easy-going friendship. At times, they even finish each other's sentences. The symbiotic connection has resulted in flawless food-and-wine pairings that started when the casual LFM opened last November. Now, their aptitude for this is front and center with the elevated five-month-old Lees Den.
After 25 years, Benjy Levit closed his namesake restaurant, and the Houstonian converted the space into a pop-up specialty food market during the Covid restrictions. It sprung roots and morphed permanently into LFM, which spotlights an upscale bodega as well as a laid-back menu anchored by daily specials, sandwiches, salads, and bowls. "Just when you think you have it all figured out, it is time to start changing things around," the restaurateur said.
Benjy expanded his offering with Lees Den, located above LFM and his signature Local Foods sandwich shop. Lees Den is a moniker with multiple connotations. First, it's a play on Leah, Benjy's mom. Their hangout was Lee's Den, a Chinese joint on South Main that has long since closed. Finally, lees are residual yeast cells, byproducts of wine fermentation. Winemakers say lees add texture and complexity to vino.re
The 1,000-square-foot Lees Den with patio seating was once Benjy's Lounge, then converted into a catch-all storage space until Benjy tapped Brittany Vaughan of Garnish Designs for the make-over. The end result is wine-centric Lees Den, which banks on growing our curiosity about natural and small-batched wines along with the rising popularity of pairing cocktails with shareable bites. What sets Lees Den apart from many wine bars, however, are the 400-plus competitively priced bottles. Lees Den boasts a retail markup of 50 percent rather than the standard 300-to-500 percent restaurant hike, plus no corkage fee. Also, the all wine-based cocktails are $10 each in an era where most colorful libations are $12 or higher.
The journey to Lees Den reminds first-timers of a lower Manhattan speakeasy. They can go through LFM and walk up the staircase leading to the hard-to-miss "Bottle Shop" white neon sign, or they can enter the side of the building on 2424 Dunstan Road through a nondescript door under a signage awning that leads to another stairwell.
"Are we in the right place?" asked a 30-something, wide-eyed fashionista with her stylish BFF in tow.
"Keep going up. You'll get there," replied a silver-haired financial advisor, who had just had dinner at Lees with his wife.
The pairs can see a bustling room lined with red brick walls and charming chartreuse green velvet banquettes through a brass ship porthole. Despite its diminutive size, this quirky, eloquent space feels breezy, thanks to wall-to-wall windows overlooking Rice Village, high acoustic wood-slat ceilings, brass lighting, and cane-and-rattan furniture that conjures up Ernest Hemingway and an island ex-pat vibe.
Here, the mostly female staff zipped by with fresh seasonal crudos, tender sesame ginger meatballs, and a steak-and-potato combo reminiscent of legendary chef Joël Robuchon's famous butter-rich creamy mashed potatoes.
The menu is compact, with 14 seasonal bites and eight cocktails. This is intentional to cut down on the guesswork for guests. Chef Maria and sommelier Chrisanna have perfectly paired each dish with a cocktail or wine.
"Chrisanna and Maria have a shared vision," said their boss, Benjy. "Maria is tenacious and passionate. She is self-motivated (while) Chrisanna is driven. She genuinely is interested in teaching others about wine."
Maria approaches food in the same way. When the native Houstonian chats about ingredients, she gets specific. For example, it isn't just cinnamon but one from Vietnam that gives a little heat to savory dishes.
"It's almost spicy. I use it a lot in my food," she said, offering her pâté as an example. "I like cinnamon in savory dishes. It's familiar." Growing up in a large Mexican family, Maria and her three sisters learned to cook by watching her grandmother and great-grandmother, who added cinnamon to desserts, soups, and stews.
"My ideal pairing with the pâté is brut rosé," Chrisanna said. "For a cocktail pairing, I suggest the Champagne Cocktail with a raw sugar cube, rose and grapefruit bitters, brut rosé, and grapefruit zest. The acidity cuts through the richness while the slow dissolve of the sugar cube evolves as your palate adjusts to the nuanced flavors of the pâté. I love the way the cinnamon and grapefruit complement each other."
Another dynamic duo is Maria's Better Than Sex Cake, aka Robert Redford Cake on the menu, paired with Chrisanna's Port & Tonic cocktail, or a medium oak-aged, berry-forward Rhône Grenache wine.
For chocolate cake:
3 2/3 cups all-purpose flour
1 ¼ cups cocoa powder
2 tablespoons baking powder
2 tablespoons baking soda
3 ¼ teaspoons salt
6 ½ cups sugar, plus extra to coat cake pans
2 1/8 cups room temperature water
2 1/8 cups milk
1 cup canola oil
2 1/8 cups boiling water
For caramel mousse:
¼ cup plus 2 tablespoons white sugar
¼ cup plus 2 tablespoons Okinawa or regular brown sugar
¼ cup water
4 tablespoons unsalted Plugra butter
4 cups heavy cream, divided    
1 tablespoon vanilla paste
3 gelatin sheets (see note)
For coconut sauce reduction:
1 (13 oz.) can of coconut milk
2 cups soy milk
3 cups sugar
For chocolate cocoa nibs crunch:
1 1/8 cups semisweet chocolate
1 tablespoon olive oil
½ cup cocoa nibs
4 tablespoons Maldon salt
Preheat the oven to 300 degrees.
In a stand mixer, combine flour, cocoa powder, baking powder, baking soda, salt, and sugar for two minutes. Slowly add room temperature water, milk, and canola oil to form a paste consistency. Reduce speed, add boiling water, and continue to mix, occasionally scraping the sides, until a creamy consistency is created.
Spray two 8-inch leakproof cake pans with removable bottoms with nonstick spray and lightly coat the pans with sugar, which will form a delicious, light crust while baking. Divide the cake mixture into the two cake pans and bake for 45–50 minutes. When the cakes are done, allow them to cool slightly, then pop the cakes out of the pans. Chill the cakes overnight to make them easier to split into layers.
The caramel mousse also should be made a day ahead of time and allowed to cool and set in the refrigerator overnight. In a sauce pot, bring white sugar, brown sugar, and water to a boil. Reduce heat to low and simmer for 10–15 minutes. Remove from heat, then add butter and half of the heavy cream. Return the pot to the stove, and over low heat, add vanilla paste and gelatin sheets. Stir to mix and once sugar and gelatin melt, remove from the stove, cover the pot with a lid or aluminum paper, and store in a refrigerator overnight to set.
To make the coconut sauce reduction, combine coconut milk, soy milk, and sugar in a sauce pot over low heat. Stir and cook for 30 minutes. Remove from the stove and allow coconut sauce to cool in the refrigerator overnight.
For the chocolate cocoa nibs crunch, microwave semisweet chocolate and olive oil in a microwave-proof bowl until smooth. Evenly spread melted chocolate about ¼-inch thick onto parchment paper. Be careful not to spread it too thin. Sprinkle cocoa nibs and sea salt. Transfer to the freezer to cool and set overnight.
When you're ready to assemble the cake, whip the remaining heavy cream into the caramel mousse with a stand mixer until soft peaks form. Set aside in the refrigerator or a cool place.
Now, slice the two cakes with a serrated knife into four layers. Place one layer in an 8-inch cake pan with a removable bottom. Poke holes in the cake with a toothpick then spread 2 ounces of coconut reduction on top. Gently spread an even layer of caramel mousse on top of that. Place each cake layer on top of the other and repeat this process. You can make either a three- or four-layer cake. Use either whipped cream or the remaining caramel mousse to frost the cake. Store in the refrigerator until ready to serve. Makes 10–14 servings.
Note: You'll need to soften the gelatin sheets (called blooming) in a cold liquid, e.g., water, wine, or fruit juices. For this recipe, submerge the sheets in cold water for five minutes, or until malleable, springy, and jelly-like.
2 ounces Dow's White Port
1 (6.8-ounce) bottle of Fever-Tree Tonic Water
1 teaspoon pink peppercorns
1 slice fresh grapefruit
In a highball glass, add ice cubes, port, tonic water, and peppercorns. Stir and top with a slice of fresh grapefruit. Makes 1 serving.
For Summer, Think Orange Wine and More
If you're feeling adventurous with vino, here are three styles Maria and Chrisanna recommend trying this summer.
Orange Wine dates back 6,000 years. But few have heard of this alternative to rosé, a summer superstar that sells by the millions. Now orange wine is catching on with its wide range of beautiful sun-kissed hues – from orange sherbet to a russet Texas sunset. Orange wine is made with white grapes with more skin contact time than white wine, while rosé is made with red grapes with less skin contact time than red wine.
Orange wines' flavor, aroma, and body vary. The longer that juice and skins stay in contact, the more robust red-wine characteristics while retaining the high acidity unique to white grapes. Maria described orange wine as refreshing, the perfect pool wine. Chrisanna partnered Lees Den's crudo and grouper with it. At home, try a bottle of Ovum Ramato with prosciutto and melon or Wheat Thins with goat cheese.
Salty Wine sounds strange, but salt is a wine flavor profile. It's just not talked about much until recently, Maria said. However, drinkers are looking beyond traditional flavor profiles, and salty wine can give palates a pleasant jolt, especially with raw oysters or coastal-inspired dishes. There are several reasons for the briny notes. One is geography. Grapes in vineyards near the ocean soak up maritime air. Chrisanna's favorite is Ovum Big Salt. This Riesling-and-Gewürztraminer blend from Oregon starts with florals and aromatics that fool you into thinking it might be fruity, but it finishes with beautiful salinity and acidity.
Pét-Nat Wine is pétillant naturel, or naturally sparkling. The French refer to this process as méthode ancestral. You might see it on the wine list as an "ancestral" wine because it is one of the oldest methods of producing sparkling wine. Unlike French Champagne, Italian Prosecco, and Spanish Cava, pét-nat wine goes through a single fermentation rather than a double fermentation. Actually, it is bottled even before the fermentation process is finished, producing a soft fizzy, low-alcohol wine with subdued sweetness.
At the store, you can tell a pét-nat by its crown cap closure, like an old-fashioned Coca-Cola. A few have both crown and cork. Pét-nat exhibits calmer, silkier bubbles that are almost foamy. The wine can range from dry, crisp, salty, and tart to yeasty, sweet, and fruity. Chrisanna's pick – the Unico Zelo Sea Foam from Australia – is citrusy, salty, and foamy. It's delicious with barbecue chicken, watermelon, and Filipino food.
Editor's note: Buzz dining columnist Dai Huynh is a James Beard food-journalism award winner and longtime Houston-based restaurant writer.
Want more buzz like this? Sign up for our Morning Buzz emails.
To leave a comment, please log in or create an account with The Buzz Magazines, Disqus, Facebook, Twitter or Google+. Or you may post as a guest.