Buzziest Reads in 2022 (so far)
Click the Buzz Me button to receive email notifications when this writer publishes a new article or a new article in this column is published.
As I am sure everyone knows, I love to discuss books – what people have read and liked, what they have disliked, why they chose a book, and pretty much anything else book related. But I particularly love to chat about books that really resonated with people and then hear why. 
I decided this week to poll some of my reader friends to hear what they have loved so far in 2022. Some of my own favorites that I have read in 2022 are Any Other Family by Eleanor Brown, Wrong Place Wrong Time by Gillian McAllister, The Librarian Spy by Madeline Martin, The Local by Joey Hartstone, and Bad City by Paul Pringle.
Here are what the Buzz residents and other Houstonians have read and loved so far in 2022:
Deborah Dunkum – My book club just read The Man I Knew by Jean Becker. A most pleasant book about a "politician" that dispels some of the huge divisive political voices today. I also enjoyed the true story Three Sisters by Heather Morris. I am looking forward to William Kent Krueger's Lightning Strike and Diamond Eye by Kate Quinn. 
Emily Wolf – I especially loved Such a Fun Age by Kiley Reid, which examines all sorts of power dynamics – race, age, gender, economic, romantic – with subtlety and wit, and We are Never Meeting in Real Life: Essays by Samantha Irby, which caused me to both laugh and cry in the same paragraph. Irby is authentic, raw, vulnerable, relatable, and absolutely hilarious. 
Heather Montoya – I thoroughly enjoyed a book that's based in West University and that many of my friends are reading and discussing: A Gracious Neighbor by Chris Cander. As a Houstonian and former West U resident (currently a resident of Braeswood Place), I loved the specific references to our local community. As a woman roughly the same age as the characters, I loved how the author captured universal truths about relationships between women and about humanity in general. I remained captivated from the "crape murder" at the start, all that way until the dramatic, murderous ending. The author makes the quotidian interesting and compelling throughout. I found the characters to be quirky, but also recognizable to a startling degree. I appreciated that the author balances the serious and thought-provoking with the humorous and beautiful. Once I read the Author's Note after the final chapter and considered the parallels to the short story from 100 years ago that inspired this book, I loved it even more.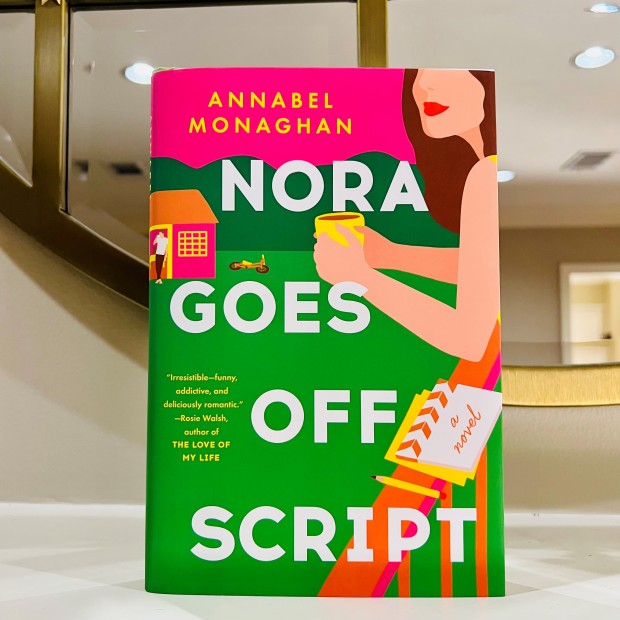 Michelle Juden – I really enjoyed Lessons in Chemistry by Bonnie Garmus. It's the 1960s and quirky, brilliant chemist Elizabeth Zott is trying to make it in the male dominated world of chemistry. The writing is so fun and clever, and it is an entertaining reminder of all the things women before us went through and of all the things we are capable of when we put our minds to it. Then there was Blush by Jamie Brenner - when I read a quick blurb about this book I thought I'd be reading a fluffy beach read about women reading trashy novels, but oh how wrong I was! This was a very thoughtful book about women and their relationships with other women, particularly mothers and daughters but also with men, including husbands, sons, and romantic interests. For my lighter rom-coms, I enjoyed Nora Goes Off Script by Annabel Monaghan. I loved all the characters in this book! Nora is a strong woman and mother, her children are adorable, and Leo's charm oozes out of the pages! 
Karen Naughton – I recommend Annie Hartnett's Unlikely Animals, a novel about a medical school dropout who returns to her New Hampshire town to help care for her ailing father and tackles unresolved issues. While this synopsis sounds weighty, it's told with such warmth and humor that it feel like a giant hug. 
Celeste Connally (aka S.C. Perkins) – My recommendations are in historical fiction, historical romance, and mystery. First is Bloomsbury Girls by Natalie Jenner, a beautiful book about the intersecting lives of three women in post-war London and the bookshop where they work. I also loved A Perfect Equation by Elizabeth Everett. It's the second book in the Secret Scientists of London series, which are set in the Victorian era and combine romance, history, and a smart STEM element that sets the books apart. In the mystery department, I would recommend Finlay Donovan is Killing It by Elle Cosimano, which is a romp about a harried mom and author who gets mistaken for a contract killer. If you like audiobooks, it's a great listen!
Chris Cander – I loved Fresh Water for Flowers by Valérie Perrin (translated by Hildegarde Serle). Violette Touissant is the reclusive cemetery keeper at Brancon-en-Chalon, whose tragic but rewarding life revolves around tending graves and caring for the souls who cross her path. It's a lyrical, touching story about friendship and companionship, grief and love, and the lives both large and small that make up our collective humanity.
Mary Anne Stoner – Fresh Water for Flowers by Valérie Perrin and The Invisible Woman by Ericka Robuck are two that I have really enjoyed. I was inspired by the courage and fortitude of each of the woman protagonists. Both stories are based in France: The Invisible Woman a true hero, while Perrin's hero fictional. 
Cris Farrell – My 23- and 21-year-old daughters (Natalie and Madeline) and I have been loving all the Colleen Hoover books. Hoover is a romantic psychological thriller writer whose books don't all have happy endings. My oldest daughter discovered Hoover on BookTok (a TikTok community) and we have been hooked. Once one of us finishes a book, we pass it along to each other. So far we have read Verity, November 9, Ugly Love, and It Ends With Us….we are eagerly awaiting its sequel, It Starts With Us, which is released in October. 
Thanks to everyone who shared their favorite reads of the year so far – I really enjoyed seeing what people recommended. I was happy to see A Gracious Neighbor by Houstonian Chris Cander mentioned – she and I did a Q & A recently for Page Turners. 
Drop your favorite read of 2022 so far in the comments below – I look forward to seeing them.
For more book recommendations and bookish thoughts, see Cindy's monthly Buzz Reads column, her Thoughts from a Page Podcast or follow @ThoughtsFromaPage on Instagram. Find upcoming Conversations from a Page events here.
People in this article:
Cindy Burnett
,
Eleanor Brown
,
Gillian McAllister
,
Madeline Martin
,
Joey Hartstone
,
Paul Pringle
,
Deborah Dunkum
,
Jean Becker
,
Heather Morris
,
William Kent Krueger
,
Kate Quinn
,
Emily Wolf
,
Kiley Reid
,
Samantha Irby
,
Heather Montoya
,
Chris Cander
,
Michelle Juden
,
Bonnie Garmus
,
Jamie Brenner
,
Annabel Monaghan
,
Karen Naughton
,
Annie Hartnett
,
Celeste Connally
,
Natalie Jenner
,
Elizabeth Everett
,
Elle Cosimano
,
Valérie Perrin
,
Mary Anne Stoner
,
Ericka Robuck
,
Cris Farrell
,
Natalie Farrell
,
Madeline Farrell
,
Colleen Hoover
Want more buzz like this? Sign up for our Morning Buzz emails.
To leave a comment, please log in or create an account with The Buzz Magazines, Disqus, Facebook, Twitter or Google+. Or you may post as a guest.