Recipes to Relish
New dishes to try this fall
Click the Buzz Me button to receive email notifications when this writer publishes a new article or a new article in this column is published.
There's something about a faint hint of fall in the air that makes some of us run to our kitchens. If you are thinking ahead to some cool-weather cooking, you are in the right place. Read on for a little inspiration from some neighbors.
Julia Hellums knows food. She's been a cookbook editor, a food stylist, and a cooking teacher working in New York, London, and Houston. She's edited local chef Hugo Ortega's cookbooks, and she's worked alongside Martha Stewart. Julia thoughtfully shared some favorite fall recipes.
"In Houston, we sort of have a second tomato season in the fall," she says, "so I thought a Tomato Tarte Tatin would be a fun thing to make. And then I'm including a duck recipe that can be done in the oven or on the grill, because a lot of people will be duck hunting in the fall." The salad she includes, she says, goes well with the Tomato Tarte Tatin to make a lovely vegetarian meal, or as a base on which to serve sliced duck.
Arugula and Endive Salad with Lemony Dressing
"The sweetness of the roasted tomatoes and shallots in the Tarte Tatin are well balanced by this combination of peppery and bitter greens," Julia writes, "which also works just as well with the richness of the crisp skinned duck breast."
1 ½ tablespoons lemon juice
5 tablespoons olive oil
½ teaspoon kosher salt
¼ teaspoon freshly ground pepper
1 head yellow endive, trimmed*
1 head red endive, trimmed*
3 cups arugula leaves, washed
½ medium red onion, thinly sliced
*If you cannot find red and/or yellow endive, use your favorite greens.
In a small bowl, whisk together the lemon juice, olive oil, salt, and pepper. Separate the endive into leaves and, in a medium salad bowl, toss together with the arugula and red onion slices. Toss with dressing to coat all the arugula and endive evenly; add more salt and pepper to taste. Serves 4-6.
Julia notes that the tomatoes and shallots can be roasted up to two days in advance of assembling and baking the Tarte Tatin. For the puff pastry, her favorite brand is Dufour. Julia adds that the Tomato Tarte Tatin can be made the day before and reheated in a 350-degree oven for 20 minutes before serving.
15 to 20 ripe plum tomatoes (small to medium sized)
6 tablespoons olive oil, divided
3 tablespoons balsamic vinegar
2 to 3 garlic cloves, finely chopped
Kosher salt and fresh ground pepper
½ cup sugar
¼ cup water
12 shallots, peeled
8 ounces prepared puff pastry, defrosted according to instructions on package
½ cup grated parmesan
2 tablespoons butter, melted
Basil leaves, for garnish
Preheat the oven to 400 degrees. With a sharp paring knife, cut the core out of each tomato and cut an X on the opposite side. Place the tomatoes in a large bowl and pour boiling water over them to cover. Let the tomatoes stand one minute or less just until the skin peels easily; drain and peel all skins from the tomatoes.
Cut the peeled tomatoes in half length-wise and place cut-side down on an oiled half-sheet pan. Sprinkle the tomato halves evenly with 4 tablespoons oil, vinegar, garlic, salt, and pepper. Bake one hour.
Arrange the peeled shallots on a separate oiled half-sheet pan. Sprinkle with remaining 2 tablespoons oil, salt, and pepper. Bake 20 minutes.
Line a 9 ½ inch round cake pan or Pyrex dish with parchment paper. Warm sugar and water in a heavy bottom sauce pan over medium heat, stirring until sugar melts. After the sugar has melted, raise the heat to high. Do not stir with a spoon but swirl the pan to prevent burning until the mixture turns a light golden brown. Pour the caramel immediately into the parchment-lined pan.
Arrange the roasted tomato halves neatly over the caramel. Top with the shallots in between the tomatoes so the tart is tightly packed. Sprinkle cheese evenly over the top of the vegetables.
Roll out the puff pastry into a circle slightly larger than the cake pan; prick with a fork to make holes for steam to escape. Place the pastry loosely over the tomatoes and shallots, tucking in the edges around the sides of the dish. Brush the pastry with melted butter. Bake for 30 to 40 minutes or until the pastry is puffed and golden.
Remove from the oven and cool for five minutes before turning the Tarte Tatin out of the pan. To do so, run a knife around the edge of the pan; place a warm plate over the top and turn the tarte upside down and onto the plate. Gently peel off the parchment paper and garnish with basil leaves. Serve warm with a green salad. Serves 4-6.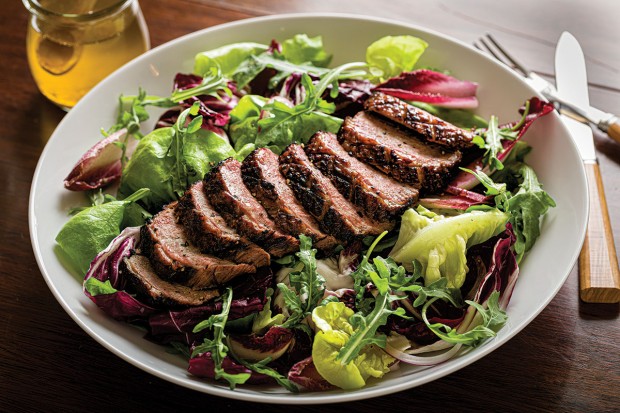 Julia says this is a "delicious change of pace from the everyday burger or pork chop dinner." She likes roasting in a cast-iron pan in the oven because, she says, it creates a good sear and a crisp skin.
5 tablespoons balsamic vinegar, plus extra for drizzling
4 duck breast halves
Coarse salt and fresh ground pepper
With a sharp knife, cut diagonal parallel slashes 1-inch apart through the skin of each duck breast half. Cut slashes in both directions, making a diamond pattern. Be sure to make cuts in the skin only, being careful not to pierce the flesh. These slashes will allow the skin to crisp.
Put 5 tablespoons vinegar in a shallow dish just wide enough to fit the four breast halves. Place the duck breast halves into the vinegar skin side up. Cover and marinate 20 minutes at room temperature (or 2 hours in the refrigerator). Meanwhile, preheat the oven to 400 degrees.
Preheat a cast-iron skillet with an oven-proof handle over medium heat until almost smoking. Add the duck breasts to the hot pan skin side down and cook until crisp, about five minutes. Turn the breasts and place the pan in the oven for about 8 minutes for medium-rare, 10 minutes for well-done.
After removing from the oven, cover the duck with foil and let it rest for 5 to 10 minutes before cutting into thin slices; sprinkle with salt and pepper. Arrange the slices on a plate and drizzle with additional balsamic vinegar to taste. Serve with your choice of sautéed greens or over a bed of green salad (see recipe above). Serves 4.
Chris Catechis is a real estate investor and a great cook. Vietnamese Spring Rolls are one of his favorite "recipes" to make for his children (one in college and one who just graduated) and nieces, because "they're easy, they're fun, and there are really no calories." He goes so far as to say eating spring rolls is "like eating a nice salad all wrapped up," and then adds, "Each one at the grocery store will cost a couple of dollars. These can't be more than 35 cents each, so pennies instead of dollars. My motto is saving money is making money, so the more I eat of these, the more money I make."
Vietnamese Spring Rolls with Peanut Sauce
Chris' recipe is supremely adjustable: "The ingredients are just about anything you want to fill the rice paper," he says.
1 head Boston lettuce, leaves washed, separated, and dried
1 cup chopped cilantro
2 carrots, shredded
1 cucumber, cut into matchsticks
4 faux crab legs
12 round rice papers (Chris buys his at Hong Kong Market)
1 package rice vermicelli, cooked according to package instructions until just tender and drained
To prepare the rice paper, soak one sheet in a bowl of lukewarm water for about 20 seconds. Do not over-soak, as it will become too limp to handle. When the rice paper is just pliable, remove it from the water and lay it out to remove any wrinkles. Add the ingredients: lettuce, cilantro, carrot, cucumber, and vermicelli. Be sure to leave about an inch on either side of the paper. Slowly bring the bottom edge of the paper up and fold, squeezing the ingredients tight. Then fold the sides in like a burrito. Add 3 slices of crab. Fold the remaining paper over to form a log shape. It will hold together nicely for the finished product. Serve with Peanut Sauce (recipe follows). Serves 4.
Peanut Sauce
½ cup Asian-style salad dressing (Chris likes Newman's Own Sesame Ginger Salad Dressing)
1 teaspoon creamy peanut butter
Whisk the dressing and peanut butter together. Adjust the amount of dressing and peanut butter to achieve the consistency you like. Serves 4.
Chris also generously shared the recipe for his father's Greek baked fish. "My father was born in Greece on the island of Corfu," Chris says. "He immigrated to this country at the age of 13 and landed in New York during the… Great Depression. He was drafted into the service during World War II. Since he was Greek, he was assigned to work as a cook in the kitchen."
Chris' father, Anastasios (later called Bill, after someone in this country renamed him), passed down his love for cooking to his children. "This is one of his truly great recipes for preparing fish for the family," he says.
½ cup olive oil
1 large onion, sliced thin
3 small or 2 large garlic cloves, thinly sliced
1 15-ounce can fire roasted tomatoes, plus 1 can water
Salt and pepper
1 bay leaf
1 ½- to 2-pound whole red snapper or redfish, or another white, flaky fish
½ cup white wine
Juice of ½ lemon
Cooked rice
Chopped fresh oregano and/or parsley, for garnish
Warm the olive oil in a large skillet over medium heat. Sauté the onion slices until they are translucent, then add the garlic, tomatoes, and water. Season with salt and pepper and add the bay leaf. Simmer on low for about 2 hours. If the mixture looks too dry, add a little more water.
Preheat the oven to 350 degrees. Spoon enough sauce into a glass baking dish to cover the bottom of the dish by about ½ inch. Place the fish on top of the sauce, then pour in the white wine and lemon juice. Bake for 10 to 15 minutes, until the fish is opaque or internal temperature reaches 130 to 135 degrees (larger fish will take longer). Serve with rice, spooning the juices over the rice and the fish. Garnish with a sprinkle of fresh oregano and/or parsley. Serves 2-4.
If you are more of a meat-and-potatoes type, we've got you covered. Last fall we came up with a new favorite: Beef Bourguignon. As we tested this recipe, I thoroughly surprised a table full of die-hard steak-and-potatoes fans; they were delighted by the outcome.
This braise, steeped in red wine, beef broth, and fresh thyme, is fall food at its true best. Layers of flavors that are complex and sophisticated, but also cozy and comforting. It's delicious on a random Tuesday, or a company Saturday. Either way, nobody will be sorry.
I do have one confession. You might want to serve the Beef Bourguignon over mashed potatoes, or alongside some crispy ones. I tried passing off mashed cauliflower as potatoes (which I personally adored). Trust me and stick with potatoes.
2 ½ pounds chuck roast, cut into 1 ½-inch cubes, patted dry
Kosher salt
Freshly ground pepper
1 teaspoon olive oil
6 ounces pancetta, chopped
2 onions, chopped
1 pound carrots, cut into 1-inch pieces
2 cloves garlic, minced
1 tablespoon tomato paste
2 tablespoons flour
1 750-mililiter bottle dry red wine
2 cups beef broth
1 teaspoon fresh thyme leaves
1 bay leaf
1 tablespoon butter
1 14-ounce bag frozen pearl onions
½ pound cremini mushrooms, sliced thick
Italian parsley, chopped, for garnish
Preheat the oven to 300 degrees. Season the meat with 2 teaspoons salt and 1 teaspoon pepper. Set aside. Heat the olive oil in a Dutch oven over medium heat. Add the pancetta and cook until it is crisp, about 10 minutes. Transfer to a paper towel-lined plate.
Sear the meat in the same pot, in batches. Increase the heat to medium-high, and in a single layer, sear each side of the meat until it is browned. Transfer the seared meat to a bowl and set aside, repeating with the remaining meat.
Reduce the heat to medium-low. Cook the chopped onion and carrots in the same pot, stirring occasionally, about 10 minutes or until the vegetables soften. Stir in 1 ½ teaspoons salt and 1 teaspoon pepper. Add the garlic and cook 1 minute. Stir in the tomato paste, and then the flour, and cook 1 minute more. Return the meat and pancetta to the pot, including any juices that have accumulated. Add the wine, broth, thyme, and bay leaf, and stir, scraping any browned bits off the bottom of the pot. Bring to a simmer, then cover with a tight lid and cook in the oven for 1 ½ to 2 hours, until the meat is tender when you poke it with a fork.
Meanwhile, melt the butter in a skillet over medium heat. Add the pearl onions and mushrooms, and season with ½ teaspoon salt and ¼ teaspoon pepper. Let the onions and mushrooms sit, untouched, for about 5 minutes, until they start to brown. Stir them and repeat until they are soft and browned in spots. Add them to the meat.
Bring the stew to a boil on the stove, uncovered. Lower the heat to medium-low and cook for another 15 minutes. Garnish with a sprinkle of chopped parsley. Serves 6.
The Almond and Plum Snack Cake from Gramercy Tavern pastry chef Miro Uskokovic is stellar, like This might be the best cake you've ever made stellar. It's dense, moist, sweet but not too, and the plums on top sort of melt into jam-like fruit with a sweet-tart flavor. This is a delicious cake to make for Rosh Hashanah, but it is also an excellent just-because cake. Snack, dessert, even breakfast – this one is a winner.
From Gramercy Tavern pastry chef Miro Uskokovic, published in Food & Wine, August 2020
1 ½ cups plus 2 tablespoons granulated sugar, divided
1 ¼ cups unsalted butter, softened
8 ounces almond paste, at room temperature, crumbled, divided
2 ½ teaspoons baking powder
1 ½ teaspoon kosher salt
1 teaspoon grated lemon zest plus 2 teaspoons fresh lemon juice, divided
4 large eggs
1 cup sour cream
1 ¾ cups bleached cake flour
1 cup all-purpose flour
4 medium-sized red plums, cut into ¾-inch wedges
Cooking spray
½ cup sliced almonds
Preheat the oven to 350 degrees. Combine 1 ½ cups sugar, butter, ½ cup almond paste, baking powder, salt, and lemon zest in the bowl of a food processor. Process until light, creamy and smooth, about 45 seconds. With the processor running, add eggs, one at a time, incorporating fully after each addition. Mixture should look thick and fluffy. Add the sour cream, and process until fully incorporated, about 30 seconds, stopping to scrape the bowl as needed.
Whisk together the cake flour and all-purpose flour in a large bowl. Add the sugar mixture to the flour mixture; whisk just until all dry ingredients are incorporated. Using a rubber spatula, fold the batter to thoroughly combine ingredients.
Toss together the plums and lemon juice in a medium bowl; let stand 5 minutes. Line a 13-by-9-inch baking pan with parchment paper; lightly grease with cooking spray. Spread batter in the prepared pan, smoothing it with an offset spatula. Sprinkle remaining crumbled almond paste over batter. Arrange plums over top, and sprinkle with almonds and remaining 2 tablespoons sugar.
Bake the cake until lightly browned and a wooden pick inserted into the center comes out clean, 45 to 50 minutes. Transfer the cake in the pan to a wire rack, and let cool completely, about 2 hours. Serves 12-14.
Editor's note: For more recipes, see Andria Frankfort's weekly blog, Back Porch Table.
Want more buzz like this? Sign up for our Morning Buzz emails.
To leave a comment, please log in or create an account with The Buzz Magazines, Disqus, Facebook, Twitter or Google+. Or you may post as a guest.