College Football Traditions
Through the generations
Click the Buzz Me button to receive email notifications when this writer publishes a new article or a new article in this column is published.
These Buzz families have been loyal fans of their school's football teams – through the good seasons and the not-so-great ones. They are at the games on rainy days, cold days, and hot days. They teach their children about showing pride for the team and what it means to be a fan. They are passing on the same traditions they were taught as young children.
Whitney and Joe Sharman, parents to Scotty, 11 months, married in 2017, and together joined two Longhorn-loving families, with graduates of The University of Texas at Austin on both sides dating back to the 1920s. For decades, their family members, including parents, grandparents, aunts, uncles, and cousins, have walked the halls of The University of Texas campus.
Whitney, a 2012 graduate of The University of Texas at Austin, says she "grew up bleeding orange." Joe, who also grew up loving the Longhorns, graduated in 2009 from Texas Christian University. She and Joe, who have known each other since childhood, are eagerly passing on the love of the Longhorns to their daughter, which brings pride to their hardcore Longhorn families.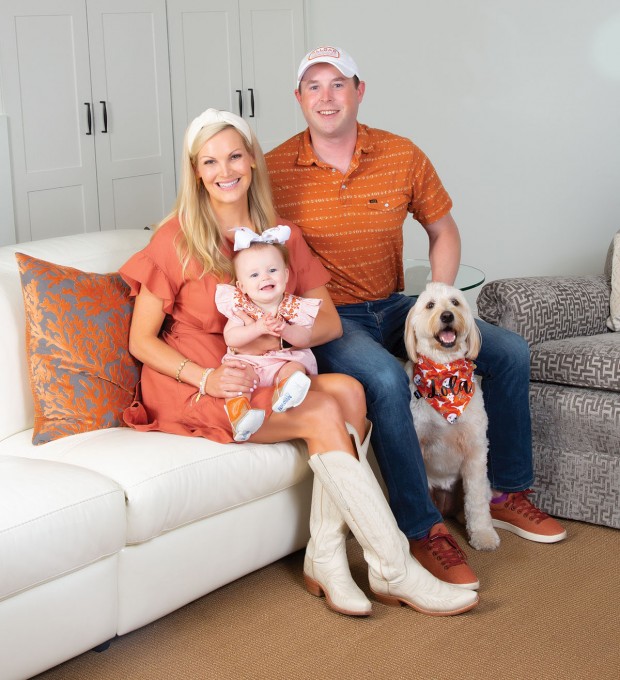 Whitney's parents, Sally and Jim Easterling, have had Longhorn season tickets since 1978. Her three older siblings, sister Kelley Hawkins, brother Brandon Easterling, and brother Christian Easterling (along with Christian's wife Kate, who played soccer for UT) attended UT, along with many other extended family members. Her parents and three aunts all attended UT.
Whitney, who was a member of the sorority Kappa Alpha Theta at UT, attended the 2004 Rose Bowl Game, the 2005 National Championship, and the 2010 National Championship. She has footballs signed by players displayed proudly in her home. Joe's family on both sides has many Longhorns, including his grandfather, Rex G. Baker, who graduated in 1941 and played football for UT; along with his grandmother, (Jeannette), mom (Bess), aunt (Ann), aunt (Jeannette), uncle (Rex), dad (John), uncle (Charley), four great-grandparents and more. Let's just say – Longhorn football is a way of life.
During her senior year, Whitney was honored with being chosen as the Texas Cowboys Sweetheart, which she fondly remembers as "hands down, the highlight of college," she said. The Texas Cowboys is a service organization that has existed at UT since 1922. They keep and maintain Smokey the Cannon and oversee firing the cannon on the field at kickoff and after any UT touchdowns.
"I also got to be on the field for every home game and was even allowed to occasionally fire the cannon," she said. "I will never forget the sound of the crowd roaring around us, the cannon going off, and the players running onto the field as the band would play Texas Fight!" she said.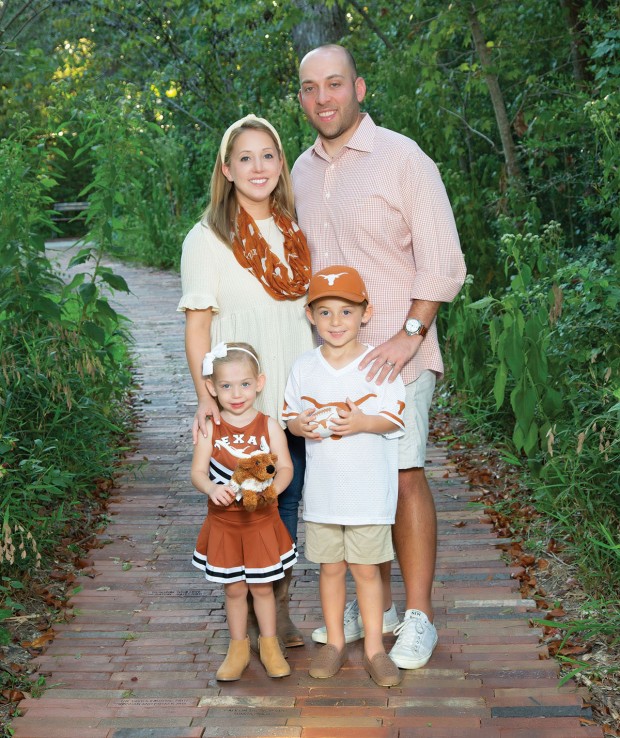 Another family with a generations-long love of the Longhorns is Zach Silverman's large extended family, along with many members of his wife Jackelyn's family too.
Zach and Jackelyn live in Bellaire along with many cousins and family members. Zach attended American University for his undergraduate degree and UT for his graduate degree, finishing in 2010. Even though he did not attend UT for college, he grew up bleeding orange with his family.
Jackelyn attended UT, and they are parents to Gavin, 5, and Dylan, 3, with another one on the way.
"I remember growing up, we did not really have a Thanksgiving, because we were going to the Thanksgiving UT game," Zach said, laughing. His earliest childhood memories of being together as a family were in Austin at Longhorn games with all his cousins and grandparents.
Recently, Zach and Gavin went to Austin for a game and visited the Alumni Center on campus. Gavin located the memorial brick, showing him the Longhorn legacy written in stone on campus. Zach's late grandfather, Joel Levy, graduated from The University of Texas in 1950 – along with his grandmother, Kay Levy, and many family members including his youngest sister Lexie, and brother-in-law Stephen Uzick (married to his sister Megan), among other extended family. Jackelyn's mother (Alissa), father (Bobby), sister (Jessica), brother-in-law (David), and brother (Zachary) attended UT as well.
Zach says his favorite memories growing up were traveling to the games in Austin from elementary school age. They would sometimes take the Longhorn bus from Houston to Austin. He would attend up to 8 or 9 games in a single season as a child.
Zach says his son Gavin is now obsessed and he is excited to continue passing down the love of Longhorn football to his son. "It is all he talks about," said Zach.
Parents Kelly and Jerred Crumley are passing on their love of the Aggies to their two children, Archer and Abigayle. The couple, who met during college, graduated from Texas A&M University in College Station in 2006. Jerred's Aggie-loving legacy dates (literally) way back in his life – his mom's water broke at Kyle Field in 1983. They rushed out of the game.
Fast forward to age 10; Jerred's first Aggie football game was in Lubbock in 1993 and his first time to officially visit Kyle Field was in 1994 to attend a youth football camp.
During his time as a student at Texas A&M, Jerred held a distinguished honor. He oversaw taking care of the official mascot of the university, a Rough Collie named Reveille. Students adopted the first Reveille in 1931. Jerred attended tryouts for Mascot Corporal, a 7-week process that came down to a class and upperclassman vote. The dog Jerred took care of was Reveille VII (or "Rev7").
Upon their graduation, Jerred and Kelly got a puppy from the same bloodline, Sylvan Argent L. Sullivan Ross, but they called him Sully. As Jerred and Kelly welcomed their son Archer, born in 2015, and later their daughter Abigayle, in 2019, Sully was a furry companion to their children.
"Sully was a big part of our Aggie family for 14 years," said Kelly. She says she feels very emotional looking at baby pictures of her children with him and fondly remembers his loyalty.
Jerred's grandfather, great uncle, father, and brother attended A&M.
Kelly says that while she did not come from a long Aggie line, she completely "drank the Kool-Aid" starting in college. The Crumleys take their children to Aggie games and are proud to be passing down their deep love of Texas A&M football to their two children.
People in this article:
Whitney Sharman
,
Joe Sharman
,
Scotty Sharman
,
Sally Easterling
,
Jim Easterling
,
Kelley Hawkins
,
Brandon Easterling
,
Christian Easterling
,
Kate Easterling
,
Rex Baker
,
Zach Silverman
,
Jackelyn Silverman
,
Gavin Silverman
,
Dylan Silverman
,
Joel Levy
,
Kay Levy
,
Lexie Silverman
,
Stephen Uzick
,
Megan Uzick
,
Kelly Crumley
,
Jerred Crumley
,
Archer Crumley
,
Abigayle Crumley
,
TJ Cardone
,
Wilson Albright
,
Earl Campbell
Want more buzz like this? Sign up for our Morning Buzz emails.
To leave a comment, please log in or create an account with The Buzz Magazines, Disqus, Facebook, Twitter or Google+. Or you may post as a guest.