A Multi-Cultural Thanksgiving
Mixing traditions and flavors
Click the Buzz Me button to receive email notifications when this writer publishes a new article or a new article in this column is published.
Seema and Mohsin Mir were both born and raised in West Virginia. Their parents are first-generation Americans, the people who make up our melting pot, hers having immigrated from Afghanistan, and his from Pakistan.
"My parents and [Mohsin's] parents immigrated in the '70s and very much embraced American culture and traditions," Seema, a labor and employment attorney, says. "It was all new to them, but one thing my parents would always say is, 'Just as we want others to understand and appreciate our culture, we need to understand and appreciate the culture of America.'"
Mohsin's mother says she tried to do just that. "I tried to merge my traditions I grew up with with traditions from my adopted country," says Samina Mir, who now lives with her husband of 52 years in Orlando. "We are a very traditional family. We grew up with traditions in Pakistan, and we have had Thanksgiving since my [three] boys were small."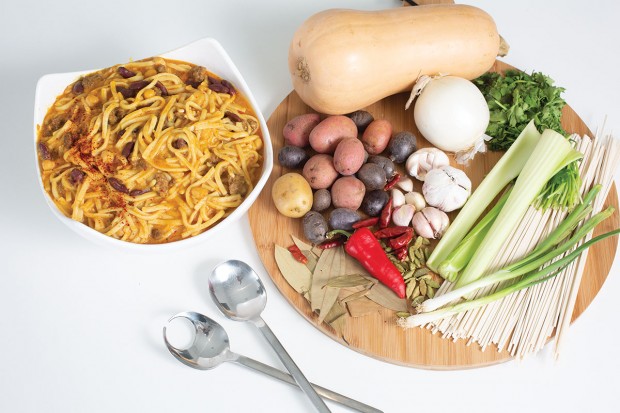 When asked what she thought of traditional Thanksgiving fare – turkey, potatoes, apple pie – when first encountering it, Samina says, "Originally, I didn't care for it. But my husband always used to play this song in the car - 'by an American pie, took my Chevy to the levee,' – you know that song? That is the first mention I heard of apple pie. You live, you learn, you eat."
Because they lived in a small, diverse community, Seema's and Mohsin's families were friendly with each other. "We didn't really grow up together," Seema says of herself and her now-husband, a dermatological surgeon, "but our families were very connected. Once we were in college [at West Virginia University], we started getting closer."
Today, the couple are parents to two boys, Dean, 11, and Zane, 8, and their Thanksgiving traditions blend roast turkey with Afghan and Pakistani cuisine. It's a celebration unique to the Mirs: "Our interpretation of the holiday is not only different because our families come from other countries, but we are also a blended family of cultures, Pakistani and Afghan.
"There are times when I have visited friends on Thanksgiving," Seema continues, "and every family is different in how they celebrate. That's the beauty of Thanksgiving in America."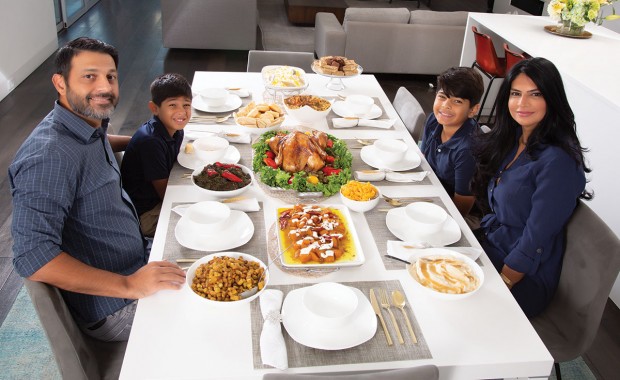 Typically, Seema, Mohsin, and their boys celebrate Thanksgiving with his side of the family in Florida. Like so many families around the country, they start the meal with a prayer, then the children go around the table and, with encouragement from Samina, say what they're thankful for.
There will be turkey and mac-and-cheese and mashed potatoes. And there will be dressing. "We interpreted it in a way that had an ethnic spin on it," Seema says. "This is stuffing, but if you taste it, it doesn't taste like your stuffing. It's inspired by our spices.
"We'll have mashed potatoes next to biryani [a traditional Indian rice dish]. We'll have corn, gravy, of course a turkey. But then we will add a rice dish, because there's no meal in our cultures that doesn't include a rice dish."
In the beginning, the mashed potatoes took a little ingenuity on Samina's part.
"There is one very quirky tradition I have," Samina says, explaining that, while she could cook any number of complicated Pakistani dishes, she didn't know how to make mashed potatoes when she first came to this country. "It was always very convenient for me to pick up the mashed potatoes and biscuits at KFC. To this day, the night before, one of us picks it up. Everybody expects it."
The Mirs' celebrations are big gatherings of 20 or so family members. "It's a full house," Seema says. Mohsin is the youngest of three boys who "will spend the day watching football. There are lots of universal commonalities with one major difference being the food."
The food includes a spinach dish called sabzi that is made with ground beef (marinated in garlic and onions), cilantro, and green onions. "It's made with our kinds of spices; the primary flavor is fenugreek, which we call methi," Seema says. "It has a distinct aroma, almost like an Indian saag paneer, but with a bolder taste, and instead of cheese, it's beef."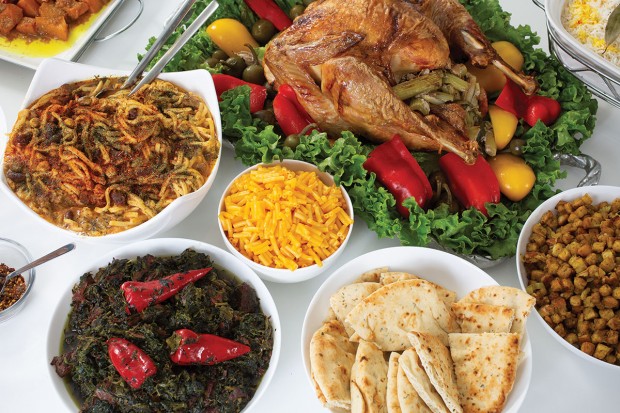 A sweet and savory butternut squash kadu stands in for marshmallow-topped sweet potatoes. "Translated in Persian, 'kadu' means 'pumpkin,'" Seema explains. The squash is cooked with turmeric, red pepper, and brown sugar, and it is topped with yogurt and garlic.
Aush is a traditional Persian noodle soup that Seema says she craves. "It's my favorite thing that we eat," she says. "It has Persian dough noodles and is basically a yogurt-based soup with kidney and garbanzo beans. The flavors are red pepper, turmeric, and it's topped with dried mint. I tell my friends it doesn't sound great – I'm not really selling it well – but I love it so much I'll make it even in summer in Houston. We eat this every Thanksgiving, generally starting off with it and moving on to the turkey."
Guided by American tradition, not much salad makes its way to the Thanksgiving table. "Afghans eat a lot of salads," Seema says, "but nobody ever eats a salad on Thanksgiving."
The KFC biscuits are offered in a bread tray next to garlic naan. Dessert is American brownies next to roat, cardamom tea cookies, topped off with vanilla ice cream and rose water. Samina likes the apple and pecan pies from Sam's Club and says her husband and sons will finish them off.
Finding traditional spices can be a bit of a challenge: "Growing up in West Virginia they were hard to find," Seema says. "But we had a lot of family in New York and DC, and we would stock up when we visited them. Living in Houston, we're so blessed with such a diverse community, it's just a quick trip to Hillcroft, where I can find all the spices I need. Dough noodles are a little difficult, as is dried mint. But my mom [Amena Loynab] grows mint in California and bottles it, and I have her send it to me."
Although her own mother's recipes are "very much a little of this, a little of that," Seema does her best to emulate them. "She's all 'a mug of this' instead of an actual cup. During Covid, my mom and I would be cooking and FaceTiming, and I'd have my dad measure the ingredients out before she dumped them in. She's the reason I love Thanksgiving, and she's one hundred percent the reason I love to cook our traditional food."
For the children, Seema thinks they favor American favorites – they love the mashed potatoes. "But if I make the spinach, they want it the next day in their lunchboxes."
The Mirs' friends and neighbors are also fans of Seema's cooking, with some asking for certain dishes when they're sick or need a little pick-up. Cameron and Byron Cooper and their three children live two doors down from the Mirs. Before the families became friends, the Coopers had not been exposed to Afghan or Pakistani food. "I grew up in Alabama," Cameron says, "so we always joke that I'll give Seema my southern pot pie, and she'll bring her interesting cuisine from other parts of the world."
Like the Mir boys, Cameron's favorite Seema dish is the spinach and beef sabzi. "I want that as my last meal," she says. "It's addictive and just delicious. My son especially loves these little samosa-dumplings that are almost eggroll shaped. He's 7 and pretty picky, but he will eat as many as she will bring over." Cameron also likes the juxtaposition of chiles and butternut squash that Seema makes at Thanksgiving. "The spices aren't in my everyday recipes, but it's so good."
Samina says Thanksgiving is something she always looks forward to. "And now my grandkids, they look forward to it."
Seema says, "It's all about embracing the spirit of the holiday and the culture of American values." Honoring the traditions of their own cultures is a big part of that. "Truly, it is a melting pot of all the different cultures, and the different spices, at the table."
If this has you wanting Afghan or Pakistani (or Persian) food, the Mirs recommend Himalaya (himalayarestauranthouston.com) and Afghan Village (theafghanvillage.com). And to shop for the spices Seema uses, she suggests Subhlaxmi Grocers (subhlaxmigrocers.com).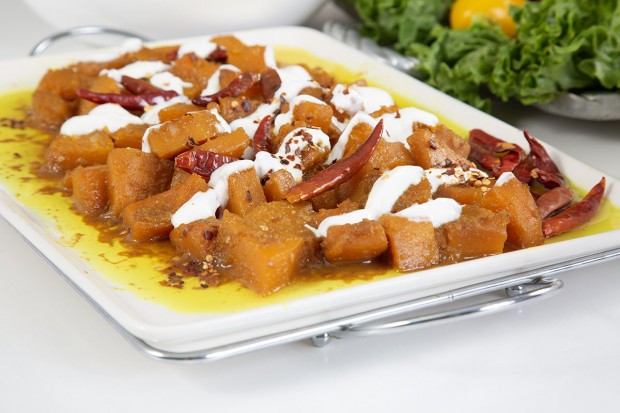 Kadu (Afghan pumpkin or butternut squash)
From Amena Loynab (Seema's mother)
1 large to medium sized butternut squash
¼ cup oil
1 medium onion, diced
1 tablespoon garlic
½ teaspoon turmeric
1 teaspoon dried coriander
2 ½ cups water
½ teaspoon salt
Crushed red pepper flakes to taste
1 ½ cups brown sugar (you can use light or dark, depending on your preference; pictured kadu is using light brown sugar)
5 to 10 small red chili peppers, thinly sliced, for garnish
For the Yogurt Sauce:
1 ½ cups yogurt
¼ teaspoon fresh garlic
¼ teaspoon salt
Peel, de-seed, and chop the butternut squash in evenly-sized cubes.
Heat the oil over medium-high heat in a large, deep skillet. When it is hot, add the onion and garlic, and cook until the onions have softened and browned. Reduce the heat to medium-low and stir in the turmeric. Add the butternut squash and coriander, and gently mix everything together. Stir in the water and salt. Cover the skillet and simmer for about 5 minutes, until the water evaporates. Add the crushed red pepper, then stir in the brown sugar. Increase the heat to medium and cook for about 10 minutes, until the squash is soft.
Meanwhile, make the yogurt sauce. In a small bowl, stir the yogurt, garlic, and salt together.
Use the yogurt sauce as a topping to serve, and garnish with red peppers.
also known as Afghan Sweet Bread
From Amena Loynab (Seema's mother)
3 cups all-purpose flour
3 cups whole wheat flour
1 tablespoon baking powder
1 tablespoon ground cardamom
2 cups sugar
4 tablespoons unsalted butter, melted
1 stick Crisco shortening, melted
1 cup whole milk
2 eggs, beaten
2 teaspoons nigella (kolonge) seed
Preheat the oven to 475 degrees.
Whisk the flours, baking powder, cardamom, and sugar together in a bowl. Add the melted butter, the melted shortening, milk, and eggs. Mix thoroughly to create a dough.
Lightly oil a large sheet pan and flatten the mixture on it.  Use a rolling pin to even out the dough. Pinch all the edges of the dough.
Using a fork, poke small holes throughout the flattened dough. Sprinkle the nigella seed on top.
Score the dough in even squares. Bake for 15 minutes. Remove from the oven and run a knife over the precut lines and around the edges of the pan while it is still warm. Let cool and serve.
Want more buzz like this? Sign up for our Morning Buzz emails.
To leave a comment, please log in or create an account with The Buzz Magazines, Disqus, Facebook, Twitter or Google+. Or you may post as a guest.