Rumor Has It - November 2022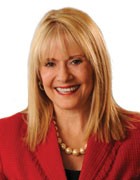 Click the Buzz Me button to receive email notifications when this writer publishes a new article or a new article in this column is published.
Galore. When Collette Stewart went to Ireland for a study-abroad adventure with Texas State University for five weeks, she learned more than Irish Literature and Mythology. After a few misadventures on the bus where she found herself in a different city or suburbs, she gained better navigation skills. She loved visiting the historic places she studied; some highlights were the incredibly beautiful Gougane Barra National Park, Cahir Castle, the Rock of Cashel, Dingle Peninsula, the Diving Rocks in Youghal, and St. Colman's Cathedral in Cobh. The whole trip was an aisling.
A train of events. When urban planner Adam Train met schoolteacher India Goldsmith two years ago at the Moishe House, he was in for a love journey. He gained steam at the Houston Arboretum & Nature Center, where he popped the Marry Me question. Their June wedding at The Broadmoor resort in Colorado Springs was the final destination as singles. As rose petals were thrown, the newlyweds rode away in a horse-drawn carriage throughout the magnificent vast grounds. The maid of honor, Cookie, India's chihuahua, clad in a pink designer dress was "arf-ully" excited as grandparents, Dr. Louis and Sheila Train and parents of the couple Drs. Abby and Jordan Train and Dixie and Greg Goldsmith waved them off.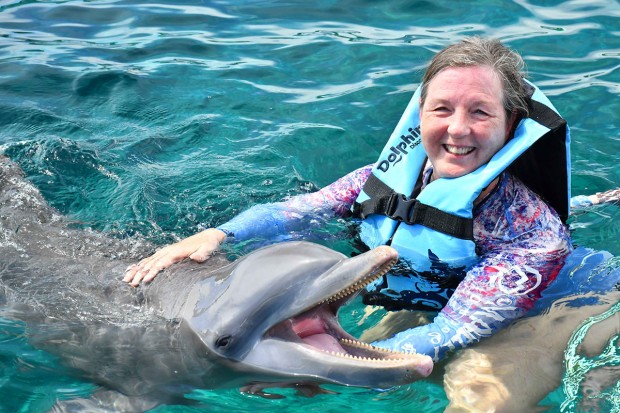 Seeking adventure from history to dolphins. Sharon Roark took Jefferson's Journey to France with renowned American historian and retired Rice University professor John Boles, Ph.D., to follow the path taken by Thomas Jefferson during his five years in France, from Paris and on to Lyon, Nîmes, and Arles. After such an enriched journey, she went with Susan Binney and friends on a Royal Caribbean cruise from Galveston for the VIP experience at the Dolphin Discovery in Chankanaab National Park, Cozumel. They were able to interact in several different ways with the dolphins, including a short swim. Dolphin Discovery is accredited by the Association of Zoos & Aquariums, just like the Houston Zoo. Porpoise with purpose.
Secret town. The handsome, rugged, hunky guide with a man bun took Pam and Bill Sengelmann on a successful fly-fishing jaunt in Jackson Hole, Wyoming. One day when they fished on the side of the river without him, Pam got bored and did yoga. The area was perfect for their many miles-long bike rides. One weekend, they flew from Jackson Hole to a wedding in the middle of a forest in Colorado with a seated dinner for 180 people. The magical place is near a retro eclectic town in Colorado that Pam is mysterious about as it'll get spoiled with visitors, but it starts with S.
Busy ladies. Memorial Drive Presbyterian Church Women's Committee offered 25 opportunities for gals to bring friends and get to meet others and deepen friendships. Events ranged from a Grease sing-along night at the Rooftop Cinema, to Bingo at the Lodge, a Bike in the Heights event, mah jongg, speed friendship, and an evening of parlor games. An international progressive dinner in Wilchester West honored the locales of their mission partners. Amy Harrington served appetizers from Latin America, Laura Benes dazzled guests with a multi-course Lebanese meal, followed by a walk down the street to Christine Gentil's, where desserts by Chef Bernadette Loweree were featured. Erin Bounds talked about mission partners around the world that MDPC sponsors. Mary Reed created 25 of the 28 events.
Can you bear it? Sometimes it is the only personal item a child owns. A Build-a-Bear project that started in 2017 by sisters Kathy Kremer and Terri Barker and friend, Tina Berry, has resulted in 360 bears being donated to the Association for the Advancement of Mexican Americans (AAMA) Early Childhood Development Center. They are distributed at the annual Christmas party for babies, preschoolers, and sixth graders. Contributors of $25 or more are invited to the BAB store where they have fun together to create customized outfits. If you wish to contribute or participate, see one.bidpal.net/aama2022 or contact [email protected]. In the meantime, give a bear hug to those you love.
Together we flourish. The smartly dressed members of the Houston Junior Forum were excited to see each other at the September lunch at Lakeside Country Club and to hear Deborah Olson speak about The Healing Power of Girlfriends. Her research about making new friends and how staying engaged will keep you mentally young as you age resonated with the crowd of 100 plus. VIPS that made the program flourish were Charlotte Howell, Susan Rosenbaum, Lauri Wasmuth, Karen Conway, Linda West, Sharon Cook, Betsy Blakeman, Dawn Frazier, Janet Juban, Sherri Cooley, Laurelei Horton, and Sharon Fletcher.
A week of birthday fun. Rooftop sunsets, view of the Sierra Madre mountains, music all evening, hospitable local people, ease of walking to places and available cabs. Mary Nurre found her trip to San Miguel de Allende was easy to do solo. She just walked into anyplace playing music and had a sip of vino and applauded or danced or all of the above. Meeting other visitors was easy as there was so much to share. From the grounds to the rooftop, she had her milestone birthday brunch outside at the charming UNESCO site Casa No Name, which has a "Door to Nowhere." The painted walls in the hotel's courtyard date back 500 years. She spent four hours of zen at the water mecca La Gruta Natural Springs/Thermal Spa's five warm water "pools" with new friends, of course.
They averaged eight miles a day. Everyone knows that if you can't find Adriana and Dr. Steve Rosenbaum, then they must be in Paris (again!). This time it was to celebrate Adriana's 70th milestone birthday. Friends Ambassador Christopher and Amy Ashby and Dr. Joel and Debby Kovarsky flew in to help celebrate. A good thing they enjoyed walking around the city as they ate at the Rosenbaums' fave local restaurants, which included Polidor, where a scene in Midnight in Paris was filmed, and Le Récamier, where the celebratory dinner was held, and everyone had their own Grand Marnier soufflé. Hopefully they walked back to the hotel.
Landed in Houston. When Joan and Blaine Land moved from Long Island to be near their son's family and grandchildren, they had no idea they would actually be less than a mile away. Since they leased a year beforehand, Joan has already made friends and is busy with Mah Jong, canasta and working out at The Houstonian. Blaine continues his CPA practice remotely but also fits in time at The Houstonian.
Long celebration. After a wine tasting at H Wines in the former First State Bank of Montgomery (Texas), where a bank robbery in 1928 left scars on the vault, Natalie Fox Maisel and husband Joseph Machado took off to April Sound Country Club. They celebrated her 51st on Lake Conroe with rituals they adhere to when they stay at the lake. The one that requires the most discipline is sunrise and coffee. According to Joe, it is also the most important as it is the sunrise that heralds Natalie's true birthday, culminating the pre-celebrations that lasted for quite some time. Celebrants on hand to enjoy the birthday boat ride were family pups Remus and Romulus, Marlene Rawls, Jeff Garrett, Frank and Jennifer Olmstead, and Kevin and Cristy Mozingo. It was a wave of a weekend.
Have some good news to share? Email us at [email protected].
People in this article:
Collette Stewart
,
Adam Train
,
India Goldsmith
,
Louis Train
,
Sheila Train
,
Abby Train
,
Jordan Train
,
Dixie Goldsmith
,
Greg Goldsmith
,
Sharon Roark
,
John Boles
,
Susan Binney
,
Pam Sengelmann
,
Bill Sengelmann
,
Amy Harrington
,
Laura Benes
,
Christine Gentil
,
Bernadette Loweree
,
Erin Bounds
,
Mary Reed
,
Kathy Kremer
,
Terri Barker
,
Tina Berry
,
Deborah Olson
,
Charlotte Howell
,
Susan Rosenbaum
,
Lauri Wasmuth
,
Karen Conway
,
Linda West
,
Sharon Cook
,
Betsy Blakeman
,
Dawn Frazier
,
Janet Juban
,
Sherri Cooley
,
Laurelei Horton
,
Sharon Fletcher
,
Mary Nurre
,
Adriana Rosenbaum
,
Steve Rosenbaum
,
Christopher Ashby
,
Amy Ashby
,
Joel Kovarsky
,
Debby Kovarsky
,
Joan Land
,
Blaine Land
,
Natalie Fox Maisel
,
Joseph Machado
,
Marlene Rawls
,
Jeff Garrett
,
Frank Olmstead
,
Jennifer Olmstead
,
Kevin Mozingo
,
Cristy Mozingo
Want more buzz like this? Sign up for our Morning Buzz emails.
To leave a comment, please log in or create an account with The Buzz Magazines, Disqus, Facebook, Twitter or Google+. Or you may post as a guest.