The Memory Mill
Romance with a childhood ranch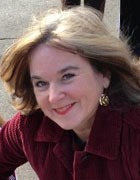 Click the Buzz Me button to receive email notifications when this writer publishes a new article or a new article in this column is published.
Her memories loom as large and clear as her home's front picture window. "It's the eye to the neighborhood," says Terese Wagner of the expansive glass pane in the living room of her 1953 ranch house, the walls that shaped her childhood, little toes dipping into shag carpet, the colors of a coral reef. "Dark blue and neon green. It was the hippest thing you've ever seen."
Yes, home to Terese is the home she grew up in. It's where she roller skated on parquet floors and played hide and seek with younger siblings, Loraine and Thomas. Where relatives and friends gathered for anniversaries, holidays and Andy Warhol-style parties, her parents, Joan and Frank Marik, the perfect cocktail hosts. Memories are stacked here, like layers upon layers of strata, imprints of different times, rich with energy. And they are being made still.
"It's never been anything but wonderful, living in this house," says Terese of the mid-century gem in Old Braeswood, awash in original ash wood paneling and mid-century features like a time capsule from earlier times. An old-fashioned silver tinsel Christmas tree sparkles from that picture window, bedecked in souvenir ornaments from travels and a plethora of Houston Astros rings and mementos.
Yes, season ticket holders here. Terese is even retro when it comes to baseball, keeping score, pencil to scorecard, every single game. "I've done it my entire life, since going to the Astrodome with my grandfather. He taught me. Those memories are priceless, along with memories in this house."
Oh, if walls could talk…. Wait. They can.  "We kind of are those walls," continues Terese, who moved back to her childhood home in 2001, raising her children Michael, Andrew, and Allison there with husband, Gary. Her mother sold the house in 1989 to Carol Mancusi-Ungaro, then chief art conservator at Houston's Menil Collection, who loved the home for its mid-century charm.
Serendipity is a wonderful thing.
Terese's son, Michael, wanted a playdate with a certain friend from school. Terese looked up the family, finding they lived on her childhood street. Right next to her childhood home. "I mentioned to the mother of Michael's friend that we were looking for a house. We'd outgrown our current one in Braes Heights. She said 'Oh, the house next to me… she's going to sell it.'"
On a Friday in 2001, the night of the Houston Rodeo's chili cook-off, Terese and Gary, all duded up in boots and cowboy hat, stopped by the oh-so-familiar house, knocked on the door and entered a déjà vu moment to beat all déjà vu moments, breathing in a sanctum of memories along with a tour. Gary knew the house, too, from when they dated. Terese lived in it until they married in 1986.
"It was like home. Of course, she had it done up differently, but it was perfection," Terese recalls. "She had the most authentic mid-century modern furniture, fixtures, you name it. She was a curator, a very sharp lady. How she found all these authentic things before eBay and Amazon, I'll never know. Of course, she took every fixture with her when she moved."
A few days after the tour, Carol paid a visit to Terese and Gary. There was another interested party, she said, asking Terese: "Why do you want this home?"
"I told her about all my memories and warm feelings and the importance of the neighborhood to me and that it was such a quality home," Terese recalls. "She put her hand on mine and said, 'You will have this house.'"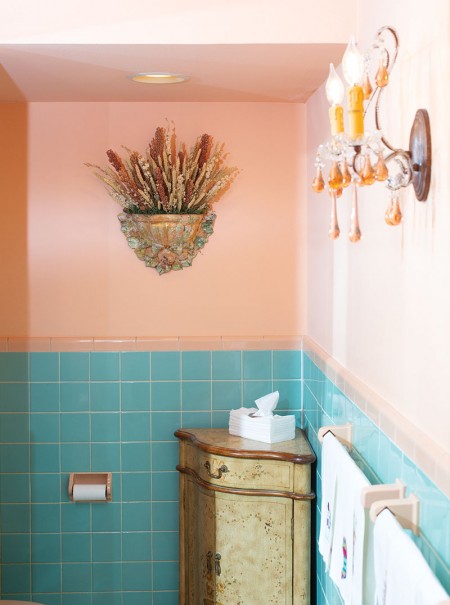 Terese embraces the house like a guardian to a child, pointing out precious scribblings on the inside of its kitchen pantry door.
Lines are drawn in the wood, with dates and names at varying levels, growth spurt marks climbing like a vine, year after year – the heights of children, their friends, and relatives who lived and loved in this house, even the cats.
Her dad started this panel of permanent record back in 1968. When her parents sold the home to Carol, she continued it with her children. When Terese bought the childhood home, her kids, too, stood straight, heel to door, enshrining their heights, year after year. An archeological measure of life within a house.
"It's a wonderful house," says her mother, Joan, admitting homesick pangs when she sold the property in the late 1980s. When she and her husband purchased it in 1968, it listed for $39,000, says the Bellaire resident. "But, oh gosh, my most favorite thing about the house is the bar. We had all kinds of parties when we lived there. Halloween, anniversaries, birthdays, dinner parties, you name it."
The mirrored bar is a star feature against the den wall. It pulls out from its mooring to reveal a full-blown cocktail extravaganza, replete with sink and all the fixings. You couldn't do any better on the set of the spectacularly mod drama Mad Men, set in that period.
"This whole thing can be pulled out into the room," explains Terese, maneuvering the home's showy attribute into the den. "I love to have parties. Any excuse to pull out this bar."
Joan moved there with Frank, two kids in tow – Terese and younger sister, Loraine. "I found out I was pregnant right after we moved in."
Baby Thomas was a bright spot in the family, says Terese, who fought with Loraine over holding him. "I just adored him. I remember one time he hid in the hamper in the bathroom, and I could not find him. I was beside myself. I thought he was lost!"
Joan and Terese bemoan the low surfaces in the house, but, hey, it's just another fun quirk. Sinks, countertops. The home was originally built in the 1950s for the Gordon family, of Gordon Jewelers. "The wife was really short, apparently," recalls Terese. "I don't remember what we did to remedy that. It was terrible," says her mom.
In some cases, like the kitchen, they solved the problem somewhat by lowering floors, removing layer upon layer of linoleum, Terese explains. One of the bathrooms in '50s blue upon blue tile had to be gutted and redone, due to a persistent leak. So, countertop height solved.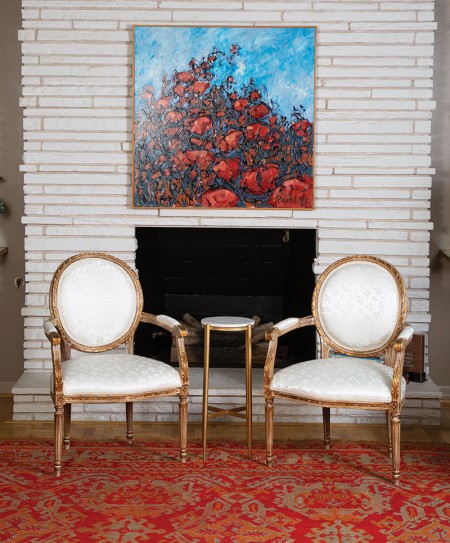 Other fun attributes abound in this mid-century gem. Magnificent round pulls that look like gigantic coat buttons on cupboards, a retro vegetable bin in the kitchen, a utilitarian looking wall panel in the master bedroom that her parents used to turn off house lights at night. An especially fun feature is a secret door, a panel that parades as an architectural piece of siding to the side of their front door. In fact, it's another door, a secret passageway of sorts into the house that allows service people access. It leads to a large utility room, replete with multi-colored linoleum floor.
"That door is particularly fun at Halloween," Terese says, with a chuckle. "Trick or treat and I'll scare you."
Also fun is the main bathroom off the front hallway, a testament to mid-century spunk in pink and turquoise with original sink and pink toilet, a pristine throne from the era. "I love it. Love it," enthuses Terese, who admits it's not everyone's cup of tea. "When people see it, it's 'Oh, how cute.' They don't know what to think of it. I don't care. I love it."
Like most ranch houses of that era, three bedrooms are clustered down a long hallway at one end, with the family areas and kitchen to the other side. This house has room in spades. It is 3,261 square feet, to be exact, but it seems larger, especially since Terese and Gary had one wall removed that separated the breakfast room from the den. It has a garage apartment, too.
She found a "miracle worker," she says, to fashion parquet floors – flooring composed of wooden blocks arranged in a geometric pattern – in the dining and living rooms, matching original parquet in the front hallway, den, and breakfast room. "Can't tell the difference."
Her mom recalls hearing about a long jumper in the 1968 Olympics who careened 29 feet to set a record. "And that's about the length of that living room," Terese says. The room is 24.5 feet long, to be exact. Someone who owned the home before her mother painted the room's flagstone fireplace white. Sacrilege to Terese and her geologist husband. Terese painted gray grout lines to break up the stones and make it look more appealing.
While she doesn't outfit her home in mid-century furnishings like the previous homeowner, Carol, she appreciates the style. Instead, she prefers an eclectic look. "I like a mixture of things and unusual things," she says, pointing out two empire style chairs, reupholstered in the silk fabric from her wedding dress.
"Terese definitely has her own style," says her uncle, Joel Barna, a writer, and former Galveston magazine editor who knew the home's previous owner, Carol, when she lived in Galveston. In 1979, he received a phone call from a woman proposing to write a story for his bi-weekly magazine about The Feast of the Seven Fishes, a traditional Italian Christmas eve dinner. "Years later, my sister Joan mentioned when she sold her house that it was to a woman named Carol Mancusi-Ungaro. It was a remarkable coincidence. That's the woman who contacted me and wrote that story. I got to know her and her husband a bit. They were delightful people."
He remembers staying with his sister and her family in his early 20s, before he went into the Peace Corps, living in their garage apartment. And he recalls dumplings. Lots of dumplings. "There was an anniversary party for my parents, and we were all involved in the preparation and there was a priest, an immigrant from China, who came to make dumplings. We were all doing vegetable chopping because he was going to make, like, 10,000 dumplings."
He remembers, too, long days in the den, watching Watergate hearings that dominated the country.
The neighborhood, while it has changed, is still a gem of a place to live, close to conveniences, with wonderful neighbors, says Terese. But, boy, have the features changed.
"It's like we lived in the suburbs back then," she says, recalling the long-ago since demolished Shamrock Hilton, then the grandest hotel in Texas at 20 stories tall. Her playground of choice. She and friends would hop on their bikes, swimsuits under clothes, and race to the Olympic-sized pool with a 10-meter diving board, where her parents had a membership. "It was so huge, they used to lower the water in the pool and have water skiing shows in it every year," she recalls.
She would climb up the diving board, feet dangling over water, and watch the fireworks from Astroworld. "It was heaven."
The house is still the gathering place for family. Thanksgiving, parties, anniversaries, birthdays. Terese wouldn't have it any other way. She doesn't plan to go anywhere anytime soon, though they have a second home in Wimberley. "Friends keep asking me there when we are just going to move to Wimberley, but I love my house. I don't know, maybe I'm just delaying things because I know someone will just tear it down after we leave. I'm putting that off. It's home. Nothing fancy schmancy, but I love it. I'm comfortable here."
Terese points out a lone swath of original wallpaper – a geisha with parasol and a man playing the strings, floating against a coral-salmon lattice design. The Asian scene has taken up residence on the walls of the home's coat closet for decades, a remnant paper trail linking past to present. A greeter, of sorts, to all who have lived in the house. Take your coat off and stay a while.
"This home makes me happy," says Terese. "It did as a kid, and it does now. Nothing but warm feelings."
Want more buzz like this? Sign up for our Morning Buzz emails.
To leave a comment, please log in or create an account with The Buzz Magazines, Disqus, Facebook, Twitter or Google+. Or you may post as a guest.