Rumor Has It - December 2022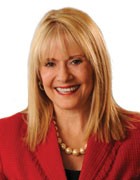 Click the Buzz Me button to receive email notifications when this writer publishes a new article or a new article in this column is published.
Tiger fest. The Frostwood Tiger Festival gave passports and wristbands to the participants that wanted to be entered into a raffle. If one completed six games, you were eligible to win one of the big gifts. The sunny day had lots of fifth-grade students dunked in the dunk tank – a very popular event. Second grader Blakely Eckhardt tossed rings to win a big UT ball and was successful! First grader Abigail Kleiderer could barely hold her well-earned large stuffed animals. There were some America's Got Talent potentials singing Don't Stop Believin' at the karaoke section in the pavilion while trampoline bungee, putt putt, and a rock wall entertained others. Astros mascot Orbit made a surprise appearance. The committee – Lauren Bernard, Julie Boyd, Jeanne Barker, Rachel Gillespie, Kendall Eckhardt, Hailey Kleiderer, and Melissa Winkler – happily roared at the success.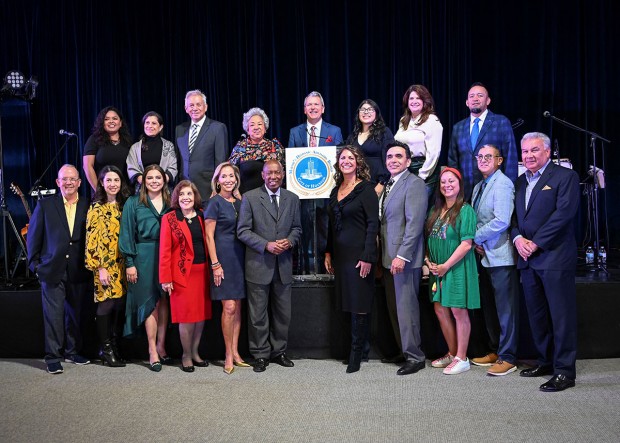 Fiesta. The Astros were playing but 250 still attended the Mayor's Hispanic Heritage Awards Ceremony. Mayor Turner presented awards to unsung heroes in the Latino community. Co-event chairs Tim Martinez and Lauren Soliz and co-chairs of the Mayor's Hispanic Advisory Board Roland Garcia and Lenora Sorola-Pohlman cheered that $75,000 was raised for outreach to the Latino community. The honorees included Jose Longoria, Sandra Rodriguez, Dr. Adriana Tamez, Dr. Flor Munoz, Dr. Maria Bottazzi (dual award) and for Lifetime Achievement, Aylin Rodriguez and Adan Medrano and Christian Navarro (posthumous) (dual award).
Jamboree. A mechanical bull, a zorb (inflatable human hamster walking ball) rolling on a water track, a trackless train roving throughout the grounds were some of the more unique events found at the Valley Oaks Jamboree. Jaxon Turner had his face painted like a monster pirate. Lake and sister Brooke Taylor posed in front of the flowerscape balloon décor with giant smiles as mom Amanda Taylor snapped a pic.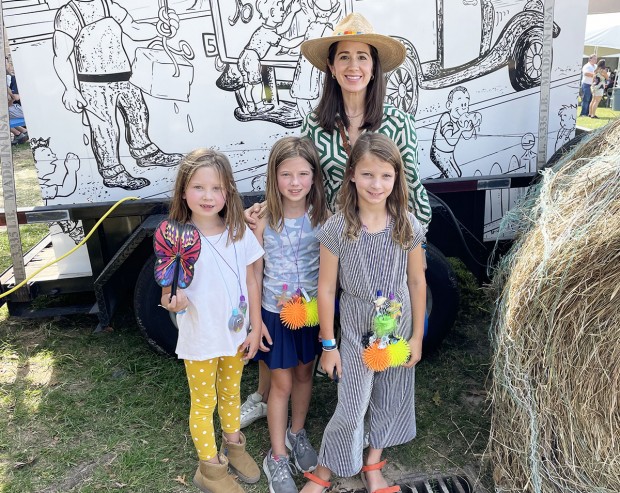 Fun fall fest. At St. Cecilia Catholic Church, a whole football field of booths kept families busy: food hopping after face painting, pony rides, and more. Enjoying the beautiful day and festivities were Casey Sherlock Koehler and daughters Catherine and Mary Colleen Koehler and friend Claire Higgs. Others seeking shade and ice cream were Chris Schneider, Alec Schneider, Matthew Calhoun and Chris Christianson, and Jana and Sam Moore. Carrie and Jonathan Kurtz were busy in many directions with children, Danielle with a squirrel painted on her cheek, Julien with a pumpkin on his face.
Don't miss out. It wasn't about the tea sandwiches or the tea at the Salvation Army Women's Auxiliary Membership. Who knew it would be so fun to sign up for activities like ringing a bell for contributions during December. wrapping gifts or getting toys organized for gifts for. The SAWA gals turn it all into a party. Friends sign up with friends and soon you have several worthwhile events to saturate your inner charitable self. Judy Gee Chong, grant chair, was thrilled to announce the recipients of the $590,252 worth of contributions. Some members in the mix were Peg Austin, Helen Perry, Mary Maxey, Deborah Laws, Harriet Gertner, Alason Connell, and Mary Nurre.
Night owls. The 19th "Evening For Rice's Honour" celebrated Rice's success in intercollegiate athletics. Co-chairs Walter and Linda McReynolds and Bucky and Cynthia Allshouse helped to raise over $400,000 as Rice Athletics prepares for entrance into the American Athletic Conference. The Distinguished Owl Club Awards went to Thomas O. Clanton, MD; Julie Griswold, Jen Rigg Kneale, Mark Thomas Scully, Christopher Allen Shoppa, and Robert L. Waltrip. Over time, six million has been raised for scholarships and athletic endeavors. Some athletic supporters included Molly and Jim Crownover, Phoebe and Bobby Tudor, Lilly and Thurmon Andress, Channing Allshouse, Paula and president Reginald DesRoches, Fred and Carol Hansen, Glenda and Doug Nicholson, Christine and Trevor Cobb, Julie Griswold, and Jarett and Sarita Dillard.
When Life Gives You Pears. The memoir by actress, producer, writer, mother of five, and comedic force Jeannie Gaffigan inspired 600 guests at The Barbara Bush Houston Literacy Foundation's Ladies for Literacy Guild for the annual Power of Literacy Luncheon. Co-chairs of "Blooming with Books," mother-daughter duo, Gina Saour and Carolyn Mohsenzadeh, and moderator KPRC2 news anchor Lisa Hernandez were amazed as Jeannie chronicled her tragic diagnosis, surgery, and full recovery from a pear-sized brain tumor. Guild president Ginger Blanton announced the guild raised $575,000 to fund childhood literacy programs and free books. Event emcee Keith Garvin KPRC2 news anchor thanked sponsors to the applause of many bibliophiles.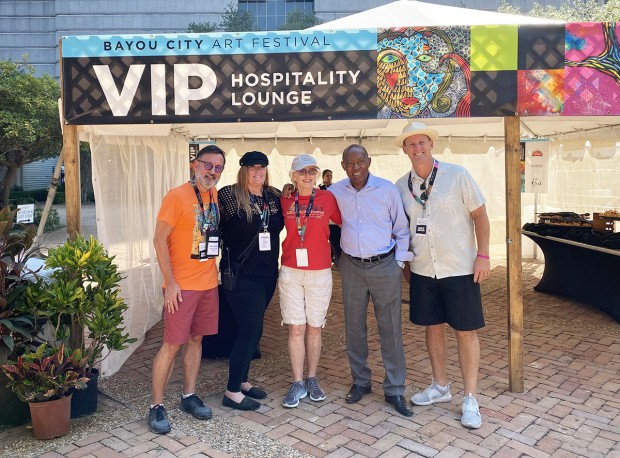 Food as art. The 50th annual Bayou City Art Festival Downtown at Sam Houston Park along Allen Parkway featured a new Culinary Arts Stage with a Chef's Table. Six chefs demonstrated signature recipes and passed out samples for attendees. A food truck park, a craft beer garden, a wine garden, and an inaugural Collegiate Art Collection exhibit were part of the multi-sensory happening. The featured artist Cindy Olmes, from Cincinnati, Ohio, works in multiple mediums. Some festival VIPS, including Mike Pede (Art Colony Association president), Michel Muylle, Kelly Batterson (ACA executive director), Mary Paulette, and Mayor Sylvester Turner made the weekend an imaginative experience.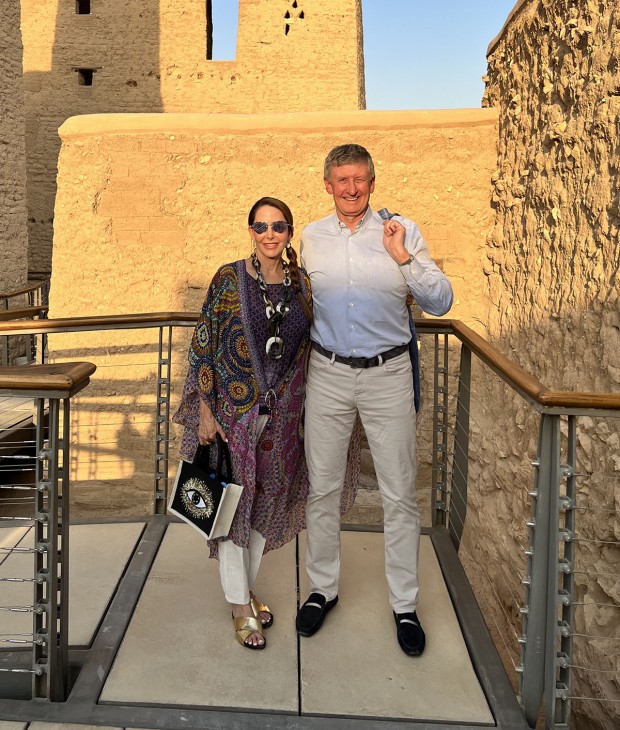 Touring Saudi. Liz and Tom Glanville went off to Saudi Arabia on a daring but guided trip. A morning at Hegra, the site of the Nabatean Kingdom ruins, made them feel ancient but a swim in the Red Sea of Jeddah rejuvenated them. Their history lesson continued at the site of the establishment of the Saudi state in 1700s at Diriyah outside Riyadh. Near there, they were enchanted at a roasted lamb dinner on a large date farm when the hosts arrived with their gyrfalcon.
Have some good news to share? Email us at [email protected].
People in this article:
Blakely Eckhardt
,
Abigail Kleiderer
,
Lauren Bernard
,
Julie Boyd
,
Jeanne Barker
,
Rachel Gillespie
,
Kendall Eckhardt
,
Hailey Kleiderer
,
Melissa Winkler
,
Tim Martinez
,
Lauren Soliz
,
Roland Garcia
,
Lenora Sorola-Pohlman
,
Jose Longoria
,
Sandra Rodriguez
,
Adriana Tamez
,
Flor Munoz
,
Maria Bottazzi
,
Aylin Rodriguez
,
Adan Medrano
,
Christian Navarro
,
Jaxon Turner
,
Lake Taylor
,
Brooke Taylor
,
Amanda Taylor
,
Casey Sherlock Koehler
,
Catherine Koehler
,
Mary Colleen Koehler
,
Claire Higgs
,
Chris Schneider
,
Alec Schneider
,
Matthew Calhoun
,
Chris Christianson
,
Jana Moore
,
Sam Moore
,
Carrie Kurtz
,
Jonathan Kurtz
,
Danielle Kurtz
,
Julien Kurtz
,
Judy Gee Chong
,
Peg Austin
,
Helen Perry
,
Mary Maxey
,
Deborah Laws
,
Harriet Gertner
,
Alason Connell
,
Mary Nurre
,
Walter McReynolds
,
Linda McReynolds
,
Bucky Allshouse
,
Cynthia Allshouse
,
Thomas O. Clanton
,
Julie Griswold
,
Jen Rigg Kneale
,
Mark Thomas Scully
,
Christopher Allen Shoppa
,
Robert L. Waltrip
,
Molly Crownover
,
Jim Crownover
,
Phoebe Tudor
,
Bobby Tudor
,
Lilly Andress
,
Thurmon Andress
,
Channing Allshouse
,
Paula DesRoches
,
Reginald DesRoches
,
Fred Hansen
,
Carol Hansen
,
Glenda Nicholson
,
Doug Nicholson
,
Christine Cobb
,
Trevor Cobb
,
Jarett Dillard
,
Sarita Dillard
,
Jeannie Gaffigan
,
Gina Saour
,
Carolyn Mohsenzadeh
,
Lisa Hernandez
,
Ginger Blanton
,
Keith Garvin
,
Cindy Olmes
,
Mike Pede
,
Michel Muylle
,
Kelly Batterson
,
Mary Paulette
,
Sylvester Turner
,
Liz Glanville
,
Tom Glanville
Want more buzz like this? Sign up for our Morning Buzz emails.
To leave a comment, please log in or create an account with The Buzz Magazines, Disqus, Facebook, or Twitter. Or you may post as a guest.