Creating Christmas Love Stitch by Stitch: Stockings through the Generations
Click the Buzz Me button to receive email notifications when this writer publishes a new article or a new article in this column is published.
The Stockings were hung by the chimney with care, in hopes that St. Nicholas soon would be there. -Clement Clarke Moore (The Night Before Christmas)
For these Buzz neighbors, their love of needlepointing stockings has brought years of Christmas magic to their homes and their hearts.
Elizabeth Groff loves Christmas. She said needlepointing a stocking brings her fond Christmas memories and makes it feel like Christmas all year long. Elizabeth shared, "Over the years, I have completed stockings for my sons, Christian and John Groff, my nephews, Henry and Gus Groff, as well as my husband Christian, Sr. This year I finally found the perfect stocking design for me. It is so cute, with two boys that remind me of our sons and represent our family. The boy in back will have light blond hair and will be playing with Thomas the Tank Engine, while the dark headed boy in back will be holding a black dog that looks like our dog, Emma."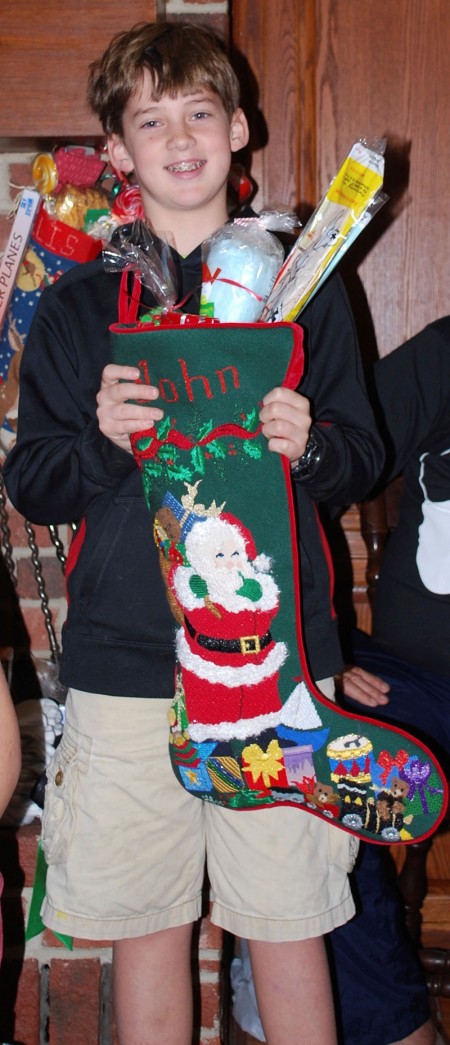 Elizabeth added, "Many needlepointers create stockings for relatives, some that may not even be in the picture like future daughters-in-laws and grandchildren. Barbara Bush was a great example of creating stockings for future generations. When she passed away in 2018, family members were touched to discover needlepoint stockings she had made for future great grandchildren." 
When Courtenay Butler was newly married, her sister suggested they learn how to needlepoint stockings. "My sister realized she did not enjoy needlepointing and decided she was absolutely never making another stocking. I realized I loved it, and it was the beginning of my needlepointing obsession!" Since then, Courtenay has needlepointed 26 more stockings.
 
Growing up, stockings were a big part of Courtenay's Christmas mornings. The tradition has continued. "Each stocking had a tangerine in the bottom and chocolate coins sprinkled throughout. Everyone sat together to discover the treasures in their stockings. Having homemade stockings has been meaningful to our family. My husband and I enjoy using our childhood stockings and decorating with both of our mothers' stockings."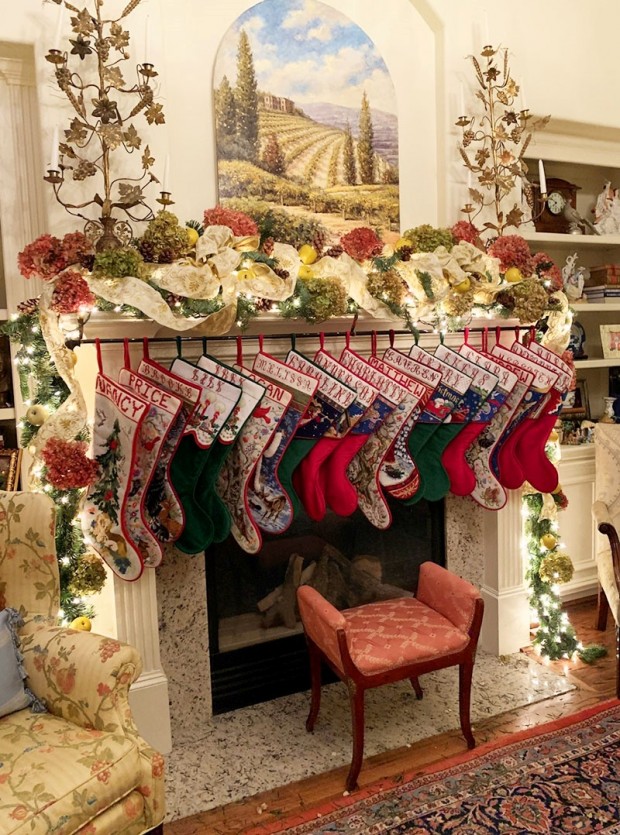 In the '80s, Nancy Moncrief needlepointed stockings for her husband, and four sons. As her children married, Nancy kept busy making stockings for her new daughters-in-law and 10 grandchildren.
 
"Hanging all 19 stockings from the mantel was a challenge," Nancy said. "Then I decided to try looping all the stockings onto a curtain rod and using several stocking holders to hold the curtain rod. It works beautifully." 
 
Nancy continued, "I like the joy each person gets from having their own special stocking, each a work of art, that I feel adds so much to the Christmas decorations and moments of a wonderful season." 
 
Diane Burnett started needlepointing after her daughter Emily Blessinger was born. A stocking for their new baby, one for her husband, Ed, and a third for herself. For many years she did not do any needlepointing but upon retirement started it back up. "When Emily got married, I wanted to make a Christmas stocking for her husband, Philip. I discovered amazing intricate hand painted canvases at The Needle House. So the journey began. This stocking was much more intricate than those I had done before so I decided to track my time. It took me around 400 hours to complete the stocking!"
 
She continued. "Next our granddaughter, Josephine, came along so I made a stocking for her, but this time a stocking with a needlepointed 'cuff' (top of the stocking) with velvet bottom. Then most recently, a needlepoint stocking for our grandson, Atticus, as well. For me, homemade stockings represent a lot of love. Items lovingly made by hand are priceless."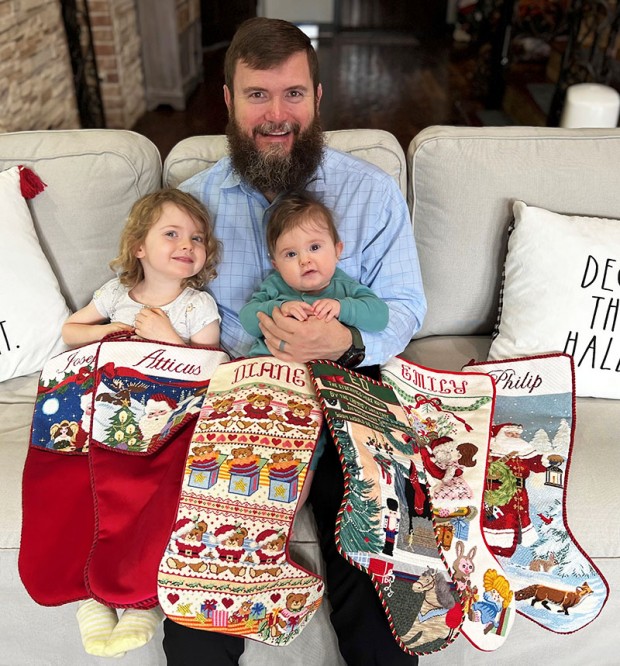 Emily shared, "The stockings have always been something that my mother cherished greatly. I think I took it for granted as a child. Just recently, she was helping me with a needlepoint project, and I have a newfound appreciation for the time and effort required to needlepoint." 
 
Emily continued, "My mother has always been very dedicated to making stockings for everyone in the family. She would probably say that the stockings are her most valued physical possession. We even keep them in a fireproof safe when it's not Christmas time." 
 
Early in their marriage, Sally and Dennis Nelson moved to Borger, Texas, outside of Amarillo. "Dennis was working 12 hours a day during the middle of winter in West Texas. I needed something to do, so I started needlepointing." Over the years Sally has stitched a dozen large stockings for the family and another 15 personalized mini stockings. Sally shared, "We use the mini stockings on our dinner table every Christmas Eve to hold each person's silverware and napkin." 
 
Sally shared, "I love stitching because I feel it is a legacy I can leave to my children and grandchildren and maybe even my great-grandchildren. It is something I can share with them forever. It takes patience and a great deal of time but is so rewarding when you receive the finished piece." 
Editor's note: For more on holiday needlepointing, read Thanksgiving in Stitches by Andria Frankfort and Handmade Decorations by Jennifer Oakley.  
People in this article:
Elizabeth Groff
,
Christian Groff
,
John Groff
,
Henry Groff
,
Gus Groff
,
Barbara Bush
,
Courtenay Butler
,
Nancy Moncrief
,
Donna Moncrief
,
Diane Burnett
,
Emily Blessinger
,
Ed Burnett
,
Philip Blessinger
,
Josephine Blessinger
,
Atticus Blessinger
,
Sally Nelson
,
Dennis Nelson
,
William Butrum
,
Cameron DeLaat
,
Conner DeLaat
,
Ellie Butrum
,
Cooper Nelson
Want more buzz like this? Sign up for our Morning Buzz emails.
To leave a comment, please log in or create an account with The Buzz Magazines, Disqus, Facebook, Twitter or Google+. Or you may post as a guest.