Keeping It Moving
Seniors in motion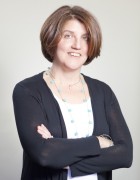 Click the Buzz Me button to receive email notifications when this writer publishes a new article or a new article in this column is published.
I remember the first time I saw a person jogging down the street for exercise. I was a child (this was about 50 years ago) and happened to be with my grandmother at the time.
"What is that man doing?!" she said in dismay.
Although there have always been athletes, of course, there was a time when people, like my grandmother, considered physical exertion to be something you avoided, particularly as you became older.
Then the fitness boom of the '70s came along. The word "aerobics" was coined in 1968, Jazzercise was invented in 1969, Richard Simmons opened his original exercise studio in 1974, Jim Fixx wrote The Complete Book of Running in 1977, and Jane Fonda came out with her workout videos in 1982. Meanwhile, medical researchers continued to study the effects of exercise on human health.
Now we know unequivocally that physical activity is good for us, including when we get older. The Centers for Disease Control (CDC) says on its website, "Being physically active is one of the most important actions that people of all ages can take to improve their health."
Not that we exercise as much as we should. According to the CDC, less than a quarter of all American adults meet its "Physical Activity Guidelines."
The results can be striking when we do, however.
Cyvia Wolff, 87, works out four times a week at The Houstonian Club with trainers, Bob Talamini, with whom Cyvia has been working for almost 30 years, and Gracen Gailey, who works with her on Pilates. Cyvia also makes sure to walk two miles a day. Usually she walks around her neighborhood, but if she can't get outside, "I'll walk around the house in circles," she says. "My friends think I'm crazy."
Cyvia makes a point of climbing up and down the two flights of stairs in her house nine times twice a day, "no matter how late I come home," she says. For those doing the math, that's up and down 36 flights of stairs every day. Vivacious Cyvia says the time flies as she climbs because she is usually on the phone.
On a recent trip to London, where she was the oldest traveler in her group, Cyvia was also the only one to use the stairs at the hotel. Her room was on the eighth floor. (Easy-peasy for someone used to 36.)
At least, she was the only one at first. "Everyone was telling me to come use the elevator, but eventually they all started taking the stairs, too," she says proudly. When traveling, Cyvia carries her own luggage, always takes the stairs and never the escalator at the airport, and the only reason she can't get her bag into the overhead bin on a plane herself is that "I'm too short."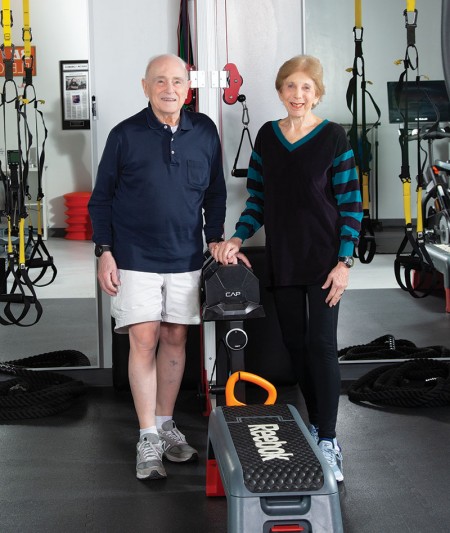 Mickey Rosenau and Ellen Gritz also love to travel and find that their dedication to physical fitness makes their trips more enjoyable. They have always been active. In fact, they first met, in 1975, on a singles canoeing trip. They were active scuba divers for over 40 years – Ellen introduced Mickey to the sport – and have completed 1,200 dives each. Mickey, who turns 92 this month, only quit scuba diving about six years ago, at age 86, when he decided he might find himself in a dangerous situation if he couldn't handle the currents.
These days, Mickey works out twice a week with trainer Andres Loperena, owner and founder of Pledge to Fitness in Bellaire. Most other days, he works out on a treadmill at home, purchased during the Covid shutdown. And to keep an old back injury in check, first thing every morning, he gets down on the floor and does several iterations of a forearm plank – holding himself up on his forearms in a push-up position – for 30 seconds each.
Ellen, 78, swims a mile and a quarter every day at an LA Fitness pool. The Covid shutdown didn't stop her. She swam her daily mile and a quarter in her neighbors' pool.
Ellen has also done a daily yoga routine for the last 12 years. Although she now does this routine at home, she originally learned it from M.T. Mazzarella, who taught yoga classes for employees at The University of Texas MD Anderson Cancer Center, where Ellen was professor and chair of the department of behavioral science.
M.T. herself (M.T. stands for Maria Theresia) still teaches two yoga classes a day at age 83. She thinks physical activity can be so much more than what we usually envision when we think of exercise. "It's not push this body part here and shove that body part there while wearing ear buds in a honky-tonk place," she says. "It's being aware of your body, which is a huge difference."
Others also point out that, though physical strength and endurance are important, the benefits of physical activity go beyond those. Mickey Rosenau points out that going to a gym or an exercise class regularly becomes a source of social interaction.
Note to gym owners: He also points out that playing loud music at a gym wreaks havoc with people's hearing aids. Also, he and Ellen are not impressed by the music – Mickey calls it that "loud, obnoxious, supposed music" that plays on an endless loop in many gyms. "I'd beg for a gym that played classical music," says Ellen.
Maureen Beck, a gerontological nurse practitioner with McGovern Medical School at UTHealth Houston and co-director of the UT Physicians Center for Healthy Aging, says, "We know that physical activity helps your brain because of better circulation, and it releases endorphins which helps mood. Improving your balance can help reduce the risk of falls, while core and leg strength can help you respond if you do start to fall."
She points out that recent developments have made physical activity more accessible. For instance, apps on our phones can track our steps and our heart rates. Even Covid has a silver lining: Many gyms, exercise studios, and trainers continue to offer online classes for exercising at home.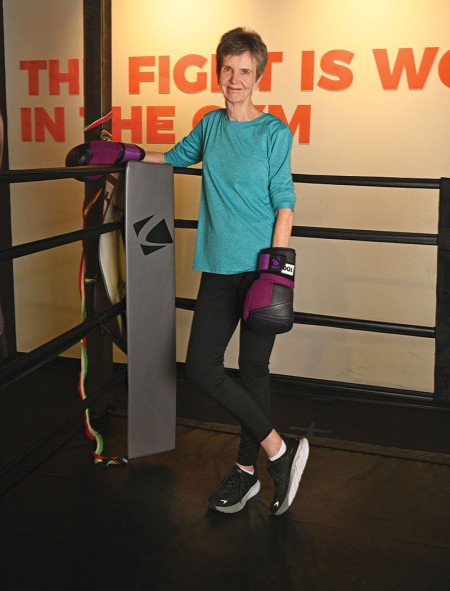 Perhaps there's no clearer evidence of the benefits of physical exercise than the discovery of its benefits for people with Parkinson's disease. According to a recent article in The Washington Post, "a mix of high-intensity aerobics and balance, strengthening and stretching exercises" can delay or sometimes even prevent or reverse symptoms of this incurable disease.
Ragna Case, 76, was diagnosed with Parkinson's about five years ago.
"One of the first things the neurologist says, after giving you that diagnosis, telling you that it's degenerative and that there is no cure, that they have some medications that mitigate symptoms for a while, is that exercise will do that too," says Ragna. "Whether or not you were interested in exercise before, you get interested."
Ragna started with Rock Steady, a boxing class for people with Parkinson's, taught at Legends Boxing here in Houston. (Rock Steady is an international program and Legends trainers have undergone specialized training in order to teach it.) "A one-hour boxing class goes by very, very fast," says Ragna. "I love that. You are totally engaged, mind and body." Rock Steady participants get a cognitive workout as well, listening as the trainers call out a series of numbers, each one a different kind of punch or evasive move, while putting that sequence into action at their punching bags. A group cheer at the end of class helps participants exercise vocally to combat the tendency for Parkinson's to affect a person's ability to speak loudly enough to be heard.
According to Rock Steady Boxing, a non-contact boxing workout is rigorous, works on gross-motor movement as well as hand-eye coordination, and helps with posture, gait, flexibility, and range of motion. Other exercise programs for people with Parkinson's involve activities including dance, swimming, yoga, and tai chi. The Houston Area Parkinson Society (HAPS) offers a number of such classes.
Ragna was doing so well in Rock Steady that she moved to a regular boxing class because she wanted something more intense. Some of her classmates there are in their 20s and say they wish their mothers and grandmothers boxed like Ragna.
"I really feel it when they compare me to their grandmoms, not that they're wrong exactly," she jokes.
Incidentally, Ragna, who has two children and two grandchildren, ages 12 and 16, arranged to have a private boxing class for her whole family. It was a big hit, pardon the pun.
Before her diagnosis, Ragna was like many of us when it came to exercise. "I took classes at the Y and worked with a personal trainer for a while, but if anything came up on my calendar, I'd put it off," she says, "but now exercise is my priority."
All told, Ragna exercises 2 ½ hours per day five days a week. She does her one-hour boxing class three days a week and an aerobics class at her local Y the other two. She also walks three miles every day and stretches for 30 minutes every morning. Aside from the slight tremor in her right hand that led her to the neurologist in the first place, her disease has not progressed in five years. "You wouldn't know I have it," she says.
Ragna says the Rock Steady class offers other important benefits. "There was the camaraderie of the group. We were all dealing with the same issues and could talk to each other, 'Here's what worked for me,' "I recommend this doctor,'" she says. "And it gives you, as a person with this disease, a lot of hope. It's important to have something you can do."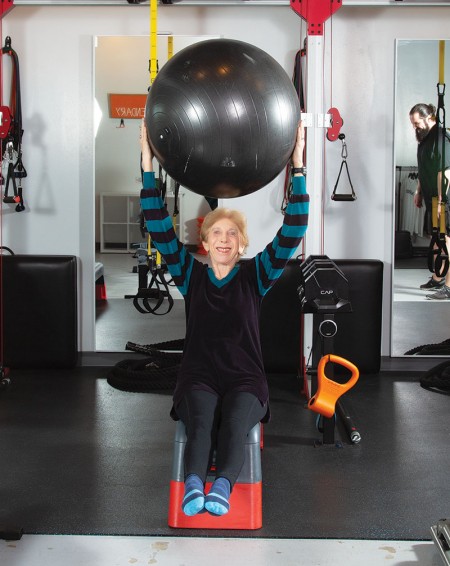 Perhaps the best advice for becoming physically active comes from Mickey Rosenau: "Enjoy it," he says. There are nearly endless ways of being physically active to choose from and almost all of them can be modified as needed.
You don't have to do exercise you don't like to be fit. As M.T., who does not like running, put it with a laugh, "I do not run, but I can run if I have to."
Maureen Beck of the Center for Healthy Aging advises talking to your healthcare provider before starting. Health conditions you have might affect what form of exercise you choose to do. She also advises to start slow and to start where you are. Someone might exercise while seated, using a pedal exerciser for legs or light weights for arms, for example.
When it comes to aging, Cyvia Wolff says, "Don't stop living. Get out and be with people of all ages. You've got to keep moving."
Want more buzz like this? Sign up for our Morning Buzz emails.
To leave a comment, please log in or create an account with The Buzz Magazines, Disqus, Facebook, Twitter or Google+. Or you may post as a guest.