Light and Delicious
Recipes to carry you through January
Click the Buzz Me button to receive email notifications when this writer publishes a new article or a new article in this column is published.
Happy New Year! We are betting there's a lot of no-drinking, Whole 30-ing virtuousness about to happen in response to last month's free-for-all. At least we would like to think we are not alone.
We would also like to think there is a way to be clean-living without going completely dark on flavor. To prove our point, we went through some past January recipes on "Back Porch Table," the weekly online cooking column at thebuzzmagazines.com. And we found some very yummy options that will fit right in with our new workout routine.
Citrus, Fennel, and Avocado Salad
Not only is this salad beautiful, but it's easy to put together and super delicious. It uses seasonal citrus – a big grapefruit and a juicy orange – in concert with creamy avocado and crunchy fennel and walnuts. Light but substantial, rich even, thanks to the avocado and walnuts. A friend described it as refreshing.
1 grapefruit, supremed*
1 orange, supremed* (sumo citrus is super juicy and works great here)
½ avocado, chopped
½ bulb fennel
½ small shallot, minced
2 tablespoons apple cider vinegar
1 tablespoon white balsamic vinegar (or instead of the balsamic vinegar, use Texas Hill Country Olive Co.'s Mandarin Balsamic)
1 tablespoon honey
¼ cup olive oil
Kosher salt and freshly ground pepper
1 head butter lettuce
¼ cup chopped, toasted walnuts
Place the grapefruit, orange segments, and the avocado in a small bowl. Toss gently with your hands, just to coat the avocado in the citrus juice.
Cut the fronds (green stalks) off the fennel bulb and save them for a garnish. Cut the fennel bulb in half and set one half aside for another use. Cut the core out of the fennel and chop. Add the chopped fennel to the bowl of fruit and avocado.
To make the dressing, put the shallots in a small bowl, and pour the apple cider vinegar over. Let this sit for about 10 minutes to mellow the shallots. Then, whisk in the balsamic vinegar, honey, and olive oil. Season to taste with kosher salt and freshly ground pepper.
Pour the dressing over the fruit, avocado, and fennel, and toss gently with your hands.
Arrange lettuce leaves on two plates. Spoon the dressed citrus-avocado mixture on top. Season with a little more kosher salt and freshly ground pepper. Sprinkle with toasted walnuts and a few chopped fennel fronds (just the feathery parts, not the stalks).
*To supreme citrus, trim the ends off the fruit. Stand it up on one end, then cut the peel and pith off in segments, cutting in a curve close to the contour of the fruit. Cut the segments out by slicing between them and the membranes to release the fruit. Place the segments in a bowl and squeeze the membranes over to collect the juice.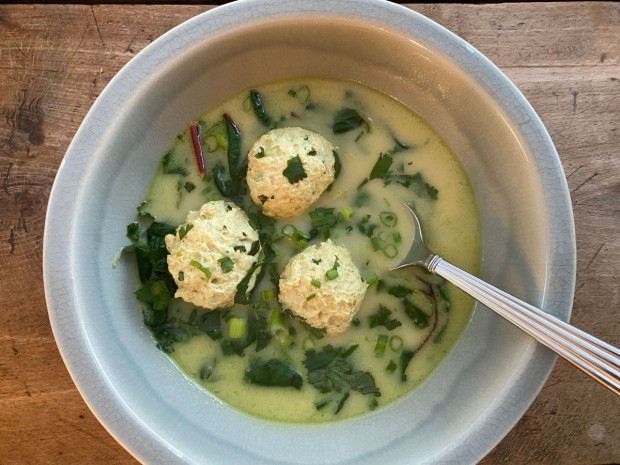 Restorative Ginger and Turmeric Soup with Cilantro Chicken Meatballs
This soup is simple and healthy, and it commands cravings. This is an adaptation of Hetty McKinnon's recipe for Food & Wine; we omit noodles and add chicken meatballs spiked with cilantro. Ginger, turmeric, and a light broth make this a feel-good, comfy, craveable soup.
It is worth pulling out your food processor to make the Ginger Turmeric Curry Paste. And, you will have leftovers, which means you can make a second batch of soup for next week, which you will want.
For the Ginger and Turmeric Curry Paste 2 medium garlic cloves, roughly chopped
4 medium shallots, roughly sliced
1 3-inch piece fresh ginger, peeled and roughly sliced
2 serrano chiles, stems removed, roughly sliced
2 teaspoons fresh lime juice
2 teaspoons ground cumin
2 teaspoons ground turmeric
1 teaspoon ground coriander
3 tablespoons coconut oil
For the Chicken Meatballs 1 pound ground chicken breast
¼ cup minced cilantro
1 teaspoon kosher salt
½ teaspoon freshly ground pepper
For the Soup 1 tablespoon olive oil
4 cups vegetable stock
1 13.5-ounce can coconut milk
1 ½ teaspoons kosher salt
1 bunch Swiss chard, stems removed, roughly chopped
Garnish 2 scallions, finely chopped
1 cup fresh cilantro leaves
Make the ginger and turmeric curry paste: Combine garlic, shallots, ginger, chiles, lime juice, cumin, turmeric, and coriander in a blender or food processor, and pulse until ingredients are finely chopped. Add the coconut oil and pulse until the ingredients form a smooth paste. Keep any unused paste in an airtight container in refrigerator up to 7 days, or freeze in an airtight container.
Make the chicken meatballs: In a small bowl using your hands, gently mix the chicken, cilantro, salt, and pepper. Form golf ball-sized meatballs (you will have about 10), and set aside in the bowl.
Make the soup: Heat a deep, high-sided skillet over medium-high and drizzle with olive oil. Add ½ cup Ginger and Turmeric Curry Paste. Reduce heat to low and cook, stirring constantly, until aromatic, 2 to 3 minutes. Stir in vegetable stock and coconut milk. Gently drop the chicken meatballs into the soup, and simmer about 20 minutes. Season broth with salt and pepper. Turn off the heat and stir in the Swiss chard. To serve, top with scallions and cilantro, and squeeze a little lime over top.
Salmon with Edamame Herb Hummus and Lemon-Tahini Sauce
Virtue does not preclude satisfaction in this restaurant-worthy dinner. Fresh herbs make a hummus that is unexpectedly bright and flavorful, and you will want to have lemon-tahini sauce in the fridge at all times, ready for carrots or cucumbers or whatever other raw veggies you are snacking on. This is the kind of dinner that makes January resolutions doable.
1 ½ pound salmon fillet, cut into 4 portions
1 tablespoon olive oil
Kosher salt and freshly ground pepper
Edamame Herb Hummus (recipe below)
Lemon-Tahini Sauce (recipe below)
1 chopped scallion, green part only
Preheat the oven to 425 degrees.
Heat an iron skillet (or another oven-proof skillet) over medium-high heat. Rinse the salmon and pat it dry with paper towels. Rub the olive oil over and under the salmon, and season generously with salt and pepper. Sear the salmon: Place the salmon skin side up in the skillet, and let it cook, undisturbed, for 2 minutes. Flip so that the skin side is down, and let cook for another 2 minutes. Place the salmon in the skillet in the oven, and let it cook for 10 minutes. Remove from the oven, and let the salmon rest for 10 minutes.
Divide the Edamame Herb Hummus between 4 bowls or plates. Top with a piece of salmon. Drizzle the salmon and the hummus with the Lemon-Tahini Sauce. Sprinkle chopped mint, dill, parsley, and scallions over the top.
Edamame Herb Hummus
½ pound frozen, shelled edamame
¼ cup tahini
Juice of 1 lemon
1 small clove of garlic, chopped
¼ cup chopped fresh mint, plus more for garnish
¼ cup chopped fresh dill, plus more for garnish
¼ cup chopped Italian parsley, plus more for garnish
¾ teaspoon kosher salt
½ teaspoon fresh ground pepper
Combine all ingredients in a food processor until the hummus is smooth.
Lemon-Tahini Sauce ¼ cup tahini
¼ cup water
Juice of 1 lemon
Using a fork, whisk all ingredients together in a small bowl until smooth.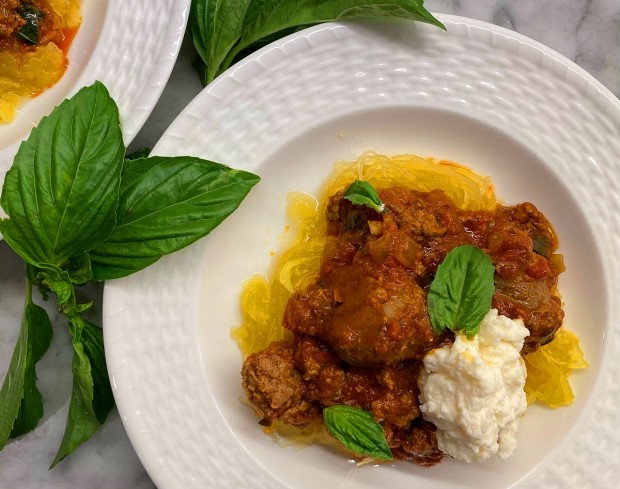 Spaghetti Squash (or Spaghetti) with Meat Sauce, Italian Sausage, and Ricotta
If it's chilly outside and you are craving something super warm, Spaghetti Squash (or Spaghetti) with Meat Sauce, Italian Sausage, and Ricotta will do the trick. The meat sauce is very simple: some ground beef and sausage with a doctored-up jar of marinara. What makes it special is the big pieces of Italian sausage (hot or sweet, however you like it) that add both flavor and heft. Not much to do, and not many ingredients. The ricotta is the creamy addition that might seem odd but really just adds another special element to a simple dish. If you're someone who might say, "Ugh – why would you ruin a good meat sauce with veggies?" don't even think about it, and use whatever pasta you like.
1 pound lean ground beef
2 links Italian sausage (hot or sweet), cut into 1 ½-inch pieces
Kosher salt
Freshly ground pepper
1 yellow onion, chopped
4 cloves garlic, chopped
1 24-ounce jar marinara (use your favorite; we like Rao's)
½ cup basil leaves, plus more for garnish
1 spaghetti squash (if you prefer traditional spaghetti, use it)
½ cup ricotta
Brown the meat and sausage in a large, heavy pot over medium-low heat. To do this, add the meat to the pot and break it up with a wooden spoon. Then add the sausage. Let everything cook for about 5 minutes without touching it. Season with ½ teaspoon salt and ¼ teaspoon pepper, stir, and let it sit again. Do this until the meat browns in spots. Scoop any excess fat out of the pot with a ladle, tilting the pot to make it easier.
Turn the heat to low, add the onion and garlic, and season with another ½ teaspoon salt and ¼ teaspoon pepper. Cook another 7 minutes or so, until the onion is soft, stirring occasionally. Pour the marinara into the pot, then fill the jar halfway with water, and add that. Tear the ½ cup basil over the pot and add it, then stir. Partially cover the pot and simmer for 1 hour.
To cook the spaghetti squash, first cut it in half, lengthwise: Place the squash on a kitchen towel to stabilize it, then slice it from the stem to the bottom. The squash is hard to cut, so cut through one side to the middle, then the other. With both hands, pull the two halves apart. Scoop out the seeds with a spoon.
Place the squash cut-side down in a glass baking dish and fill with about ¾ of an inch of water. Microwave on high for 20 minutes. When it is done, you will be able to poke a fork easily into the skin of the squash. Transfer the squash halves to the kitchen towel (again, to stabilize), and scrape the strands out of each side with a fork. Place the "spaghetti" in a colander set over a bowl to drain. You can press down gently on the squash to remove extra water.
Serve the spaghetti squash topped with meat sauce and a dollop of ricotta. Garnish with basil leaves.
Want more buzz like this? Sign up for our Morning Buzz emails.
To leave a comment, please log in or create an account with The Buzz Magazines, Disqus, Facebook, Twitter or Google+. Or you may post as a guest.