Date Nights
Favorite traditions
Click the Buzz Me button to receive email notifications when this writer publishes a new article or a new article in this column is published.
When a couple gets a chance to have a true date night – not a party or group dinner, a "just-the-two-of-us" outing – it can be a great recharge. While some couples might prefer a quiet night in, some might enjoy getting dressed up and dining at an upbeat restaurant or heading out for a sporting event. What suits one couple might differ from the next.
Date nights (or days), even if just a Sunday drive, are the heartbeat of a relationship and the roadmap to connection. This month, in honor of the holiday that celebrates love, we asked couples what their favorite date spots have been in the past, have become now, or even desire to be in the future.
Omar and Mikhal Abou-Sayed have been married for 13 years but their first date was more than 25 years ago. The couple's favorite date spots have evolved over the years – through raising their three children (Adan, 11, Joaquin, 9, and Alina, 7), and Covid times and juggling busy work and school schedules.
Omar, CEO and founder of Advantek Waste Management Services, and Mikhal, an attorney, love good food and have always enjoyed delicious meals, both at home and at restaurants. Date nights that involve great food have been a big staple of their pre-kids and present-day favorite date nights.
Pre-kids, before any babysitter or childcare logistics, their dates usually consisted of grocery shopping together for ingredients and cooking an intricate meal at home together. Once the kids arrived, and they started to hire a babysitter, Omar said that they would intend to go to dinner to have "adult conversations" and catch up about all things non-kids. "Then we'd end up talking about the kids anyways," said Omar, laughing.
Over the years, and throughout Covid times, their favorite date nights changed from dinner out at a restaurant to walking around Highland Village, playing Pictionary on the touch screen in the car, or picking up food from Himalaya and having a picnic at Levy Park.
The couple added a fun twist to a date night: kid date night. "With three kids, we have found that we really need one-on-one time to connect with them and make them feel like they are getting quality time, so we instituted the kid date nights," said Omar.
Each week, they alternate taking each of their three children on a one-on-one date, alternating kids between Omar, Mikhal, and the grandparents who live nearby (Omar's parents, Kadreya and Ahmed, and Mikhal's mother, Maria). This way, the kids get quality time with each parent or grandparent.
The kid dates can take place anywhere, from a Rockets game, to Alina's favorite spot Sweet Paris, or all three kids' favorite place: Bedrock City Comic Company.
If the kids' school schedules get too busy during the week, they improvise and bring homework to a restaurant. They have worked on school speeches at the Cheesecake Factory. They keep their date nights a priority and make the time that is needed.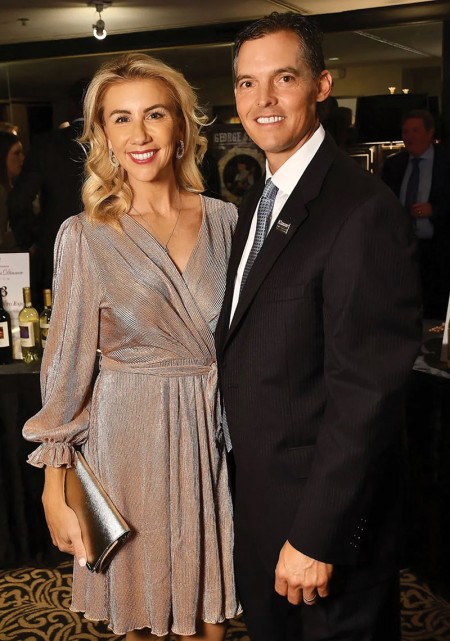 Cathy and David Herr, married for 18 years, knew when they first met that they had found their life companion. The couple became engaged within six months of meeting and married within 15 months of meeting. They are now raising their three children, Hudson, 13, Lauren, 11 ½, and Declan, 6.
Their schedules keep the Herr family busy, but Cathy and David make sure that they take time for each other and sneak away for a date when the kids are at school or busy with activities. Before having kids, Cathy recalls the times when they were more flexible with taking date nights. "Our date nights could go late and we could sleep in," said Cathy. When the kids arrived, and with no family living near them, they hired high-school-aged babysitters to help watch the kids so they could make one-on-one time a priority.
"Our current favorite date is an impromptu lunch or dinner at Kata Robata," Cathy said. They enjoy traveling just the two of them, but it can be hard to get away. "We try to travel and have experiences together as much as possible, but with three kids, it definitely can be challenging," said David, vice president of Blackline Midstream.
A more memorable date night was the time they went out to dinner, pre-kids, and came home to discover a bat flying around in their bedroom. "It was not funny at the time, but every time we tell the story, it gets funnier and funnier," said Cathy. "I saw David flailing a broom in one hand and a tennis racquet in the other," she said. The couple called pest control and confirmed no rabies shot was necessary and that all was clear.
Their secret to enjoying date nights is to always make them a priority, even if they must figure out childcare logistics or take time out of their week. "We try to always put one another first and not forget what attracted each one of us to each other before the craziness of kids' schedules, our volunteer roles, et cetera," said Cathy. David said a quiet dinner with a nice bottle of wine is always a winner, along with dates for watching sports games like the Astros, the Chiefs – and "Cathy's Aggies," he said.
Charity Yarborough Cox, a real estate broker with Compass Real Estate, and Wally Cox, a custom home builder, are newlyweds, and full of energy in their 60s and 70s. The couple married in March 2021, blending their two families, and have been relishing date nights.
Charity said that since they are newlyweds, they like getting dressed up for nice dinners, enjoying live music, and having a fun evening out of the house. They love the music from live entertainer Lou Carrington, who has performed at Tony's for years. "We never miss it or make other plans," said Charity.
They like to be seated near the fireplace where live music is performed each week. "It is the most amazing music," said Charity. They visit, order wine and their favorite dish, the Greenberg salad.
They also travel around three times a year to their favorite city, New Orleans, for an extended weekend getaway. The couple enjoys staying at the Windsor Court Hotel, and date nights out in New Orleans at Galatoire's Restaurant.
They have now started a new tradition with their combined families – dining at Tony's for Christmas Eve dinner, some of which include Charity's grown children, Mollie and her husband Andrew, and her son Patrick and his fiancée Lauren. Whether together just the two of them or with their family members, date nights are a constant source of togetherness.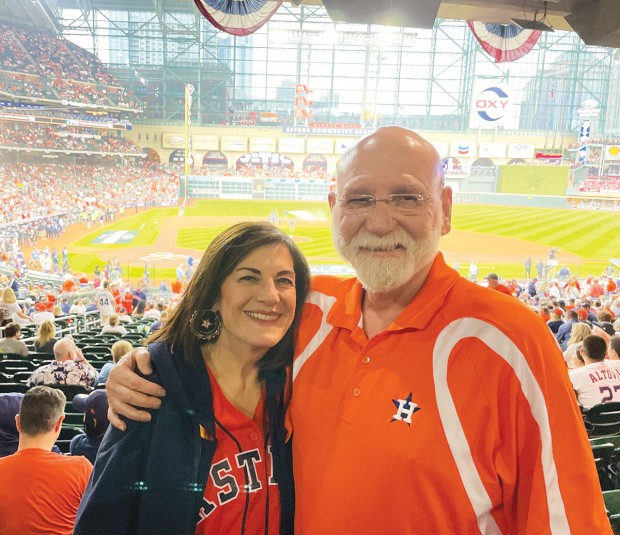 Michael and Ellie Francisco have been married for 31 years, and together for 33 years. Their children are grown and married now – Joe, 29, and Gregg, 36. Now that their children are adults and they are not busy juggling school schedules, they are enjoying dates that can come together more spontaneously. "Planning for two instead of checking on everyone's schedules is easier now that everyone is grown," said Ellie.
Ellie, an event planner and founder and president of Francisco+co, said their current favorite date spot is going for a drink downtown at Potente and walking across the street to Minute Maid Park to catch an Astros game together. The couple recently attended World Series Game 6 – the date night of all date nights. Another perk of grown children? "We really have the freedom to go at a moment's notice and now we only need to buy two tickets to the Astros World Series games," said Ellie, laughing.
The couple enjoys travel, particularly to Napa when they can get away. They also enjoy attending shows at the Houston Livestock Show and Rodeo. "But the thing that has not changed is the person we are happiest to spend time with is each other," said Ellie.
Happy Valentine's Day to all the lovebirds out there; and here is to hoping that you can spend some quality time together this month, even if it is at a grocery store.
Editor's note: What is your favorite go-to date? See this story at thebuzzmagazines.com to share with our readers.
Want more buzz like this? Sign up for our Morning Buzz emails.
To leave a comment, please log in or create an account with The Buzz Magazines, Disqus, Facebook, Twitter or Google+. Or you may post as a guest.