Reunited After 50 Years
From elementary school to the 'Old Geezers Walking Club'
Click the Buzz Me button to receive email notifications when this writer publishes a new article or a new article in this column is published.
Richard Seline (a.k.a. "Ricky") and his wife Eleanor had lived away from Houston, in DC and San Antonio, for more than 35 years. Upon their return about a year ago, Richard started running into old friends.
"I was over at [Congregation] Beth Israel and bounced into a bunch of guys I've grown up with and have known forever and ever. Brad Rauch, the first one, asked me, 'Are you still running?' I said I don't run, but I walk. He says, 'Sounds great, let me know when you're going.' Then I see Stuart Weil, who I know walks. It was basically kind of like I'd see somebody and say, 'What are you doing next Sunday?'"
Now, for six lifelong friends, the answer is the same: they'll be walking.
Richard walks three miles every day. Now he has dubbed his Sunday men's walking group "The Old Geezers Walking Club." When The Buzz asked if we could photograph the group during one of their Sunday walks, Richard assured us, "Our usual walking gear of Speedos and flip-flops will not be present. Though I have received an offer from Lululemon [to be] a sponsor of the Young Geezers Walking Club."
That sense of irreverent humor is the connecting force that has brought seven elementary school friends back together after many years living separate lives.
The Old Geezers Walking Club includes a neurosurgeon (Stuart Weil), two lawyers (Brad Rauch and Alan Aronowitz), a homebuilder (Steven Finger), a men's clothier (Murray Penner), an executive search professional (Mike Kahn), and a resilience innovation and investment advisor (Richard).
Everyone brings their own game. "Alan's got the most robust historical memory," Richard says. "Brad and Stuart have the most robust list of restaurants. Steve Finger contributes interesting music. We chat about everything from politics to movies – or what's on Netflix – to restaurants and family.
"Oh, and there's a fifth topic: old man health issues. I'll leave it at that. Or what body part at 63, 64 is not working. Well let me rephrase: they are all 63 or 64. I'm actually 23. To some degree I don't know what my age is and I don't care. I'm not going to stop working until I get a tag on my toe."
Needless to say, there's a lot of laughter among the group. But there's also a serious side. "We also talk about our feelings about getting older," Brad says. "It's nice to have that outlet. My kids don't want to hear it!"
Alan adds, "We're all in the same walk of life, kids are getting married, we have older parents, there's a grandchild or two. It's good to hear how other people are dealing with the ups and downs of the middle years."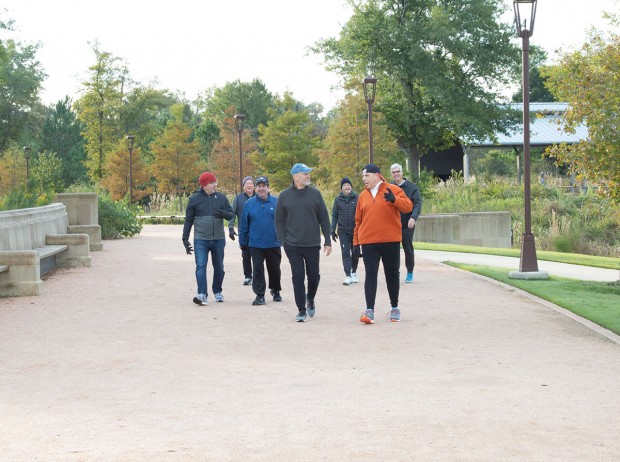 The guys gather on Sunday mornings at 7:30, rotating their walks between Memorial Park, Hermann Park, Buffalo Bayou via Allen Parkway, and White Oak Bayou, with Richard typically suggesting the location. "Besides being the connector, the guy's just one of those people who commands respect. Or disrespect," Alan quips, describing Richard. "When we were growing up, he was one of those very connected young Republicans." Richard himself says classmates used to call him "the senator" in high school. "He tends to take the lead on where we're going, and we'll react. Since we are all opinionated, we'll probably break up at some point, but right now we're mostly in the honeymoon period."
Richard describes the walks: "Some of us are a little bit taller than the rest," he says. "The joke is, Brad and I are hip-to-foot so long that our speed exceeds everyone else, which makes it kind of fun so we divide up based on pace and don't all walk like some gang."
They walk five miles, then sit down together at a nearby restaurant for coffee and breakfast.
Recently, coffee was at Mo' Better Brews near the Museum District. "I got a picture of all of us and posted it on Facebook," Richard says. "The number of people who have responded to it! People we were in elementary school with saying, 'If I'm in Houston am I allowed to come?' The answer was hell yes!"
The group started at Kolter Elementary, but there's more. "We are all connected somehow," Richard says, "through Meyerland, or Indian Guides [the YMCA father-son program that is today called Adventure Guides], or bar mitzvahs. And sometimes high school, and sometimes college. In some way or another, our parents, not all of us but the majority, hung out together. We've probably talked about Alfred's Delicatessen three or four times. It's, 'What day of the week would you go with your family?' then that brings up, 'Oh I remember your family sitting at that table,' then someone says, 'Do you remember when we went to Astroworld together?' Alan Aronowitz doesn't forget anything. He's, 'Do you remember when we were at so-and-so's birthday party in fifth grade?' We're talking about restaurants and politics, and then suddenly we're walking down memory lane."
"It's almost like having a new group of friends, although I've known them for 57 years," Brad says. "But it's almost like having a new friend group because we haven't really connected in that interim.
"With a little bit of maturing – I won't say age, but maturing – we have so much in common.
I've never had a group like that before. I never thought I needed it. Well not that I need it, but it fills an open spot in my life to have this group of friends who I've known so long and to reacquaint myself with them. The walk is good physically but also psychologically."
"Women will talk about anything, but men are not supposed to be like this. We're hunter-gatherers. We're not supposed to talk about our feelings," Richard says.
He adds, "Often, men don't have outlets, except humor. There are things this group is thankful for, like the fact that there weren't cell phones around when we were in college, or we'd all be in jail. We still tell the same stories over and over again. Sometimes they're accurate. But there's this trust and openness. I'm fortunate to be a part of this group."
Want more buzz like this? Sign up for our Morning Buzz emails.
To leave a comment, please log in or create an account with The Buzz Magazines, Disqus, Facebook, Twitter or Google+. Or you may post as a guest.