Sweet Valentine's ideas
Click the Buzz Me button to receive email notifications when this writer publishes a new article or a new article in this column is published.
Buzz Baby is a column about life with little ones. Writer Annie McQueen is a mother of four children under the age of 8.
This month, with Valentine's Day right in the middle, is a sweet time to slow down and show some love to your children while also exploring your creative side.
Mom-of-three Michelle Corrington says that she never passes up the chance to celebrate a holiday with her kids. She and her husband Sean, president of Furniture Marketing Group, are raising 3-year-old twins Avery and Aubrey and 2-year-old Sutton. Life with girls 17 months apart is rarely dull – sprinkle holiday crafts and activities in and you are sure to stay on your toes.
They recently moved to Houston from Plano last summer for Sean's job. The move allowed Michelle, who worked full-time in the commercial interiors industry, to move into the role of a stay-at-home mom along with making custom sunglasses on the side.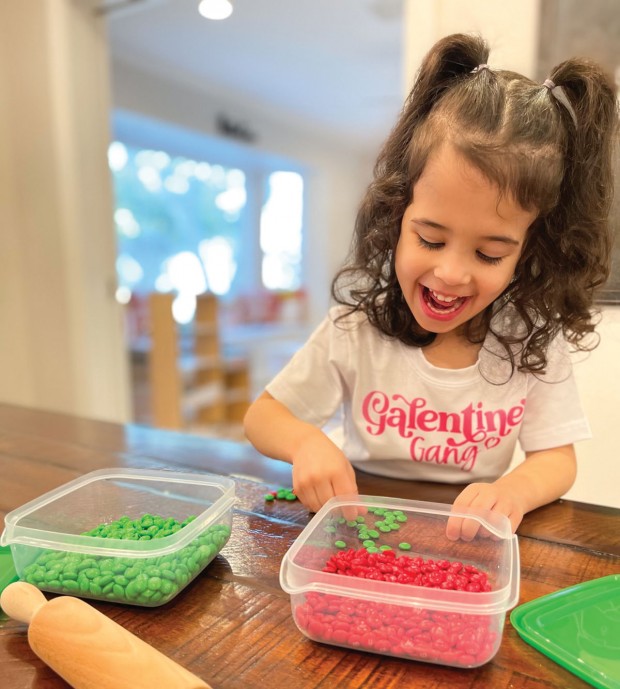 Michelle's goal as a mom of three, including one child with special needs, is to keep everyone engaged and excited. "Having a child with a disability – and three toddlers – requires a little more organized activities," she says. Although, she also says she is learning to be spontaneous. She embraces all things holiday, searching the internet throughout the year for fun ways to celebrate each holiday, even the random "holidays" like Pretzel Day or Jellybean Day. "But Valentine's Day is my favorite transition into the New Year and all things pink for my girls," she said.
She says her ideas have evolved and she has learned how to recycle décor from different holidays. "One thing we did this year was invest in a pink Christmas tree," said Michelle (a 7-foot pink tree can be found on Amazon for around $100).
Michelle says that not only was the pink tree used at Christmas in their household, but it is great for Valentine's Day and even Easter. Michelle and the girls made a heart-shaped garland and repurposed their Christmas red ribbon to decorate it.
The Corringtons have taken to baking lots of delicious cookies with a recipe from Michelle's mother-in-law, Linda Corrington. Michelle says that baking cookies can be a wonderful and easy way to sprinkle in some learning. "I'm always trying to incorporate fine motor skills, and anything to help educate while still having fun," she said. "This particular recipe allows all of the girls to crush graham crackers, while Sutton and Aubrey measure and pour ingredients, and Avery sorts the M&M's." She buys candies in a rainbow of colors to keep Avery busy.
A pro upcycling tip from Michelle: Stock up on the holiday candies when they are on major clearance after Christmas for use on Valentine's Day and St. Patrick's Day. They can be marked up to 80 percent off if you check the after-Christmas sale aisles.
Another crafty project Michelle creates every year is a photo collage frame of the girls for Sean's office. The frame has the letters D.A.D. on the front and, every year, she rotates in a new picture of each of the girls.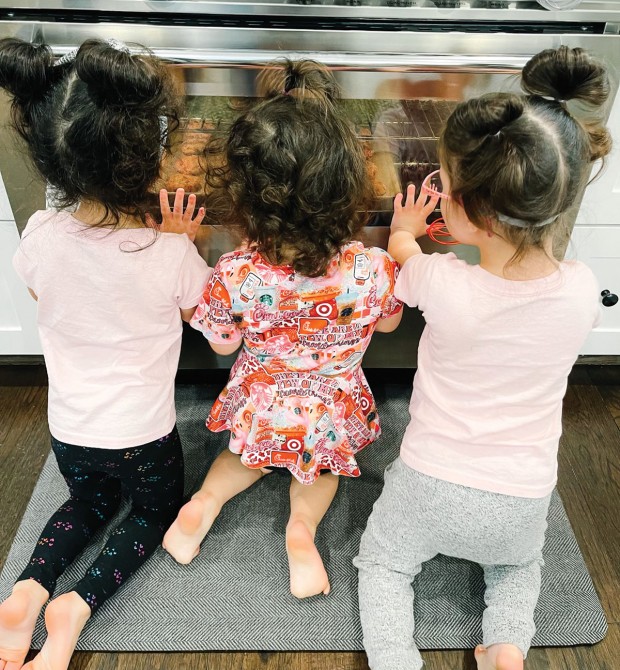 Michelle feels the love, too, each year and reflects on her own experiences growing up. Valentine's Day is not only a time to celebrate love with children, but spouses too can show it in little or big ways. "My father was a single parent to me growing up until he remarried when I was in middle school," she said. "I was fortunate to have a loving home with an amazing father figure. He always got me flowers on Valentine's Day and my husband has done the same for me and my girls each year."
In the future, Sean is looking forward to taking their girls to their first daddy-daughter dance. He has already enjoyed stepping in as "dad" at daddy-daughter dances for the daughter of a family friend (who's a single mom). "I knew from the moment we met he was going to be a great father," said Michelle. "Little did he know we would have three girls," said Michelle, laughing.
Michelle says that not every craft they attempt is Pinterest-worthy – some are chaos-filled but there is always laughter. "We roll with the punches and just make memories amongst the mess," she said. "I might post the pretty pictures online most days, but I have also got a camera full of outtakes that I love to look back on and I still always smile," said Michelle.
Valentine's Day crafts do not need to be over-the-top to be special. Even if it just assembling store-bought Valentine's Day cards, or reading conversation hearts, it is sure to bring joy to your child to spend time together.
1.5 cups graham cracker crumbs
1/2 cup all-purpose flour
2 teaspoons baking powder
1 (14 oz.) can sweetened condensed milk
1/2 cup butter, softened
1 1/3 cups coconut flakes
1 cup mini M&M's
1 cup holiday bits/nonpareils or mini kisses. (Can interchange holiday bits for any occasion.)
Heat oven to 375 degrees. Stir together graham cracker crumbs, flour, and baking powder. Set aside.
Beat condensed milk and butter until smooth, then add crumb mixture, mixing well.
Fold in coconut, holiday bits, and M&M's.
Drop by rounded tablespoon on ungreased cookie sheet. Bake 8 to 10 minutes or until lightly browned. Cool one minute on cookie sheet and then move to wire rack. Cool completely and store in airtight container.
Tags:
Valentine's
,
Valentine's Day
,
Valentine's ideas
,
Valentine's Day with kids
,
Valentine's day with toddlers
,
Valentine's crafts
,
Valentine's recipes
,
Baking
,
Cookies
,
Baking with kids
,
Toddlers
,
Parents
,
Parenting
,
Special Needs
,
Sisters
,
Holiday crafts
,
Holiday Activities
,
Holiday crafts with kids
,
Recipes
,
Cookie recipes
,
Valentine's decor
,
Valentine's decorations
Want more buzz like this? Sign up for our Morning Buzz emails.
To leave a comment, please log in or create an account with The Buzz Magazines, Disqus, Facebook, Twitter or Google+. Or you may post as a guest.