Coogs Madness
For The City
Click the Buzz Me button to receive email notifications when this writer publishes a new article or a new article in this column is published.
"Whose House? Coogs' House!" – the rallying cry, like rolling thunder, reverberates through the University of Houston's state-of-the art Fertitta Center where record-breaking crowds gather to witness the nationally-ranked Cougars play basketball.
By all accounts, the quality of hoops delivered this season has been consistently superb and that's made the opportunity to absorb the action in person the hottest ticket in town.
From their "Coogs' House" in West University, fans Gil and Katina Jackson call it recognition that has been a long time coming.
"We've had about 25 lean years of mediocracy, so this is very exciting," said Gil Jackson, a surgical oncologist at Houston Methodist Hospital and a true fan of the game, as he grew up in the basketball worshiping state of Kentucky. Irreversibly, Gil's allegiance has been pledged to the red and white since the late '90s when his son Alex played baseball for UH and his wife, Katina, started volunteering with the UH Athletics Department.
Katina Jackson has been on a 25-year crusade to improve the facilities and overall UH Athletics program. No longer a volunteer, she's now the Senior Associate Athletics Director. In fact, many fans cite her relentless and meticulous effort as a driving force behind the return of the Cougars to the top of the college basketball world for the first time since the "Phi Slama Jama" era.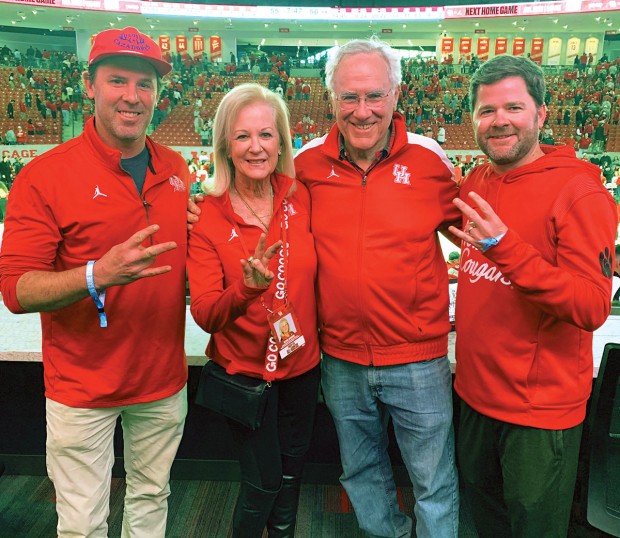 "Phi Slama Jama" is a name coined by former Houston Post sportswriter Thomas Bonk in the '80s referring to the Cougars' explosive, high-flying style of play. The nickname was quickly embraced and trademarked by the team coached by Guy V. Lewis and featuring future NBA Hall of Famers Hakeem Olajuwon and Clyde Drexler.
The Cougars' backslide as a program in the post Phi Slama Jama era was exacerbated with the 1996 breakup of the Southwest Conference and UH's exclusion from the Big 12 conference.
"I have to say when we hired Coach (Kelvin) Sampson (in 2014) we had nothing for him to recruit to. Hofheinz (Pavilion) was really outdated. The locker room was absolutely horrible. We didn't have anything to show the kids," said Katina. "But he has slowly built this program into what it is today. Kelvin Sampson is truly amazing in how he can develop players. He has never been interested in the 'one and dones' like a lot of the top programs."
"I remember games where there were like 100 people in the stands. Now it's the best basketball game experience in Houston. It's just exciting, beautiful, and intense," said Gil Jackson. "Coach Sampson and his team are fantastic."
Game Day is truly a family affair with the Jacksons and their four adult children, Marina Christensen, Alex, Scott, and George Jackson, and Gil and Katina's 10 grandchildren. Alex graduated from UH and Scott got his MBA from UH. All five families live within two blocks of each other in West U and they go to as many Coogs basketball games as they can. The whole family went to see the Coogs battle it out with the Final Four in Indianapolis in 2021. And equally exciting for everyone was watching Alex and Scott's sons serve courtside as ball boys at a recent game.
"It's just been wonderful being that we're sold out at every game; people are just clamoring for tickets," said Katina. "It's been an incredible journey, watching the transformation of UH basketball from where we were to where we are now."
The Fertitta Center has been a game changer, renovated and renamed in 2018. A whole new culture of tailgating and pre- and post-game activities lures fans outside on Cullen Boulevard. Inside the arena, Cougar Brass, the university's premier band for indoor sports, entertains fans who now fill the arena long before opening tip.
It's all familiar territory for Gus Pappas, whose Coogs' House is in Bellaire. Talking to Gus about his Coogs would convert any mediocre fan into a die-hard devotee. His law office is adorned with Cougars memorabilia including limited edition Phi Slama Jama posters from the 1983 and 1984 games when Gus was a cheerleader at the University of Houston. In fact, so certain was Gus that the Coogs would reach the Final Four in 1984, he stuck around for a fifth year of undergrad before law school just to cheer for Olajuwon and crew. That season, the Coogs' quest for a national championship fell short in the title game. Gus admittedly carries a chip on his shoulder about how the Coogs have been treated over the last four decades.
"There are T-shirts out there that say, 'Houston vs. Everybody.' If you talk to a real, true, knowledgeable [University of] Houston person, they have always believed we will always be in a position of nobody respecting us," explained Gus. "And we wear it with a badge of honor, but it makes us hungry. And we actually thrive in that scenario."
There is a long history of the University of Houston being overlooked for membership in big conferences, exclusion which shorted UH untold millions in revenue over the decades. That legacy of disrespect ends July 1 when the Coogs move out of the American Athletic Conference into the Big 12.
"There was a 37-year drought between our [UH] Final Four appearances," said Gus. "It's such an incredible feat to get where we are, from the abyss we were in. I'm just proud of these guys. There is a culture of toughness, togetherness, and selflessness and that makes winners. The lesson is that hard work brings results, and I am enjoying the ride."
Elena Pappas, also a lawyer in Houston, joins her dad, Gus, for a lot of the games, taking turns with her other two sisters, Lexi and Demi and their mom, Pamela. Even though Elena is a proud Texas Aggie, she grew up wearing a lot of red and white – and the occasional Belle costume.
"He would take me to the games as a kid and one Christmas my mom made me a Belle costume. I remember wearing that to the games and running up and down the stairs," said Elena. "It's funny because, of course, I want them to win, but I really want them to win for my dad. He goes into like a two-day mourning period if they lose."
Ashley and Clark Beecher both graduated from UH (in 2008 and 2000, respectively) but met each other as UH alums. The couple, whose Coogs' House is in Tanglewood, owns a restaurant group in Seaside, Fla. and makes it to as many sporting events as they can with their four children: 13-year-old Charlotte, 11-year-old Anniston, 7-year-old Hazel, and 3-year-old Whitworth. Ashley said she never imagined being so invested in her alma mater. It goes way beyond just buying season tickets: she has been co-chair of the University of Houston Hall of Honor Gala since 2021. Hall of Honor is a special fundraising event honoring student-athletes and coaches for their contributions and raising money for student athletics scholarships. The next Hall of Honor Gala is September 14, 2023, the same weekend of the first Cougars' Big 12 Conference home game.
"It's shocking that even though UH is a Tier One powerhouse and an absolutely fantastic school, our athletics donor pool is not as huge as it is at the University of Texas, Baylor, and A&M. They might have hundreds and thousands of big-time donors. We don't – we're a very small community, and we all know one another," said Ashley. "We all have the same goal in mind, to raise money for student-athletes and better facilities that will continue to attract families to entrust the University of Houston with their kids."
Dean and Kathy Pappas (unrelated to Gus' family, even though they share a last name and a passion for the Coogs), whose Coogs' House is in Memorial, have a ritual they refuse to skip on Coogs' Game Days: They make sure they enjoy their cup of joe in their lucky UH mugs. The roots of their dedication are easily traced back to the Phi Slama Jama days when Dean was an undergrad at UH before going to South Texas Law School. Kathy went to school in California but quickly became a fan when she met Dean.
"I never thought we would get back to where we were," said Dean Pappas, who owns an insurance law firm. "One year I had season tickets, I think Ray McCallum was the coach. They mailed them to me. I stuck them in my drawer where I keep my bills and I never opened them again. I put them in the recycling [bin] at the end of March. It's hard to believe it dipped down to where it was."
But they never gave up on the Coogs nor those seats. The couple got a chance to build a friendship with Coach Sampson when they held a fundraiser at their home last year.
"At first, I thought he didn't want to be here [at the fundraiser] because coaches have to do all these PR things," said Kathy Pappas. "But he was just so fun, he stayed late, and he just had a great time. He's a good man and I think that has a lot to do with why they're winning. He's invested in this team for real and those kids trust him and it's a really neat dynamic to watch and be a part of. It's not just about the wins. He is teaching them how to be men in today's society."
Their 27-year-old son, George Pappas, went to UH just one year before transferring to the University of Texas at Austin to play baseball, but he admits he still bleeds red and white.
"I've been a fan from a young age, we go to pretty much every football and basketball game that they offer, both home and away," said George, who was going to Coogs games long before dealing with traffic (due to the increased number of excited fans) was an issue. "We've loved that school for a long, long time. Some of my fondest memories I've had with my dad were at University of Houston events and that includes the Round of 32 and Sweet 16 in 2018."
And no one could dream up a better scenario for the Coogs this year with another hopeful run for the title than winning it in their own backyard, with the Final Four happening at NRG April 1-3. Go Coogs!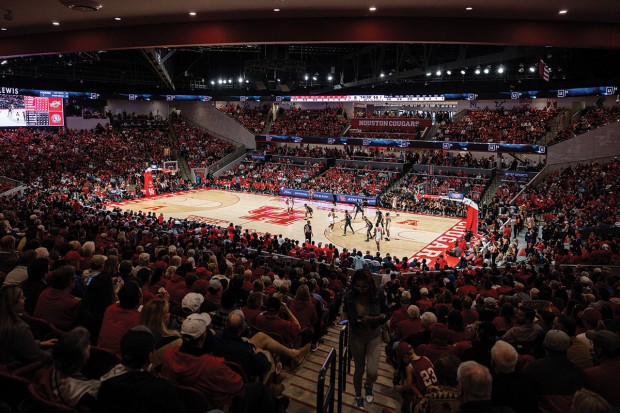 March Madness and Final Four
The 2023 NCAA Division I Men's basketball tournament starts March 14 and will involve 68 teams playing in a single-elimination tournament to determine the NCAA Division I men's college basketball national champion. See ncaa.com.
Men's Final Four Fan Jam Events
The 2023 Final Four takes place in Houston and offers a fun experience for fans, including:
Final Four Fan Fest
Fri., March 31: 12-8 p.m.; Sat., April 1: 10 a.m.-8 p.m.; Sun., April 2: 12-8 p.m.; Mon., April 3: 12-6 p.m.
George R. Brown Convention Center
$8 pre-sale; $10 at the door; free for kids 12 and under
Enjoy fun for the whole family with interactive games, special celebrity and athlete appearances, autograph signings, and more.
March Madness Music Fest
March 31-April 2
Discovery Green
Free with registration
Local and big-name national acts hit the stage at this free, three-day music festival over Final Four Weekend. Friday's performance, headlined by Houston's own Megan Thee Stallion, has already sold out. Saturday will feature performances by Maggie Rogers and Lil Nas X. The weekend will close out on Sunday with Tim McGraw, Keith Urban, Little Big Town, and Mickey Guyton taking the stage.
Final Four Friday
March 31, doors open at 10 a.m.
NRG Stadium
Free
This public event includes open team practices for the Men's Final Four teams from 11 a.m.-3 p.m. Then at 3:30 p.m., watch Reese's NABC All-Star Game, featuring top student-athletes from around the country. The event will include interactive activities and entertainment for fans of all ages.
Final Four 4 Miler
April 1, 8:30 a.m.
Hermann Square at Houston City Hall
Registration starts at $30 for adults and minors
Runners start at Hermann Square at 8:30 a.m. before heading out to Allen Parkway, and will finish the race back at City Hall. All participants will receive a medal, a t-shirt, and complimentary entry to the Final Four Fan Fest. Thirty percent of net profits from the Men's Final Four 4 Miler will go to Girls on the Run Greater Houston Chapter.
Final Four Dribble
April 2, 1 p.m.
Downtown Houston
Free; registration required to participate
At the Dribble, thousands of youth ages 18 and under dribble a one-mile course with their own basketball. All participants receive an NCAA Dribble T-shirt, basketball, and free entry to the Final Four Fan Fest. The course takes children and their guardians from Houston City Hall to the Men's Final Four Fan Fest. METRO is providing free rides for the 2023 NCAA Men's Final Four activities on all three METRORail lines from Friday, March 31 – Monday, April 3.
See finalfourhouston.com/events for more details.
People in this article:
Gil Jackson
,
Katina Jackson
,
Alex Jackson
,
Thomas Bonk
,
Guy Lewis
,
Hakeem Olajuwon
,
Clyde Drexler
,
Kelvin Sampson
,
Marina Christensen
,
Scott Jackson
,
George Jackson
,
Gus Pappas
,
Elena Pappas
,
Lexi Pappas
,
Demi Pappas
,
Pamela Pappas
,
Ashley Beecher
,
Clark Beecher
,
Charlotte Beecher
,
Hazel Beecher
,
Whitworth Beecher
,
Dean Pappas
,
Kathy Pappas
,
Ray McCallum
,
George Pappas
Tags:
University of Houston
,
UH
,
UH Basketball
,
University of Houston Basketball
,
UH Cougars
,
UH Cougars Basketball
,
College basketball
,
Sports in Houston
,
Basketball in Houston
,
College basketball in Houston
,
UH athletics
,
Phi Slama Jama
,
UH basketball history
,
March Madness
,
March Madness 2023
,
Final Four
,
Final Four 2023
,
Houston sports
Want more buzz like this? Sign up for our Morning Buzz emails.
To leave a comment, please log in or create an account with The Buzz Magazines, Disqus, Facebook, Twitter or Google+. Or you may post as a guest.