Cookbooks for Mother's Day
From tacos to dosas
Click the Buzz Me button to receive email notifications when this writer publishes a new article or a new article in this column is published.
May is for Mother's Day, and that means many of us will be on the hunt for something beautiful or maybe useful that our mothers will enjoy. How about a locally produced cookbook? Recent months have brought several new books from Texas cooks, all very different but all worthy of gifting to mom. Here are some of our favorites.
Taco-tastic: Over 60 recipes to make Taco Tuesdays last all week long by Victoria Elizondo 
When a 12-year-old Victoria Elizondo immigrated from Mexico to the United States with her mom Graciela Gonzalez some 20 years ago, she would never have predicted being named a James Beard emerging chef semifinalist. But that she is, thanks to her East End restaurant Cochinita & Co. and her new cookbook Taco-tastic. 
"I think tacos are a love language," Victoria says. "They're universal, everybody knows what a taco is, even in the UK and Europe, and everybody craves them. They're something you want to eat when you celebrate, when you're having a bad day, and when you want to show someone you care."
Taco-tastic features 60 taco recipes, all developed by Victoria, who declines to identify a favorite. "It's like asking who's your favorite child," she says. 
She wrote the book over the course of a year, all while running a restaurant and a packaged products line (you can find her Tostaditas, Jalapeño Salsa Taquera, and more at Cochinita & Co. and at farmer's markets around town). "We had a small budget. A friend did all the [photography] shooting at a table in the restaurant, while I was running the restaurant," Victoria says. 
Recently the Museum of Fine Arts, Houston hosted a book signing for Taco-tastic. "I know it's available in Alaska and the UK," Victoria says. "Seeing people buying it all over the world is pretty special."
Her advice to anyone with their own American Dream: "Always try to stay original," she says. "One way or another, people can tell when you're doing it from your heart."
Masala: Recipes from India, the Land of Spices by Anita Jaisinghani
Anita Jaisinghani published her cookbook Masala: Recipes from India, the Land of Spices last August, after deliberating about it for 10 years. "It's been a long time coming," says the acclaimed chef and owner of Pondicheri and James Beard Award semifinalist.
"There is so much noise out there in cookbooks. If I was going to write a book, it had to be something that others hadn't done; I had to offer something that's uniquely different." What's different about Masala is that, in it, Anita explores many facets of Indian cuisine: she teaches readers about the history upon which Indian cuisine is built; she explains Indian spices and guides readers in combining them to develop deeply flavorful dishes; and she offers a chapter on "Food as Medicine," with fresh ideas on ways that delicious food can also be good for us. "What tastes good and what feels good are equally important," she says.
Anita's focus on how food affects the way we feel began when her husband was diagnosed with cancer in 2016. "Watching someone you love die changed the way I thought about food," she says. "And thinking about the implications of food and lifestyle on our lives led me to Ayurveda [a form of natural medicine based on diet and balance]. I studied it in my real life, in real time, and I became a practitioner about it. I learned how I felt when I ate certain things, and that informed me how to live a better life. Now I feel a responsibility to serve my customers food that has value."
Anita says her favorite section in Masala is the one on dosas (a thin pancake in South Indian cuisine). "I wish for everyone to explore this section. I make them every morning or every night, and I never tire of them," Anita says. "This is much gentler on the stomach, and actually easier to make, but I think dosas are the next sourdough.
"This stuff had all been fermenting in my mind for so long," Anita says. "I tried to keep the writing as short as possible, but if you read it, it's worth reading. This isn't stuff you would find anywhere."
Fiesta in the Kitchen: Our Family's Favorite Authentic Mexican Recipes by Paola Lloyd and Sofia Lloyd
Paola Lloyd didn't plan on writing a cookbook. Then, along came Covid and stay-at-home orders.
"Everybody was cleaning out every closet," the San Antonio mother of two says, "and my mom found my grandmother's handwritten recipe book and gave it to me." Paola and her daughter Sofia started cooking, with Paola translating the recipes from Spanish and Sofia converting them from grams and liters to tablespoons and cups. 
"Initially, we were just going to retype the recipes for the family. But then we had done so much cooking, the next phase was, 'Okay, if we're going to put this together for our family, let's include all the family favorites.' And then everyone started asking for a copy, and then it was, 'If we're going to go through the trouble…' It only took a little encouragement that we needed to do this." It helped that Sofia was a junior in high school. "Being able to say she had authored a cookbook on her college applications was motivation for Sofia."
Fiesta in the Kitchen: Our Family's Favorite Authentic Mexican Recipes was born. 
"It's been a lot of fun," Paola says of writing the cookbook with her daughter. "Sofia and I have always gotten along well – of course we don't agree on everything – but this was different. We were talking about the food and the pictures, relating in a different way." 
A home cook with no traditional training, Paola was unsure about putting the book out into the world. "It's very different when you're an Ina Garten or a Bobby Flay. I'm a nobody from San Antonio. The people I cook for like my recipes, but nobody else really knew if they were good or bad or in between." Consensus is they're good: Paola is close to ordering a second printing of books.
It's hard for Paola to pick a favorite recipe from the book. "They're all recipes from my childhood. They're my memories," she says. If pressed, she'll say the Shrimp Ceviche ("It's unusual.") and the Orange Polvorones ("I just love the way they taste.").
"I wanted to make a cookbook that will live in people's kitchens and will be used. It still shocks me when I walk into a store and see the book and think, 'Oh wow, we did that!'"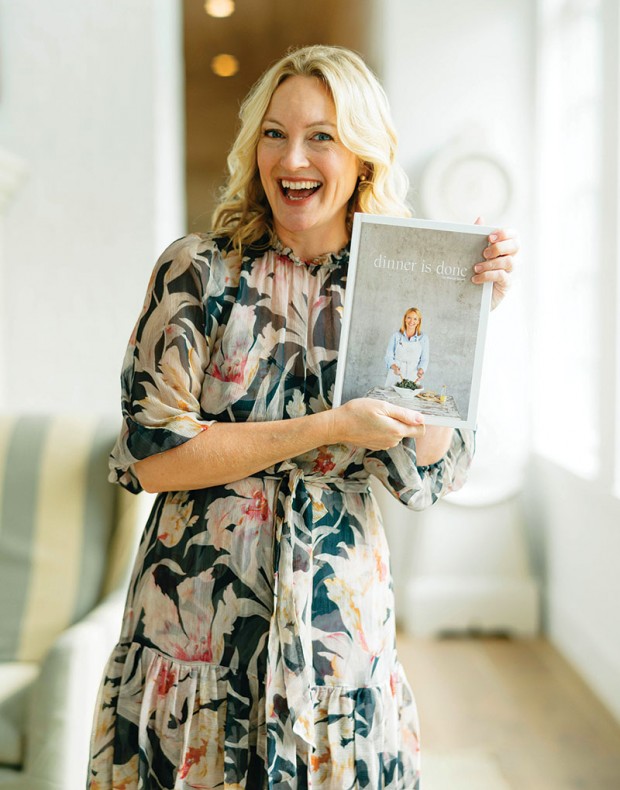 Dinner is Done by Marcia Smart
Dinner is Done is the cooking instructor and food writer Marcia Smart's encouragement to all home cooks that anyone can put dinner on the table any night of the week.
The recipe planner and voice behind smartinthekitchen.com says she has always wanted to write a cookbook. "It's been in my head forever," Marcia says. "We started talking about this before Covid, and I had my whole Google Doc of what we were going to photograph, recipes we were going to make. Then it all came to a halt. But that was a good thing, because after Covid everyone was burned out on cooking, so I focused on the super simple recipes."
The result is a cookbook Marcia calls "a teaching book," full of tips (there's one with every recipe) and ways to get creative and improvise. There's also a photo for each recipe. Marcia lights up when she talks about receiving readers' photos of what they are making in their own kitchens, and she saves them all in a dedicated album in her phone. "I wanted people to say, 'I can do that!' Now I've had people say that to me, and it makes me so excited. I didn't want to do a coffee table book. I wanted it to be used."
Marcia worked with local publishing consultant Roni Atnipp on the book, and Roni has no shortage of praise for it or for Marcia. "Marcia is the real deal. Her recipes are healthy, delicious, and easy to make," Roni says. "My husband says I can make Aunt Sally's Fried Rice or Peanut Noodles from the book every week and he'd be happy."
Marcia is quick to point out that while the book is simple enough for beginners, experienced cooks will also find something new. Dinner is Done recently won the 2023 Best Cookbook and Best Interior Design award from Independent Press Awards.
Ready to wrap up a book or two – or four? You can find them here: 
Taco-tastic – Cochinita & Co., 5420 Lawndale St. #500, or amazon.com
Masala – Pondicheri, 2800 Kirby Dr., Suite B132, or amazon.com
Dinner is Done – amazon.com or smartinthekitchenschool.com/dinner-is-done
Fiesta in the Kitchen – fiestainthekitchen.com
Want more buzz like this? Sign up for our Morning Buzz emails.
To leave a comment, please log in or create an account with The Buzz Magazines, Disqus, Facebook, Twitter or Google+. Or you may post as a guest.