Living her Mother's Legacy
Honoring Mamma's memory through nature
Click the Buzz Me button to receive email notifications when this writer publishes a new article or a new article in this column is published.
Becky Luman has experienced the awe and wonder of nature her entire life. The youngest of six, the family would pack the pop-up camper, pile into the station wagon, and hit the road to escape the stifling Texas heat every summer until she was in her teens. 
Her mother, Ilona, was the inspiration for these journeys, turning summers into a coast-to-coast create-your-own-adventure. Together they soaked up the wildlife and history of dozens of national parks, climbing mountains, hiking grasslands, exploring volcanoes and canyons, and splashing in rivers and lakes they found along the way. 
"I never really knew how uncommon Mamma was," said Becky. "She was well before her time…she went to college in the late 1940s and was a chemist in the 1950s when most women didn't get a higher education or professional position. She and her girlfriends went camping on their own, just the girls and their tent in the great outdoors."
Her father never hesitated to let the kids know that if it had not been for their mother, those fabulous escapades would never have happened.
Sadly, Ilona was diagnosed with cancer when Becky was in eighth grade, and passed away just as Becky graduated from high school. This year, Becky celebrates her mother's life with special poignancy as she is the same age her mother was, 56, when she passed away. And Zane, her youngest child, is now 17, the age Becky was when she lost her mother.
Ilona's guidance and memory have lived on, with Becky, in her own way, carrying on her mother's legacy. Like her mother, she dedicated herself to a career in the sciences, becoming a civil engineer and environmental consultant through Healthy Tweaks LLC. She also instilled her own passion for nature, not only in her children Ariana and Zane but in many others as well. 
So naturally, when it came to travel, she and husband John have sought out a plethora of nature-based expeditions. When Ariana, now 19 and studying at San Diego State University, was in the third grade, Becky's dad, Thomas Petersen, gave her a paper Becky had written in school when she was in the fourth grade titled "What I'm Most Proud Of." And what she was most proud of was that she had been to 42 states, Canada and Mexico, and had never been on an airplane. 
A light went on for Becky. She and John had taken their kids across the world, but they hadn't done what her parents had – taken them on a road trip, or immersed them in the grandeur of US wilderness and history. 
So the Luman family began their own summer travels. John, a trial attorney, worked long hours, but Becky didn't let it stop her. She turned a Nature Conservancy board meeting in Aspen into a nearly month-long road trip with Ariana and Zane, visiting state and national parks and historic sites along the way – and they were hooked. For the next five years, she followed in her mother's footsteps, designing "Luman Family Summer Tours" with her kids – with John joining whenever possible. 
"We love the big parks from the Rocky Mountains to the Smoky Mountains to Yosemite. And we love the small sites, like Carl Sandburg's Home and Tuskegee Airmen National Historic Site," said Becky. "All are part of our history and learning."
That's what led them to the U.S. Virgin Islands National Park for Thanksgiving two years ago (featured in A Virgin Island Thanksgiving, Travel Buzz, Nov. 2022). Ariana and Zane have now been to 45 states and over 90 National Park System sites.
And though Becky could never share these trips with her mother, Ilona has always accompanied them in spirit. "Absolutely, I take Mamma with me," said Becky. "I am very much steeped in my mom's strength, confidence, and intelligence. I pray daily for more of her patience and gentleness," she says.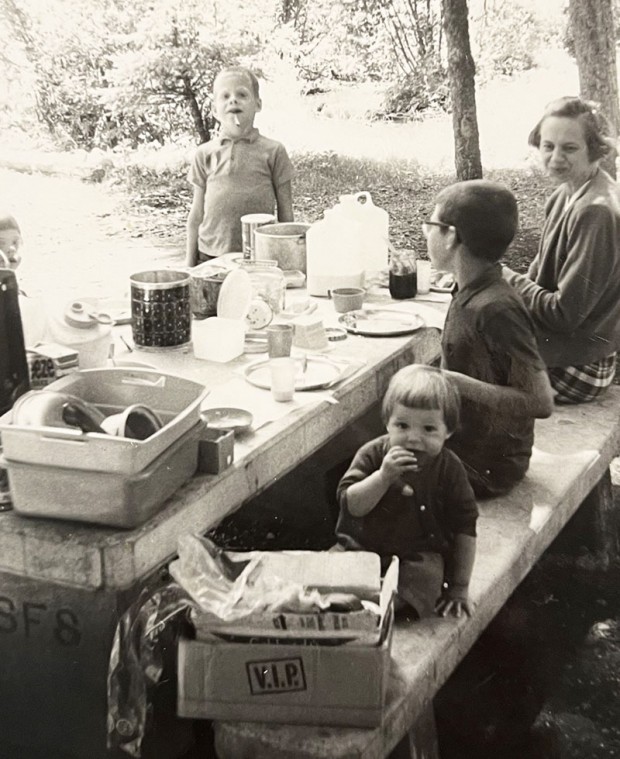 Her mother swam every chance she could, so Becky grew up loving the water. And her mother's intrepidness has found a home in her daughter as well.
"When our daughter's adventurous spirit led her to want to go far away for college, I couldn't do anything but cheer," Becky said.  
In Ariana's last year of high school, her last year at home, Becky thought a lot about her mom. Ariana was busy with friends, so Becky gave her space and organized her time around when Ariana was home. This year, it's the same with Zane.  
"It took a long time to heal from Mamma's passing. I often cried, 'God, why did you take my mom?' I've now come to be so grateful for the time I had with such a kind and loving mother, and I've come to realize that her early passing was her story; His Story: 'Well done, good and faithful servant.' (Matthew 25:23) And it's my story to impart her faith and wisdom to our children and let them grow their own stories."
Editor's note: For more on the Luman family's adventures, see A Virgin Island Thanksgiving, Nov. 2022. Also, check out "Becky Finds Her Park: Celebrating our National Parks 100 Yrs" at healthytweaks.com.
Want more buzz like this? Sign up for our Morning Buzz emails.
To leave a comment, please log in or create an account with The Buzz Magazines, Disqus, Facebook, Twitter or Google+. Or you may post as a guest.