Greenland with the Boyle Boys
Click the Buzz Me button to receive email notifications when this writer publishes a new article or a new article in this column is published.
Kevin Boyle has been quietly building a global father-son tradition with his two teenage boys, Kevin Jr., 14, and Sean, 13, for nearly a decade. Together they've traveled to more than 40 states and 20 countries on several continents. It's not that they don't like to travel with Mom (Liz); Kevin and Liz traveled the world together before she experienced some severe turbulence and developed a fear of flying. Occasionally she has been able to overcome it and join them – for example, on an epic road trip through Europe – but mostly, for travel that involves a flight, it's just the guys. 
The father-son travel tradition began when the boys were 6 and 5 respectively – a weekend getaway to SeaWorld and Six Flags in San Antonio. Since then, they've explored much of Europe and such exotic destinations as Iceland and Australia, where marine biology enthusiast Sean had dreamed of snorkeling the Great Barrier Reef. A few years back, their 2017 cross-country New Zealand adventure was featured in Travel Buzz: Beauty at the End of the World (October 2018).
In 2018 after their European adventure with Liz, she took a direct flight home, but the guys weren't done yet. They had a stop in Ireland and then another one in Iceland. Treasured memories there included swimming in its steaming geothermal pools, exploring its volcanoes on a Jeep 4x4, and enjoying its marine life, fishing and grilling on the boat while whale-watching. They loved it so much they decided to take their Northern travels to the next level, so last summer they chose Greenland for their big getaway.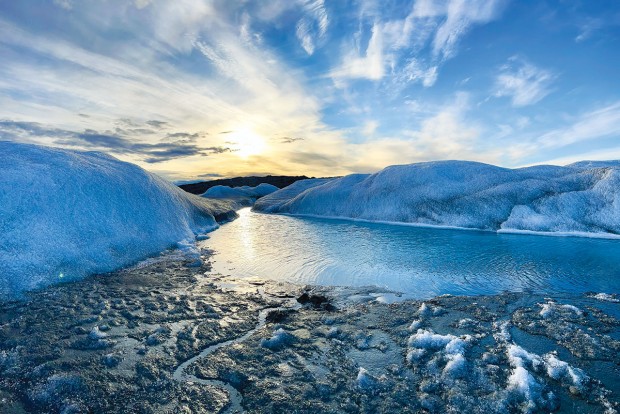 "It's the first time the three of us have been north of the Arctic Circle – and it's definitely the most remote and the most adventurous trip we've taken," said Kevin, CEO at Alaunos Therapeutics. "With global warming and also potential tourism growth in Greenland, we wanted to get there before the beauty is spoiled." 
Signs of pending change on the world's largest island are everywhere; for example, the airport is doubling in size in Ilulissat, a charming West-coast town known for having more sled dogs than people. 
Their point of departure was Denmark, which has had a close relationship with Greenland for a millennium (formerly a Danish colony, Greenland was redefined as a district of Denmark in 1953). 
In Copenhagen they spent a day at Tivoli Gardens, the inspiration for Disneyland, before flying to the town of Kangerlussuaq, pop. 508 – home to the island's largest commercial airport. Kangerlussuaq would later be the point of departure for their biggest adventure – a hike and campout on the Greenland Ice Sheet. For now, they just had time for a foray to the grocery store across the street.
"We walked in and immediately saw guns for sale – long rifles – probably to shoot a seal, right next to the freshly baked bread for the day," said Kevin. They grabbed some food before their next flight, then boarded the turbo prop to Ilulissat, Greenland's third largest city with 4,600 people. The town charmed them with its vibrantly colorful wooden houses, its friendly people, and the local culture. Nearly 90 percent of Greenland's population is of Inuit heritage, with 7.8 percent being Danish. 
"Our first impressions were of the breathtaking scenery, our lungs filled with the freshest air imaginable; it was brisk and so clean," said Kevin. "I couldn't stop taking pictures."
They headed immediately to the port, where they had booked a sunset kayak tour amid the icebergs with World of Greenland. This was their first experience of the midnight sun, which lit up the massive icebergs that surrounded them with a brilliant golden sunset hue.
"From our perspective, the sun never set at all," said Kevin.
They were lucky to float past some hunters harvesting a seal, a practice only allowed by local people for sustenance. They observed the process up close, seeing the traditional bone-handled, half moon-shaped ulu knife used to butcher the animal. The skins are used for slippers and jackets, and the meat is a staple in the Inuit diet.
"How amazing that within a couple of hours we were able to see the natives living a very real existence, earning their sustenance off the land and the sea," said Kevin.
Sean, a lover of marine life, was shocked. "At first I was a little hurt to see that," he said. But on reflection, he thought, "it's really no different from catching fish or farm animals."
Their tour guide explained to them the importance of keeping their distance from icebergs, since there is a danger of pieces shearing off and creating large waves that can capsize a boat. Although they appear to be just floating on the water, about 80 to 90 percent of the formation is underwater – "thus the expression, 'the tip of the iceberg,'" commented Kevin. "The pictures don't do justice to how large they really are." 
Kevin had booked four nights at the Best Western Plus Ilulissat, which featured blackout blinds to keep the midnight sun at bay, and opened the windows to let in a breeze. "It was so great to be huddled under the blankets with this chilly arctic air coming in," he recalled.
Their second day they took a tour to the Eqi Glacier, often referred to as the "calving glacier" since it is one of Greenland's most active, with large pieces frequently shearing off into the water with an explosive noise, creating the icebergs they saw all along the way.
This time they went on a steel-reinforced motorboat so they were able to get closer to the massive glacier, which is about 5 kilometers long and 200 meters tall – although only about 30 to 50 meters appear above the water. At some points the boat plows right through what looks like a straight sheet of ice, pushing it aside with its reinforced hull. 
"Sometimes you'd be chatting and all of a sudden you'd hear this giant roaring sound that was the glacier speaking to you and breaking apart," said Kevin. 
"It was almost like it was giving birth to the iceberg," said Kevin. "It's such an interesting sensory experience – the whole country is, really," he said. "The cool breeze, the chilly rain … you could almost smell the cold. It was fabulous; it was just awakening."
They had one day in Ilulissat on their own, choosing to hike along the spectacular Icefjord at the edge of the city. They walked the whole town, and stopped by a community hall where freshly caught whale meat and blubber were being sold. 
Their own culinary experience was more Danish than Greenlandic – fish and chips and pizza, rather than Native food like whale, moose, or reindeer. Kevin learned too late that there was only one such restaurant in Ilulissat and it was booked far in advance.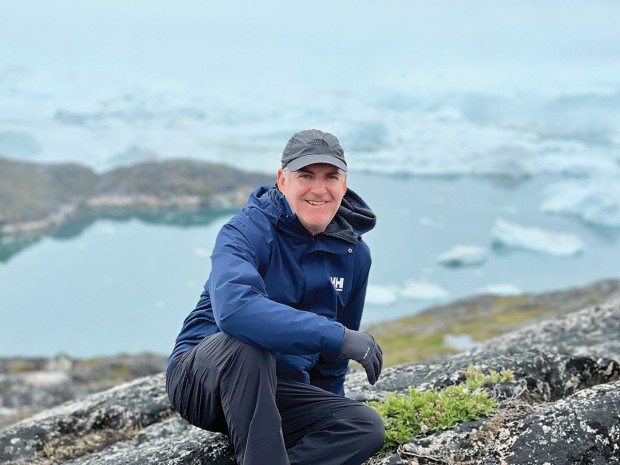 Another highlight was the Ilimanaq Glacier Adventure, which began with a frigid speedboat trip down the Kangia Fjord, past sea lions playing in the icy waters to the tiny town of Ilimanaq, pop. 53. Their all-terrain hike took them through the Arctic tundra through a squishy green wetland to a gravelly glacier, where they changed from rubber boots to crampons and climbed up to see an expanse of zebra-like striations of dark gray and brilliant white, interspersed with bright blue pools.
A long boat ride took them back to their last evening in Ilulissat, where they watched local artisans at work, connected with a local family eating at an outdoor café, and listened to the sled dogs barking at each other.
"I was surprised at all the things people were doing," said Kevin Jr. "It's a whole different lifestyle, and it was pretty impressive how resourceful people can be. We went to a shop where whale meat was for sale, and they were using bone knives to carve the meat."
They had grown quite fond of the town and were sad to leave, but it was time for their last and biggest adventure: the hike and campout on the Greenland Ice Sheet.
They boarded a plane back to Kangerlussuaq and met with their Danish guide, who took one look at their boots and said, "Nope, they are not sufficient at all; you are not going to be ok."
He asked their shoe sizes and went to the building where the guides gear up, and came back with three rugged pairs of boots and three pairs of wool socks. They would need boots that were not just water-resistant but waterproof, the guide explained, since they'd be fording streams along the way. Also, these were higher boots that would support the ankles on the rugged terrain and avoid a possible sprain, which could spell disaster in the treacherous backcountry.
"He was a savior," said Kevin. "I really got the sense this is not an accommodation they typically make."
Their tour bus had a fairly large group that was coming for a short hike, but only seven stayed for the campout. The campers were each responsible for hauling gear. 
"We were like our own sled dogs, dragging behind our own sleds, and stacked in there were hiking poles, tents for all of us, food, cooking equipment, everything we would need – because there was positively nothing out there on the ice."
They hiked for about a mile with the guides assessing the constantly changing landscape to find the best place to make camp, then set up their tents before heading out for a beautiful evening hike up to a point high enough where they would briefly have cell phone reception. "We took a picture of the boys and I on the glacier and sent it to Mom, and she was flabbergasted," said Kevin. "It was just gorgeous."
The landscape was otherworldly – "just the vastness of ice as far as you can see. They very much warned us of the dangers; water is underneath and flowing, and you could end up falling into underground caverns. As beautiful as the surroundings are, you don't want to twist an ankle or fall; the ice is sharp as razor blades."
Finally back at camp they convened in the common tent, where they learned to chip the ice with an ax and melt it with their Sterno camp stoves so they could make instant coffee or hot chocolate and rehydrate the MREs of their choice. 
Though it was time to sleep, it was a challenge – in part because of the excitement, but also because of the cold and wind whipping against their tents in the midnight sun.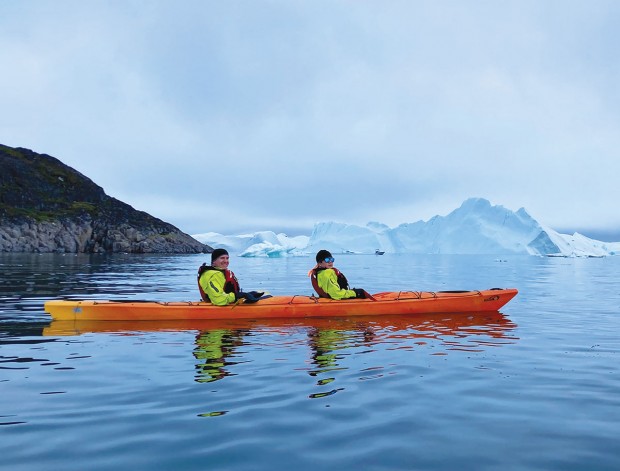 In the morning, they breakfasted on crispy, delicious grilled cheese sandwiches before cleaning up and packing for the hike back, and then, all too soon, the trip back home.
Looking back, Kevin reflects on what for him were the most important aspects of the trip. "We felt so connected to nature, and so removed from electronics," he said. "In a world that is so wired, to be wireless and surrounded by perpetual beauty and to have a climate that was the antithesis of Houston – it was so invigorating." 
Father and sons alike were moved to be in such a pristine environment, said Kevin, and it made them reflect on how they can take more actions to reduce their environmental impact.
Hiking and camping together in such an extreme environment was also a great bonding experience, he said. "With the wind whipping like that, if it hadn't been for the teamwork, the three of us working together, there would have been no way to pitch the tent. It really brought us closer together." 
Want more buzz like this? Sign up for our Morning Buzz emails.
To leave a comment, please log in or create an account with The Buzz Magazines, Disqus, Facebook, Twitter or Google+. Or you may post as a guest.