Marrakesh: What You Need To Know
Click the Buzz Me button to receive email notifications when this writer publishes a new article or a new article in this column is published.
The following guide was compiled by Lisa El Hafi, who was interviewed by Buzz writer Tracy L. Barnett in our July 2023 Travel Buzz column.
Marrakech is a two-hour drive from Casablanca. Most direct flights from the U.S. arrive in the Mohammed V Airport. Direct flights from New York, Washington, Miami, and Montreal. You can also fly through Europe on Air France, Lufthansa, KLM, British Air, Turkish Airlines: Paris, Amsterdam, or Frankfurt. I do not recommend Paris' Charles de Gaulle Airport, unless you are planning to stop in France.
The city of Marrakech is located inland on the edge of the Atlas Mountains. Founded in the year 1062, this magnificent city was originally built using the ancient building technique known as tabia, or rammed earth; the high iron oxide content of the soil led to it being known as the "Red City." 
The climate is dry and temperatures vary by season, but may be hot in July through August. The best months to visit are March through mid-June. October and November are also pleasant. It is best to avoid visiting in December during the holidays because this is the high season for Europeans and the city is very crowded. 
The history of Morocco is complex with a layering of civilizations, including the native Berbers who lived in the Atlas Mountains and in Marrakech before the arrival of the Arabs, who arrived in the eighth century. The country was occupied by the Spanish in the north and in the Sahara. Morocco was a French protectorate from 1912 to 1956. The result is a society where the architecture is a mélange of Moorish palaces and Art Deco banks and post offices built by the French in the 1920s. 
A tourist can stay in historic luxury hotels like the Mamounia or in riads (small boutique hotels) located in the Medina or in the Palmeraie, a vast and historic 32,000-acre palm grove outside the city. One can eat traditional tagines and couscous or enjoy an array of international cuisines. There are myriads of bars and cafés. 
It is possible to stick to the traditional tourist path, but there is much more to discover if you take the time. 
Visitors typically begin with a visit to Jemaa el' Fnaa, the square with its snake charmers, monkeys, ancient storytellers spinning their tales (in Arabic) and natives hawking everything from local wares to counterfeit DVDs. From there you can wind your way through the serpentine alleys of the medina, where you can buy souvenirs, caftans, and babouche (traditional leather shoes). Stands with freshly ground spices, olives and pickled lemons are gradually replaced by stores selling silver and gold jewelry and brass light fixtures and carved wooden tables. 
It is best to go to the medina with a guide from either your hotel or a tour company. Avoid the guides that approach you in the medina. They are likely to cheat you, in my experience.
A visit to the Mellah, the old Jewish quarter, is a must, particularly for anyone interested in Jewish history and culture. The Jewish cemetery has been refurbished by the government. Graves have been restored, cleaned, and clearly marked on a map, facilitating the search for family members' resting place. Many Israelis of Moroccan origin come to Morocco today, especially with the friendly relations between the two countries due to the Abraham Accords.
It is always a good idea to take a respite from the crowds and noise of the city of Marrakech by taking a side trip to the mountains. A trip to Kasbah Tamadot located near Asni should be seriously considered. A luxurious hotel founded by Sir Richard Branson and his mother highlights the crafts made by local women. It offers a combination of well-appointed tents or lavish rooms which are intermingled with lovely gardens, tennis courts and, of course, a large swimming pool with every imaginable type of lounge chair. Usually, guests will stay for at least two nights. However, it is quite expensive, so I have personally opted to make the trip for a delicious lunch. Be forewarned that the road is steep and winding. I highly recommend going with a local driver or your guide.
Below is a list and a brief description of other sites that are highly recommended.
Bahia Palace. Built at the end of the 19th century by Si Moussa, who was vizier to several sultans, this is not to be missed. The visitor walks through a multitude of salons, each leading to a garden or patio filled with cypress and palm trees. Roses and other flowers grow in the patios along with orange and lemon trees. Each room is different. Some were used as official salons, others housed the Vizier's women (wife, concubines and, yes, slaves).
Dar El Bacha (House of the Pasha Glaoui). Thami El Glaoui was a powerful Pasha or governor and the head of a large local tribe. His house is now a combination museum and restaurant (with amazing desserts and coffee).
Koutoubia Mosque. This imposing landmark was built in the 12th century, and has a minaret that stands 77 meters tall. It was built by the same Sultan who built the Giralda in Seville and the Tour Hassan in Rabat (which remains unfinished because of the Sultan's death). 
The Menara Gardens. This garden with a large pool was built by the Almohad Caliphate ruler Abd al-Mu'min for his wife, who had died. 
M Avenue. Connecting the Menara to Mohammed VI Avenue, this trendy district provides a welcome contrast from visiting historic sites. Opened in 2021, it resembles the multi-purpose shopping/living developments in the United States – think CityCentre in Houston Visitors can find a diverse array of restaurants and stores, residences and hotels. However, the main attraction is a virtual light and sound show projected on walls in the Meydene, a cultural center that also houses a sort of quirky museum. The theme is the city of Marrakech. It is impressive and a nice change from the noise and hustle of the busy streets of the city.
Majorelle Garden and the Yves Saint Laurent Museum are a must visit, and one can get tickets online.
The Saadien tombs. This is a site where the members of the Saadien dynasty built their necropolis. It is interesting, but I would not say it is a must see.
Hotels
The Mamounia: A classic palace turned hotel featured in the classic 1956 Hitchcock film, "The Man who Knew Too Much." Winston Churchill was fascinated by Marrakech and used to stay at the Mamounia and paint the beautiful scenery toward the end of World War II. 
Royal Mansour: If one wants to spend a fortune and experience true luxury, a stay at this hotel will not disappoint. It was built to the King's specifications and has welcomed the well-heeled guest, from the Clintons to the Sarkozis. Of course, they didn't have to pay. 
Oberoi Hotel: This is a hotel built by the Oberoi Indian hotel chain in conjunction with a wealthy Moroccan businessman (who happens to be a friend). It is located outside the city, not far from where I live. It is a beautiful combination of Moroccan and Indian architecture. 
There are so many choices when it comes to lodging: Riads in the Medina (not a good choice for anyone with mobility issues), boutique hotels in the Palm Grove area (much more peaceful), large luxury hotels such as The Four Seasons and The Mandarin Oriental, and more economic hotels scattered throughout the city.
If a client stays in a small hotel or riad, it is always a nice gesture to leave a tip for the maid (she is often also your cook and she works long hours).
A decent tip might be 200 dirhams ($20.00) or more if you want to be generous. Also, it is considerate to tip your guide and driver, especially if they have been awesome. 
Since I am a writer and a voracious reader, I have written a short reading list for any travelers who might be interested.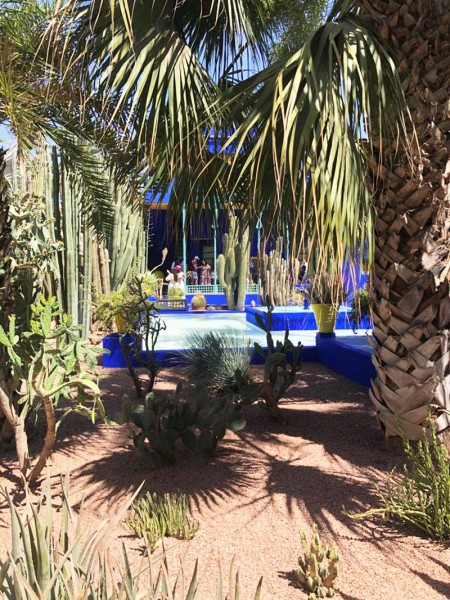 Books about Morocco
Any books by Paul Bowles, an American author who lived in Morocco for more than 50 years. Bowles most famously wrote The Sheltering Sky, but he wrote nine other books about the country, including Let it Come Down and The Spider's House.
In Morocco by Edith Wharton. Yes, she visited Morocco in 1918 when it was still under the French Protectorate. One must remember that it was written by an American woman from her point of view at the time. Therefore, she is sometimes a little judgmental.
The Caliph's House by Tahir Shah: Similar to Under the Tuscan Sun.
Movies Set in Morocco
The Sheltering Sky. Adapted from a book by Paul Bowles, a visually stunning film about three travelers' journey through post-war North Africa.
The Man Who Knew Too Much. This Hitchcock film stars Jimmy Stewart and Doris Day. There are scenes in the original Mamounia (with the original rooms) and in Jemaa El Fna. The second half of the movie takes place in London.
Want more buzz like this? Sign up for our Morning Buzz emails.
To leave a comment, please log in or create an account with The Buzz Magazines, Disqus, Facebook, Twitter or Google+. Or you may post as a guest.