Tastes of their Hometowns: MasterChef Season 13 Contestants with Houston Ties
Click the Buzz Me button to receive email notifications when this writer publishes a new article or a new article in this column is published.
Bright faces filled the spacious, vibrant living room on Friday, May 26, all excited for the premiere of the acclaimed reality cooking TV series, MasterChef. It's not that these guests were longtime MasterChef fans – in fact, most of them were seeing the show for the very first time – yet they were all there for the same reason: to celebrate with host, Samantha Volkov, as her niece Sarah Fry competes on the new season of MasterChef.
Growing up in a small town in Missouri, Volkov was thrilled to celebrate her niece's accomplishment, representing their hometown, Springfield, from all the way in her current home in Houston. Volkov decided to host a dinner party to gather friends and family to watch the premiere of Season 1. Turns out, the episode that aired that week featured the auditions for the Northeast region, so contestant Sarah Fry, who was auditioning to represent the Midwest, was not on that episode. Volkov and those who gathered for the dinner watch party were disappointed not to see Fry on that week's show but were excited to watch the rest of the season.  
Season 13 of MasterChef features a brand-new theme, "United Tastes of America," showcasing a battle between the four regions of the U.S.: Northeast, Midwest, South, and West. Led by judges Joe Bastianich, Gordon Ramsay, and Aarón Sánchez, competitors battle for a cash prize of $250,000 and the title of America's MasterChef. Representing each region, contestants for the show's newest season are all home cooks, bringing to the show their own voice, culture, and taste of home.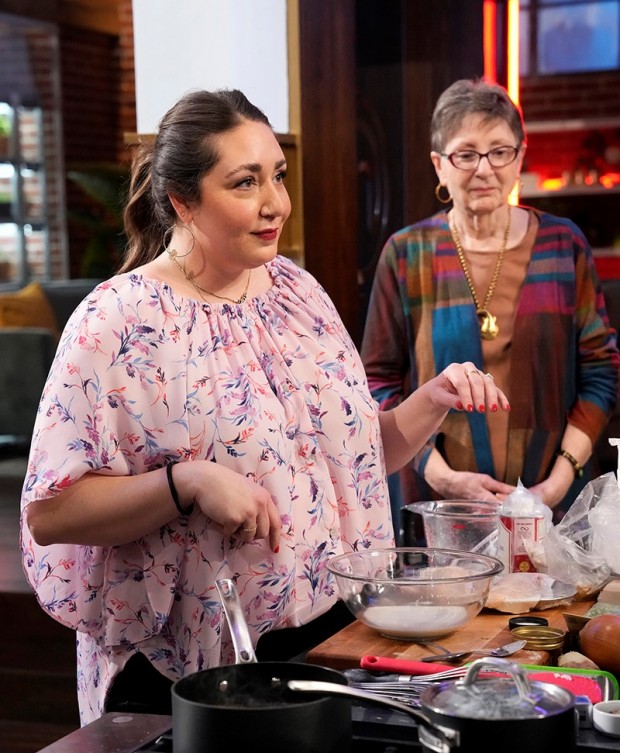 During the Midwest's audition episode, which aired the following week (May 31), contestant Sarah Fry, 32, was one of five contestants to receive her white apron, a symbol of approval to compete in the show. "I am a tried and true home cook. My grandma was a big cook, so she was definitely my inspiration," says Fry. Like many others, she dove into trying new recipes and honing her skills during Covid quarantine. Apart from a waitressing job, Fry has never cooked at a restaurant or attended culinary school. To her, cooking is a "hobby that really turned into my life passion, I'd say. It's also the only thing I've ever stuck with. It's a way I show love to people in my life." 
When auditioning for MasterChef, Fry brought her experience as a home cook with her, making a Missouri and family favorite, Springfield Sour Cashew Chicken and Fried Rice. "I think it was very representative of my life in the Midwest," Fry explains. "It has a great story; It tells about the man who created the dish and his experience of coming to America, his experience coming to Missouri and so I felt really proud to share that and I feel very proud to represent my actual hometown with that dish too. It was a big moment for me and a big moment for my community."    
Presenting the dish to celebrity chef Gordon Ramsay, known for his blunt, often acerbic feedback, was "intimidating," says Fry. "But I felt really special that I made it that far. But then it was almost this imposter feeling, 'am I good enough?' There are so many other people that could be cooking for Gordon Ramsey and now I am here, now he is going to eat Springfield Cashew Chicken. It is very intimidating but also, what could go wrong? He could say 'I don't like it' but he can say 'I love it.' It's intimidating but very exciting too."
Not only did Fry bring Missouri to the show with her, she brought her supportive family as well. "My son is a huge hype man," Fry says, explaining how Warner, her 5-year-old son, rates all her dishes, Instagram videos, and TikToks. "My MasterChef friends will constantly ask 'What's Warner's review?', 'We won't know if it's good, we need Warner's review.'"  So far, Warner has approved. 
"Finding out that I was to receive an apron was probably the highlight of my life," Fry reflects.
Just as Sarah Fry brought herself and her tastes of home onto the show, Houstonian contestant Kolby Chandler, 31, followed a similar approach. Growing up in the northeast side of town, Chandler brought his Houston and Southern pride into his time on MasterChef. His love for cooking and Houston cuisine led Chandler to where he is today in his culinary experience. From childhood cooking with his grandmother, to cooking on TikTok, then Top Chef Amateurs 2021, and now to MasterChef, Chandler has brought his homestyle of cooking into everything he's done.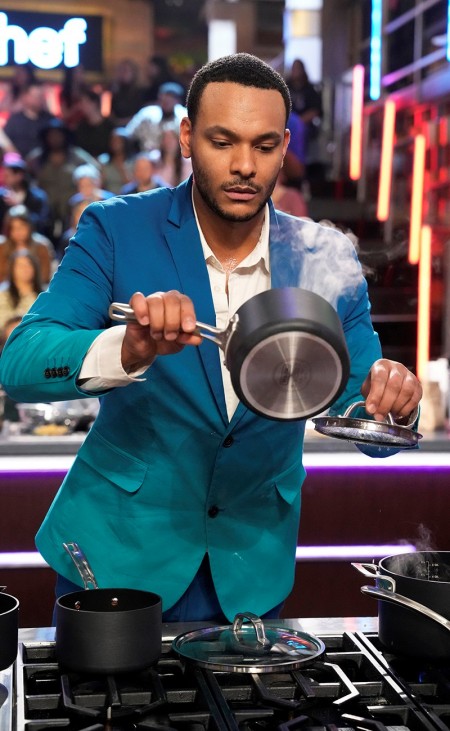 "Houston is such a hidden gem of cultural diversity to where the food scene is amazing," Chandler says. "We have such diversity, we take that diversity, and we put our Southern spin to it; that's how you get Tex-Mex and Creole food." Embracing all the culture Houston has to offer, Chandler adds, "I have a couple favorite restaurants, there is a place called La Lucha in the Heights, they have the best fried chicken I've ever had. If you want brunch, I love Grace's on Kirby. I love Indian food. If you want something more touristy, Turkey Leg Hut has really good food. There are really so many; I should really start a list." When it was time to prepare a dish to impress the judges during his audition process, Chandler knew what he wanted to make. "I wanted to very much do something that spoke to me and my inspiration of my grandma; she is from Louisiana, and my grandpa, he taught me how to make [the dish], and I just elevated it."
Going into the MasterChef experience with confidence, Chandler found the experience more different than he had originally expected. "I was going in thinking, 'I'm a good cook, I can do this,'" adds Chandler, "and then when you see everybody and their dishes that are just beautiful, you think, 'wow, this is something.' And then it's Gordon Ramsey, the pressure is at an all-time high, you don't want to be called an 'idiot sandwich.'"  Looking back at his experience, he adds, "I really enjoyed my time there, it's one of those things where you can really find a place where you belong with people that really are like-minded. The longer you're there, the better your experience with the people and everything like that. I just want to be clear that the people were great."
Chandler will be making an appearance in episode 4, which airs this evening, 7 p.m. central time, on FOX. Other viewing options include Hulu. Tune in with your family to find out what Chandler makes and who will receive an apron next.      
People in this article:
Samantha Volkov
,
Sarah Fry
,
Joe Bastianich
,
Gordon Ramsay
,
Aarón Sánchez
,
Warner Fry
,
Kolby Chandler
,
Javier Murillo
,
Audrey Murillo
,
Shelly Anderson
,
Renana Machol
,
Zoya Volkov
,
Lindsay Kronowitz
,
James Anderson
,
Kelly Sharer
,
Keren Machol
,
Pasha Volkov
,
Ruth Pantoja
,
Christine Stewart
,
Hannah Golub
,
Graham Elliot
Want more buzz like this? Sign up for our Morning Buzz emails.
To leave a comment, please log in or create an account with The Buzz Magazines, Disqus, Facebook, or Twitter. Or you may post as a guest.