Red, White, and Burrata and More Fun Fourth of July Recipes
Click the Buzz Me button to receive email notifications when this writer publishes a new article or a new article in this column is published.
Every successful Fourth of July gathering includes great food. Let us help you wow your friends and family with our creative Independence Day inspired hors d'oeuvres and desserts!  
Hors D'oeuvres  
A trendy twist: Red, White, and Burrata
Inspired by the burst of burrata recipes on Tik Tok and yummy menu items at popular Italian restaurants, I put together a recipe to recreate a trendy favorite. I tweaked a simple homemade garlic toast recipe from My Casual Pantry to make sure the ciabatta bread was packed with flavor, and gathered my favorite toppings to load on. Make this fresh summer toast to satisfy your crowd! Serves 12-14.
Ingredients
1 loaf ciabatta bread
Garlic oil/butter mixture:
2 teaspoons minced garlic
¼ cup olive oil
4 tablespoons butter
Toast toppings:
12 teaspoons pesto (we used store-bought)
2 large red tomatoes
2-3 large burrata balls
1 package baby arugula
Balsamic glaze/drizzle (we used store-bought)
Optional: 1-2 packages prosciutto
Instructions
Preheat the oven to 400 degrees Fahrenheit. As the oven heats up, slice the ciabatta bread into even pieces and lay them flat on a baking sheet. Combine the garlic, olive oil, and butter to make the garlic oil/butter mixture.
Brush the garlic butter mixture onto each slice. Once each slice has an ample amount of oil and butter, put the sliced bread into the oven for 10 to 20 minutes or until the bread looks toasted and golden.
While you wait for the bread to toast, thinly slice your tomatoes. After your ciabatta bread is toasted, spread one teaspoon of pesto on each slice. Then, add your desired amount of burrata to each piece, spreading the cheese over the pesto. In my family, people prefer a heftier coverage of burrata, so I have found that it's best to not be shy with the cheese. After the burrata, add one or two slices of tomato to each piece of ciabatta. Top with a handful of baby arugula and a drizzle of balsamic glaze.
If you are looking for a protein to top your toast, I love using prosciutto, and salami is tasty as well.
Serve these trendy toasts on a festive platter and enjoy!
An All-American favorite: Pretzel dogs
A simplified version of this Food Network recipe, I set out to decrease the amount of time and labor spent on this scrumptious starter. Pretzel dogs capture the spirit of Fourth of July, paying homage to all the hot dogs consumed at summer barbecues. Your typical hot dog bun is upgraded to the next level, as it becomes a soft pretzel with flavorful seasoning. This starter is sure to please everyone's taste buds! Serves 8-10.
Ingredients
Garlic butter:
2 tablespoons butter
½ teaspoon minced garlic
Pretzel dogs:
1-2 pack Oscar Mayer hot dogs or any brats/dogs
2 pack Pillsbury pizza crust
Egg wash (2 eggs)
Flaky sea salt
Everything But the Bagel seasoning
I must preface that this recipe did not go as planned when I made it. In fact, I thought this recipe would be the easiest to make because what could possibly be so difficult about wrapping a hot dog in pizza dough…!? Spoiler alert: It wasn't that easy.
When I first attempted the dish, my dough kept shrinking back up. When I put the pretzel dogs in the oven, the dough unwrapped from the hot dog, leaving a lump of dough somewhat attached to the hot dog. I also thought that butter could function the same as the egg wash; therefore, I did not get that pretzel texture on the outside of the dough. After a bit of research and a phone call to my mom, I discovered that I had over-kneaded the dough and should have made sure that the dough was room temperature before attempting to stretch and roll it. My final product was not very pretty (hence why there's no photo here!), but they tasted delicious!
Based on my experience, here are the most important tips to make your pretzel dogs a success: 
Start by opening one Pillsbury pizza crust. Make sure your dough is room temperature before kneading or stretching the dough. Roll the dough out, and if you see the dough trying to shrink back up, then allow the dough to rest for about 15 minutes. Then, add about a teaspoon of olive oil to the dough, and separate the dough into 4 or 5 even amounts.
Instructions
Preheat the oven to 400 degrees Fahrenheit.
Once you have made sure that your dough is not going to shrink back up, take one of your dough pieces and stretch it to twice the length of your hot dog. Wrap the dough around the hot dog, mimicking the shape of a spring. Ensure that your dough is not going to unwrap itself from the hot dog and place the wrapped hot dog onto a baking sheet.
Before placing the pretzel dogs in the oven, brush the dough with egg wash, covering any dough that is showing. The egg wash helps the dough achieve the look and taste of pretzel. Add a sprinkle of salt and everything but the bagel seasoning to each pretzel dog before putting them in the oven for 15 to 20 minutes or until the crust looks like a soft pretzel.
Take the pretzel dogs out of the oven and brush garlic butter on each one. Don't forget to plate them with your favorite condiments or dipping sauces. Happy eating!
Desserts
For the grown-ups: Frosé Floats
As a college student, I am exposed to all the latest fruity and fun drinks. Tik Tok or one of my sorority sisters always has some sort of new concoction to make. With a sweet tooth like mine, I can never get enough of anything that has to do with dessert. These frosé floats are the best of both worlds! Serves 8-10.
Ingredients
1-2 bottles of your favorite prosecco rosé or sparkling rosé
1 pint raspberry and/or strawberry sorbet
1 carton raspberries
Garnish: 1 carton strawberries
Instructions
Start by adding a scoop of sorbet to a decorative glass. I used a small scoop of raspberry sorbet and a small scoop of strawberry sorbet, so I could enjoy both sorbet flavors. After thoroughly washing the berries, top your sorbet with a small handful of raspberries. Pour the prosecco rosé until the sorbet is covered. Garnish your glass with a strawberry and sip away!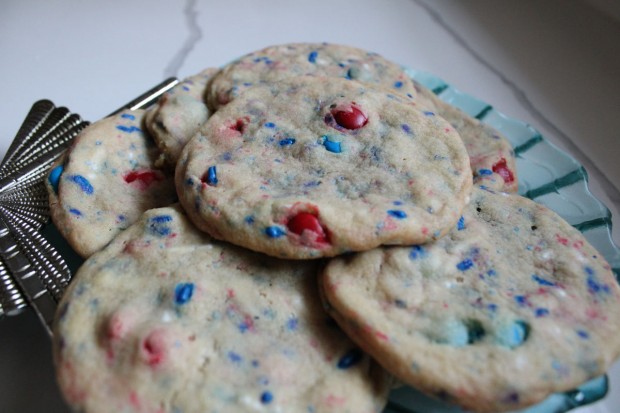 For your kids… or you: Red, White, and Blue M&M Cookies 
Sometimes there's nothing better than a good ole chocolate chip cookie. Throw M&Ms into the mix, and no one can resist! I tweaked my go-to chocolate chip cookie recipe from Pinch of Yum to become mouthwatering red, white, and blue M&M cookies. Be sure to make an extra batch because everyone loves a delicious cookie! Serves 12-14.
Ingredients
¾ cup red, white, and blue M&Ms
Red, white, and blue sprinkles
1 ½ cups all-purpose flour
½ teaspoon baking soda
¼ teaspoon salt
½ cup white sugar
¼ cup light brown sugar
2 teaspoons vanilla extract
1 egg
8 tablespoons butter, salted
Instructions
Preheat the oven to 350 degrees Fahrenheit.
Melt the butter in the microwave for about 30 seconds or until the butter is mostly liquid, but not hot. Add both sugars to the butter and beat until creamy. You can use a stand mixer or electric beater, but I just mixed it by hand. Beat the egg and vanilla into the mixture for a short amount of time until they are incorporated. Then, add in the flour, baking soda, and salt.
As crumbles start to form, use a rubber scraper or your hands to press the dough together. Once the dough has formed, pour in your desired amount of blue and white sprinkles, incorporating them into the dough. Next add your M&Ms, spreading them around the dough evenly. In my experience, red sprinkles, especially those with a sugar-like consistency, tend to smear and stain dough very easily, so I added them to the dough last.
Separate the dough into 12 to 14 balls, depending on the size of cookies you want, and spread the dough balls evenly on a baking sheet. Allow the cookies to cook in the oven for 10 to 12 minutes or until they look slightly golden and puffy and dry. Make sure to let the cookies cool for 15 to 20 minutes. Serve them on a cute tray and watch them disappear!
Want more buzz like this? Sign up for our Morning Buzz emails.
To leave a comment, please log in or create an account with The Buzz Magazines, Disqus, Facebook, or Twitter. Or you may post as a guest.