Rumor Has It - August 2023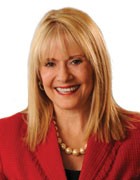 Click the Buzz Me button to receive email notifications when this writer publishes a new article or a new article in this column is published.
The Main wedding. The Sandalwood Manor in Tomball was more than just a spectacular wedding chapel and reception venue. History buff Michael Main and book enthusiast Ada Burch were able to party there the whole day of the wedding, May 14, with their wedding party and stay the night. The Atlanta gal met the Houston guy through Match.com at Starbucks, where they discussed books and music. Three years later, he proposed on a hike in Winter Park, Colo., where he surprised her with a ring that she had swooned over in an antique shop some time before. Two signature drinks, a photo booth, and cupcakes enhanced the wedding celebration. A fall honeymoon to Croatia will add to their history.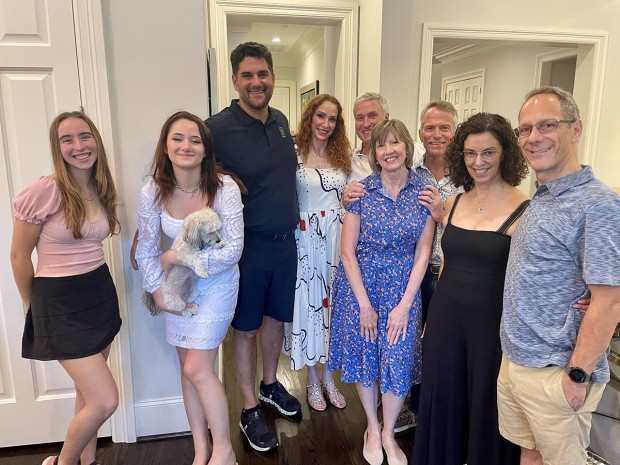 Neighborhood summer party. When Camille and Luis Barreto moved from Mexico City into their Hunters Creek home with kids Damien and Sage, it was just before Covid and they didn't have a chance to meet neighbors. They opened their home July 3rd for a Get-to-Know-You cocktail and light bite afternoon soiree. Mary and Bill Hughes, Jane and Randy Grace, Susan and John Dabbar, Felicia and Bert Baker, Chris and Reese Baker, Suzanne Reyes and Rob Scheinerman, Kal Malik and Feli Wong, Dana and George McKeon with Nenagh and Kiera McKeon were some minglers. Havanese Roxy, adored by all, awaited food droppings. 
Reunion. May 6th finally arrived for 1965 graduates of Memorial High Schools and Spring Woods High School to reunite. The fellowship night was held at Triple Creek Ranch in Cat Spring, owned by Kathy and Mike Wilson. While the cows and horses were off limits, the vintage red (to symbolize MHS) Corvettes, Jaguars, Austin-Healey, and MGB cars welcomed the 90 guests. One could fly fish or feel nostalgic at the large collection of old cars and trucks stored there. The night ended with fireworks over the pond. The "cheerleader" committee that made it all happen were Jerre Parsons Williams, Jana O'Neal Stiffel, Mike and Kathy Milligan Wilson, Cindy Derr Dragoo, Melissa Buckley McKenna Guiett, Jean Fonville Dodge, Martha Robinson Naumann, and Linda Bell Burton. 
The possible dream. When John Lindsley Bratten III graduated from St. Francis Episcopal School, he was given the very first St. Francis "Lifer" award as he has attended for 16 years since pre-primary in the year 2007. He also received the "People for Others" award and Honorable Mention in Senior Arts. This year, John sang Fly Me to the Moon by Frank Sinatra and The Impossible Dream by Josh Groban in Fort Worth at the ISAS Art Festival, which was attended by about 3,000 students from 40 different schools. He played the Beast at their Beauty and the Beast production at the school. He will attend Trinity on a scholarship to pursue business.
College starts soon! The rain held off and a cool breeze set in just in time for the Memorial High School car parade down Piney Point. Over 200 cars participated with graduated seniors. Dianne and Andrew Ralston hosted a breakfast taco party for their daughter Peyton Ralston, who's off to Texas A&M, in their front yard near the route. Nisha Patterson and Keely Krhovjak applauded for Logan Patterson (also off to A&M) and Chliee Krhovjak (heading to Alabama). Colin O'Grady had an elaborately decorated vehicle. Sharon McCloskey held up a super large face of her daughter Riley (A&M); Kim and Doug Bergen hosted a party for Helen Hope Bergen (LSU). Lisa Bates, Bennett Bates, and Dacia Rowe "steered" for Lily Rowe (UT). Bennett's dogs, Gumbeaux, Reagans, and Slinky were ambivalent. 
Annual friendship lunch. What is a schoolteacher to do when she can't see her friends during the school year? Chris Baker hosted an annual brunch at her home with no-fail, baked-to-please recipes, served on a variety of family china. A sweet devotional, said with a hand holding circle with Pam Camp, Cynthia Lange, Nell Sagehorn, Wanda Goode, and others started the brunch as the cheddar rolls came out of the oven. 
Trending. Prepare for a shopping extravaganza featuring 20 unique vendors as The Women's Fund has a fun-filled day Oct. 22 at the Omni Houston. For early arrivals at 11 a.m., there will be educational sessions on "My Body, My Mind, Myself," "What's Stress Got to do With It?", "Post it, Snap it, Tweet it!" and/or "Creating Change for a Healthier YOU." Luncheon co-chairs Beth and Cynthia Wolff will host the 13th Annual Rockin' Resiliency Luncheon with Emcee ABC13's Gina Gaston featuring Roslyn Bazelle Mitchell as the keynote speaker. Stephanie and Katie Tsuru and Terri Earles will receive awards. A silent auction co-chaired by Clara Orlean and Megan Butler will add to the fun. See thewomensfund.org/special-events. 
Dog days of summer. Frank the Golden Retriever ushered in the dog days of summer aboard a unicorn raft at Charlotte Marchesseau's annual Memorial Day party. He was all smiles in owner Lee Pennington's lap as he enjoyed floating after non-stop dives for tennis balls. Charlotte's party marks the beginning of summer with a feast that rivals Thanksgiving Day. The highlight is always the raft that encompasses Charlotte's "cocktail pool." First came the SS Minnow, a seaworthy raft that accommodated six. Then there was an airplane comfortably seating four passengers. Mary Maxey said, "We knew we were in for a good time when Charlotte revealed that the 2023 unicorn raft had 10 cupholders and an ice bucket!"
Family style. The U.S. Open, Hollywood Walk of Fame, Warner Bros Studio tour, a Dodgers game (with grandsons Bryan and Jason Persky and Ethan and Spencer Siegel) and an afternoon on Rodeo Drive. These were just some of the outings that Gail and Larry Levinson took to celebrate their 50th anny with their family gathered in Los Angeles. The big to do, however, was a beautiful dinner at Amy and Adam Siegel's house with help of Dana and Ken Persky. The girls had lots of old pictures and a game night with questions about Larry and Gail. The couple were in Nashville on their actual anniversary, June 24th. Good Things by David Houston, popular in 1973, comes to mind.
Dual identities. Stephanie Perkins, aka novelist SC Perkins, has picked up a second pen name: Celeste Connally. Turns out Stephanie Perkins is a common name for authors and, although it is vexing, one has to be accommodating. Celeste is her middle name and Connally is a family name. After writing mystery genealogy- oriented books under the name SC Perkins, she has now launched into a new direction under the name Celeste Connally, with her first historical mystery set in Regency-era England, 1815, titled Act Like a Lady, Think like a Lord (Lady Petra Inquires). Although it comes out Nov. 14, the book is available for pre-order. 
The Gilded Age. Julie and Sandy Bartlein found looking at mansions so easy with the Newport Mansions app that leads you to the desired mansions and tells you all about them. Buy your ticket online through the app if you want to explore the way the Vanderbilts and Astors lived. They found Doris Duke's home "Rough Point" of particular interest. Julie said, "People playing on the beautiful grass courts at the Tennis Hall of Fame and diners around the main court" made for a picturesque scene. The Green Animal Topiary Garden features 80 animal topiaries including "Lego Sculptures." They capped off their trip with a ferry ride to Sandy's brother's house in Sagaponack in Southampton. 
Moving on. Suan Tinsley retired after 39 years in the multi-family biz. Now her life is going to be centered around herself and her family that is scattered from Oklahoma City to Los Angeles. She and her significant other plan to enjoy Lake LBJ in a newly purchased home. Suan will use her skills as a member on the KNOWAutism board and as a volunteer in her parish, Prince of Peace. Her future plans included trips to Croatia and Portugal and a return to Morocco. Retired but not tired!
Have some good news to share? Email us at [email protected].
People in this article:
Michael Main
,
Ada Burch
,
Camille Barreto
,
Luis Barreto
,
Damien Barreto
,
Sage Barreto
,
Mary Hughes
,
Bill Hughes
,
Jane Grace
,
Randy Grace
,
Susan Dabbar
,
John Dabbar
,
Felicia Baker
,
Bert Baker
,
Chris Baker
,
Reese Baker
,
Suzanne Reyes
,
Rob Scheinerman
,
Kal Malik
,
Feli Wong
,
Dana McKeon
,
George McKeon
,
Nenagh McKeon
,
Kiera McKeon
,
Kathy Wilson
,
Mike Wilson
,
Jerre Parsons Williams
,
Jana O'Neal Stiffel
,
Kathy Milligan Wilson
,
Cindy Derr Dragoo
,
Melissa Buckley McKenna Guiett
,
Jean Fonville Dodge
,
Martha Robinson Naumann
,
Linda Bell Burton
,
John Lindsley Bratten III
,
Dianne Ralston
,
Andrew Ralston
,
Peyton Ralston
,
Nisha Patterson
,
Keely Krhovjak
,
Logan Patterson
,
Chliee Krhovjak
,
Colin O'Grady
,
Sharon McCloskey
,
Riley McCloskey
,
Kim Bergen
,
Doug Bergen
,
Helen Hope Bergen
,
Lisa Bates
,
Bennett Bates
,
Dacia Rowe
,
Lily Rowe
,
Pam Camp
,
Cynthia Lange
,
Nell Sagehorn
,
Wanda Goode
,
Beth Wolff
,
Cynthia Wolff
,
Gina Gaston
,
Roslyn Bazelle Mitchell
,
Stephanie Tsuru
,
Katie Tsuru
,
Terri Earles
,
Clara Orlean
,
Megan Butler
,
Charlotte Marchesseau
,
Lee Pennington
,
Mary Maxey
,
Bryan Persky
,
Jason Persky
,
Ethan Siegel
,
Spencer Siegel
,
Gail Levinson
,
Larry Levinson
,
Amy Siegel
,
Adam Siegel
,
Dana Persky
,
Ken Persky
,
Stephanie Perkins
,
Julie Bartlein
,
Sandy Bartlein
,
Doris Duke
,
Suan Tinsley
Want more buzz like this? Sign up for our Morning Buzz emails.
To leave a comment, please log in or create an account with The Buzz Magazines, Disqus, Facebook, Twitter or Google+. Or you may post as a guest.