The Wordlers
The game that sparked a friendship
Click the Buzz Me button to receive email notifications when this writer publishes a new article or a new article in this column is published.
For six women spread across Houston and three decades, Wordle is a lot more than a game. It's the thread that sewed up an unlikely friendship that started more than 7,000 miles away.
Karen Chesnick, Phyllis Cohen, Mila Goldstein-Milos, Phyllis Selber, Jill Selber Handaly, and Sandy Selber Sturm met last summer on a 10-day trip to Israel. Jill and Sandy are Phyllis Selber's daughters, but beyond that and aside from a few loose connections, the women were strangers.
"I knew a couple of them a little bit," Phyllis Cohen, who traveled with her husband Lewis Linn, says. "Well, I'd been on committees with them. Honestly, I really didn't know them. All the meetings were on Zoom, and it's hard to get to know somebody over Zoom."
Karen, traveling with her husband Joe, says, "We knew so many of the same people, but we didn't know each other. Joe knew Phyllis [Selber], who is a little older than me. He knew her husband from golf [Jack Selber passed away in 2022]. I didn't know Phyllis [Cohen], because her kids aren't the same ages as mine. I certainly wouldn't have known Sandy and Jill; they're so much younger. And Mila, she's younger, too." The women range in age from 50 to 76. 
"We live all over town," Sandy says. "Mila is in Meyerland, my mom and I are in Tanglewood, Phyllis [Cohen] is in West U, Karen is in Memorial…and Jill is in Seattle! Between that and our age differences, and the fact that we all lead very different lives, we wouldn't have known each other. But we really bonded on this trip."
The friendship began when Sandy and Jill noticed Phyllis Cohen sitting across the aisle from them on the tour bus, playing Wordle, and a connection sparked. "We all sat in the same seats on the bus every day," Sandy says. "It's like we got into our seats and stayed there for a week and a half." They struck up a conversation about the game, which Sandy and Jill also play.
"Every day we started telling each other how many times it took us to get Wordle," Phyllis Cohen says of the super-popular New York Times word game app, where you try to guess a secret five-letter word in six tries, using deduction to get there.
"Phyllis is so awesome," Sandy says. "She has a great laugh, and she's just open for anything. She was a partner at a law firm and is retired, but she has all these interests and hobbies. She got really into gardening during Covid, she's an avid reader, she loves to travel. I'm a little obsessed with Phyllis!"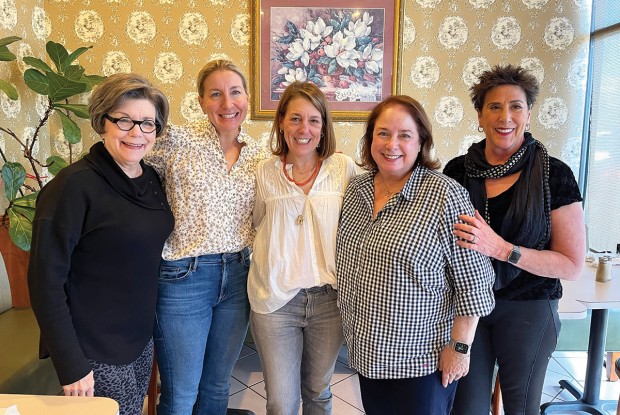 Karen came into the conversation later. "We bonded with her over shopping," Sandy says. "Jill and I are such good shoppers, and Karen would look at what we bought and want to go to the next place with us. Jill and I found these spinning prayer rings that have three little bars on them [representing prayers], so we took everyone to find them later. The man who sold them to us actually wound up coming to our hotel for a mini trunk show.
"Also, we all wanted to bring souvenirs home for our friends, and we were looking everywhere for these olivewood crosses in Jerusalem. We went all over the Old City to find them, and then we get on the bus, and Jill finds them on Amazon for 20 in a box or something. We were still proud of our souvenirs!" 
A little less adventurous than the others, Karen wasn't sure she wanted to go on the trip. She said it took a little coercing to get her there, but, Sandy says, she smiled through the whole thing. "She was such a trooper and did so many new things," Sandy says. "She even rode a camel."
It wasn't until the group, now lovingly known as The Wordlers, got home that their text chain – and their lasting friendship – began.
"One day when we got back from Israel, I texted Phyllis [Cohen] my Wordle, and we've texted every single day for over a year," Sandy says. At first, the texts were between Sandy, Phyllis Cohen, Phyllis Selber, and Jill. Karen joined pretty quickly after, and Mila joined a few months later, when she sat with the others at a Houston wedding shower for Phyllis' daughter. They have not missed a day sharing their Wordle scores with each other – and just checking in – since last summer.
"We text each other our Wordles every day," Phyllis Cohen says, "but it's blossomed into real friendship. Every morning there's this ding ding ding, and somebody will say I got it in however many tries, and everybody says great. Someone puts up a heart or an exclamation – it's really fun. And then we talk about everything else." That might be travel, dogs, politics, or maybe Phyllis Cohen's daughter's upcoming September wedding. "All my Wordlers are invited," she says.
"This has become an important group in our lives," Sandy says. "When something happens, I tell my Tulane friends, I tell my high school friends, and I tell my Wordle group. If we don't hear from somebody one morning, we know something's going on."
The now-tight group meets for lunch or dinner about once a month. A few months ago, Jill, who lives in Seattle, surprised everyone by being there when they showed up at The French House Café. "No one has time to chat on the phone with their girlfriends," Karen says. "But this is like actually talking with five friends every morning. Every morning, between 7:00 and 8:30, everyone starts chiming in. I've become friends with people I probably wouldn't have met in Houston."
The group jokes that Phyllis Cohen, a West U resident, doesn't leave the inner loop except to have lunch at The French House with The Wordlers. "We tease that she needs to pack a suitcase to come," Sandy says.
It was serendipitous that the women all wound up on the same trip. Phyllis Selber had planned to go on previous years' trips, organized by Congregation Beth Israel and Rabbi David Lyon, but first Covid happened, then her husband Jack was sick and eventually passed away. "It was definitely an emotional trip," Sandy says. "My mom had never been, and my dad never got to go. It was bittersweet for sure, but really special for us all to be there together and share it."
Phyllis Cohen also was supposed to go on previous trips, but between Covid and weddings for friends' children, she and Lewis never made it. "I now feel so fortunate that I was on this trip," she says. "I wouldn't have met these friends otherwise. It was such an unexpected little benefit. An unexpected pleasure."
Editor's note: See Riding the Wordle wave, also by Andria Frankfort Dilling, from March 2022, on Buzz residents' obsession with the game.  
Want more buzz like this? Sign up for our Morning Buzz emails.
To leave a comment, please log in or create an account with The Buzz Magazines, Disqus, Facebook, Twitter or Google+. Or you may post as a guest.