HISD Open Door Policy, from the perspective of a student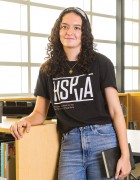 Click the Buzz Me button to receive email notifications when this writer publishes a new article or a new article in this column is published.
The beginning of a new school year is always an adjustment - returning to a regular sleep schedule, forfeiting free time as homework piles up. Inside the classroom too, the start of school brings new teachers with their own rules and expectations. This year though, many procedures come directly from interim HISD superintendent Mike Miles – including the open-door policy.
 
All classroom doors are now mandated to be open during the school day, which quickly drew the attention of HSPVA students. What could possibly be the reason behind this? I kept asking myself. I turned to Google and found many articles published in the days leading up to the first day of school. "We're going to keep the doors open when we teach," Superintendent Miles said in a frequently used quote. He cited "accountability," and administrators' ability to easily be "popping in and out… to observe the quality of instruction."
Quotes from HISD parents and staff reveal the opinion many hold about this policy. "Let's stop pretending there's no danger and let's start following the practices that have worked, which is a shut and locked door," one parent told the Houston Chronicle. In response to Superintendent Miles stating that "teachers shouldn't have anything to hide," President of the Houston Federation of Teachers said that locking a door "doesn't mean you're hiding anything" and that this new policy may face legal opposition.
Like many HISD teachers and parents, the question of safety also arises in my mind. I'm all too familiar with waking up to a news report of another school shooting. I was finishing my last week of 8th grade when the Uvalde shooting occurred at Robb Elementary. This past October we mourned the two victims of the shooting at Central Visual Arts and Performing Arts High School in St. Louis, a school similar to HSPVA. So to hear that classroom doors, which at my school lock from inside, are now required to stay open feels counter-intuitive to say the least.
Something I found, or didn't find, in these articles were quotes from students. And while I can't share the opinions and feelings of all 20,000 students in HISD, I can share mine. One thing the TEA takeover has reminded me of is how lucky I am to be a student at HSPVA. So far, the new district policies have had a limited effect on us. Compared to the learning strategies being implanted at other schools, keeping our doors open during the day is not nearly as drastic. Still, it makes me wonder what policies might come next, and how the culture of HSPVA might change over my next three years as a student there.
 
While it's easy to feel voiceless in a school district that has replaced elected representatives with state-chosen ones, I hope through writing and conversation to remain engaged with the changes happening in HISD. I can only hope that adult officials continue making decisions with the safety and well-being of students in mind, and that the open door policy brings more positive than negative consequences.
Sources: 
Bauman, Anna. 2023. "HISD Superintendent Mike Miles Mandates Classroom Doors Stay Open, Raising Safety Concerns." Houston Chronicle. August 24, 2023. https://www.houstonchronicle.com/news/houston-texas/education/article/hi....
Board, The Editorial. 2023. "After a Summer of HISD Upheaval, Here's How Mike Miles Can Make the Grade (Editorial)." Houston Chronicle. August 28, 2023. https://www.houstonchronicle.com/opinion/editorials/article/houston-isd-....
"St. Louis Students Return to School Where Shooting Occurred." 2023. AP News. January 17, 2023. https://apnews.com/article/teaching-distance-learning-st-louis-education....
Sessions, Kennedy. 2023. "Mike Miles Doubles down on HISD Policy Requiring Open Classroom Doors." Chron. August 29, 2023. https://www.chron.com/news/houston-texas/education/article/houston-isd-o....
Want more buzz like this? Sign up for our Morning Buzz emails.
To leave a comment, please log in or create an account with The Buzz Magazines, Disqus, Facebook, or Twitter. Or you may post as a guest.