Inside the Mind of the Astros Sign Lady
Click the Buzz Me button to receive email notifications when this writer publishes a new article or a new article in this column is published.
On a June afternoon, I visited the Astros Sign Lady – the Houstonian who's famous for holding a different sign for each Astros player who goes up to bat. To me, she's Aunt Barbara, the sweet lady from church who always took photographs at events. I had heard that she was a huge Astros fanatic who went to every game and had rooms in her house dedicated to the Astros, but I found that hard to believe. She seemed so down-to-earth and "normal." As a long-time literature nerd, I thought sports fans were crazy. I didn't understand the point of becoming so emotionally invested in a baseball team.
She handed me a small box, "This is for you," she said. "It's a ball from the World Series, and it's signed by Lance McCullers." I opened the box, and there was a signature scribbled in blue pen. "Do you know who he is?" she asked me. I thanked her and replied sheepishly that I didn't. My family had never been into sports.
She led me to her kitchen where there were multiple shelves full of baseball paraphernalia. On the walls, there were magazines featuring the Astros, black-and-white photographs of players in action and a hexagonal display case full of signed balls. "My family was always very athletic," she said. "I grew up in Mississippi and we were on the softball leagues. And when we moved to California, we got really involved with sports there. That's where it all started - it was in California that I got really interested in the MLB teams." She spoke quickly in a serious voice.
Barbara realized she was a huge baseball fan in 1972 when she went to the World Series with her father to watch the Oakland A's. "We had a little grocery store out in Berkeley, so the bread man actually gave us tickets to go," she said. "That was the defining moment where I was like 'Wow, this is really cool' - because that was my first professional baseball game."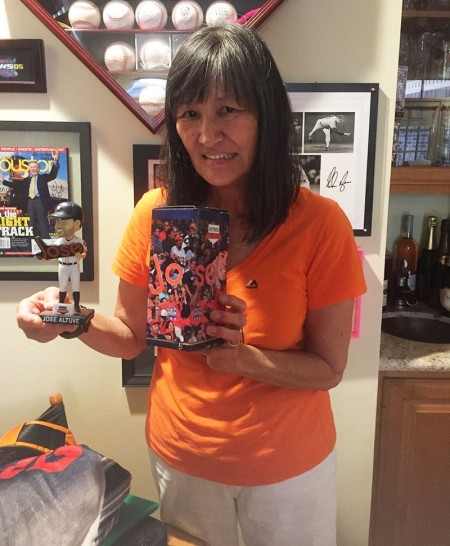 "The thing about baseball is that you never know if you're going to win. No matter how bad of a team you are, the baseball can always go your way. You win a game, you lose a game, and if you lose a game, the next day is a brand-new day. There's always hope you can win a game even if you're a bad team," she said.
From one of her shelves, she took out a box which had a picture of fans cheering from the bleachers. She opened it and showed me a bobblehead of Jose Altuve holding a sign that said "Jose." It was a miniature of the sign that Barbara always holds up when Altuve goes up to bat.
"When the season ticket holder department decided to do this bobblehead, they picked Jose holding my sign. So, it's such a thrill!" she said. "And there's even a picture of me on the box." She pointed out an image of herself holding a sign above her head with a look of passionate intensity. Next to her was Uncle Jimmy, her husband, who is also a big fan. They are members of the "100 Club" for having attended more than 100 regular-season games, both home and away as well as post-season games.
Jose Altuve, the second baseman for the Astros, is Barbara's favorite player. "He's only five feet and five inches," she said. "The neat thing about him is that when he was growing up in Venezuela, he went to try out for the Astros at the Venezuelan academy. And they looked at him and said, 'You're too short. You need to go home.' So he went home and his dad said 'No, we're going to go back and show them that you're a really good player.' So they went back and the Astros thought he was a really good player and let him on the Minor Leagues. And eventually he played for the Astros. I just love that he persevered."
She showed me through her house where she had racks of jerseys and t-shirts and old signs she couldn't bear to throw away. In almost every room she had shelves and shelves of signed baseballs, each stacked neatly in their cubic boxes. "I think I have thousands of them," she said as she pulled out one of her special balls. "This one was signed by George Bush Sr. in 2010," she said. "He and his wife went to baseball games, but they never stayed to the end. But this time, they did, and I got so excited. So I got him to sign my ball."
Seeing her devotion baseball and to the Astros, I had to ask her what it all meant to her - why she went to such great lengths to show her support. It was clear that this was more to her than just baseball. "I'll always show my support for the Astros no matter what," she said. "When I started to cheer for them in 1996, they were the underdogs, and I think it's important to always support the underdogs. Even if they become a bad team again, I'll still root for them. I'm the Pollyanna of the Astros."
I now understand why people like Barbara and her husband Jimmy are such huge fans, and I realize that cheering for the Astros is a way to affirm that we all can achieve greatness. Though you probably won't see me hanging around a baseball field anytime soon, the ball that Barbara gave me will take a special place on my shelf.
Editor's Note: Barbara and Jimmy Moon cheered on the Houston Astros during their World Series win in 2017. See photos of Buzz residents showing their Astros spirit during that historic season here.
Want more buzz like this? Sign up for our Morning Buzz emails.
To leave a comment, please log in or create an account with The Buzz Magazines, Disqus, Facebook, Twitter or Google+. Or you may post as a guest.