Holley's Seafood Restaurant & Oyster Bar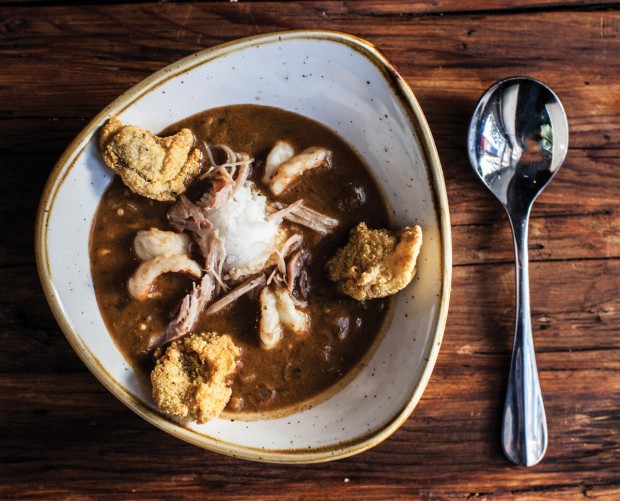 Dai Huynh: Mark Holley is back. The Brennan's of Houston alum reeled in many diners, overseeing Pesce's kitchen for a decade. But in 2012, Landry's sold it, leaving Holley without a kitchen burner and fans floundering. Ironically, quality, upscale seafood restaurants are rare gems in this Gulf Coast city, so Holley's Seafood Restaurant & Oyster Bar is a welcome addition. At his namesake, Holley has free rein, sprinkling his menu with his life experiences, from the cobblestone alleys of New Orleans to Kentucky bluegrass. You'll find, too, touches of Asian influences, most notably the large-format, Thai-style whole snapper for two. It's a perfectly crisped rendition paired with two tangy dipping sauces, fried rice and braised greens. No doubt, it will stir up memories for former Pesce regulars, but Holley's updated version is even tastier. The same goes for the shrimp-and-okra gumbo, a nourishing dark brew now enriched with duck confit and topped with delicately fried oysters. A crowd pleaser is the yieldingly tender sesame Park House Rolls, a traditional fare that gets an haute spin with three accompanying spreads: poblano pimento cheese, smoked drum mousse and pickled vegetables. Truthfully, these yeasty rolls as a starter and the homey apple bread pudding would make any evening at Holley's go swimmingly.
Russell Weil: The best upscale fried-chicken experience in Houston is at a seafood restaurant. Holley's monthly fried-chicken dinner should not be missed. Chef Mark Holley started this tradition at Pesce, and his followers insisted that he continue it as his own restaurant. For $50, you get a family-style dinner, including a massive plate of fried chicken, plus three sides, biscuits and dessert. While expensive for fried chicken, the portions are very generous, and this chicken is good. The high-quality, free-range chicken fried in cast-iron skillets creates a crispy crust and juicy inside with a slightly spicy flavor. Holley's setting is decidedly upscale with a modern flair, and yet as I sat there eating every bite, I felt very much at home.  The warmth comes out in the service and the taste. Reservations are required for the monthly fried-chicken dinner. There is a waiting list, so get on it quickly. The minimum reservation required is six, and the dinner must be pre-paid when making the reservation.
713-491-2222
|
holleyshouston.com
Hours:
Monday-Thursday 11:00 a.m.-2:00 p.m. & 5:30 p.m.-10:00 p.m., Friday 11:00 a.m.-2:00 p.m. & 5:30 p.m.-11:00 p.m., Saturday 5:30 p.m.-11:00 p.m.
People tagged in this article:
To leave a comment, please log in or create an account with The Buzz Magazines, Disqus, Facebook, Twitter or Google+. Or you may post as a guest.