Riverbend Boys
Click the Buzz Me button to receive email notifications when this writer publishes a new article or a new article in this column is published.
Charming, secluded and tight knit – that's how a lot of residents describe the Memorial neighborhood of Riverbend. Nestled into a corner of Hunters Creek Village, cradling a bend in Buffalo Bayou, sits what you might call an upscale version of Mayberry. Prime property here is so coveted that houses sell before sale signs hit the dirt.
There's something else about the 69 oversized lots lined with spacious ranch-style homes and dotted with tall trees – the neighborhood is crawling with kids. Some of them liken their childhood in Riverbend to a magical place where lifelong friendships are forged, forever cemented with longevity and loyalty. Among them are nine high school seniors who graduated last month.
Miles Abell (Episcopal High School), Thomas Burke (Episcopal), Reese Henningsen (Episcopal), Alec Horner (Strake Jesuit College Preparatory), Ford Jones (The Kinkaid School), Harrison Kane (Episcopal), Scott Lange (Lamar High School), Vincent Lovoi (Alexander Smith Academy) and Will Winters (Episcopal) share a unique friendship.
"We're about as best as friends can be. We can walk outside anytime, and there is usually one of us hanging out. We've been doing it for 18 years, and we never get tired of it," said Ford, one of the original Riverbend boys.
Four of the boys – Miles, Ford, Harrison and Scott – have lived in Riverbend since before they could walk.
"We're all so different, but each of us brings our own thing to the table. The mix is just perfect somehow," said Harrison.
"There are neighbors you live by your whole life whom you never get to know. It just so happens that we're all relatively interested in the same thing. We were just so comfortable walking into each others houses, it was like one open neighborhood," said Miles.
They are kids who did all the typical things growing up: hide and seek, Little League baseball, football, basketball and inventing some games of their own.
"We would play this game we called Slam Ball where we played basketball on a trampoline," said Ford.
Each of them seems to have the same top two childhood memories: building Christmas tree forts and making movies.
"We would all go around the neighborhood looking for Christmas trees and drag them to my cousin's house and put them on top of each other," said Scott.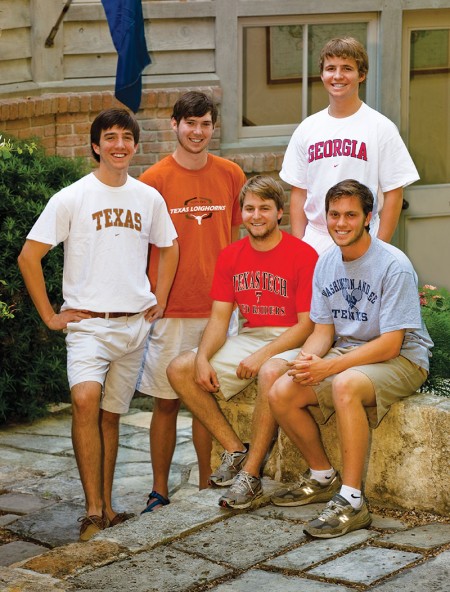 ​It was during middle school that they found a hobby that rooted their friendship even more firmly. They started making films. We're not talking about just playing around with a video camera, but jointly purchasing a professional camera to make real movies, logging hundreds of hours acting and editing. They called the venture Riverbend Films and created a website to proudly post their work for friends and family to see. Riverbend Films is now offline, but a few of the guys have kept the interest alive by taking classes in high school.
They spent more time apart once in high school, but nothing could weaken the bond built by a band of brothers, a friendship sealed in shared moments of Riverbend enchantment.
"When we were little we would invite our new school friends to hang out in our neighborhood –not our house," said Scott.
"Whatever the guys did, they did together. It's why we called them the Wolf Pack," said Melinda Abell, mom to Miles. For her, history is repeating itself. Her grandfather developed the neighborhood in 1957, and her own parents, Bonnie and George Allen, still live down the street.
"Scott's father, Cam Lange, and I grew up in the neighborhood. Cam's mother, Carolyn Lange, still lives in the neighborhood. I've known Harrison Kane's father my whole life. Our friendships go way back. We have lots to talk about," said Melinda Abell.
Will Winters was 8 when he moved to Riverbend and had an instant group of friends. "I think our upbringing has a lot to do with it. My parents are all friends with their parents. We were all brought up the same way and played the same sports," said Will.
The boys will be launching their collegiate careers in a few weeks, a rite of passage both thrilling and sad.
"I will miss the guys, but it will make coming home for Thanksgiving and winter breaks awesome. We all have a reason to come back," said Harrison.
They already got a small taste of saying goodbye. There is another Riverbend boy, Buddy Carruth, who graduated last year from St John's School and spent his freshman year at Texas Christian University.
It hasn't crossed their minds that a new address or new friends might attempt to change their friendship. "Every conversation we have nowadays is just about old times. We don't know how we all have stuck so close together. We're all different and then we share similar interests and humor. Whether we were making funny movies, joking around or having arguments as brothers do we were always there for each other," said Miles.
What is certain for them now is a lifelong friendship that will continue long after leaving Riverbend, but Riverbend, they say, will always be home.
Want more buzz like this? Sign up for our Morning Buzz emails.
To leave a comment, please log in or create an account with The Buzz Magazines, Disqus, Facebook, Twitter or Google+. Or you may post as a guest.