Growing Abroad
Click the Buzz Me button to receive email notifications when this writer publishes a new article or a new article in this column is published.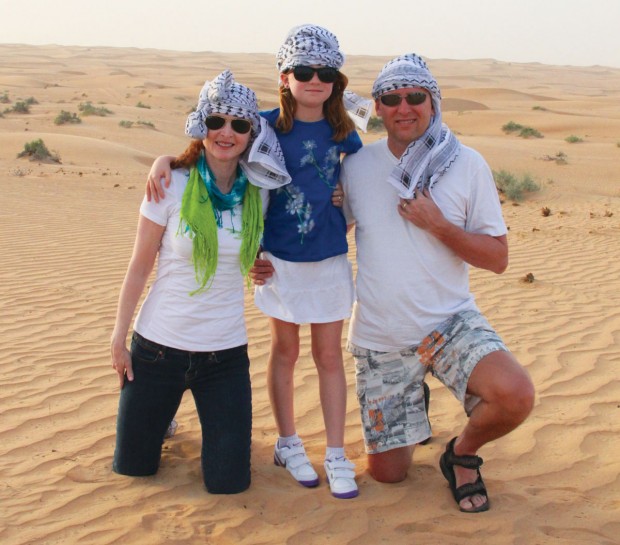 An "expat" is a brave soul, someone who has left behind home and culture for adventure and work in another country. Since Houston is a huge player in global trade, chances are good you know an expatriate.
Jenny and Wes Vestal sold their Meyerland home in 2012 and moved to Dubai in the United Arab Emirates for Wes' new position as director of human resources with Baker Hughes. It was cultural exposure the couple wanted for their three young girls, Molly, Lucy and Caroline, who attended Horn Academy.
"It's been exciting to learn what makes us different, seeing men and women in their traditional Muslim Arabic clothing," said Jenny.
Jenny writes a funny blog for friends and family about Middle Eastern life and her family's adjustments. She posts about her encounters with driving and high-rise living. But some of her funniest stories are about shopping.
"As an expat, you sometimes take to hoarding. When you find American luxury food items, like Wheat Thins, or vanilla Oreos in a store, you will never see it there again, literally, because here American brands are unpredictable imports. So, when you find those items, you buy them all. Like today, I found Wheat Thins, and bought all eight boxes," she said.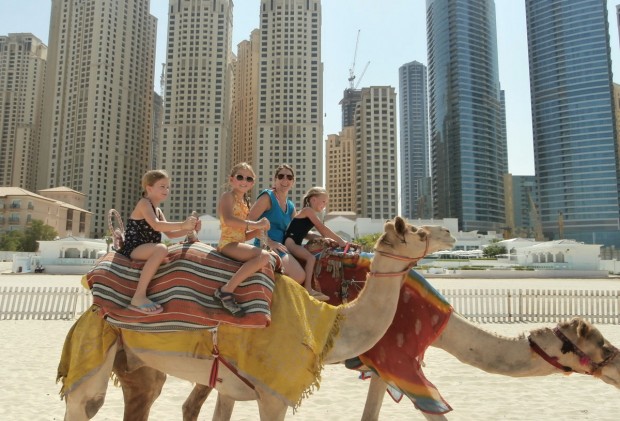 Another expat couple, Hina and Rajiv Pandya, have a senior and sophomore at Bellaire High School, and even though they call Houston home, their teenage daughters, Shivani and Janvi, have spent most of their lives living in other countries.
When the girls were just 4 and 2, the family moved to Thailand for Rajiv's job with Dow Chemical. It was a welcome break for Hina, who was a physician with Kelsey-Seybold at the time.
"We had very busy and very stressful lives," said Hina. "Managing our schedules and daycare… I was overwhelmed with these two little kids. We couldn't even get our laundry done, and when he said how about going to Thailand, I didn't even think twice about it."
They fell in love with Thailand, even though they spent the first two years living in a community with other expats.
"We didn't only get to know the culture of Thailand, but we got to know people from all over the world. We celebrated everyone's holidays," said Hina.
They spent the last two years of their Thailand assignment living in a high-rise building in downtown Bangkok, getting a real cultural experience. They returned to Houston in 2004 for a short time before jumping at the chance to take another expat assignment in Shanghai, China, where they lived five years. This time Hina was able to obtain her own work visa and practiced medicine.
Each time the couple moved they took everything with them, leaving nothing behind. They wanted total immersion in the culture. Now, their Bellaire home is like a museum filled with personal, handpicked treasures from countries all over the world.
"The people that enjoyed being an expat the most were the ones that treated their time there as an adventure, and they were very tolerant about the culture," said Rajiv. "They didn't try to force their home-country norms – they were really flexible with the understanding that we're guests in this country."
Shelli and Simon Dullingham call West University home. But their expat life took them to Singapore in 2008 and now to the Mediterranean Sea. The couple, along with their 9-year-old daughter, Victoria, have established a household on the small island of Cyprus.
"The main challenge for me here is organizing my day; most stores and businesses close every afternoon from 1 to 4," said Shelli. "For an American, able to buy anything on a moment's notice, this has been difficult for me."
But Shelli says the perks outweigh the inconveniences. The small island has beautiful beaches and easy travel opportunities. Education hasn't been a concern either; Victoria is thriving in the small and personal American International School.
The expat journey extends both ways. Houston is the new home for Australians Richelle and Craig Dennis and their two young daughters. Settling into Bunker Hill, the family wanted to be part of the local community, but it hasn't come without adjustments.
"The biggest culture shock for us is realizing just how casual Australians are in all forms, particularly with the girls at school and with friends. Here everyone is 'Mrs.,' whereas at home everyone is on a first-name basis," said Richelle.
Cultural quirks have caused them a few embarrassing moments too – for example, when she talks about her or her daughter's thongs. In Australia, that is the word for flip-flops.
Want more buzz like this? Sign up for our Morning Buzz emails.
To leave a comment, please log in or create an account with The Buzz Magazines, Disqus, Facebook, Twitter or Google+. Or you may post as a guest.