Taking the Field (Hockey)
Click the Buzz Me button to receive email notifications when this writer publishes a new article or a new article in this column is published.
The girls run up and down a 6,000-square-yard expanse of green grass, J-shaped carbon-and-fiberglass sticks in their hands at waist height. They whack the dappled, white, plastic ball, 5.6 ounces in weight, to teammates and shoot it toward the net.
In lightweight foam padding that covers her whole body, Kelsey Bing barks out orders through her mask to her unpadded teammates, positioning them to defend against a strike on the "cage," the 7-by-12-foot net, and setting them up to attack when they get the ball back.
Bing's height, exceptional eye-hand coordination and quick reflexes help her get to difficult balls that otherwise would be out of range – and make her one of the best goalies in the low-scoring game. But her mind is as important as her body. She enjoys puzzles and spatial-awareness games. Her tough schoolwork at St. John's School, where she's a sophomore, has taught her to focus. She takes that same focus to the field, which, to her, is a board game.
For two 25-minute halves (in high school rules), her teammates run the field, passing the ball from stick to stick, planting their legs into the ground like an embedded pole as they fight for the ball against an opponent. They pass and shoot and try to "eliminate" – or get the ball away from – defenders.
Although it's "hockey," field hockey has little in common with its icy cousin outside of a padded goalie and the use of sticks. Some people call it lacrosse on the ground because of the sticks and the passing, but it's really more like soccer – the ball is mostly on the ground, the same number of players are on the field, and it has the same strategic elements and style of play.
Oh, and in Houston, except for backyard fun, it's only played by girls.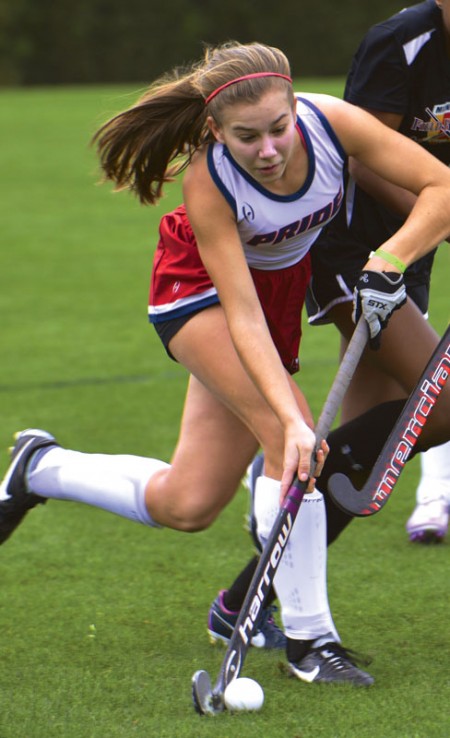 That follows the national trend, where field hockey has primarily been played by females, said several coaches. Also, in the United States, colleges have varsity teams for women but not for men – they can join club teams or get selected for the national teams, but that's about all in the United States. In Europe, there are professional teams for men and women. While the sport is popular in other countries and in the northeast United States, Texas is behind the curve.
Players like Pershing Middle School seventh-grader Dani Costa and her younger sisters, who go to public schools that don't have field hockey teams, are learning the sport through Texas Pride, the only year-round training club in Texas; it opened two years ago. Previously, field hockey had been the domain of private schools and some select public schools, such as Lamar and Memorial high schools.
Most current high school players started in middle school or later. When players like Dani – or Dani's sisters, West University Elementary fifth grader Delaney and second grader Dylan, the youngest member of Texas Pride – get to high school, they'll have a lot more training, pointed out Carson Peacock, a senior at St. John's who has played since the seventh grade.
"We wish we were in that younger group," she said. "The younger players are getting better and have so much time to get better."
Texas Pride is coached by Tina Edmonds, a former All-American and two-time NCAA National Champion at the University of Maryland. She's improving the girls' stick skills and their confidence, said Bing, a goalie on the Texas Pride U19, St. John's and the U17 Junior National teams.
The quality of play in Houston is getting better each year, say longtime players.
"The field hockey quality in Texas was far below the national standard when we first began," said Libby Manela, a junior who shares goal-keeping minutes with Bing on the Texas Pride, St. John's and U17 Junior National teams. "When we first started going to tournaments, we struggled to score even a single goal against some pretty average teams up in the Northeast, typically."
Peacock called it "Texas field hockey." The players played an athletic game and would whack the ball down the field and then run after it. Their stick skills were poor. When they played out of state, they'd get crushed. That's no longer the case.
At the Disney Field Hockey Showcase in Orlando in February, the Texas Pride U19 team won four games, lost one and tied one. Several players, including Bing, Peacock, Manela, Meghan Mogas, Reese Vogel, Jennifer Trieschman, Paige Albert, Allison Dyer and Skyler Taten, have been selected for the National Futures Championships, the premier championship event for USA Field Hockey's Futures Program. The event is highly attended by college recruiters and USA Field Hockey staff.
"We soon learned that if we wanted to be competitors on the national stage, we couldn't neglect our skills," Manela said. "So at practice we started to work more on our fundamental skills and sort of re-learned the basic theory of the game. We definitely had to switch from a 'let's hit it as hard as we can and see who can outrun her opponent' kind of game to a more systematically aware, skills-oriented game."
Bing and Manela are two of the best goalies in the nation, said Texas Pride coach Edmonds. They both have a shot at playing on the national Olympic team.
Even players who don't appear the most athletically gifted can excel at field hockey. Peacock is only 5 feet tall and says she's not particularly athletic even though she runs track and in middle school played soccer and lacrosse.
In seventh grade, a coach encouraged her to try field hockey because of her short size. Getting down low – in fact, laying the hockey stick horizontally along the ground – is essential in field hockey. She gave it a try and was surprised at how good she was.
Her best friend since kindergarten, Paige Albert, is the opposite. She's athletic – a cheerleader who had previously been on St. John's lacrosse and diving teams – and her speed has helped her be successful on the field, Albert said.
Although it's a physical sport, injuries are rare, and when they do occur, it's usually knee injuries, cuts to the leg or hits to the head, said St. John's head coach Craig Chambers. Albert, a senior, was hit in the face with a ball, knocking loose her front teeth, which are now wired in place. She's also broken her thumb.
Like all group sports, field hockey teaches the girls about teamwork and how to deal with defeat, strategize and communicate, and it builds their self-esteem, patience and leadership. It's also a great outlet after a stressful day at school, when they can go out and wallop the ball hard.
"Because I really do enjoy it a lot, when I'm playing, I have a smile on my face and forget about everything else," said Ellie Gershenwald, an eighth grader at St. John's. "I'm in field-hockey mode."
"High school can be dramatic and traumatic. It's a relief to be on the field," Manela said. "I don't worry about all that high school stuff. I worry about being the best teammate, the best player, the best leader I can be."
Manela says she volunteered to be goalie in a "desperate attempt to get out of being the worst player on the team." She was shy initially, but the need to yell out instructions has forced her to overcome that.
The sport can be an "in" into college.
Manela got a "supported application" to Harvard, meaning that if she met certain criteria involving her GPA she wouldn't have to compete for a spot. She has now committed to playing at that prestigious school.
Peacock will play at Division III Middlebury College in Vermont in the fall, and Albert will play at Division I Davidson College. In eighth grade, Albert made it a goal to play Division I field hockey in college.
Albert remembers when she got the call from Davidson. The night before, St. John's had lost its first game in the state championships to Fort Worth Country Day School. St. John's had won the tournament the previous two years.
She was depressed about the loss when Davidson called to tell her she was in. Elated, she went out that night and quickly scored the first goal. St. John's won, sending it on to the next round against The Kinkaid School and a shot at fifth place.
The two teams played to a 1-1 tie in regulation. Then, Albert, who had dedicated herself to field hockey, who'd struggled and worked to be good enough to play at a Division I school, whacked the ball into the "cage," scoring the winning goal in her final high school game.
Her teammates swarmed her.
"It was a great way," she said with a smile, "to end my high school career."
People in this article:
Jennifer Trieschman
,
Meghan Mogas
,
Libby Manela
,
Kelsey Bing
,
Kaylie Mings
,
Reese Vogel
,
Ellie Gershenwald
,
Emma Eggleston
,
Paige Albert
,
Carson Peacock
,
Dani Costa
,
Delaney Costa
,
Dylan Costa
,
Tina Edmonds
,
Allison Dyer
,
Skyler Taten
,
Craig Chambers
,
Celia Lewis
,
Clara Tian
,
Emery Larkin
,
Alex Altamirano
,
Natalie Thurman
,
Emma Cate Graham
,
Sam Segeit
,
Lizzy Fallon
,
Sophie Mireskandari
,
Terence Campbell
Want more buzz like this? Sign up for our Morning Buzz emails.
To leave a comment, please log in or create an account with The Buzz Magazines, Disqus, Facebook, Twitter or Google+. Or you may post as a guest.