Block Parties
Getting to know the neighbors
Click the Buzz Me button to receive email notifications when this writer publishes a new article or a new article in this column is published.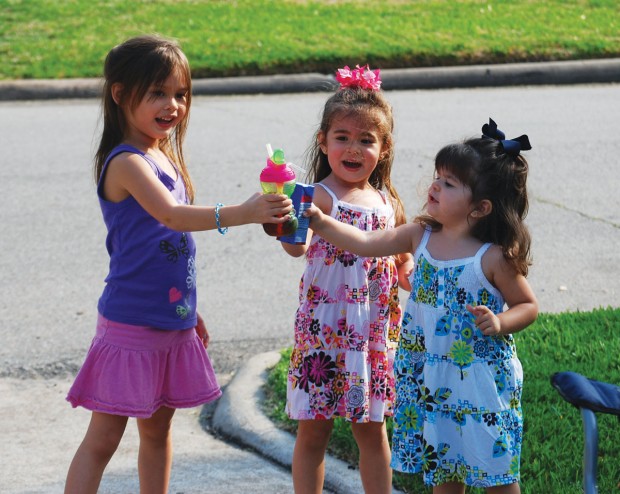 Mari and Dale Rude met when both were dorm resident assistants at Iowa State University, responsible for making sure a floor of 50 or so disparate students interacted. Forty years later, Mari, a nurse practitioner, and Dale, associate professor of management at the University of Houston, are still helping people interact. But now they do it with neighbors at biannual block parties.
"We moved on our block in 1990," Dale says. "In 1994, I went to Bellaire City Hall and saw two neighbors standing five feet in front of me. We didn't speak to each other.
"There were 26 houses on our street, and we knew only five or six of the families. So we and two other sets of neighbors, Susan and Lu Christ and Karen and George Persely, decided to organize a block party. They've continued on since."
Dale says the Cedar Street block parties in Bellaire have "transformed our street into a neighborhood. Now I know my neighbors. People with kids feel like there are extra sets of eyes watching. We all feel more secure." Especially helpful, say neighbors, is the phone list that Dale updates and distributes to every house.
The connections are lasting. Even after the Perselys moved and George passed away, Karen and teen Josh returned for block parties. At one, they held a remembrance ceremony for George at the handprints he and then-tiny Josh had left in the cul de sac sidewalk. Even now, when long-timers walk their dogs and see those handprints, they think of their old friends.
When new families move to the block, Dale says, "we let them attend one party, and then we ask them to sponsor the next one. It gives them sweat equity, everyone knows who they are, they feel like they belong. Much more than if they just attended."
Two families host each party. They decide on the date, always a Sunday in April and October, distribute invitations, buy burgers and hot dogs, and bring paper plates. Then they set up and grill. Neighbors bring sides, desserts and their own drinks and lawn chairs.
In West University on Vanderbilt, they've recently begun having block parties of a different sort. The "Vanderbilt Vixens" started getting together last August, and since then they've met five times. As the name suggests, this group is women-only.
"It started as a way for new neighbors to meet each other and has evolved into a much larger gathering," says Karen Craft, an ad-sales rep. Names and e-mail addresses are being added to the list all the time.
"We do not invite the husbands. They stay home with the kids while we get to know the neighbors.
"The best thing," Karen says, "is that there are some women I have known and seen around town for years and had no idea they lived on my street. Now we've become friends."
The host provides the home and the food, and everyone else brings drinks. So far, the Vixens have hosted catered dinners, visits from decorators and fashion advisors, and a post-Christmas white elephant party, where Karen says, "We got to know everyone's personality pretty well, based on the gifts they wanted to get rid of!"
At the Four Leaf Towers on San Felipe, there's no block to speak of, unless you count the elevators and lobby. Last October, Phyllis Milstein, who lives in the West Tower, was in an elevator with a woman – a neighbor – she didn't know. They started chatting, and the woman asked Phyllis if neighbors in the building acknowledged her.
"I told her, 'If you're asking me if people say hi, the answer is yes,'" Phyllis says. "'If you're asking me if we invite each other over, the answer is no.'
"So I started thinking and decided we should get together. That was Monday night. Thursday afternoon 35 ladies showed up in my condo. And a month later, 55 ladies showed up at my neighbor Sharon Katz's condo."
What began as the Four Leaf Ladies' Social Group has morphed into the Four Leaf Social Group, with some 125 couples and individuals belonging. Everyone is invited; most pay nominal dues, which allow for a secretary who coordinates and emails a monthly calendar, along with weekly updates and reminders.
There's a yoga group, a water exercise group, a book club, standing mahjong games and a speaker series that invites discussion of topics from investing to what's happening on Post Oak Boulevard. "The most popular thing has been that several residents who have fabulous art collections have opened their homes to entertain the group," Phyllis says.
"One lady said to me, 'Now when I see someone in the lobby I have something to say to them.'"
Editor's note: Get to know your neighbors at the 2014 Dive-In Movie Night, benefiting Patrons for Bellaire Parks, Thurs., Aug. 7, 7:30 p.m., at Bellaire Town Square Aquatic Center. $15 in advance, $20 at gate.
People in this article:
Millie Sall
,
Karen Craft
,
Wendy Schiller
,
Kristine Klavers
,
Ann Malcolm
,
Lauren Burke
,
Joann Philpott
,
Amanda Dearborn
,
Janet Landry
,
Anne Schwartz
,
Alberta Totz
,
Abby Ackerman
,
Kari Greenwalt
,
Kathy Butler
,
Cat Karmel-Tawa
,
Patricia Hammond
,
Nancy Talkington
,
Johanna Wen
,
Gabriella Gillette
,
Daniella Gillette
,
Mari Rude
,
Dale Rude
,
Susan Christ
,
Lu Christ
,
Karen Persely
,
George Persely
,
Josh Persely
,
Phyllis Milstein
,
Sharon Katz
,
Ada Roger
,
Mickey Graubart
,
Carolyn Hariani
,
Aileen Rains
,
Noura Nessim
,
Connie Vernon
Want more buzz like this? Sign up for our Morning Buzz emails.
To leave a comment, please log in or create an account with The Buzz Magazines, Disqus, Facebook, Twitter or Google+. Or you may post as a guest.