School Buzz - Introducing our correspondents
Click the Buzz Me button to receive email notifications when this writer publishes a new article or a new article in this column is published.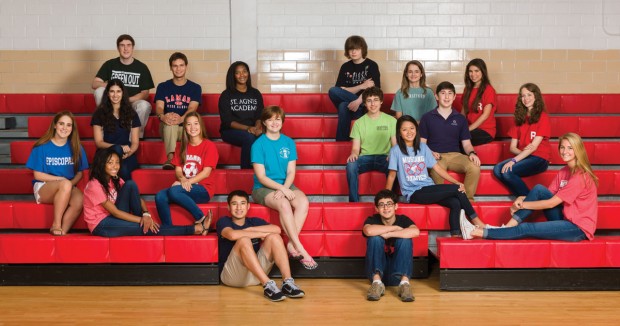 From the first day of freshman year to graduation, high school is a whirlwind of academic and social pressures, exams, homework, clubs and extracurricular activities. There are daily highs and lows, from bombing an exam in a dreaded class to meeting a teacher who will be a lifelong inspiration or getting to know a friend who will forever be like family.
If you're a student or parent and want to know what is going on at your school – or you simply want to experience for yourself what high school is like today, follow our new School Buzz blog.
We have lined up a roster of motivated young neighbors to highlight happenings in their schools. Each student applied and was interviewed for one of two positions: a "reporter" to write and/or produce multimedia stories and an "editor" to coordinate with Buzz digital media manager Jordan Magaziner.
We're excited to introduce you to them.
Editor's note: Students interested in being correspondents for School Buzz, especially those from local schools not yet represented, should contact Jordan Magaziner at [email protected].
Bellaire High School
Mackenzie Ward, senior, School Buzz editor: "This year I will be captain of the women's soccer team and president of Leading Ladies, a girls-only philanthropy organization. This summer I am working at Rover Oaks Pet Resort, playing with the dogs and taking photos of the pups to send to their parents. Something a lot of people don't know about me is that this past school year my family and I hosted a foreign-exchange student from Brazil, which was one of the best experiences of my life. In the future, I hope to pursue a career in the medical field (for animals or older folks) or as an entrepreneur. I am psyched to begin School Buzz because I love taking pictures and enjoy participating in new activities."
Claire Weddle, senior, School Buzz reporter: "I enjoy writing about people and events, and I love when people read my work. Last year, I was a news writer for my school's newspaper, and I am currently the news editor. During my spare time, I like to volunteer at the Houston SPCA, and I am also a foster parent for sick or injured animals. Some of my hobbies are photography and drawing, and I love to go to concerts and art exhibitions. I have been learning Spanish for five years now, and my goal is to become fluent. I'm looking forward to this coming school year and being able to connect my high school with the School Buzz program."
Carnegie Vanguard High School
Ari Rotenberg, junior, editor: "I have been interested in writing ever since second grade when my teacher read an assignment of mine and told my parents that I would not write the next great American novel. Since then, I have done my best to develop my writing skills, and, even though I do not plan on writing that novel any time soon, I will still do my best to prove my former teacher's statement false. I look forward to working as a School Buzz editor and improving my writing abilities through this experience."
Emery/Weiner School
Miranda Levy, senior, editor: "I love to write. That is – ironically – not the most articulate way of describing who I am, but in many ways it is the most accurate. I have always enjoyed writing more than reading because it gives me an ability to make my own stories, with my own characters and my own endings. Last year I went on a writing program with National Geographic, and I got to explore journalistic travel writing in Greece and Italy. This program gave me a passion for not only travel writing, but traveling in general. I am doing the program once again this summer, this time in Ireland. I am so honored to have the School Buzz editor position because it is such an amazing opportunity for me to improve my writing skills and learn more about journalism – my dream career."
Matthew Hall, senior, reporter: "I am the goalie and one of the captains of the lacrosse team, as well as the president of the Mock Trial Club. I am so excited to work for The Buzz because I love reporting on current events and being able to show people what is going on around me. My goal for the future is to study communications in college and be a sports reporter. I cannot wait to start reporting."
Brooke Kaplan, senior, reporter: "I applied for the School Buzz program to explore my interest in journalism. I recently discovered my passion for writing through my college essays. I have enjoyed writing more creatively, much like what this program allows its writers to do. This year, I will be participating in both the basketball and lacrosse team at Emery and am currently the regional treasurer of Lonestar Region BBYO. I am also doing teen leadership work at the Jewish Community Center by helping plan teen programs. My dream job would be working on the E! Network as a news anchor. The thing I love most about Houston is the food scene. There are so many diverse cultures that we are really able to have authentic foreign foods, which I think is very unique."
Episcopal High School
Brittany Aaronson, senior, editor: "Recently, I have discovered a passion for writing because I was asked to write the Buzz Kidz article in The Tanglewood/River Oaks Buzz (June 2014), and I enjoyed it so much. I applied for the School Buzz program because I feel like it is a good opportunity for me to channel my thoughts and become a better writer, and I am so thrilled to be part of it. I am excited for this upcoming year because it is my senior year, and I am looking forward to applying to colleges and having fun with my friends! My goals for the future are to get into the college of my choice, and potentially become a speech pathologist."
High School for the Performing and Visual Arts
Cyrus Pacht, junior, editor: "I am a creative writing student at The High School for the Performing and Visual Arts. HSPVA is one of the most unique schools in Houston, and I look forward to letting the world know about its concerts, readings, galleries, shows and more. I was thrilled to learn that I got the role of School Buzz editor. By the age of 7, I was writing incomprehensible epics of elementary school fantasy that presented themselves as novels, and since then I have been unable to kick this nasty habit. When not writing for The Buzz or elsewhere, I can be found playing Kabalevsky and Bach on the piano, composing music for flute choir, building a telescope or robbing a bank. I see my future self as an author, editor, translator, professor, philosopher, humorist, amateur linguist, composer and astronomer: a holder of innumerable odd jobs. In 30 years, you may recognize me as the author of the Very Good American Novel."
Incarnate Word Academy
Monica Da Jose, senior, editor: "I enjoyed telling stories as a child and eventually realized that committing them to paper gave them permanence. This led to my love of writing, which now manifests in a comic that my best friend and I co-author in our free time. I'm excited to report for School Buzz because it will give a glimpse into IWA and its unique campus culture. I realize that this will be a lot of work, and my goal is to balance this, theater, handbells, volunteering and school. I will be graduating next year, and I hope to be a physical therapist in the future. No matter where the future takes me, I never want to stop writing."
Lamar High School
Jacob Padden, senior, co-editor: "I was born and raised in Houston except for a brief period when my family moved to Singapore when I was 2-4 years old. I love living here, one of the most important reasons being the amazing food. I have always been involved in sports and follow the Houston teams religiously. I am excited to head the School Buzz program at Lamar because it will allow me to report on things I can relate to and thoroughly discover journalism."
Mark Cox, senior, co-editor: "Writing is something about which I have always been passionate. I can't wait to start writing for School Buzz, as I will be able to share my school's news and happenings with the community. In addition to writing for School Buzz, I play the trumpet in my school's band. I hope to one day become a physician and to move to California. This summer I visited San Francisco and enjoyed hiking through the redwood forest. I love playing basketball with my friends when I have free time. The thing I enjoy most about living in Houston is the Mexican food."
Memorial High School
Madison Tebbe, senior, editor: "The School Buzz program initially caught my interest because I thought it was a great way to get the inside scoop on what goes on in the different school areas around Houston, and I knew that I had to be a part of that. I've been writing stories since I was little, and English has been my favorite class for as long as I can remember, but my passion for photography developed when I decided to take a photojournalism class in school my junior year. In addition to working with School Buzz this year, I'll be a member of the yearbook staff as well. I'm so excited for my last year of high school because I believe that between my work for the yearbook and School Buzz it will provide an excellent foundation for a possible writing career in my future."
Nancy Nguyen, senior, reporter: "Due to my interest in math, I plan on majoring in fields related to finance or statistics in college. However, I hope to expand my horizons by participating in the School Buzz program and expressing my creative side. By incorporating other aspects of my life, such as dabbling in pole vaulting and playing the ukulele, into future blog posts, I hope to keep posts interesting for the readers. I am very excited to share my ideas and collaborate with others to ensure that this new program evolves into something phenomenal and exceeds all expectations."
Robert M. Beren Academy
Lilly Gelman, senior, co-editor: "I am extremely excited about School Buzz. It is such a great opportunity to inform the community about all of the goings-on in our schools. Along with writing, I enjoy art, music and biology. One of the downsides of attending an orthodox Jewish school is that few people outside of the Jewish community are aware of all of the amazing programs and events that we have at our school. School Buzz will be a fantastic outlet to express to the readers what we are passionate and enthusiastic about. I cannot wait to share an amazing year with you!"
Brett Kleiman, senior, co-editor: "One of the main reasons that I applied to the School Buzz program is that I love taking on and trying new things. I love the rush because it builds character. As clichéd as that might sound, it's true. I have gone on several international youth exchanges to places like Hungary, Germany and Spain. I also love writing. Grandparents on both sides of my family were great writers, especially my grandpa, Jerry Ribnick, who was a prominent sports writer back in the day. I look forward to sharing much more about my school with our community."
Adam Hoffman, freshman, reporter: "A passion of mine is composition of essays and non-fiction. Writing absorbs hours of my day and slots of my schedule. I was overjoyed to hear about the School Buzz program because I knew that it would be a perfect fit for me. Not only would I be able to put my writing skills to use, but I would also be able to share news about my school with the community. I'm looking forward to a fantastic year with The Buzz."
Second Baptist School
Rachel Blakes, senior, editor: "I will serve as the 2014-15 publicity prefect at Second Baptist School, which is why the director of communications recommended that I apply to be a part of this program. I'm from New Orleans, Louisiana, but I've lived in Houston for about nine years, and I've always loved the shopping. I identified my passion for writing in the sixth grade. I also have a passion for theater; this year I will participate in my school's fall drama, Anne of Green Gables, and our spring musical, Cinderella. I intend to continue both of my passions in college by double majoring in journalism and theater."
Sara White, senior, reporter: "Senior year. The year that everyone looks forward to in high school. You are not only one of the oldest students, but you are also entering a new chapter in your life. You are most likely applying to college, and you are taking on new leadership roles at school. You are saying goodbye to the normal, however. You have your last first day of school, your last homecoming game and your last prom. While all of the things are exciting, it's bittersweet. I'm excited to write about my senior year for the School Buzz program, and hopefully I will be able to use my posts as an outlet to reflect. Although I begin to say goodbye to the normal this year, I will say hello to new, just like I'm saying hello to The Buzz."
St. Agnes Academy
Brittney Reese, junior, editor: "Being an avid reader, writing has always come naturally. Over the years, crafting stories and poetry became my outlet of creative expression. I am absolutely thrilled to be a part of School Buzz. Since the beginning of freshman year, I have spent countless hours working the set of our theater productions, doing everything from staining wooden furniture to constructing an entire sorority house with a team of students. I also enjoy being a member of clubs, including ones centered on poetry, books and environmental welfare. Outside of school, I volunteer at the Houston SPCA. My heart is completely captured by all sorts of canines; however, I am scared by some of the smaller dogs. I would rather cuddle a Saint Bernard than walk a Chihuahua!"
Catherine Gassiot, sophomore, reporter: "This year will be my sophomore year at St. Agnes, and I can say truthfully that it has been one of the best experiences of my life thus far due to the amazing sisterhood I have experienced. I applied for the School Buzz program because I have a genuine love for writing. I am always writing poems in my spare time and posting stories online, and I also love to read, absolutely devouring anything I can get my hands on. Like most teenage girls, I never go anywhere without my phone, text 24/7, and am constantly binge-watching a show on Netflix. At school, I am on the speech and debate team, JV lacrosse team and Model UN. Each team is unique and offers opportunities to bond with people in other grades, helping with teamwork, which is essential to all three. I'm looking forward to an awesome year with School Buzz."
Morgan Goldsmith, sophomore, reporter: "I originally hated writing until I discovered a book series [The Hunger Games trilogy] that changed my life and inspired me to begin writing short stories. I applied for School Buzz because I think everyone should have a little bit of insight as to what goes on in the estrogen-filled halls of SAA. I am also interested in journalism and want to get a taste of what is in store for the future. Hopefully, I can brighten a Buzz reader's day with my blog posts. I can't wait to begin writing!"
Frances Wheeler, junior, reporter: "I applied to the School Buzz program because I love attending St. Agnes Academy and want others in the community to stay updated about what is happening there! I discovered my passion for writing at a very young age when I would find myself writing poems and short stories to share with my family. This next year, other than writing for The Buzz, I will be president of the business club and will be spending time with friends and family. I enjoy living in Houston because so much is always going on. My favorite time of the year in Houston is rodeo season."
St. John's School
Megan Routbort, senior, editor: "As future editor-in-chief of our award-winning newspaper, The Review, the School Buzz program was a natural fit for me. I first discovered my love of the written word reading Harry Potter books with my father; my love has evolved from voraciously reading, to writing fiction, to its most recent manifest in my passion for journalism, which combines my thirst for adventure with language. I'm an amateur backpacker and outdoorswoman; I'd love to pursue travel writing and foreign correspondence in the future. I am currently collecting cancellation stamps from all 397 sites in the national parks system, and I hope to backpack the entirety of the Pacific Crest Trail someday. But I'll always love Houston because there's nothing better than the Reese's Pie at Ruggles after a week of trail food."
Cara Maines, junior, reporter: "I have been passionate about writing from a young age because I love words and finding different ways to express myself. The School Buzz program seemed like the perfect opportunity for me because it would allow me to write in a new setting for a different audience. I am interested in pursuing a career that involves writing, though I am not sure what that will be yet. I love living in Houston because it is such a diverse, cosmopolitan city, and it has so much to offer – a constant source of inspiration!"
St. Pius X High School
Nick Ferguson, senior, editor: "I joined this program because I feel that this is a great opportunity to practice my writing, which is something that I enjoy a lot. This upcoming year, I will probably not be joining any clubs. I see this as an advantage because I am not tied to anything; now I can jump between clubs and see what's going with different people and have much more to write about."
St. Thomas' Episcopal School
Noah Melendrez, senior, editor: "I applied to the School Buzz program to help exposure of my school. I have been writing for the yearbook since freshman year and have really enjoyed being part of the program. I am president of Student Council and part of my school's orchestra, where I play cello. My goal is to become a psychologist. One of my favorite things about living in Houston is the Museum District. It's really amazing to be able to learn so much and experience so many things without having to go too far from home."
St. Thomas High School
Karch Calkins, senior, co-editor: "I have lived in Houston my whole life and love this city. I attended St. Michael and St. Cecilia for grade school and middle school. Outside of the demanding schoolwork that St. Thomas requires, I play basketball and write for the school newspaper, and am a senior leader at school retreats, where I help the younger students. I am very passionate about my St. Thomas experience and hope to show how great it is through School Buzz."
Carson Storie, senior, co-editor: "I was born here in Houston and am the oldest of three boys. My mom grew up in Beaumont, and my dad is from a small town on the Mississippi coast. I went to St. Michael from Pre-K through eighth grade. On top of a tough academic load, I play multiple sports, including football, rugby and track. I have participated in student council all four years at St. Thomas and will serve as head of committees this year. I am also a senior leader, which means that I will help at all underclassmen retreats. Last year, I wrote for the school paper. I see the School Buzz program as an opportunity to continue practicing my writing and as a great way to represent St. Thomas High School."
Strake Jesuit
Sam Kretzschmar, junior, editor: "I'm very excited to be working alongside The Buzz to bring you enticing stories that flourish within the Strake Jesuit community. I currently play lacrosse as a goalie. I also enjoy partaking in activities with Strake's Business Club. I aspire to attend law school after completing my undergraduate degree. A fun fact about myself is that despite being a native Texan, I am an avid hockey fan for the Boston Bruins. I love living in Houston because of its massively diverse culture and fantastic eateries."
Stratford High School
Scott Kennedy, junior, editor: "I discovered my love for writing in seventh grade, and in high school I decided to try journalism and ended up loving it. I was a sports editor of our school paper, The Oracle, last year, and am going to be co-editor-in-chief this upcoming year. I also play football and am involved in Student Council and Young Life. I would love to go into some form of business, journalism or ministry later in life."
Taylor Brittain, junior, photo editor: "Photography is extremely important in the journalism world because a picture captures what is happening and freezes a moment, making it last forever. I am thrilled to be a part of the new School Buzz program and can't wait to start photographing the events and stories around my school. In addition to being on the newspaper staff I am also a member of my school's broadcast journalism team. My dream job is to one day be in the world of broadcast journalism. I am very excited for the upcoming year and I can't wait to get started!"
Cameron Henkel, sophomore, reporter: "I'm very excited to be a reporter for this new and interesting blog. I live right next to Wilchester Elementary, so I'm always near the action when big school events like the fair are going on. While writing for School Buzz will be my first priority, I'd also like to film local events and make videos for the community as well. I am looking forward to writing about all of the unique experiences going on in schools around the Memorial area. I hope to accurately portray all students as well."
Haley Wilson, junior, reporter: "I have grown up in the same house along with my two older brothers and loving parents my entire life. Starting at age 3, three days a week and every Saturday were dedicated to soccer. Moving into middle school, I took great interest in the yearbook staff at John Paul II, but it wasn't until after I tore my ACL at the end of eighth grade that photography became so fascinating to me. It amazes me that a picture truly does say a thousand words. I can't wait to be a reporter for School Buzz. I am looking forward to learning about all the interesting things students are doing at school."
Westbury Christian School
Laura Nelson, senior, editor: "I first became active in journalism to fill an elective credit with my friend Amara Nelson, and we both loved it. Unfortunately, the school newspaper was discontinued, but on the bright side, Amara discovered the School Buzz program and now here I am! I hope to participate in volleyball and acting next school year as well. Eventually I hope to travel the world and engage in international politics. Joining the School Buzz program helped me realize that I might be able to do that through the media. A fun fact about me is that I love to read Gothic literature, and yet I cannot stand horror movies."
Amara Nelson, senior, reporter: "I've been writing stories since I was 7, and I enjoy creating new worlds and having power with words that allow me to express myself. Writing as a journalist allows me to tell the stories of the people around me, and it puts me in a setting where I can meet new people and go find the stories that need to be told. I have a strong interest in pursuing a writing career, and my dream job is working as a travel journalist for National Geographicalong with being a published author. I enjoy spending my free time reading books and volunteering at animal shelters."
People in this article:
Jordan Magaziner Steinfeld
,
Mackenzie Ward
,
Claire Weddle
,
Ari Rotenberg
,
Miranda Levy
,
Matthew Hall
,
Brooke Kaplan
,
Brittany Aaronson
,
Cyrus Pacht
,
Monica Da Jose
,
Jacob Padden
,
Mark Cox
,
Madison Tebbe
,
Nancy Nguyen
,
Lilly Gelman
,
Brett Kleiman
,
Adam Hoffman
,
Rachel Blakes
,
Sara White
,
Brittney Reese
,
Catherine Gassiot
,
Morgan Goldsmith
,
Frances Wheeler
,
Megan Routbort
,
Cara Maines
,
Nick Ferguson
,
Noah Melendrez
,
Karch Calkins
,
Carson Storie
,
Sam Kretzchmar
,
Scott Kennedy
,
Taylor Brittain
,
Cameron Henkel
,
Haley Wilson
,
Laura Nelson
,
Amara Nelson
Schools in this article:
Bellaire High School
,
Carnegie Vanguard High School
,
The Emery/Weiner School
,
Episcopal High School
,
Incarnate Word Academy
,
Lamar High School
,
Memorial High School
,
Robert M. Beren Academy
,
Second Baptist School
,
St. Agnes Academy
,
St. John's School
,
St. Pius X High School
,
Saint Thomas' Episcopal School
,
St. Thomas High School
,
Strake Jesuit
,
Stratford High School
,
Westbury Christian School
Want more buzz like this? Sign up for our Morning Buzz emails.
To leave a comment, please log in or create an account with The Buzz Magazines, Disqus, Facebook, Twitter or Google+. Or you may post as a guest.