Stepping out of the bubble
Click the Buzz Me button to receive email notifications when this writer publishes a new article or a new article in this column is published.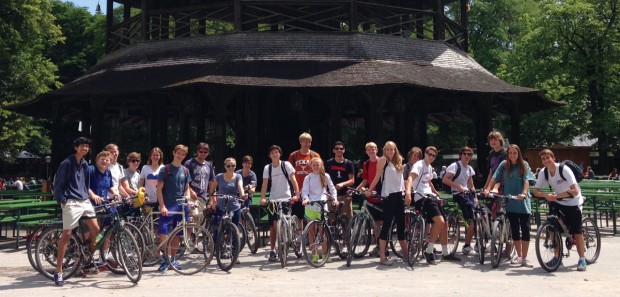 From the traffic of ultra-modern Berlin to the forested mountain trails of the Alps, from the beautifully rebuilt Dresden to the Lederhosen-clad denizens of Bavaria, Deutschland revealed herself in all her diverse splendor this summer to 21 Memorial High School students who took a giant step forward in claiming their global citizenship with a month of travel and study in Germany.
Memorial is one of several Houston schools that participate in the non-profit German American Partnership Program, which has been fostering U.S.-German relations through cultural exchange since 1972. A handful of the young travelers gathered recently with their teacher Frau Susan Sisler to share their impressions over Skype with The Buzz from the living room of Sisler's exchange partner, Frau Dagmar Carra, an English teacher at Werner Heisenberg Gymnasium in Garching, a suburb of Munich. If the excited clamor were any indication, they were enjoying the adventure enormously.
Learning to negotiate the public transit system, figuring out how to budget their euros, getting to know their host families and simply trying to order a meal in a restaurant – every day had its own built-in curriculum, not even counting the official itinerary.
Highlights in Berlin included mixing with thousands of jubilant soccer fans watching the Germany-Portugal World Cup game on Berlin's famous Fanmeile, projected on eight theater-sized movie screens near the Brandenburg Gate; perusing the graffiti on the Berlin Wall, preserved for posterity in the East Side Gallery; climbing to the top of the Reichstag, home of the German legislature, or Bundestag; and reflecting on the horrors of the Holocaust at a maze-like memorial to the victims.
In Munich, it was more the experience of daily life among the Germans. Instead of staying in a hostel, as they had done in Berlin, each of them went to a different host family spread out among three different suburbs and commuted to school each day on trains, buses or bikes, just as the local kids do.
Rebekah Koehn was particularly impressed with this custom. One of the more nervous ones in the group, it was her first trip abroad.
"It's cool to see how kids here from 6 to 7 years old are riding the trains by themselves," she said. "In America you see 6 to 7 year olds getting walked to school holding their parents' hands. I learned it's okay to step out of your comfort zone."
The experience was an eye-opener for all of them. As Peyton Hance put it, "I learned I can do things by myself. I don't need my parents to help me all the time. And I learned to be more resourceful…. It's good to be doing this before we go to college."
Some of the kids, like Arabella Benavides and Breno Nasser, are veterans of world travel. For Arabella, whose parents are from Peru, the journey had an extra dimension; she was able to meet a German-Peruvian relative who had immigrated to Europe, married a German wife and raised his family there.
For Breno, who is from Brazil, the trip was a reminder of the need to "step out of the bubble" that is life in the United States.
Frau Sisler, who began studying German in the ninth grade like most of her students, summed it up for the group.
"I love the GAPP exchange because I get to see my students improve their German-language skills and learn about German culture, history, and daily life," she wrote after the group interview. "In addition to that, they learn real-life skills and become responsible and self-sufficient. But most of all, they find that they are 'at home in the world.' German hikers have a saying, 'Der Weg its das Ziel' – 'The journey is the destination.'"
6 reasons to study abroad
Student-exchange programs are nothing new, but in today's increasingly interconnected world they are more relevant than ever.
To learn more, check out exchangestudentworld.com, a website by and for exchange students and their host families.
There are many reasons to join a student-exchange program. "Frau Sisler" shares a few, gleaned from more than 30 years supervising them.
1. You learn another language in its real-life context.
2. You appreciate your own community from a different perspective.
3. You learn more about yourself by challenging your own assumptions, reconsidering your beliefs and values.
4. You become more informed and expand your worldview.
5. You learn to act independently, problem-solve and cope with unexpected situations.
6. You experience the joy of discovering and experiencing new things, and finding that your comfort zone is much larger than you thought it was.
People in this article:
David Salas
,
Nathan Morgan
,
Ethan Barr
,
David Lueders
,
Dori Hauk
,
Sam Kroger
,
Aaron Genin
,
Lillie Kram
,
Sam Altum
,
Nicholas Reger
,
David Cook
,
Rebekah Koehn
,
Carlos Fidalgo
,
Peyton Hance
,
Katie Ohman
,
Gabby Henning
,
Breno Nasser
,
Johnny Hurley
,
Caius Selheimer
,
Arabella Benavides
,
Philip Millmaker
,
Susan Sisler
,
Dagmar Carra
Want more buzz like this? Sign up for our Morning Buzz emails.
To leave a comment, please log in or create an account with The Buzz Magazines, Disqus, Facebook, Twitter or Google+. Or you may post as a guest.