Patmos Paradise
Easter on the sacred Greek isle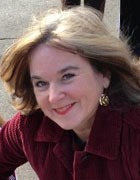 Click the Buzz Me button to receive email notifications when this writer publishes a new article or a new article in this column is published.
Plump, juicy grapes dangle from vines. Bougainvillea spills over rocks in brilliant flashes of pink, orange and purple. Stark white villas stand out against pristine, turquoise waters.
Welcome to Patmos, a tiny Greek island in the Aegean Sea, 13 square miles of Heaven, say the travel books. It's a destination for Christian pilgrimage, with a centuries-old monastery dedicated to the Apostle St. John rising from a hilltop like a Greek Orthodox fortress.
It's also where Buzz resident Carol Senkel visits family. Her father's side dates back seven generations on the island, her mom's, four.
"I can't even describe the feeling I get when I'm there," she says, her eyes welling with tears. "It's like coming home. Look at me. I can barely talk about it without getting emotional. It has the ability to change your life."
Carol, a devout Greek Orthodox and lifelong member of Houston's Annunciation Greek Orthodox Cathedral, has traveled to Patmos several times. Last year, the retired Lamar High School honors-English teacher and husband Larry, an insurance broker, reconnected with relatives for their first Holy Week and Easter on the island, attending services daily.
It was Holy Week but also Old Home Week with cousins, three aunts and her 90-year-old uncle, Efthymios Koutsanelos, the oldest monk at the monastery, making up the reunion. "He seems to know everything about Patmos and the family," says Carol, who loved conversing with her uncle in their native tongue. "I grew up with the language and that's all I knew until I started school."
Her uncle played the role of St. John during Holy Week's "Washing of the Feet" ceremony at the village of Chora town square near the monastery. The packed service, depicting Jesus Christ's washing of his disciples' feet at the Last Supper, was nationally televised in Greece.
"Such a beautiful service. We had to get there really early to get a good seat," Carol says, flipping through an album of pictures from the trip. "My uncle has always taken part in these services. He might be 90, but he's in unbelievably good shape. He gets around like he's 30. He's up for prayer early every morning, has lunch at my aunt's house in Chora and visits the family beach house every day to tend to the garden and the chickens. He feeds them leftovers like French bread and watermelon. They're pampered chickens. He even makes his own wine."
Having a monk in the family has its perks.
While certain parts of the monastery are off limits to tourists, Carol's family can visit with him as a guide. "In a basement area, there are all sorts of gifts from royalty, like from people in Russia and Catherine the Great. Jewels, all these ornate artifacts, it's just unbelievable. The public can't go down to see it."
But the public clamors to see the biggest tourist draw, the Cave of the Apocalypse near the monastery. "You can't mistake the sense of peace you get in the cave," says Carol of the rocky grotto said to be where St. John received the Book of Revelation from God.
Within this cave, an ornamental silver inlay outlines an indentation in the rock where St. John is said to have laid his head. A rock ledge where he is believed to have grabbed hold to hoist himself from the floor is similarly adorned.
Carol's grandfather, George Koutsanelos, now deceased, was the island jeweler commissioned by the head of the monastery in the early 1950s to make the inlays. "I get goosebumps when I look at it. It has that effect on me, just taking it all in."
Her uncle, the monk, was warden of the cave for 22 years, seeing to its upkeep and performing year-round services in its chapel. "He went above and beyond," Carol says, "even having my grandmother make coffee and cookies for the tourists who came through.
"One of the morning services we attended during Holy Week was at the cave's chapel, and I can tell you it was surreal realizing the solemn place we were in. Very emotional."
Walking along narrow stone streets after a midnight service at the monastery, "candles in hand to represent the light of Christ," is another fond memory from the trip, Carol recalls. "You're walking down these little streets, surrounded by old architecture and you don't extinguish the candle until you get home."
Home, in this case, was a cousin's house where a lavish meal of roasted lamb, potatoes and all sorts of traditional Greek fare left everyone smiling. "And wine. Oh, yes, wine," she smiles. They similarly indulged at an aunt's house after Easter service.
Carol and her husband hope to return soon, perhaps for another Easter. "It was a magical experience."
But for now, she's content to surround herself with family photographs and mementos from the island. Vintage plates from her great-grandfather's general store in Patmos are displayed in her living room. A colorful embroidery stitched by her great-grandmother hangs on her wall.
It's the best thing, to be surrounded by things from family," she says. "But it's even better to be in Patmos. We'll be back."
Want more buzz like this? Sign up for our Morning Buzz emails.
To leave a comment, please log in or create an account with The Buzz Magazines, Disqus, Facebook, Twitter or Google+. Or you may post as a guest.