Facing Cancer
With writing, family and cookies
Click the Buzz Me button to receive email notifications when this writer publishes a new article or a new article in this column is published.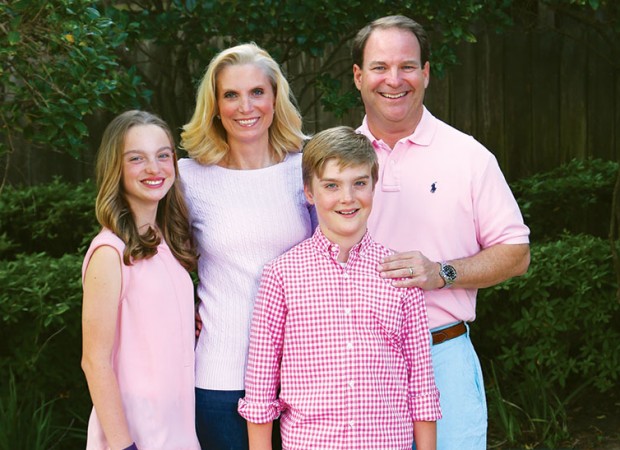 I want to punch cancer," says Ellie Pratka. "It makes me so mad! To me, cancer is like a shadow of a person – a dark silhouette – and I just want to open the door and punch it in the face."
Ellie is 12. Her mom, Ashley Pratka, was diagnosed with breast cancer in October 2014. Ellie's beloved paternal grandfather, Butch Pratka, died from esophageal cancer in August 2014. In response, Ellie, who lives in Afton Oaks and is a sixth grader at River Oaks Baptist School, has taken up the fight against cancer.
By baking.
Ellie's  "Cookies for The Cure" is a grassroots effort to help other kids and their families not have to face what she and her mom, dad Al and brother Riley have gone through the past year and a half. "Honestly, it's been hell on earth," says Ellie, who talks with the worldliness of an adult while wiping tears away from her blue eyes. "It's been the worst year of my life. You know, my mom is amazing. The fact that she can go through this process and can be strong is amazing."
For her part, mom Ashley says she did not feel amazing when handed a diagnosis of invasive ductal carcinoma at age 42. "How on earth had I gotten to this place? I had two beautiful children ages 8 and 10. I was too young to get cancer." She says the diagnosis, confirmed after she found a lump in her left breast, was surreal, and her first response was to break down.
Finding the "fire in my belly" to fight the cancer took time, she says, and help from a neighbor who had "been there."
"I was trying to be strong for my family, but I was terrified. I did not want to lose my breasts, I did not want to have chemotherapy, and I did not want to die." On the very day that Ashley had her lowest point, inconsolable and crying, unsure what her treatment path would be, neighbor Melanie Rothwell showed up. Herself a cancer survivor, Rothwell looked Ashley in the eyes and said, "You are going to be fine." Ashley credits Rothwell for being the one who got her braced and ready to face the cancer head-on that day.
And, Ashley knew where to go. "Finding the lump in my breast was a complete fluke, but when I came upon it I knew it was concerning," says Ashley. "I had just retired from a 17-year career raising funds for cancer research at MD Anderson, so I probably knew a bit more than others, and I knew not to ignore this." As the tables were turned and she became the patient, she says she "was in shock that this was actually happening to me."
Ashley's extensive team of doctors helped her decide her best treatment option based on her tumor – and the fact that her father had died from pancreatic cancer in 2006 was an additional factor.  "Yes, my dad's cancer was related to mine," she says. Ultimately, Ashley decided on a double mastectomy after being told a lumpectomy was not an option. "Thanks to my oncologist, she encouraged me to start with what I knew was a definite – surgery. Remove the tumor and test it to determine if chemo would even work. What a keen idea! Except for the part about losing your boob, but it left me with the possibility of not losing my hair, too."
Post-surgery, she found out that she was not a candidate for chemotherapy. "I learned my tumor was a grade 3 (poorly differentiated) – not good news – and although no cancer was in my lymph nodes, there was evidence in my lymph system close by. My tumor was a candidate for the Oncotype DX test that looks at 21 genes to determine which treatment plan would work best. [The test indicated that] if I take Tamoxifen, I have a nine percent low-risk of recurrence.... It also revealed adding chemotherapy to my treatment plan would provide no added benefit. The test was a game changer for me because traditionally, based on my pathology, I probably would have been given chemotherapy."
Now, her medical treatment includes taking Tamoxifen, a daily pill, for 10 years, and Ashley has been advised to be continually be vigilant with her health. Tamoxifen is a selective estrogen receptor modulator that blocks estrogen receptors in breast cells. "If estrogen cannot attach to the breast cell it can't receive its signal to grow and multiply. However, it does not come without side effects but is much less toxic than IV chemotherapy," she says.
"In addition to breast cancer, I am at increased risk for developing ovarian cancer, pancreatic cancer and melanoma. I will have my ovaries removed within this coming year, and skin checks are a must! Last year I had a skin cancer removed from my lower eyelid which required reconstruction as well. Yes – two cancers in a year."
Ashley says the whirlwind that she and her family have endured has given her a serious reality check. Learning how to cope with the situation has been stressful for the family – and often filled with humor. "It has been quite a ride so far, but overall promising," she says. "I went from feeling somewhat isolated to overwhelmed at the amount of support I was receiving after people learned of my diagnosis."
However, telling people she had cancer was tricky. "It was a bit awkward to call friends to say 'Hi, how are you? Oh, good to hear, well, I have cancer and just wanted you to know. Ok, let's have lunch soon!" she says, noting that she got the diagnosis at the same time she was recovering from tendon surgery. "So many people would ask me why I was wearing a cast, and inevitably they would conclude with 'well, that just sucks!' They were truly concerned about me, but to offer a little levity I would respond with: 'I know, but you want to know what really sucks? I was just diagnosed with breast cancer!'"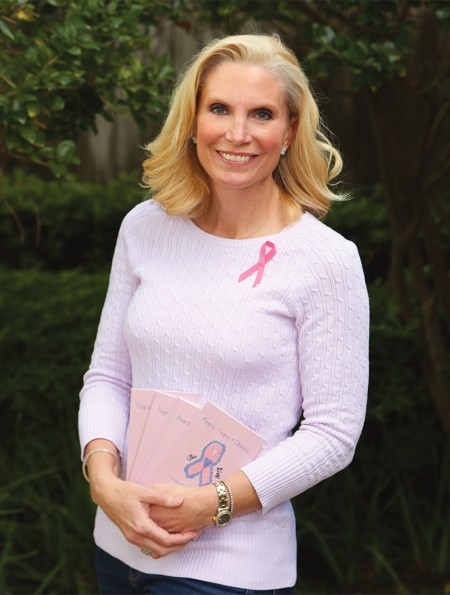 Wanting a way to express herself and avoid some of these awkward moments, Ashley took to writing. A self-described private person, she realized she was compelled to open up. Ashley started a care.com page to keep family and friends informed. That page morphed into a blog called winkytink.com, which in turn inspired her to write a self-published book, Fears, Tears & Cheers: Celebrating Survivorship One Day at a Time.
"That book sits on my desk at work, and it reminds me of her journey," says husband Al Pratka, an insurance consultant with Benefits Concepts Inc. "I have seen two different outcomes of cancer. My dad passed away from cancer on August 27, 2014, and Ashley was diagnosed just two months later. Ashley likes to be able to tell her story. We have seen loss, and we have suffered, and we have seen a positive outcome too with Ashley. When you get cancer, it does not mean it is over. Ashley got mad and she decided she was going to fight. I just love her so much."
On the one-year anniversary of Ashley's cancer diagnosis, her mom, Ann Winkelmann, and sister, Memorial resident Shelby Nielsen, hosted a Survivorship Party. There, Ashley handed out copies of her book and thanked family and friends for helping her get through that first year. Her book documents her cancer journey and also has information about mammograms, patient advocacy and cancer resources.
"I have a lot to learn about living life with a cancer diagnosis, and that will only come from others who have 'been there and done that,'" she says. "I will pay it forward in the future."
And so will Ellie and her cookies. Ellie has raised significant money from her pop-up cookie sales and is donating all of the money back to MD Anderson for breast-cancer research. She is turning her "Cookies for The Cure" into a 501(c)3 and plans to expand her sales. "It's important to do more to make a difference," says Ellie. "Because the more I do, the faster this difference will come."
Editor's note: Check out three more stories of life after cancer diagnosis, about Buzz residents Claire Frazier, Bill Gage and Stacy Middleman. Plus, see a list of all of their personal resources for surviving cancer. The first Sunday in June marks National Cancer Survivors Day.
Want more buzz like this? Sign up for our Morning Buzz emails.
To leave a comment, please log in or create an account with The Buzz Magazines, Disqus, Facebook, Twitter or Google+. Or you may post as a guest.