Welcome to water
Click the Buzz Me button to receive email notifications when this writer publishes a new article or a new article in this column is published.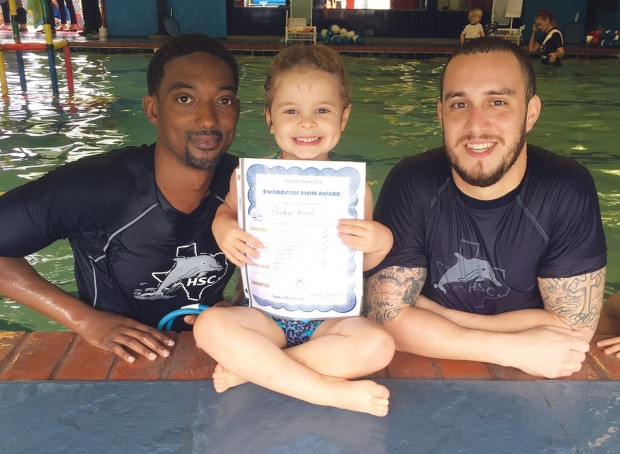 Buzz Baby is a column about life with babies from the perspective of a first-time mother.
Imagine taking your 1-year-old child at 8 in the morning for a swim lesson across town – for 60 days straight. 
Frani Denenburg, an attorney, signed daughter Giorgiana up for the Infant Swimming Rescue (ISR) program, designed in 1966 to prevent child drowning. By the completion of the program, children as young as six months are able to float on their backs in water without assistance.
"ISR was a huge commitment," said Frani. "The lessons were 10 minutes ​every day and lasted until she mastered floating on her back." In Giorgiana's case, it took about 2 months.
"She could not consume milk or food for several hours before the lesson, so at the instructor's recommendation, our lessons were in the mornings to ensure her tummy was empty," said Frani. Giorgiana is "a late sleeper," according to Frani, which added a complicated spin to the mix.
Frani said it took strength as a mother on the sidelines. Giorgiana "screamed the entire duration of the lesson. I just sat on the side of the pool, with a forced smile, chanting encouraging phrases and clapping for her. It was so hard to watch."
Each week the 1 year old progressed, and eventually she could float on her back without assistance for several minutes at a time.
Introducing your baby to water is important, no matter the technique. Aside from ISR, for tiny infants, there's a place called Float Baby on Del Monte Drive, which is water therapy and neonatal massage for infants as young as 2 weeks. Other parents, like mom-of-two Jessica Antel, enroll their children for traditional swim lessons. Her daughters Pearl and Parker took lessons at Houston Swim Club.
Jessica said her favorite thing about HSC was the curriculum and instructors. "I am not sure there is any place like [it]," she said. "Your kids start out learning basic water safety, like how to float and climb out of the pool, and before you know it they are swimming laps and learning new strokes."
Some Buzz families have a pool and opt for at-home swim lessons where an instructor comes to the house. They include a group of moms with children around age 2: Cabell Wood (with son Walker), Kelly Tepper (with son Jack), Caroline Harrell (with son Jack), Caroline Brown (with daughter Margaret), Diana Bridger (with son William) and Kelsey Talbert (with daughter Isla). The group meets on Tuesday afternoons at Cabell's house for private 30-minute lessons.
The lessons are from Safe Swimming School, which Cabell learned about in a mother's blog she follows. "I was very interested in someone coming to my house to teach Walker swim lessons so he would be comfortable with our pool.
"The instructor comes to our home. I didn't have to get into the pool, and most of the swim schools for this age group were mommy-and-me classes," where a parent helps the child in the water, guided by an instructor. 
Most of the kids (and the moms) are new to introducing their babies to water. "We took [Walker] swimming last summer quite a bit at my parent's house," said Cabell. "However, he would only last 5-10 minutes in the water. He was more interested in walking and exploring the backyard."
The group's swim instructor is teaching them the basics. At this age, the kids are learning to hold onto the edge, float on their back and kick, blow bubbles (which will lead to holding their breath), and just get comfortable with the water.
"The moms come inside my house during the lesson and watch from the living room, which helps the child focus on swimming and not crying for their mom," said Cabell. 
Anson Ainsworth, owner of Safe Swimming School, said that at this young age, safety and drowning prevention are the most important things, following by stroke development. "Every student is different in their learning style and fears they may have," said Anson.
Cabell said there were lots of tears the first couple of lessons, but that everyone seems to be adjusting well. "I am just glad that [Walker] is learning to be comfortable around the pool and we can enjoy our summer afternoons. Our family will spend a lot of time in our pool this summer with the Houston heat."
People in this article:
Frani Denenburg
,
Giorgiana Denenburg
,
Jessica Antel
,
Pearl Antel
,
Parker Antel
,
Cabell Wood
,
Walker Wood
,
Kelly Tepper
,
Jack Tepper
,
Caroline Harrell
,
Jack Harrell
,
Caroline Brown
,
Margaret Brown
,
Diana Bridger
,
William Bridger
,
Kelsey Talbert
,
Isla Talbert
,
Anson Ainsworth
,
Jeremiah Collins
,
Grayson Garcia
Want more buzz like this? Sign up for our Morning Buzz emails.
To leave a comment, please log in or create an account with The Buzz Magazines, Disqus, Facebook, Twitter or Google+. Or you may post as a guest.