Embracing Mom Jeans
Stylish teens pair old with new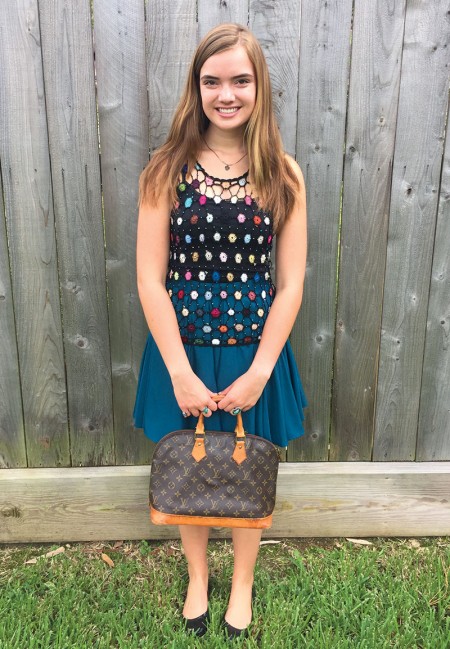 Déjà vu (noun): a feeling of having already experienced the present situation.
That's how older generations must be feeling when observing millennial fashion. The fashions they once wore – or were forbidden to wear – are back and undergoing a renaissance.
High-waisted pants, denim jackets, choker necklaces and crop tops are all re-appearing in the fashion world, immortalizing fads worn by this generation's parents or even grandparents.  
No longer do teens cringe at the sight of '80s crimped hair or '90s blue eye shadow. The most stylish of them enjoy pairing the old with the new, scouring parents' closets for vintage finds and looking to old photographs for inspiration.
Our summer interns – also millennials, one in college and two in high school – visited with four Buzz-area teens who are turning throwbacks into comebacks, with a modern twist.
Meredith Bullock
Meredith Bullock, a junior at Memorial High School, accents her everyday style with pieces from not only her mother, Annie Bullock, but her grandmother, aunts and great aunts as well.
Rather than stocking her closet with the typical teenage girl's arsenal of Nike, Urban Outfitters and PINK, Meredith draws upon vintage clothing. She utilizes old handbags, scarves and jewelry and combines them with clothes she currently has in order to stand out among popular trends.                                 
Meredith takes pride in a style that is completely her own. Handbags, scarves and a glittery disco tank top from her mother's college years, as well as a variety of colorful bags from Thailand and bracelets from Spain passed down by her grandmother, Patricia Bennet, are a few of the pieces that stock Meredith's closet.
"The scarves aren't really name brands, but I love all of them. They're really hard to wear, so you don't see that many people wearing them, but I've found they really tie it all together," said Meredith. She typically pairs the scarves with jean shorts and a nice top, sometimes even wearing them as belts.
Meredith and her older sister, Heather, take advantage of their mother's tendency to save items. "The Louis Vuitton is probably the most coveted thing of my mom's that I have, and I got to use it this year because I wouldn't let my sister take it to college. But she took mom's red purse with her because it matches OU's colors."
– Andi Minter
Louise McCartney
For years now, Louise McCartney has been trying on and borrowing her mother's and grandmother's clothes. The fun-loving and hard-working senior at The Kinkaid School has a passion for art, travel, baking and fashion. Her interest in fashion began at a young age when visiting her grandmother after school to play dress-up with her friends.
For her eighth-grade dance, Louise wore a silk, navy and white striped Victor Costa dress that belonged to her mom, Judy Ann McCartney, while she was studying at The University of Texas at Austin. "I remember one day when I was at my grandma's house I found the dress and tried it on, and it fit perfectly," Louise said. "The dress was tea-length, and it went down to around my knees. So, we got it tailored a little shorter, and it turned out super cute. It still fits today, and my mom and I are trying to find another event so I can wear it again," she said, laughing.
Another one of Louise's favorites is a pair of painted jeans her mother's friend painted for fun while in college. The designer of the jeans, Carol DeShong, painted them for her friends, who all still have them today. In comparison to what other teenage girls may think about their mom's painted, '90s jeans, Louise treasures the colorful jeans that belong to a different decade.
Louise hopes to continue the tradition with her future children. "Trends come and go, and I'm definitely going to save my high school dresses. It's a lot cooler when you get to share your old, vintage dresses with your daughter rather than a vintage dress that some random person owned that you found in a thrift store."
– Maddy Payne
Sarah Fullenweider
Sarah Fullenweider, a senior at The Kinkaid School, is following in her mother's footsteps – literally. Her wild, long, blonde hair, bright blue eyes and constant smile accompany her arsenal of thoughtfully considered and unique outfits. Fashion has always been a passion of hers, and no matter where she is – school, art shows or athletic events – her personality shines through her style. She is loud, vibrant and totally original.
Inside Sarah's closet you can find pieces belonging to three generations of women. A pair of Birkenstocks, a dazzling opal ring-and-earring set and a hot pink bodysuit/dress combo are three family heirlooms she likes to wear.
At Kinkaid, Sarah often wears her worn, brown Birkenstocks paired with new jeans and a simple James Perse T-shirt. "I love how no one else has that style of Birkenstocks because they don't make them anymore," Sarah said.
Her mother, Pam Fullenweider, wore the shoes when she was pregnant with Sarah's older brother, Will Fullenweider, and with Sarah. "I've had teachers ask how old they are and appreciate that they were my mom's. I do get a lot of questions on what style they are and how they've never seen that type before."
Each birthday since they turned 15, Sarah and her older sister Kate have received jewelry from their grandmother, Mama Suzie. "I think vintage jewelry is so beautiful," Sarah said.
As for that hot pink bodysuit…. That's a show stopper. The Donna Karan New York dress features a V neckline and satin fabric. Her mom wore it in 1991 at Brennan's for her rehearsal dinner before her wedding. It's loud and retro and, with a little updating, fun to wear. After trying it on, Sarah discovered that the bodysuit could be taken off and worn separately from the skirt. She paired the bodysuit with worn, blue-jean cutoffs and loved the look. – Sarah Bass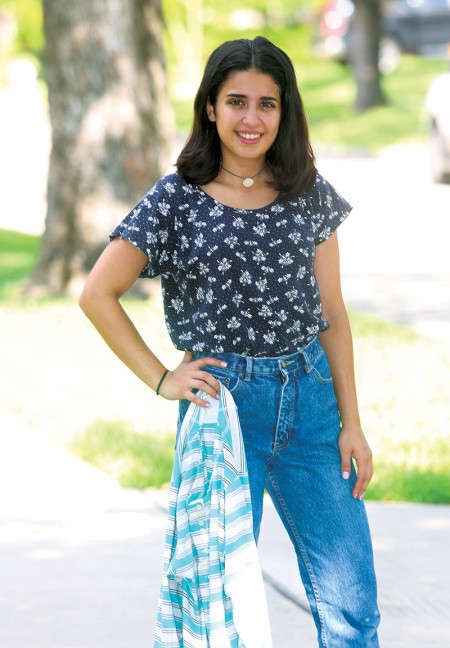 Nadia Rasheed
What do you think of when you think Coca-Cola? Soda, right? Well, for Nadia Rasheed, a junior at Bellaire High School, her mom's retro, high-waisted, Coca-Cola jeans come to mind.
The Coca-Cola jeans were distributed by the Coca-Cola Company to help promote the new line of Coke. And, Nadia's mother, Christine Rasheed, was able to snag a pair at Foley's at the old Northwest Mall. The jeans are high-waisted and whitewashed with a leather Coca-Cola label on the back.
Nadia was able to snag the pair from her mother's closet. "I usually will go look through my mom's closet if I can't find anything in my own or need an idea of what to wear. And I remember finding them and just falling in love with them," Nadia said.
"We had a '90s week for Homecoming, and I wore these jeans. A lot of people asked where they were from, and it was neat to explain that they had belonged to my mom," Nadia said. "I also can just wear them to school since the high-waisted style is back in style, and I know that Coca-Cola doesn't make jeans anymore, so it's special to think I'm one of the few people out there to own a pair."
Nadia, who spends her time outside of school playing volleyball, running and volunteering at the SPCA, also wears vintage shirts her mom used to wear when she was Nadia's age. One was a gift her mom received from Christine's guardian, Dorothy Krohn. The shirt is made of cotton and is black with little white flowers. Nadia uses it as both a summer shirt and an autumn blouse.
"She had gone to Greece and brought me back this shirt," said mom Christine. "And I loved it – wore it constantly. And now, I see my daughter wearing it all the time, and it's fun to see her in my clothes. It's almost like looking at a mirror image from my childhood." – Maddy Payne
Want more buzz like this? Sign up for our Morning Buzz emails.
To leave a comment, please log in or create an account with The Buzz Magazines, Disqus, Facebook, Twitter or Google+. Or you may post as a guest.