Texas snow dogs
Click the Buzz Me button to receive email notifications when this writer publishes a new article or a new article in this column is published.
Holidays are just not holidays without the whole family there. For five Buzz families, that includes the dogs. And that's fortunate for the dogs – because in ski country, the holidays mean snow, and most dogs love the snow.
"My family's complete when we have our dogs with us," said Julie Brown, the supermom of four kids and four dogs – three border collies and a schnauzer. She has made the 20-hour drive to Telluride with her dogs so many times it has developed into an art form. "We could leave them in Texas, but I'd feel like a part of my family's missing.
"Thankfully they are wonderful travelers," she says. "We drive a lot with them, so they're used to getting into their zone."
It wasn't always that way, however; their youngest dog, Belle, used to be out of control when they traveled. Julie took her to obedience school and got her a beep collar. It took some work but now when Belle is starting to get out of hand, she can give her a small beep to calm her down.
Ivette and Brad McNeill have also been making the trip by car with Maggie, 8, and Cocoa, 3, since they got them. Their dogs are both poodle blends; Maggie, the eldest, is a goldendoodle (half golden retriever) and Cocoa is a labradoodle (half Labrador retriever).
For Tammy and Scott Smith, it's a little easier – they have only one dog, a 14-month-old golden retriever named Dixie, and they were able to crate her in cargo. "She did just great – she's a real travel dog," said Tammy.
Kathy Berkman's strategy is to have a dog that is small enough to fit under the seat; her 3-month-old cavapoo, Spencer, rode along as her carry-on. Lisa and Mike Heim do the same with their little maltipoos, Peju and Chloe, who fit under the seat and fly with no problems – although they do bark when they hear other dogs.
Suneeta and Raj Rangwani have a 7-year-old miniature poodle named Bacci, who also travels in the cabin. They've also made the drive with him a couple of times, but usually they fly.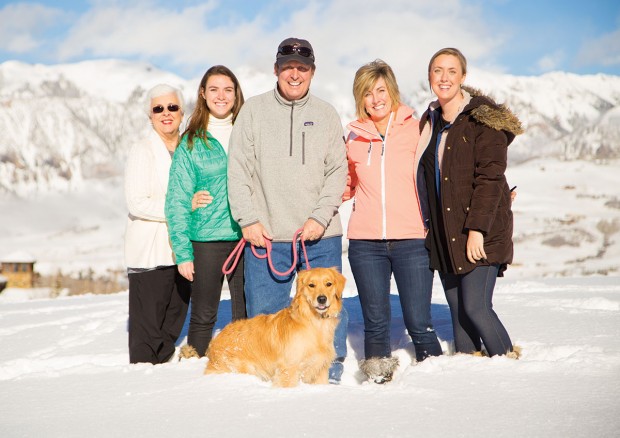 For all of these families, companionship is really important, but the cuteness factor is over the top. Remembering the first encounter with snow inevitably brings a chuckle.
"They jumped out of the car and landed in the snow and just stood there and looked at me like, 'What the hell?'" said Julie Brown of her border collies and her schnauzer.  "Then I said, 'It's snow – go play in it!' and they just took off. They love, love, love the snow."
Kathy Berkman arrived in Aspen with little 3-month-old Spencer in December, right after a 19-inch snow. "He did not know what to do – it was bigger than him. It was pretty funny. He didn't know what to make of it – he got out at the airport and started eating it."
The Smiths' golden retriever puppy, Dixie, on the other hand, knew exactly what to do. "She goes bounding through, and she'll dig her way out. She puts her face in it. She just loves it," says Tammy.
Different dogs, of course, have different temperaments and different needs with regards to the snow. The Rangwanis' poodle, Bacci, was a little older when they introduced him to snow.
"He would not step in the snow the first time – he's such a southern dog," said Suneeta. "He would kind of stand there with one paw up and shivering. He's enjoying it more now, after being here a couple days and realizing it wasn't going anywhere!"
Some dogs, like little Spencer and the Heims' maltipoos, need sweaters or parkas and booties to keep the snow from clumping up between their toes.
When they first got to Aspen, Kathy says, they didn't have any, so Spencer's first outings were barefoot.
"He'll walk for a little while and then starts yelping because it's cold," she said. The Heims' dogs would come back up on the sidewalk, where it was heated.
"We have so many videos that make us laugh so hard of them with their booties on – they would look hilarious, pulling their feet up. They're not used to it."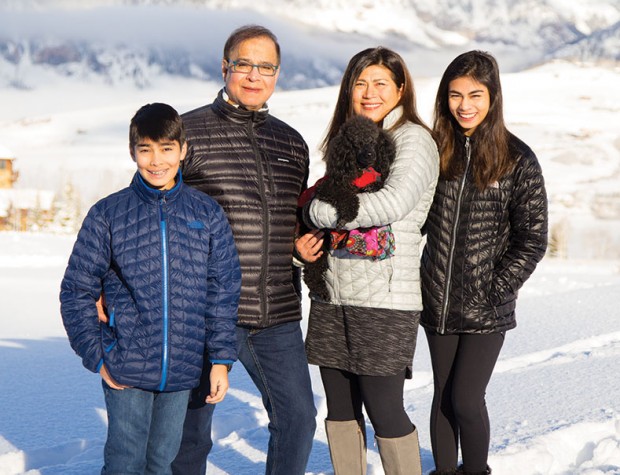 Other dogs, like the Smiths' Dixie, have no use for such niceties. "We don't put anything on her – it would just get wet," says Scott Smith of the parkas.
Julie Brown's border collies are the same. "We have lots of booties – they hated their booties. I said, 'Oh they need it to protect their feet; we have boots.' But they hated it. It was like they were marching; they couldn't run. Now we have something like a balloon that clamps down and protects their feet, but they don't like that, either."
Over time, she's discovered the best thing for her dogs is a product called Musher's Secret, a waxy salve that protects dogs' feet in all seasons, but especially in the winter. Ivette just uses Vaseline and says her dogs are fine with it.
Julie's schnauzer, on the other hand, had to have a shave recently since she'd run through a cocklebur patch, so for the first time, she's sporting a sweater.
Julie strongly recommends that owners bring vet records with them, and that all dogs have a collar with names and phone numbers, as well as a chip. "They have to be chipped, but they also need a tag with name and phone number in case (the finders) don't have a chip reader."
Telluride and Aspen both are famous for their dog-friendliness, and people can often be seen with their canine companions at hotels, restaurants and even ski lifts in the area.
The McNeills have found a marked difference in their dogs' lives in Telluride as compared with Houston. "I don't know if it's because of the weather in Houston, or because people aren't used to walking and being outdoors, but it's really limited where you can take your dog," says Ivette. "Here it's a really a wonderful place where you really enjoy whatever activity you do with your dogs."
Maggie and Cocoa accompany their family everywhere. They go hiking, biking, riding around; they accompany Yvette when she picks the kids up at school, and even to restaurants, where they hang out tied on a leash outside. "Everyone stops and admires them," says Yvette. "They get so much attention and love from everyone. It's really easy to be with dogs here."
Getting around Telluride with the dogs is easy; even the public transport-ski lift blend, the gondola, has a special car for pets.
"You just have to get in a line and wait for the gondola that takes your dog," says Ivette. Maggie needs a little special care, however, because she always wants to chase the gondola and jump in.
Ivette laughs when she recalls the time three years ago when her daughter, Claire, who now is 15, was walking with Maggie in the village. She saw the gondola and got so excited that she broke away from Claire and ran and jumped into one of the ski chairs by herself.
"They had to stop the whole ski lift and help her," said Ivette. "But everyone is so friendly and nice. We have kids who are on the street who stop and say, 'Can we pet your dog?'"
Indeed, her son Brad, entrepreneurial spirit that he is, launched a business on Main Street one summer six years ago. He made a sign that read: "$1 to pet the dog."
"He made some money – maybe $10," she said. "Some people would even say, "'Can I come back in one hour and pet her again?' Brad said sure – and if it's within one hour, I won't charge you again."
Summers are wonderful for the dogs, who find the fresh mountain air to be ideal. Caution must be exercised, however. While a longtime regulation prohibiting dogs in public wildlife areas around Telluride has been lifted, it's still illegal to allow them to run at large and harass wildlife, particularly in winter when the animals can be under stress already due to harsh weather conditions. 
It's important to rein in the dogs for their own safety, as well. One of the most frequent injuries in the Telluride area can result from tangling with a porcupine. And Ivette just learned that a lynx was living in her neighborhood thanks to a Facebook forum called "Telluride Sweet Deals."
Her advice, though: "Just really bring as many pets as you have, enjoy beautiful Colorado and let everyone enjoy your dog. People go crazy over them."
Pets on flights
There's a limit to how many dogs are permitted on each flight, so it's important to purchase your dog's ticket early.
Carry-on dogs must be in a container that fits under the seat. They generally cost $125 each way on United and American airlines; larger dogs cost more and need to be checked in cargo.
Southwest Airlines charges $95 for small carry-on dogs, but will not check pets in cargo. See the website bringfido.com for different airlines' policies.
See more on the logistics of traveling with dogs, plus tips for traveling by road and air, here. 
People in this article:
Julie Brown
,
David Brown
,
Madeline Brown
,
Ashley Brown
,
Caroline Brown
,
Christopher Brown
,
Ivette Mcneill
,
Brad Mcneill
,
Claire Mcneill
,
Thomas Mcneill
,
Tammy Smith
,
Scott Smith
,
Kirby Smith
,
Kelsey Smith
,
Judy Walker
,
Kathy Berkman
,
Haley Berkman
,
Ali Berkman
,
Drew Berkman
,
Lisa Heim
,
Mike Heim
,
Tristan Heim
,
Rachel Heim
,
Brett Heim
,
Lexie Heim
,
Suneeta Rangwani
,
Raj Rangwani
,
Nikhil Rangwani
,
Sabrina Rangwani
Want more buzz like this? Sign up for our Morning Buzz emails.
To leave a comment, please log in or create an account with The Buzz Magazines, Disqus, Facebook, Twitter or Google+. Or you may post as a guest.