Creating the Conditions for Creativity: Takeaways from SXSW 2017
Click the Buzz Me button to receive email notifications when this writer publishes a new article or a new article in this column is published.
I'm writing this with my laptop balanced on my lap, sitting on a Megabus back to Houston from Austin. I spent the last five days at SXSW Interactive (the part of the festival that focuses on technology and media) with Buzz editor and publisher Joni and Michael Hoffman.
My head is spinning with all that I learned over the last few days. I'm staring at my blank computer screen and I realize that this is similar to how I spend most workdays – in front of my screen, trying to keep up with the flow of emails and tasks for the day (except, of course, I don't usually have the challenge of balancing my computer on my lap in a moving vehicle). This strikes me because, although there were so many important takeaways from this SXSW, one session has stuck with me in particular.
It's interesting because there were so many sessions that directly related to what we do every day (journalism, content, media, etc.) and they were all helpful in some way. But the session that stuck with me the most didn't directly relate to my job or my goals. It was called "Courageous Creativity: Dreaming and Doing" featuring Piera Gelardi, executive creative director and co-founder of Refinery29. I'm not sure what compelled Joni and me to attend this session but we're both so glad that we did.
We knew right away this would be a different kind of session. Piera - dressed strikingly in a trendy suit – began the session by asking all of us to stand up and "shake it out." After sitting in conference rooms for the majority of the day, it felt good to shake it out. Then she introduced herself not by telling us her title but by painting a picture of herself as a child, of her family, of her longtime dreams, which ultimately turned into creating popular women's lifestyle site Refinery29. I won't provide a play-by-play of the session because I couldn't possibly do it justice, but I want to share some of our takeaways.
Piera was telling us about someone she works with who recently had an emotional moment; she was sharing self-doubt about her ability to be creative. So Piera started asking her questions about the environment in which she had been asked to be creative. She had been under a stressful deadline and as Piera described the situation, the audience understood why this person didn't feel she was creative enough: It wasn't the right environment for creativity.
"You have to create the conditions for creativity," Piera explained. For me, this was an "a-ha moment." For Piera, this means creating a space that inspires her - she calls her office the "Peach Pit" with its peach-colored walls, covered with funky photographs and colorful art. For her, this means surrounding herself with people who help spark creativity.
She encouraged participants to figure out what conditions lead to our own creativity: listening to music? A certain time of day? A certain place?
She also emphasized that laughter unlocks brilliance. An outsider watching her and some of her coworkers might assume they're just goofing around. But allowing laughter in the room often leads to creative ideas.
There were so many ideas brought up within this one session that we can't wait to bring back to The Buzz, including specific brainstorming techniques. The entire session made me realize: How often do I create the right conditions for creativity for myself? Staring at my blank computer screen at work (with barely-decorated walls) isn't enough.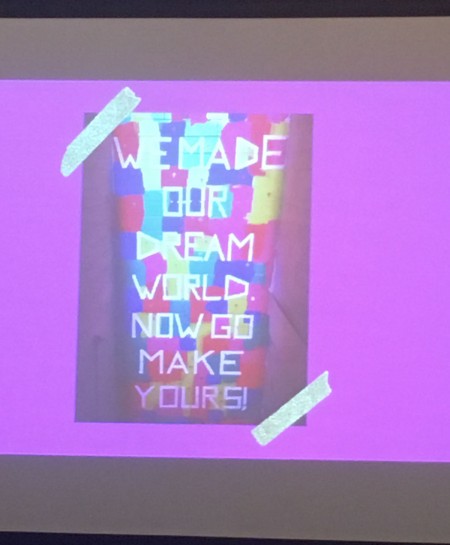 While I feel a sense of "FOMO" heading home from SXSW - there's always so much going on that could be inspirational in a life-changing sort of way - I also have this feeling that I can't wait to get back to work. Every session, every event, every person we met along the way left me feeling so inspired, whether related directly to our work or not. In fact, I had multiple a-ha moments about ideas related to The Buzz while in sessions that actually had nothing to do with that topic.
There's just something about SXSW and being in an environment in which we're soaking up other people's success (and failure) stories. There's just something about taking the time away from our computer screens, taking the opportunity to really learn and grow and connect with others.
Who knows, maybe it's time to paint the walls peach…
Want more buzz like this? Sign up for our Morning Buzz emails.
To leave a comment, please log in or create an account with The Buzz Magazines, Disqus, Facebook, Twitter or Google+. Or you may post as a guest.