Mosaics in Smither Park
Buzz summer interns headed out to see some of Houston's unique, vibrant artwork. Trevor Schneider, Jordan Miller-Mandel and Andrew Duong checked out Smither Park, admiring and photographing the park's various murals, mosaics, and sculptures.
Smither Park is a quaint park in the middle of Downtown Houston (located at 2402 Munger St.), which provides an artistic escape from the real world. Dan Phillips and Stephanie Smither worked side by side to create this park for Stephanie's late husband. Come by every Saturday to watch the artists add more artwork to the park (weather permitting).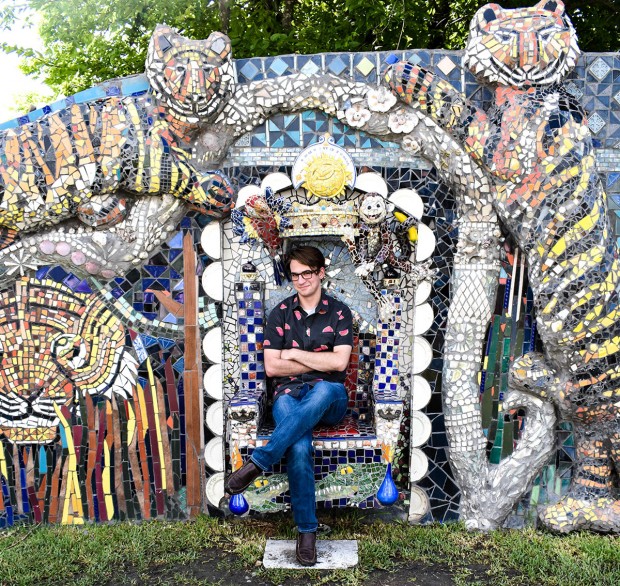 Trevor's Pick: Tiger Mosaic Throne
"As an 18-year-old suburban high school student, I don't get too many opportunities to feel like a king. This piece provided me with one such opportunity. Beautifully crafted from seemingly thousands of individual parts, the throne's colorful structure is immediately eye-catching, conjuring visions of medieval grandeur. Its striking complexity makes more in-depth observations a must, while the fierce tiger portraits round out the piece's regal aesthetic. The throne's colored glass shimmers in the sweltering Houston heat, dazzling enough to distract you from just how much you're sweating - at least for a moment."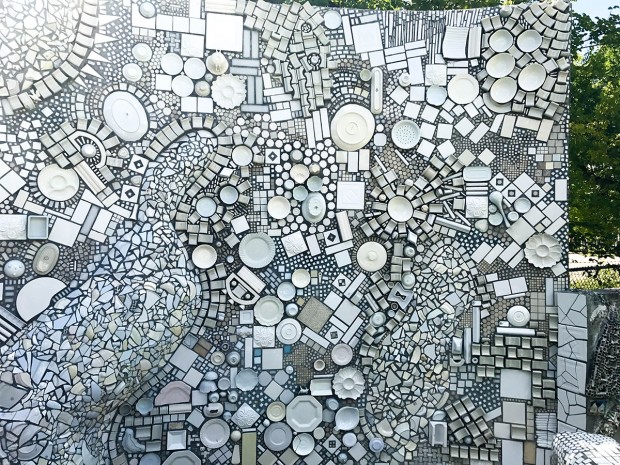 Jordan's Pick: All-White Wall
"Walking into the park, your eyes are immediately confused on where to look; the one wall that caught my attention though was an all-white wall made up of bits and pieces of china and tiles. It is the only fully color matching wall in the park and in the center of the whole thing. When walking up to it, you come to find not only is it a wall but also a bench made up of similar materials but all white. The simplicity of it all brought me in and even though it was colorful the different materials and intricate patterns made me stop and stare."
Andrew's Pick: Skeleton Gentleman
"To start out, I felt severely underdressed when sitting next to the skeleton dressed in a suit and top hat. I picked this because it represents happiness. The gentleman is alone and probably has been for quite some time, but there's always a smile on his face. He's doing what he loves, playing checkers. Another reason I fell in love with it is the use of shards of glass of various colors to make the whole picture fit. His bright red bow tie and the shining, black suit gave me an elegant vibe. Whenever you look into the eyes of something representing death, it's supposed to scare you. This gentleman's eyes were different; the bright, yellow flowers were inviting in a sense."
See our interns' take on murals around the Heights and downtown and the Montrose area.  Previously, our interns checked out the murals downtown and in The Heights.
Want more buzz like this? Sign up for our Morning Buzz emails.
To leave a comment, please log in or create an account with The Buzz Magazines, Disqus, Facebook, Twitter or Google+. Or you may post as a guest.