Mailbag - October 2017
Click the Buzz Me button to receive email notifications when this writer publishes a new article or a new article in this column is published.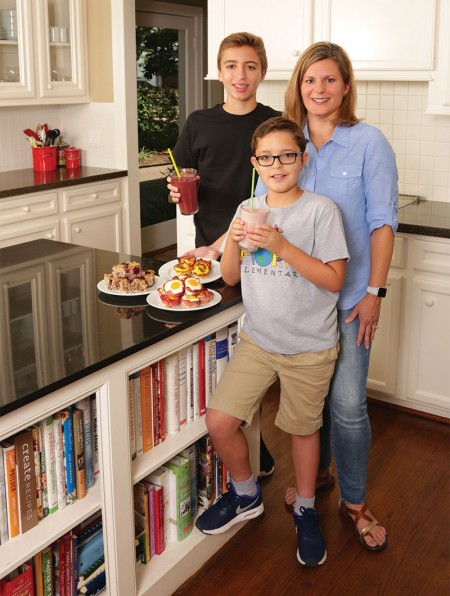 Making breakfast better for us all
I have had tons of responses to the cover and people that are looking forward to trying all the recipes [The Breakfast Club: Home cooks who rule the morning, by Jennifer Oakley, August 2017]! I have even had high school kids of friends saying how they cannot wait to try the ham and egg cups! I am super excited to try the other recipes. I checked out Maroscooking [food blog] and already printed off some recipes from her blog. I had no idea The Buzz had a daily newsletter, so I will sign up for that and spread the word that it is available. 
Christy Smith
Editor's note: Thanks, Christy, for inspiring us with your breakfast recipes and appearing on our Bellaire cover. If the rest of you missed the story, you can find it, as well as other current and past stories and photos in our four neighborhood magazines, at thebuzzmagazines.com. That's also the place to sign up for our morning e-newsletter, with links every weekday to three original stories about your neighbors.
Role model for living with Type 1
Kudos to The Buzz for the excellent insights in Tackling Type 1 [When diabetes is part of the family, by Jennifer Oakley] in the September issue. As someone who has witnessed first-hand William Hagans's dedication to helping JDRF find a cure for the disease, it was wonderful to see his family's unflagging support highlighted. From chairing gala fundraisers to organizing "Team Hagans" every year for the annual Walk (my family and I look forward to the JDRF Walk, as we do every year, on Oct. 28), William and his family do it all. And William is an outstanding example for parents coming to terms with how a diagnosis might impact their own children. College basketball player and successful trial lawyer in one should give others hope that an extremely bright future is still in store even when grappling with Type One. Nicely done!
Kathleen Weir Bertolatus
Dual-language story got around
Hi, Cheryl [Ursin]. I had no idea how many people read The Buzz, but I have been approached by a lot of people since the magazine went out, and everyone thought it was a very nice article [Breaking Barriers: Becoming bilingual at school, by Cheryl Ursin, August 2017]. Thanks so much for covering the dual-language programs, and the great job in making us appear better than we are. Take care.
Giao Nguyen
Editor's note: Giao Nguyen's four impressive children went through Mark Twain Elementary's Spanish/English program. They are also fluent in Vietnamese.
Thanks, Mr. McDonough
I served as the principal of Pin Oak Middle School from 2004-2010, and am currently about to begin my sixth year as principal of Bellaire High School. This community has supported me and my family for nearly a dozen years, and I have always taken pride in how well this community rallies when needed. Whether in response to Hurricane Harvey or the upcoming HISD Bond Project that brings a new Bellaire HS building to 5100 Maple, I have always looked to The Bellaire Buzz as another staple within this community. For my dozen years within Bellaire Schools, I have appreciated your commitment to highlight the best of Bellaire while also maintaining yourself as a strong source of information. The Bellaire Buzz is another partner for Bellaire schools and one that I know I can always count on. I value your dedication and look forward to many more years of support. Thanks.
Michael McDonough
Editor's note: We appreciate your kind words, Mr. McDonough. Thank you for what you do.
Another Tracy Barnett fan
Tracy's article this month, Travel Buzz: Global Family: the Germains, [by Tracy L. Barnett, August. 2017] was especially good. The best ever, in fact! I would like to tell her how much I liked the article. (She wrote one about my summit climb of Kilimanjaro in 2012.) Please keep articles like this coming!
Sherry Chesshir Irvin
Send letters to info@thebuzzmagazines.com. Please include your name, address, phone number and email address for verification purposes. Letters are subject to editing for clarity and space. Views expressed in letters do not necessarily reflect the opinions of The Buzz Magazines, and The Buzz takes no responsibility for the content and opinions expressed in them.
Want more buzz like this? Sign up for our Morning Buzz emails.
To leave a comment, please log in or create an account with The Buzz Magazines, Disqus, Facebook, Twitter or Google+. Or you may post as a guest.