Lights, Camera: Veritas Television at St. Agnes
Click the Buzz Me button to receive email notifications when this writer publishes a new article or a new article in this column is published.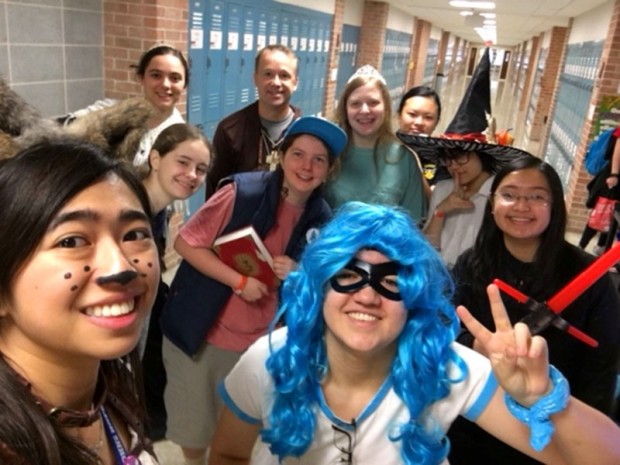 One of the first clubs that I joined as an inexperienced freshman was Veritas Television (VTV), a "television show" that airs every morning to give the morning announcements. Think of the overhead voice system that schools usually play in the speakers for the morning announcements but this time you see the people talking. I expected it to be complex, exciting and full of knowledge of what people behind television shows and movies in Hollywood goes through as a career. I imagined the studio to be large and grand with multitudes of equipment to learn how to handle.
At the time, I did not realize that we were just a high school and therefore cannot afford to get the full Hollywood-level production. When I walked in, I was surprised that it was a tight, small room covered in green screens and basically three to four roles to air an entire show. Despite my initial disappointment, I was excited to learn a new medium and be part of a community, even if that meant skipping homeroom with my friends and kind homeroom teacher. Despite that, I became determined to participate in VTV as the show airs every morning.
I started out as the show's "Director." which is basically the person who organizes the PowerPoint slide in order of the announcer. The slides will appear as an image in the background of or the side next to the announcer, depending on the green screen template used as the "studio". I came every morning, and left for my homeroom once the show was over since the room was nearby the VTV room. I was young and terrified of the club president, who seemed domineering to my inexperienced eyes. I therefore did not initially make that many friends there, other than the VTV sponsor, Mr. Wheeler, and a girl named Joy.
I think the reason why I remember Joy the most is because she was the only person I actually talked to. Everyone else seemed so… above me. How could I be friends with them if they already had friends of their own and have established themselves as upperclassmen. I could not compete. I decided to just see them as superiors. Joy was my only exception though, for she was an upperclassman herself. She seemed to be the friendliest VTV member to me… no. I think it is more that I am more comfortable to be with her. Yet, that would change in the coming years.
Eventually, as the months went by and seniors graduate to move onto college life, my life in VTV has evolved. New people have joined VTV while old members including Joy eventually graduated and moved on. I still miss them, in a vague sense, like a distant memory or a phrase at the tip of the tongue but never discovered. Anyways, the room also changed to leave more room for the announcers and the green screen space, the "crew" for VTV has increased in size, and my role in VTV has changed. In junior year, Mr. Wheeler appointed me and another fellow junior as co-presidents of VTV. While she performed the authority duties during the show every day, I helped organize the announcers and do the after-show activities such as hold the interest meeting and communicating with Mr. Wheeler.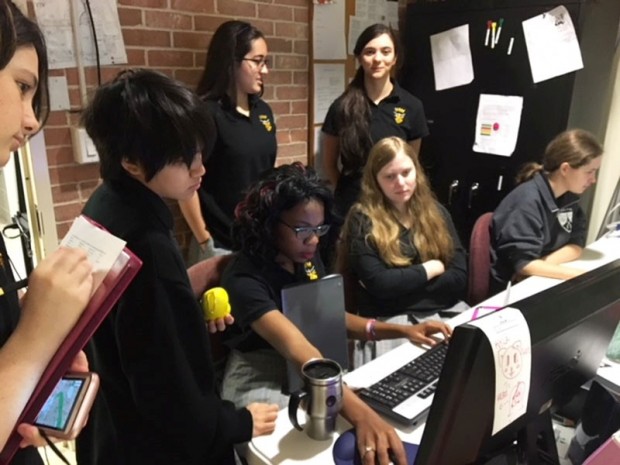 Despite the technicalities of VTV, it has become more of a "chill" club. We do not emphasize going to meetings or have formal initiations for new members. How we get new members is basically just letting them come in and showing them some of the functions. Then, they eventually become a part of the crew and our VTV family, which is another important aspect of VTV… at least one that I believe that is integral to the VTV experience. I felt close to these people.
I no longer left the VTV room immediately after we stop recording. Instead, I stayed behind. I talked with them. I took part in the inside jokes, the conversations, the things that some of the other members are interested in. I no longer saw VTV as a job or a club, but as a family. Yes, yes, I know that sounds cheesy, but it is true. Without VTV, we would not have become close friends since we hail from various grades and backgrounds. It feels much different from when I started joining VTV
Fast forward to today. I am now a senior, and the sole acting president of VTV. We still do our duties every morning, meeting up together and staying over after the show has finished. Unfortunately, a few people have left, but we are still going strong. In fact, I believe we may have some more VTV activity other than the morning announcements this year.
Once I graduate, I do not know what will happen to VTV in the coming years. What I do know is that I will leave Veritas Television in capable hands. I know so. I trust these people like I trust my own family.
Want more buzz like this? Sign up for our Morning Buzz emails.
To leave a comment, please log in or create an account with The Buzz Magazines, Disqus, Facebook, Twitter or Google+. Or you may post as a guest.