Slime Time
Click the Buzz Me button to receive email notifications when this writer publishes a new article or a new article in this column is published.
Back in the day playing with slime usually referred to Mattel Toys' yucky, oozy, clammy radioactive-green-came-in-a-miniature-trash-can slime in the seventies or Nickelodeon Television's runny, drippy, florescent green pour-over-your-head-when you-said "I Don't Know" slime in the '80s. Today's slime has come a long, stretchy way.
In 2017, "How to Make Slime" was the most Googled how-to phrase. Millions of Instagram posts and YouTube videos display brightly-colored goo filled with glitter and add-ins of all kinds.
There are countless slime recipes and ingredients vary, but the base of most concoctions is glue. Last summer, slime makers' demand for glue was so high, there was actually a shortage of it.  
Some Buzz neighborhood slime experts took a break from glue and glitter to share their squashy adventures and squishy tips, plus some recipes for how to make it.
Pin Oak Middle School sixth grader Ava Noamouz and her Condit Elementary third grade sister, Mia's, love of slime began last Spring Break when their cousin, Tara Ahmadi, a seventh grader at Memorial Middle School introduced them to it. Horn Elementary third grader Carson Patterson discovered the wiggly wonder from "in the know" family friend, Emma Jenkins, a seventh grader at Presbyterian School. Sydney Fell, a Pin Oak sixth grader, got the fever when slime became "Internet famous" and she started looking up recipes. They all agree it's a fun activity to do with friends.
Condit third grader Gianna Vela said, "I like stretching it and making giant bubbles. Playing with the slime relaxes me."
Sloan Goodman, a Pin Oak sixth grader, makes up cool names for the different slime creations, which is part of the challenge. "My friends and I have fun trying new combinations and proportions. A lot of them wind up with food names . . . especially dessert names!"
Most parents feel the pros about slime outweigh the cons. Mary Lou Dale admires how slime transcends all ages. "The other day we were at a family birthday party for our 4-year-old cousin. It was great to see preschoolers alongside adults laughing and interacting while they created and played with the slime."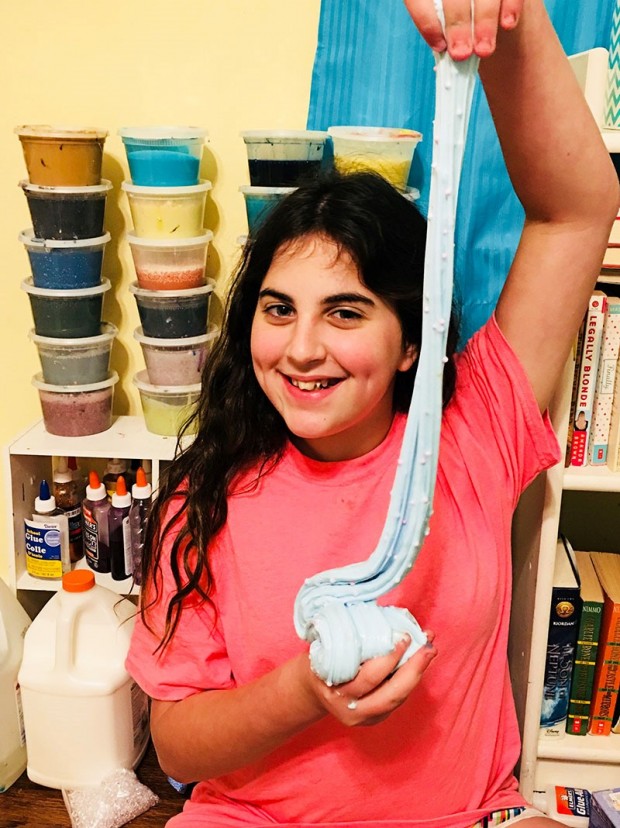 Slime supportive mom, Helen Goodman says, "I'm a fan of slime because creating it is part science and part creativity."
Kristi Coffey finds that slime is a good icebreaker. The summer before her daughter Ava headed to middle school, the family invited over new classmates to make slime. By the end of the gathering, lots of new friendships were formed.
Julee Patterson admits the slime hoopla and mess, especially the "never-disappears glitter in the grout" can drive her a little crazy, but she still prefers it over too much screen time. Their family was tickled at how excited Carson was Christmas morning when one of her favorite presents was a gallon of clear glue.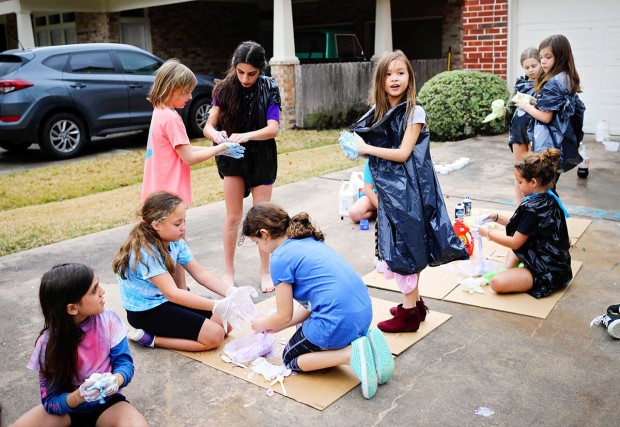 Third graders from Condit's Troop 147032 recently earned their Girl Scouts Science at Home Badge. Troop leaders and some sixth grade helpers guided the scouts in the chemistry of slime. The girls' lab was the driveway and, to be safe, they wore stylish black garbage bags to protect their clothes.
The Chang family hosted a Neon Slime Dance Party for daughter Chloe, a sixth grader at Pin Oak, and her friends. The partygoers used glow-in-the-dark acrylic paint to create cool glowing slime. Guests had a blast dancing under black lights and gave the bash glowing reviews.
One of Trafton sixth grader, Sofia Dale's favorite birthday presents was a Slime Making Kit that was a box of all the ingredients for slime that her sixth grade Pershing friend, Isabelle Herrera created for her.
Peggy Chang informed us that Chloe's little brothers, Condit students Christian, a fourth grader and Caden, a kindergartener, are also part of Slime Nation; however, their 9-month-old baby brother, Cameron, isn't quite ready yet.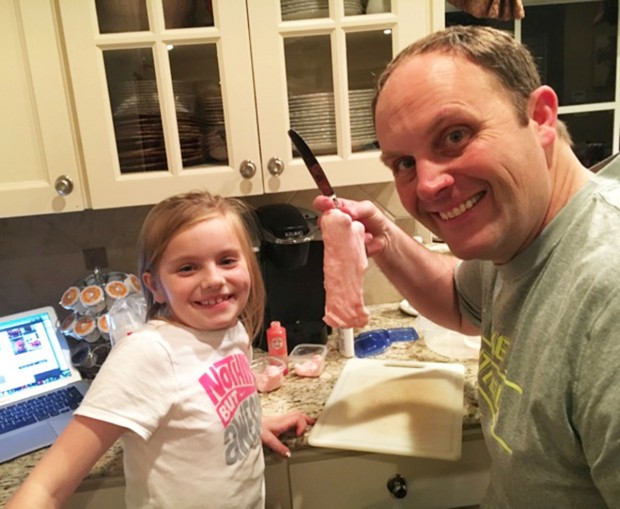 Early in her slime-making career, Carson decided to make slime as party favors for Valentine's Day. She and her dad, Pastor Roger Patterson of West University Baptist and Crosspoint Church, watched slime tutorials to figure it out. "I enjoyed spending time with Carson but that will probably be the last time I make slime because if I'm going to be in the kitchen using mixing bowls, I prefer a product that is edible and sweet!"
Mary Kearney, mom of Condit fourth grader, Henry and first grader, Bonnie, reports that Henry loves slime and that they hope to make their first batch at home as a fun family activity in the near future.
Many families report one downside of having a slime family member in the house is disappearing containers and mixing bowls which makes microwaving, cooking or putting away leftovers challenging.
One slimer shared that a few classmates were playing with slime during free time at school and it got stuck in their hair. The girls couldn't get it out and panicked when the science teacher had to cut their hair.
Meredith Vela had a scare when daughter Gianna and a friend used baking cinnamon oil to scent their slime. The concoction caused their hands and arms to turn red, tingly and hot. The experience was scary but luckily the burns weren't as bad as they thought.
Susannah Rosof, a Trafton sixth grader, was thrilled when her mom, Holly, approved a slime party. One partygoer who had an extra good time was adventurous foodie, Lola, the Chihuahua, who dines on anything that hits the floor. Due to the bright blue "presents" she left in the back yard, it appeared Lola had noshed on the rubbery delicacy. After a visit to the vet, Lola got some medicine and mom got a $500 bill. A few weeks later, it seemed the slime was still bouncing around Lola's belly, which led to another vet outing and another bill. The Rosof home is now a slime-free zone. (Lola, is still grazing for any gastro goodies on the kitchen floor.)
One mom hides her daughter's stash of glue so she won't  use the whole gallon in one day. Another slime expert shared, "Once a friend and I made three gallons of slime all at one time." 
When the Patterson family moved back into their post-Harvey repaired house, Carson quickly claimed a new drawer for her slime ingredients and collection storage.
In addition to the expense of supplies, some unforeseen costs to Buzz residents have included dry cleaning, rug cleaning and plumber house calls to fish slime out from clogged tubs.
Dad Arash Noamouz isn't a fan and often asks if daughters Ava and Mia could please quit making it at their house. But slime-loving wife Kristi Coffey can't help herself and often hides Amazon boxes full of slime ingredients and add-ins.
Melissa Brams, mom of Lauren, a sixth grader at Trafton, Abigail, a fourth grader at Condit, and Emily, a fourth grader at Shlenker, shared that they are currently a slime-friendly house. "I decided it wasn't worth fighting this battle as long as they keep it downstairs and away from carpets. I have three daughters and two (Lauren and Emily) are obsessed with it. Some parents might promise their kids electronics or money for good grades; we barter with slime materials. You get an A on your math test, great - I'll get some glue! And not the cheap kind, it must be Elmer's. Abigail isn't so crazy about slime but it did come in handy when she needed an idea for her science project."
Some of the Buzz neighbors we spoke with have started selling slime. The going rate is about 50 cents-$1 for elementary and $3-5 for middle school. Some slimers who sell their concoctions give a portion of their sales to charities.
Pin Oak sixth graders, Chloe Chang, Sloan Goodman, Ava Noamouz and Sydney Fell started the Sassy Slimes. Their custom orders come with a handwritten note. Possible choices are Birthday Cake Slime (yellow slime with rainbow foam beads), Princess and the Frog (half pink with glitter and half green) or the Mario Brothers Trio (Princess Peach, Red for Mario and Green for Luigi).
An enterprising tool for Trafton sixth graders Susannah and Lilian, owners of Slimey-Girlz, (Purple Rain slime is an available choice), is to share samples with fellow slimers who examine the slime and post reviews on the Slimey-Girlz Instagram account. Susannah's mom, Holly, admires the marketing skills the girls are learning.
Like a family stuffing recipe, slimers often have their own favorite ingredients. There are dozens of slime recipes. Our slime experts suggest researching online and reading reviews for additional pointers. Making slime is a science and you need to make sure you have the correct ratios and ingredients that react with the glue to make a good batch. 
Basic Slime Recipe (Made with glue and laundry detergent, as shared by Buzz slime experts) 
Ingredients include: 
1/4 cup of glue (Elmer's suggested)
1 Tablespoon liquid laundry detergent (Tide Original suggested)
Drop or two of food coloring (optional if you want colorful slime)
2 squirts of shaving cream (not gel) (optional if you want fluffier slime)
Equipment
Measuring spoons
Glass or plastic mixing bowl or plastic tub
Mixing spoon or spatula
Airtight container for storage
Plastic gloves for food coloring (optional) 
Instructions:
Pour the glue into a medium bowl. Add the laundry detergent to the glue mixture and stir until smooth. The mixture should begin to harden and becoming stringy. Continue mixing slowly until a ball of slime forms. Pick up the slime and work between your two hands until smooth. 
Once mixed, you can play with the slime immediately or store in an airtight container at room temperature for future play. 
Different reactors include: 
Borax
Liquid starch
Contact solution that contains boric acid or boric liquid
Variations:
Butter Slime – (Daiso Soft Clay/Corn Starch)   
Glossy (Baby Oil)
Fluffy (Shaving Cream)
Jiggly (Lots of Water)
Cloud Snow (Insta-Snow)
Metallic Slime (Metallic Colored Pigment)
Crunchy Slime (Fishbowl or Foam Beads)
Stretchy Slime – (Lotion)
Add smells: 
Essential oils
Scented lotion
Foaming hand soap
How to color:
Dry tempera paint
Simmery eye shadow
Food color
Kool-Aid
Items to put in slime:
Glitter
Foam beads
Plastic beads
Sequins
Wiggly eyes
Bubble wrap
Vase filler beads
Pom-poms
Small figurines
Slimers' Tips
"Be careful when working with food coloring…especially blue. You might want to wear gloves. Also you can pour slime into a balloon to make a stress ball," said Gianna Vela.
"For fluffy slime, the fluffier the shaving cream the better. Gillette's foamy shaving cream (not gel) works best for me," said Sofia Dale.
"Have fun and try new combinations and proportions. I like using liquid Tide (regular formula) or gentle and free version if working with clear glue)," said Sloan Goodman. 
"If making the contact solution recipe, take turns adding a little baking soda and a little contact solution one at a time while you're mixing," said Chloe Chang.
"When I was an early slimer I left my slime outside overnight and it melted. Luckily I was able to use a hose to wash it off," said Sydney Fell. (Her mom, Heidi, was relieved they could clean it but to be safe, slime production moved to the garage.)
Are you a slimer, too? We want to hear your stories. Comment below.
First-timers can give slime a try at the Slime Making Booth during the Condit Elementary Spring Carnival on Saturday, March 24, 1-4 p.m.
People in this article:
Ava Noamouz
,
Mia Noamouz
,
Tara Ahmadi
,
Carson Patterson
,
Emma Jenkins
,
Sydney Fell
,
Gianna Vela
,
Sloan Goodman
,
Mary Lou Dale
,
Helen Goodman
,
Kristi Coffey
,
Julee Patterson
,
Chloe Chang
,
Sofia Dale
,
Isabelle Herrera
,
Peggy Chang
,
Christian Chang
,
Caden Chang
,
Cameron Chang
,
Roger Patterson
,
Mary Kearney
,
Henry Kearney
,
Bonnie Kearney
,
Meredith Vela
,
Susannah Rosof
,
Holly Rosof
,
Arash Noamouz
,
Melissa Brams
,
Lauren Brams
,
Abigail Brams
,
Emily Brams
Want more buzz like this? Sign up for our Morning Buzz emails.
To leave a comment, please log in or create an account with The Buzz Magazines, Disqus, Facebook, Twitter or Google+. Or you may post as a guest.