Royal Wedding Celebration
Click the Buzz Me button to receive email notifications when this writer publishes a new article or a new article in this column is published.
In the darkness of the predawn night, royal wedding guests donning designer fashioned tiaras (from Party City), fasteners, hats (from second-hand stores) pajamas and slippers (from Target) tiptoe up the red carpet to the front doors of the Westminster Abbey of Meyerland. They share double-sided cheek air kisses from hostess Lady Mary Lou Dale, and wave hello to the life-sized cut-out of a smiling Meghan and Harry welcoming them in. Guests settle in front of Lady Dale's wide screen tellie and properly balance fine china teacups of hot tea (pinkies up!) on their knees. Excitement fills the air as live coverage of Meghan and Harry's wedding begins. It is 5 a.m.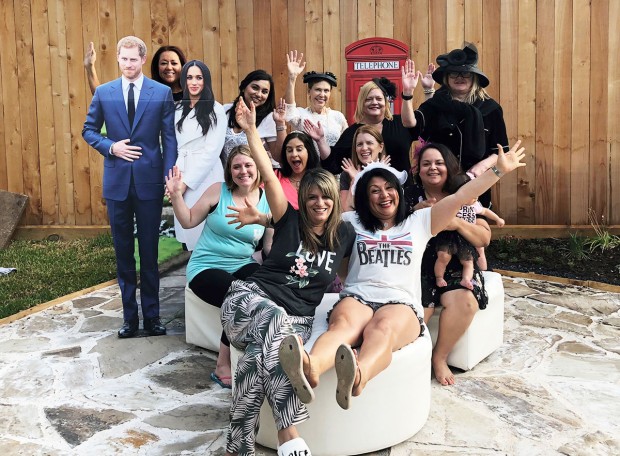 Guests that trickle in before half past six a.m. arrive in time to enjoy at least a portion of the live coverage of the wedding and are officially decreed the Royal Early Birds: Sofia Dale, Adel Ownby, Kelley and Cassidy Hernandez, Sarah Williamson, Terry Leavitt-Chavez, Kathy Bowlin, Claire Kugler, Angela and Alex Stancil, Jeny Cortez, Dana Cox, Alicia and Isabella Traverse.
Now it's the moment everyone's been waiting for. They look deep into each other's eyes…Awww! The vows go swimmingly. Then wait for it…wait for it…once they are properly outside of the church, Harry and Meghan have their first kiss as husband and wife. Texas-sized screams, worthy of a "Tsk! Tsk!" look from Queen Elizabeth fill the air and probably wake a few of Mary Lou's neighbors.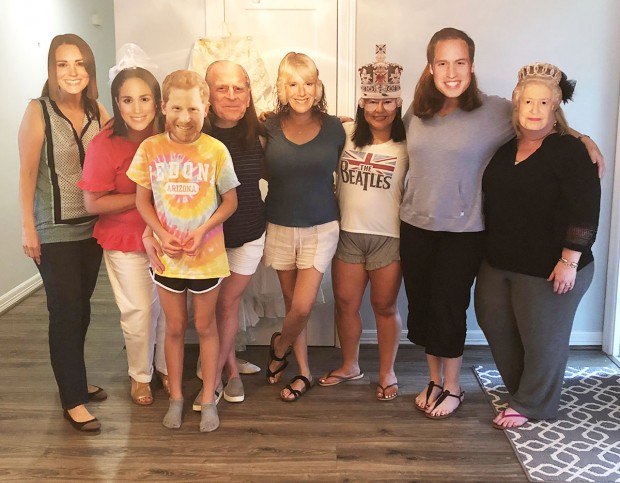 Back in jolly old London, joyful shouts ring out as Duchess Meghan and Prince Harry descend the church stairs followed by her gorgeous 15-foot wedding dress and veil and load into their royal open air horse-drawn carriage. The newlyweds are glowing as they wave at thousands of adoring fans lining the route. They make their way to a Queen Elizabeth hosted wedding reception for 600 guests.   
Meanwhile, back across the pond, Mary Lou's American British royal court (for the day at least) have their own beautiful wedding reception on which to feast. Who knew watching royal weddings in the middle of the night could work up such an appetite? Guests enjoy a delightfully decorated display of fresh flowers and, wedding napkins surrounded by freshly baked buttermilk scones, clotted cream and jam (from McHugh Tea), parfaits, fruit skewers and bite-size quiche. They nibble, they giggle and sip hot coffee, tea and chilled royal prosecco punch. The wedding guests pace themselves. The party continues.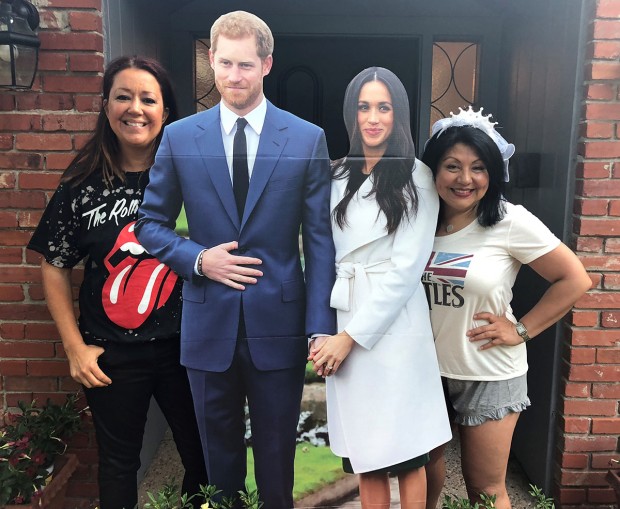 Mary Lou wanted to make the event special for her family and friends as it was the first party she's hosted since she and her children were able to move back in after Harvey.
The excitement continues to grow as the guests that "had time to put on makeup and fix their hair" (also known as the "sleeper-inners") arrive to enjoy the festivities and catch glimpses of the replay screening of the fairy tale wedding: Diana Caully, Janet and Lauren Cunningham, Melissa and Lauren Brams, Helen Goodman, Holly and Susannah Rosof, Tiffany Johnson, Natalie Lang, Theresa Bosley, Suzi Nelson, Nirja Ayer, Rania and Caroline Meade, Gracie Martinez, Sylvia Dauber and Jennifer Macia. Once again, there are screams when the new couple completes their vows and has their first kiss.
Cell phones start appearing as guests enjoy photo ops with the Harry and Meghan's cardboard lookalikes, the red carpet out front and the red phone booth on the back fence. Facebook bound castle-worthy confections include British flag and wedding ring sugar cookies decorated by Meredith Vela. Mary Lou and Melissa Brams do the honors of playing the parts of Meghan and Harry as they cut the three-tier almond wedding cake complete with a Harry and Meghan photo cake topper created by Mary Lou's sister, Stella Applebaum. 
Guests turn into complete paparazzi when Mary Lou presents a special surprise . . . a guest appearance from the royal family. Queen Elizabeth, Prince Phillip, Prince Charles, Camilla, Prince William, Duchess Kate, Prince Harry and Duchess Meghan all appear in the form of full-face masks. Guests are transformed into exact twins of the royal court (at least from the shoulders up!).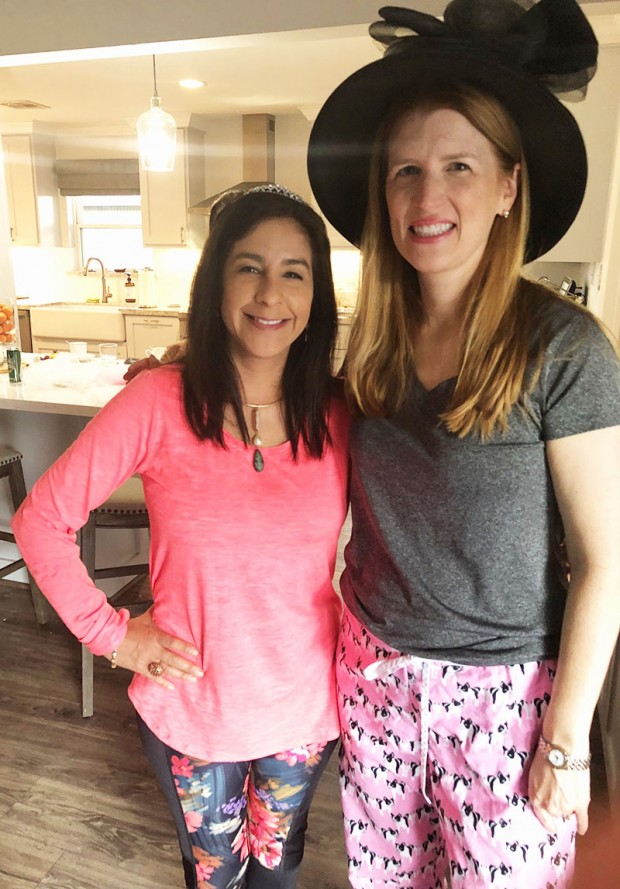 Soon the clock strikes noon. A jolly good time has been had by all. The guests realize that celebrating like a princess can make you "knackered" (tired in British). Mary Lou waves good-bye to her guests and asks her imaginary English butler to please clean everything up. She grins at the partially-bent cardboard Harry and Meghan and tells them congratulations and hopes they live happily ever after. Then she goes to take a royal nap.
People in this article:
Mary Lou Dale
,
Sofia Dale
,
Adel Ownby
,
Kelley Hernandez
,
Cassidy Hernandez
,
Sarah Williamson
,
Terry Leavitt-Chavez
,
Kathy Bowlin
,
Claire Kugler
,
Angela Stancil
,
Jeny Cortez
,
Alicia Traverse
,
Isabella Cox
,
Dana Cox
,
Diana Caully
,
Janet Cunningham
,
Lauren Cunningham
,
Melissa Brams
,
Lauren Brams
,
Helen Goodman
,
Holly Rosof
,
Susannah Rosof
,
Tiffany Johnson
,
Natalie Lang
,
Theresa Bosley
,
Suzi Nelson
,
Nirja Ayer
,
Rania Meade
,
Caroline Meade
,
Gracie Martinez
,
Sylvia Dauber
,
Jennifer Macia
,
Meredith Vela
,
Stella Applebaum
Want more buzz like this? Sign up for our Morning Buzz emails.
To leave a comment, please log in or create an account with The Buzz Magazines, Disqus, Facebook, Twitter or Google+. Or you may post as a guest.