Eye in the Sky: Using Drones as a Public Safety Tool
Click the Buzz Me button to receive email notifications when this writer publishes a new article or a new article in this column is published.
It emits a subtle, low buzzing sound. Propellers furiously moving like a tiny toy helicopter, it lifts up in the sky, higher and higher.
Drones often have a negative connotation these days. They're spying on us is the general reaction to the cutting-edge technology.
Larry Boggus, a police officer with the Memorial Villages Police Department, first grew interested in drones several years ago while working triathlons and marathons. These drones were bringing a new perspective to these action-packed sporting events. He decided he wanted a drone, too, and he initially acquired one to photograph real estate properties for friends. Then Hurricane Harvey arrived.
The water was high. First responders were overloaded with calls for help. So Officer Boggus brought his drone to work. At first, he used it to aid in search and rescue missions, looking for neighbors stuck in high water, people on rooftops or in flooded vehicles along Gessner, Voss, Fondren or anywhere in the surrounding Memorial Villages neighborhoods. The drone was used to better understand the situation first responders were heading into and help them understand which areas were flooded. The technology was able to provide information to rescuers on boats, could be launched within minutes and could provide air support when a helicopter could not be found. It was a game changer.
When the Addick's Reservoir was released and mandatory evacuations were ordered, the drone was able to see where homes were flooding. Officer Boggus assisted other agencies in their efforts. When search and rescue launched boats along Cypresswood and the 1960 area, Officer Boggus provided much-needed air support. When a water treatment plant flooded and failed during the storm, he was called in to fly the area to assist authorities in finding the problem, so they could plan how to resolve the issue once they had access to the location. During all of this, an Associated Press journalist helped release some of the first public west Houston/Memorial Villages images and video from his drone.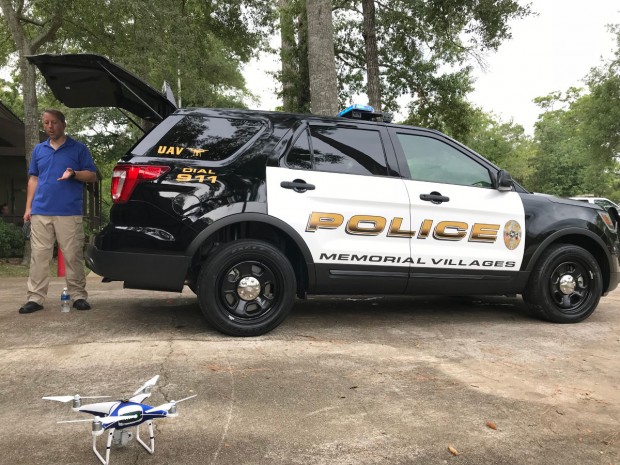 After the floodwaters receded, the drone quickly became a traffic control tool. The police department was able to share with the community where roads were still blocked. "It became a tool, a force multiplier, to quickly send a drone out instead of sending an officer out when they were needed somewhere else," Officer Boggus explained.
The utility of the drone didn't end with Harvey. In fact, it seems it's just beginning. Officer Boggus described some of the situations in which a drone can be helpful. Firefighters now can see where hotspots are in a fire, if the water runoff contains harmful chemicals or even if they have the correct placement of the fire hose. For example, a few months ago, the Houston Fire Department responded to a 4-Alarm fire and, by deploying a drone, the command staff were able to "see" that the firefighters were standing in potentially bad water runoff; from the ground, the water appeared normal but from the sky, it was clear that it was an unsafe situation. Officer Boggus said, "It's a whole new perspective."
With the right camera on the drone, you can see a difference in temperature, so an individual escaping the law wouldn't be able to hide in a field of grass. In the scenario of an active shooter on a campus, a drone can be quickly deployed and can clear areas where officers don't have easy access. "Where an officer would take 3-5 minutes to get there, a drone takes 30 seconds to arrive and start providing video feedback," he said. This knowledge helps the responding officer avoid blindly walking into a potentially risky situation. Drones can clear rooftops, fields and areas faster to allow the officers to concentrate on the hallways and classrooms.
"Now we're seeing things you can't see before, from the ground," he said. "We help with serving warrants with the drone as Google Earth is not always the most accurate." Officer Boggus calls it "overwatch" because the drone can hover over a location and provide real time video and support to operations. "People assume we're spying on them because the drone is above, but just because the drone may be over your location does not mean it's looking at you or your property," he explained.
Since Harvey, he has taken a grassroots type of approach on the uses of drones with the Memorial Villages PD. Several Memorial Villages residents recognized this as a new technology to create a safer neighborhood and they began to donate funds to purchase drones. Even a new police vehicle was donated for this program, and now the department is on the edge of having a full-fledged mobile drone unit available to other agencies, assisting those that may need help.
This week, the Memorial Villages Police Department collaborated with other local first responders, hosting a symposium to teach FAA rules and regulations, best practices and the safe use of drones. Representatives from the Memorial Villages Police Department, Pearland Police Department, Freeport Police Department, METRO Police Department, Bellaire Police Department, Houston Fire Department, Alvin Fire Department, Bryan Fire Department, Austin Fire Department, Texas Search and Rescue and Crowdsource Rescue were all in attendance for this training, which was held at the Memorial Drive Presbyterian Church.
In order to legally fly a drone for commercial use (including police/fire departments), individuals must have an FAA license to fly on a jurisdictional basis or some type of certificate of authority allowing them to fly.
The good work that Officer Boggus' drone has done isn't all police-related, either. He's used it for city-related projects documenting new pump stations, current construction projects and road closures. For example, footage from his drone can show the quality of potholes in the streets over time and can provide evidence of the need to repave. And in the situation of a chemical spill, measuring devices can quickly show whether harmful chemicals air in the air or not.
There are countless ways to use a drone for good, Officer Boggus said. "Unfortunately, 'bad guys' out there use it in a bad way, and we all get the rap for it." Public perception and keeping the community informed about the technology is key. "It's a great thing and I'm so happy about it," he said. "It's another smart tool for safety."
Want more buzz like this? Sign up for our Morning Buzz emails.
To leave a comment, please log in or create an account with The Buzz Magazines, Disqus, Facebook, Twitter or Google+. Or you may post as a guest.