Let the Good Times Roll: Adventures of Toilet Paper Wrapping
Click the Buzz Me button to receive email notifications when this writer publishes a new article or a new article in this column is published.
Growing up in the '80s in South Texas, Thursday nights in the fall often included high school girls stealthily sneaking up to the homes of unsuspecting football players. Their mission? To get everyone fired up for Friday night's game. First, they hung long butcher paper painted spirit signs exclaiming "Go Mustangs! Beat the Tigers!" or "Go #27!" Next, with the precision, speed and accuracy rivaling the team's all-star quarterback, the ladies started catapulting rolls of bright white toilet paper into the dark night sky. Silent toilet tissue unraveling mid-air, falling square by perfectly perforated square by perforated square, until reaching its final landing upon tree limbs, porch lights and patio furniture. The TP wrappers mission complete, they hop into their car and drive off into the night, Sugarhill Gang's "Rapper's Delight" blasting from the cassette player radio…
The art of toilet paper decorating is affectionately known as "rolling, TP-ing or wrapping." I have fond memories of those back-in-the-day TP outings. My days of running away from the TP'd scene of the crime may be over but I've been proudly promoted to driving away from the scene of the crime in the getaway car for our son and his friends' TP adventures.
Here, Buzz readers share some of their old-school and new-school TPing stories:
Meredith Janes Vela, a 1985 St. John's graduate, smiles mischievously, remembering: "One year during finals, there was an epidemic of TP-ing students' houses going around. The St. John's headmaster decided things had gotten out of control and announced that no one was allowed to wrap any more students' houses during finals. So that weekend all of the students gathered together and did the most amazing wrap job ever on the headmaster's house."
Shelly Hulbirt, a 1985 St. Agnes alum and current Pin Oak Middle School seventh grade history teacher shares: "In addition to TP-ing we would get rolls of raw biscuits and throw them at houses. We called it 'biscuiting.' It was silly, and no one got hurt. I had biscuit stains on the dashboard of my green Honda in high school until that car went to the junkyard!"
Catherine Coselli Rentz, who graduated from Duchesne Academy of the Sacred Heart in the '80s, laughs, "My mom thought wrapping houses was a waste of toilet paper and wouldn't give me money to buy any. So my friends and I would go door to door knocking on our River Oaks neighbors' doors and telling them we were on a scavenger hunt and all that was left on the list was a roll of toilet paper. That's how we would gather our supply to go wrapping!"
The rolling tradition has continued with Catherine's children (although nowadays, she buys her own TP). Catherine, her friend Patricia Rorschach and a few other neighborhood families gave each other the green light to roll each other's houses. They also came up with a great tradition: "The last few years, there were a couple houses that kept rolling each other. The parents made a pact. If you TP a house, the next morning your family has to leave a dozen donuts on the front step of the rolled house. You could just leave the donuts or if you want to be adventurous you can ring the doorbell and run fast enough so you don't have to give away your identity. But either way, at least the rolled house would be energized with some extra sugar to help them clean up all that toilet paper!"
A few years ago, Kristi Coffey and her husband, Arash Noamouz, decided to surprise their daughter, Mia, and their niece, Bella Youssef. The girls had fallen asleep in Kristi and Arash's bed watching television. The sneaky adults decided to surprise the girls and roll the entire bedroom. The adults stifled giggles to not wake the girls, but the last laugh was on the big kids when they realized they had to find somewhere else to sleep!
The Loera family - Ana, Ernesto, son Ernesto, Luis and Arianna - were sitting down to a leisurely breakfast one relaxing Saturday morning. A tough third grader at the time, Luis thought he saw some movement in the front yard. When he went to investigate, he was shocked to discover his older brother's middle school friends rolling their house in the middle of the day. Luis darted after the guilty parties and grabbed one of their legs before they could hop in the mom's getaway car. Luckily, Ana was not as tough as her youngest son and graciously invited the TP wrappers in for breakfast. The TP mom explained that the boys were planning to roll the night before but she was too tired to drive them, so she promised them they'd go in the morning and knew the Loeras would be TP-friendly . . . but they had forgotten about Luis.
Karson Ludwick, a Bellaire High School sophomore, dished some scoop on a recent adventure. "We went to wrap our guy friend's house after a group of us had all seen a movie together earlier that evening. He had friends spending the night and a group of us girls were having a sleepover so we thought it would be fun. However, when we get to his house and take out our toilet paper, all of a sudden, we hear someone shout from the roof. We look up and see all of the boys with water balloons! Someone had tipped them off that we were coming. We grabbed our toilet paper and ran for cover with water balloons flying all around us. We've had fun rolling each other's houses over the years." The girls came back later that night and successfully completed their assignment.
The Perlman brothers - Ming, Reese and Andy - woke up to discover their Bellaire yard covered in a soft, white and fluffy substance . . . not snow, but toilet paper! They knew the culprit: A.J. Hazen and crew. A.J. is one of Reese's 7th grade friends from Pin Oak Middle School. Reese's mom, Kim Chau, who had never TP'd houses in her life until this past summer, is beaming when she reports, "The boys have so much fun rolling each other's houses and I'm having the best time driving the getaway car. It's so exciting!"
Some savvy parent chauffeurs decided it would be more fun to visit with other adults and let someone else drive when they took the kids out rolling, so they rented a bus. The night started with a small group of friends and an arsenal of toilet paper. They had a brilliant strategy. The "bus kids" would wrap a friend's house and if the "just got rolled" friend caught them, the bus rollers struck a deal that if they didn't make them clean up their yard they could join the party on the bus and roll more friends' houses. By the end of the night the bus was full of rollers with sore arms and feet from all of that throwing and running!
This summer, always-fun mom Mary Lou Dale called our house late one night with a favor. "I have three middle-school girls spending the night that really want to TP a house. Can they wrap yours?" I happily agreed, went to bed and forgot all about it. When my family walked outside in the morning it was like the house had been rolled by unicorns and fairies. In addition to toilet paper, the girls had decorated the front yard with colorful, glow-in-the-dark balloons and silly string. It was a sight to behold. The girls even left a decorated calling card poster. "Your House has Been Rolled by Eden Harari, Susannah Rosof and Sofia Dale" with their names written in glitter. As a boy mom, it was an extra special treat for me.
Mary Lou is also a wise mom and offered these thoughts, "In this age of security doorbells and video cameras, you should coordinate with the homeowner to fully enjoy rolling or you may be interrupted by the local police or unhappy parents. It's all in fun but you should give respect to the family, which in itself makes for sincere TP fun as opposed to revenge TP."
From our unofficial research it appears today's kids are much better-behaved toilet paper rollers than kids from the '80's and '90s! Today's adults know some of the things they did as teenagers made them prime candidates to serve Saturday Detention with Breakfast Club's Assistant Principal Vernon. Some of their confessions of items NOT to use: Shaving cream (which stains sidewalks and cars), Oreos twisted open and stuck icing side-down on windshields, raw eggs, smelly sardines and canned in heavy syrup peaches left on porches or in mailboxes. But the scariest item was fetal hogs "borrowed" from the school biology lab. The fetal hog confessor explained "That's just how really mean the boy whose house got "hogged" had been to our friend." Yikes.
Whether your opinion on TP-ing/papering houses is one-ply unscented, generic, see-thru and scratchy or three-ply, scented, quilted, squeezable and plush, there's no flushing the fact that the art of TP wrapping hasn't been tootalooed down the loo, waved away by the water closet, sent round and round and round down the bowl, or powdered by the nose of the porcelain god. Nope, wrapping just keeps on rolling.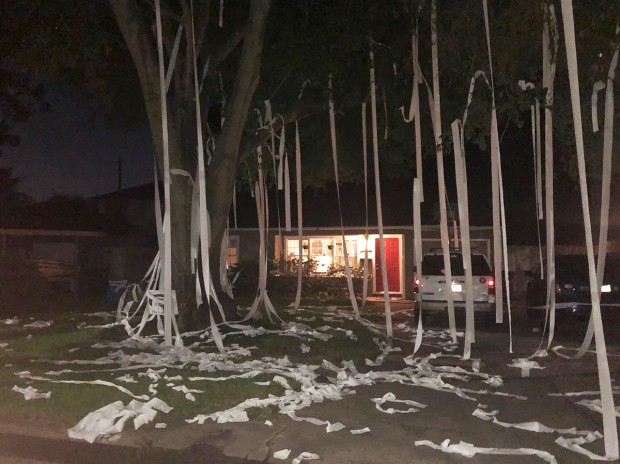 Law Enforcement Tips
Bellaire police officer: "My suggestion is to have the parents of the kids rolling make sure to talk to the family getting rolled beforehand and get permission. Then call the police station and tell us, so if the neighbors call, we know what's going on."
West University police officer: "If the police happen to appear while you are rolling, please do not run. It makes us think you're up to something more suspicious."
Expert Roller Tips
Buy the lowest-priced toilet paper. It saves money and works better.
Throw TP rolls overhand to get higher up into the branches.
Cover the cars in toilet paper, too. (especially if not many trees).
Do it after dark, but be careful. (Not past city curfew).
Pass out rolls of TP in the car. Get each roll started and roll out a couple sheets before you throw it, so it will leave a tail.
Don't talk. Be quiet. Use hand signals. Don't use anyone's names.
Get in and out as fast as possible. Five minutes max. Have someone watch the time.
Don't walk on the neighbors' yards.
Stay off the porch. Don't want anyone inside to hear you. Especially dogs that like to bark.
Do NOT ring the doorbell and run. If you must, don't do it after 9 p.m.
Do NOT wrap the house of someone you do not know.
Tips for the Getaway Car Driver:
Turn off lights.
Leave car running.
Make sure doors are unlocked.
Don't park too far away (so kids don't have to run too much).
Make sure car is parked facing away from the house.
Don't drive back by the house until a few hours later.
Don't leave anyone behind.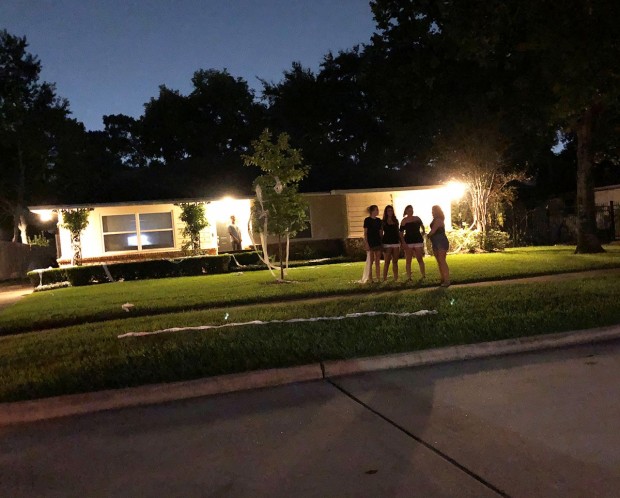 Clean-Up Tips:
A rake works well for clean-up.
TP pieces high up in the tree that you can't reach will eventually come down once it rains.
If it doesn't bother you or your neighbors too much, maybe leave the toilet paper up for a little while. It can be fun for the neighbors and rollers to enjoy your "lawn art" for a day and have photo ops.
Have TP stories to share? Comment below or email [email protected] to share your TP tale.
People in this article:
Meredith Janes Vela
,
Shelly Hulbirt
,
Catherine Coselli Rentz
,
Patricia Rorschach
,
Kristi Coffey
,
Arash Noamouz
,
Mia Noamouz
,
Bella Youssef
,
Ana Loera
,
Ernesto Loera
,
Luis Loera
,
Arianna Loera
,
Karson Ludwick
,
Ming Perlman
,
Reese Perlman
,
Andy Perlman
,
A.J. Hazen
,
Kim Chau
,
Mary Lou Dale
,
Eden Harari
,
Susannah Rosof
,
Sofia Dale
,
Randa Collins
,
Shannon Pettus Mayo
,
Scott Ponton
Want more buzz like this? Sign up for our Morning Buzz emails.
To leave a comment, please log in or create an account with The Buzz Magazines, Disqus, Facebook, Twitter or Google+. Or you may post as a guest.