Laughter is the Best Medicine: What to Watch Amid Coronavirus Anxieties
Click the Buzz Me button to receive email notifications when this writer publishes a new article or a new article in this column is published.
Coronavirus seems to be everywhere, and I don't know about you, but I need a break. 
Not only is the virus in 115 countries, it has also infiltrated nearly every form of content we consume. It's the topic of the memes on our social media feeds. It's the white noise from the TV when we're eating breakfast at the kitchen table. It's the conversation we overhear behind us on the sidewalk. It's the hoarding of Purell and the empty shelves at the grocery stores. 
Coronavirus is a serious matter and, of course, we should treat it as such. But they say laughter is the best medicine, and I think we could all use a good laugh. I mean a real, full-belly, throw-your-head-back kind of laugh. A rolling-on-the-floor, about-to-cry kind of laugh. A laugh-so-hard-my-stomach-hurts kind of laugh. 
Here, we've put together a list of our favorite comedic TV shows perfect for getting your daily dose of laughter. Note: Remember to wipe down your keyboard or TV remote with a Clorox wipe before you hit play. And, you might as well wash your hands while you're at it. For at least 20 seconds. (See, I told you coronavirus is everywhere!) 
Brooklyn Nine-Nine
Where to watch: Hulu
Air Dates: Sept. 17, 2013-Current
This is just one of those shows that has it all: perfect chemistry between the characters, a hilarious script, and a great premise. You can watch episodes multiple times and still laugh at the same jokes over and over. This is a police show that's less about the crime and more about the comedic dialogue between the officers. 
Catastrophe
Where to watch: Amazon Prime Video
Air Dates: Jan. 19, 2015-Feb. 12, 2019
This is a British sitcom (yes, there are British accents) written by, and starring, Sharon Horgan and Rob Delaney whose relationship is so perfectly imperfect. The humor is outrageous and crude; you'll find yourself laughing at jokes that perhaps you should not be laughing at. But the characters are so real – with their individual flaws and quirks – that you'll be hooked by the end of episode 1. If you're not, this is probably not the show for you. 
Curb Your Enthusiasm 
Where to watch: HBO
Air Dates: Oct. 15, 2000–Sept. 11, 2011, Oct. 1, 2017—present
I have to admit, I've never seen a full episode of this show. But from the few clips I've seen online, it's nothing short of hysterical. The show was created by Larry David – co-creator of Seinfeld – who stars as a fictionalized version of himself. He's neurotic, unconventional and often getting himself into trouble. The NYT says to "turn this on when you need to validate all the times you've felt irritated by social etiquette and arbitrary rules."  Buzz publisher Michael Hoffman says this show is best in small doses, for Larry David's neurosis may drive you to frustration and annoyance. In other words, watch an episode a day for the perfect dose of laughter.  If you don't trust me, know that it has a 92 percent rating on Rotten Tomatoes and 8.7/10 on IMDb. 
Friends
Where to watch: Will be on HBO Max starting in May; often shown on TBS 
Air Dates: Sept. 22, 1994-May 6, 2004I don't know why you wouldn't have already seen this show multiple times through, but if you haven't, I am jealous – you get to experience the pure joy of watching the ten seasons of this show unfold. There is simply nothing like it. The sarcastic Chandler Bing (Matthew Perry) paired with the dorky Ross Geller (David Schwimmer) alongside the dimwitted yet lovable Joey Tribbiani (Matt LeBlanc) is only the beginning. (For more on why we love Friends, check out this story.)  
Episodes 
Where to watch: Netflix
Air Dates: Jan. 9, 2011-Oct. 8, 2017
Speaking of Joey in Friends, you must check out this comedy series where Matt LeBlanc plays a satirical version of himself. He takes on a lead role of a new comedy series made by a British husband and wife writing team. You'll see the inner workings of Hollywood, all through the lense of crude British humor. 
It's Always Sunny in Philadelphia 
Where to watch: Hulu
Air Dates: April 9, 2009-Feb. 23, 2015
Imagine watching five moronic characters engage is one scheme after another, falling flat on their face and then getting right back up to get into more havoc. That's what this show is. It's been described as "Seinfeld on crack," and that just about sums it up. 
King of Queens
Where to watch: YouTube 
Air Dates: Sept. 21, 1998-May 14, 2007
This is the most underrated sitcom of all time, in my opinion. For several months about 10-12 years ago, my family used to sit around the television every night to watch this show after dinner. The show centers around Doug (Kevin James) and Carrie Heffernan (Leah Remini), a middle-class couple living in Queens, NY. Doug works as a delivery driver and Carrie as a secretary for a law firm. The beauty of this show is the characters. My mom thought the funniest part was Arthur Spooner's (Carrie's widowed father played by Jerry Stiller) incessant yelling and volatile behavior, while my dad was literally in tears when Doug inadvertently found himself in quandaries because of his love of food. I, meanwhile, love Carrie's sardonic humor and abusive (but loving) behavior towards Doug. All in all, this show is gold. 
Parks and Recreation 
Where to watch: Netflix
Air Dates: April 9, 2009-Feb. 23, 2015
If you think there's nothing funny about local government, you need to watch this show. It follows Leslie Knope (Amy Poehler) and a cast of other hilarious characters who are trying to navigate through bureaucracy and red tape to complete their projects. Some people compare this show to The Office, but I think it's a different beast. Where The Office thrives in finding the humor in awkward situations, Parks and Rec is endearingly funny. And it gets better the more you watch it!  
Portlandia
Where to watch: Netflix
Air Dates: April 9, 2009-Feb. 23, 2015
This show is weird, but in a good way. It's a sketch comedy series that satirizes life in Portland, Ore. Viewers often compare it to the funniest sketches from SNL, all smashed together. It's a little out-there, but it's incredibly clever and creative and makes you want to check out Portland. 
Red Oaks
Where to watch: Amazon Prime Video
Air Dates: Oct. 9, 2015-Oct. 20, 2017
I admittedly have not seen this show, but it comes highly recommended from contributing Buzz writer Rachel Teichman who says "It's a fun show based in the '80s with Jennifer Grey, Paul Reiser and Richard Kind. It's like it was made for those of us who grew up with their shows and movies." Plenty of online reviewers had positive things to say, too. One said that watching this coming-of-age series "felt like receiving a warm friendly hug off the TV" and that "like any good hug, you'll want it to go on." Another called it "as rare as a blue rose." I am sold. 
The Office
Where to watch: All Seasons available on Netflix
Air Dates: March 24, 2005 – May 16, 2013 
I'm going to be honest. I used to hate this show. I couldn't understand my friends' obsession with the characters, and I always found myself easily distracted while watching it. Recently, though, I picked a random episode, and something clicked. I was completely immersed in Dunder-Mifflin Paper Company, laughing out loud to Michael Scott's childishness and gawking at the uncomfortable scenarios. Some scenes are simply so awkward you can't help but glue your eyes on the screen and find the humor. This show is like an acquired taste. It takes some time to appreciate, but once you get it, there's no turning back. In fact, die-hard fans are all imaging how The Office characters would react to coronavirus. Read more on that here.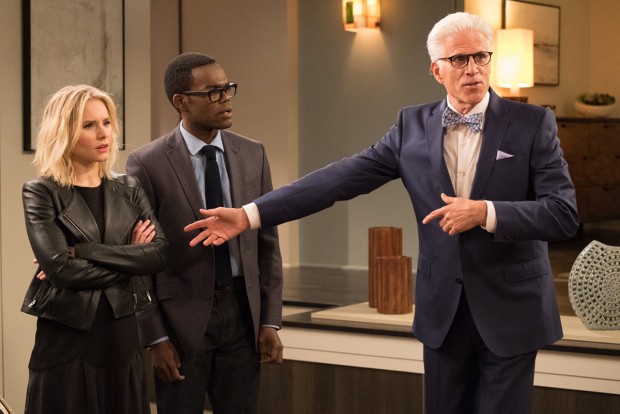 The Good Place
Where to watch: Netflix 
Air dates: Sept. 16, 2019-Jan. 30, 2020
This is one of those shows where each 30-minute episode is so dense with jokes and smart asides that you simply have to watch each episode multiple times to truly appreciate the genius behind it. But, even on a first go around, this show is charming and laugh-out-loud funny. It follows Eleanor Shellstrop (Kristen Bell), who enters the afterlife, and, is mistakenly sent to the "Good Place" instead of the "Bad Place." The show even throws in important questions about morality and humanity, so it's great for the philosophy buffs out there. 
The Kominsky Method  Where to watch: Netflix 
Air dates: Nov. 16, 2018-Current 
Chuck Lorre, Alan Arkin and Michael Douglas star in this Netflix original series that takes on weighty issues like heartbreak and addiction but delivers them with humor. It's a thoughtful sitcom that seems geared toward the 50+ age group. But the acting is so on-point and the jokes perfectly delivered even your average millenial can appreciate it. Overall, 10/10. 
30 Rock
Where to watch: Hulu
Air Dates: Oct. 11, 2006-Jan. 31, 2013
You can always count on Tina Fey to deliver laughs, and she doesn't fall short in this timeless series, based on her own experiences as head writer for Saturday Night Live. She assembled a fantastic cast – Alec Baldwin, Tracy Morgan, Jan Krakowski to name a few – who make this flagship comedy such a hit.  
Share your favorite, funny shows with us – comment below.
Editor's Note: For some helpful resources related to coronavirus, see this list on preparing your pantry plus a list of preventative measures here. Also, for more light-hearted distraction, see Cindy Burnett's Page Turners article listing funny books.  
Want more buzz like this? Sign up for our Morning Buzz emails.
To leave a comment, please log in or create an account with The Buzz Magazines, Disqus, Facebook, Twitter or Google+. Or you may post as a guest.