Perspectives on the Pandemic: From Polio to Coronavirus
Click the Buzz Me button to receive email notifications when this writer publishes a new article or a new article in this column is published.
In early March, Lucy Leonard was having breakfast with her 91-year-old mom, Esther Almaraz (also known as Grandma Essie). The conversation turned to coronavirus. Lucy mentioned how disappointing it would be if schools had to close, especially for two of Esther's grandchildren, Audrey Leonard and Daniel Irr, both high school seniors. Esther shared, "If school ends, they'll be fine. The same thing happened my senior year because of polio. Schools shut down and we never went back. My diploma just came in the mail."
 
Lucy couldn't believe it. She had never known about her mom's cancelled graduation. Lucy posted on Facebook: "Interesting story. This morning my 91-year-old mom just casually told me she never walked the stage for her High School graduation in 1946 due to the polio scare. I guess the coronavirus scare brought back memories. I never knew!"
Lucy said, "At the time, I thought it was so sad and what if something like that was getting ready to happen to our kids? But then I thought, there's no way something like that would ever happen again." 
In the spring of 1946, Esther Garza Almaraz was a senior at Sam Houston High School located on the outskirts of San Antonio. Esther recalled, "I walked nearly three miles to school every day with a group of neighborhood kids. We had our own path through some pastures. Our school was newer, so the student body was still small, not even enough for a football team. My senior class only had eight people." 
Activities listed under Esther's smiling yearbook photo include Choral Singing, Dramatics Club, Student Council and Volley Ball Team. Esther and her friends loved to take the bus to watch movies at the Majestic Theatre located a few blocks from the Alamo. They especially liked movies with Betty Grable. They were looking forward to their graduation scheduled for the end of May. 
Then the polio epidemic struck. The headline on the front page of the May 13, 1946 edition of the San Antonio Express read, "All San Antonio Schools Closed – 2 More Polio Suspect Cases Reported."
Children were the most susceptible to polio and, when the number of cases continued to grow, officials announced that schools and colleges would not reopen that term. Public swimming pools were closed and young people were prohibited from attending large public gatherings like church, theaters or children's camps. Hand washing and social distancing was urged. Neighborhoods were even sprayed with DDT fog to kill mosquitoes and other pests that were believed to carry the polio virus. Eventually, scientists discovered polio was not spread by mosquito bites but by human-to-human contact.
Esther's family listened to the radio for their news (San Antonio didn't have a broadcast television station until 1949). Esther said, " I don't remember a lot of details from that time, but I do recall that my mom was afraid my three younger siblings and I might catch polio so we stayed home a lot of the time. Our house was out in the country a bit, so we didn't really know what we were missing."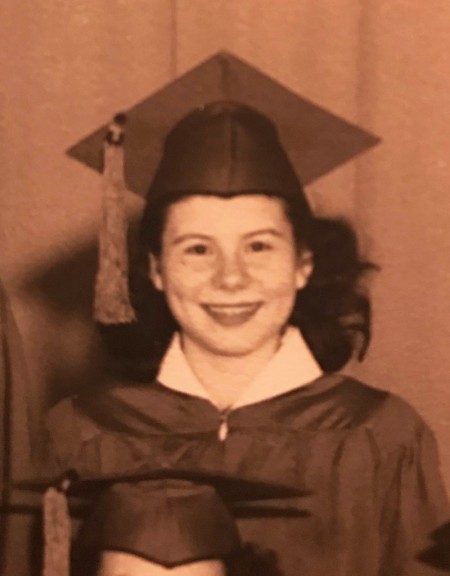 As far as Esther's abrupt end to senior year and cancelled graduation ceremony, she said, "I wasn't really that upset. It's just how it was. There wasn't anything we could do about it."
No one could have predicted that 74 years later, her grandchildren's senior years would be cancelled in a very similar fashion due to a worldwide pandemic.
In early March, Esther's grandchildren, Audrey and Daniel, were enjoying their last few months of high school at St. Agnes Academy and St. Thomas High School, respectively. They were excited for spring break. They'd heard about coronavirus but weren't really worried about it coming to Houston.
Then the threat of the pandemic became very real. On Wednesday, March 11, the Houston Livestock Show and Rodeo announced they were cancelling the rest of the season. The next day, students were told to take home their computers just in case of the unlikely circumstance they wouldn't come back to school after spring break. Most families cancelled travel plans due to concerns about coronavirus and remained at home to help minimize the potential spread of germs. The quarantine guidelines continued to tighten. Students started classes online until things became safe enough for them to return to campus. 
High school seniors remained hopeful that schools would reopen by May so they would be able to go back to campus to see their friends and teachers in person. The list of cancelled senior milestones began to pile up: prom, athletic seasons, academic banquets, music and dance recitals and so forth. But then, in mid-April, the dreaded announcement came that the remainder of the school year would take place online and all school activities were cancelled.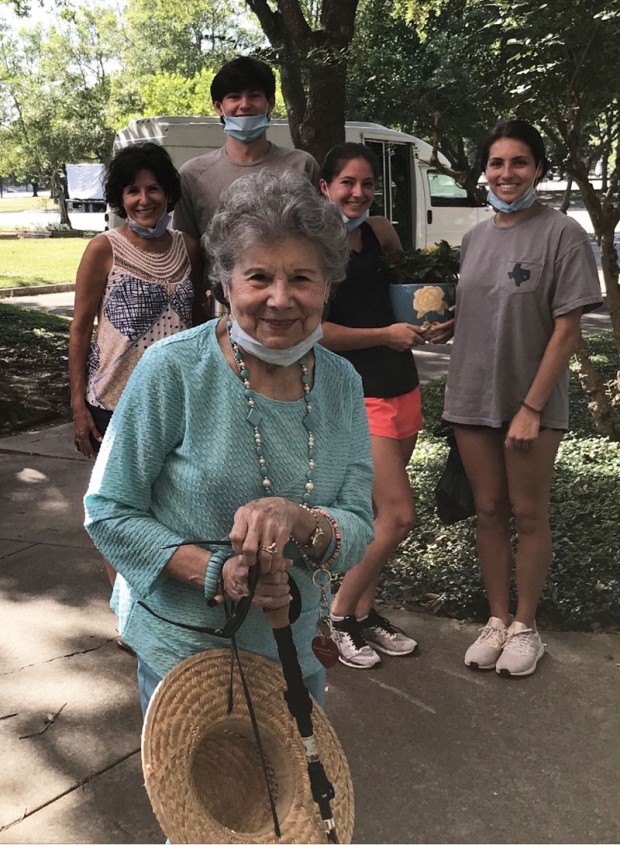 Alma Connor, Daniel's mom and Esther's other daughter, shared, "When the quarantine first began, Daniel enjoyed having extra time off from school while administrators strategized how to switch to online learning. He initially liked the idea of attending classes from home and not having to go to campus. But eventually the whole 'eternal spring break' wore off. He would have much rather been with his friends the last two and a half months of school." 
Daniel said, "I never thought I would miss school, but what can you do? It's been a different senior year for sure but will at least be a good story to share later in life!" 
Audrey said, "If someone had told me back in December what was going to happen for the last months of our senior year, I would have been really sad. But since it happened to all of us you can't really feel sorry for anyone. It's just what all of us are going through. When we get to college this fall, every student will have gone through the exact same hurdles." 
Grandma Essie shared some words of hope and inspiration for the Class of 2020 experiencing an upside-down world during the end of their senior year, similar to what she and her high school friends survived during the polio pandemic in the 1940s: "Shoot! We got through it and so will you! Try to not be too upset about it. It's not just your school. It's every school.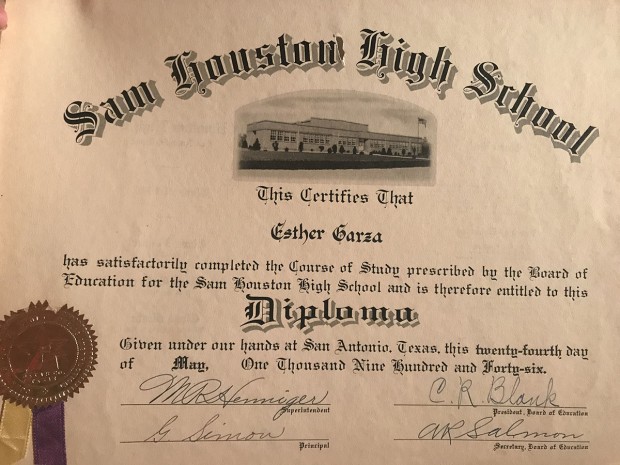 "It doesn't matter if you actually have a graduation ceremony, it just matters that you worked hard for four years and are graduating. As long as you get that diploma, you'll be fine," she said.  
Audrey and Daniel are lucky that their schools were able to revise their commencement ceremonies to adhere to safe physical distancing guidelines. St. Thomas' graduation will take place May 24 at Showboat Drive-In Theater in Hockley, TX and St. Agnes' ceremony will take place May 30 at Strake Jesuit's football stadium. 
Grandma Esther won't be able to attend either graduation in person since she's in the high-risk category for coronavirus. But the good news is that Esther and her kitty, Tina, will be able to watch all the pomp and circumstance from her computer.  
Here's to staying positive and wishing the resilient Class of 2020 the very best.
Editor's note: Class of 2020, we're so proud of you! We want to hear where you're heading next. Share your plans with us in our graduates database and see where your classmates are heading, too. 
Want more buzz like this? Sign up for our Morning Buzz emails.
To leave a comment, please log in or create an account with The Buzz Magazines, Disqus, Facebook, Twitter or Google+. Or you may post as a guest.