Senior Send-Off
Saying goodbye from afar
Click the Buzz Me button to receive email notifications when this writer publishes a new article or a new article in this column is published.
When they started school last August, there was no way the senior class of 2020 could have known it was going to end this way. As Spring Break splintered into a constellation of dashed plane flights and road trips, as schools shuttered and notices of cancelled events pinged inboxes, it was the seniors who perhaps felt the loss the most.
No prom. No senior prank day. No baccalaureate. No walking the stage at graduation. Senior skip day, so highly anticipated, essentially became every day for seniors – forced to attend virtual classes at home. 
However, in a time of missing out on so much, at a moment when motivational commencement speeches go unheard, families are joining together to honor their seniors. In spite of the coronavirus, parents are celebrating their graduates at home – helping them begin paths forward that are full of hope and promise.
Eliza Griggs, a senior at The Kinkaid School, says one of the hardest parts about the pandemic is not having closure. School was there one day, and gone the next.
"It's upsetting because we worked so hard in school for so many years, and we don't get to say goodbye," says the 18-year-old varsity tennis captain. "We all thought we were coming back after Spring Break. I miss seeing familiar faces in the hallways." Eliza was especially looking forward to the remainder of the tennis season and Field Day. "All seniors do a tug-of-war, and then we are paired with Pre-K students, and we get to run around the maypole. And we get to wear our college T-shirts," says Eliza, who will attend Tulane University. "We did not get to do that – these may be small things, but they are very important." 
Mom Blakely Griggs says the small things added up for the senior class. "The sense of loss for Eliza has been fairly intense," she says. "There was so much that she was looking forward to during March, April and May: a senior trip to the Bahamas, graduation parties, the camaraderie of the last year of her varsity tennis team and many other time-honored traditions at Kinkaid. She was dreaming of these times. I really hadn't realized how great her anticipation of them was, until they were taken away." 
Blakely hopes that one of the takeaways from this spring is for the seniors to value their human connections. "I do believe that we all need a community at large to blossom in and that virtual substitutions are a very shallow replacement for the bonds that form when we are actually together," she says. "Perhaps, this has been a lesson for the graduating seniors of 2020 because they have grown up surrounded by social media and may not have been fully aware of its limitations."
Eliza has taken the lesson to heart. "I am not going to take going out for granted ever again," she says. "I will never ever say 'no' anytime I get asked to do something!"
That lack of in-person connection has resonated deeply with seniors. Peyton Mitchell, a senior at Memorial High School, says she misses daily interactions with friends and teachers – and had really been looking forward to prom. To lift her spirits, her boyfriend surprised Peyton with a driveway prom.
"I had to return my prom dress, and I was sad," she says. "So he texted me to come over to his house, and I drove over and sat in my car and looked through the window since we have to be six feet apart, and he came out the door in his tux, with a big smile on his face. We just laughed so much!"
Laughter comes easily to Peyton, a multi-sport athlete, and she has tried to remain upbeat and look at the positives of the pandemic. "High school is a very stressful time, preparing for college," says Peyton, who will attend Baylor University. "I feel like everyone in high school can't wait for their senior year – and I basically only got my first semester."
Mom Denise Kim says there was a bright side for her. "I am very thankful that I have had this one-on-one forced family fun time and the opportunity to spend so much time with her," says Denise. "I love being quarantined together. I love her. We play puzzles, we pick up food, we play golf. Peyton has made us laugh every day for the last 17 years, and she lights up any room she walks into. Once she started driving, she was off  – and this has been nice to have her again."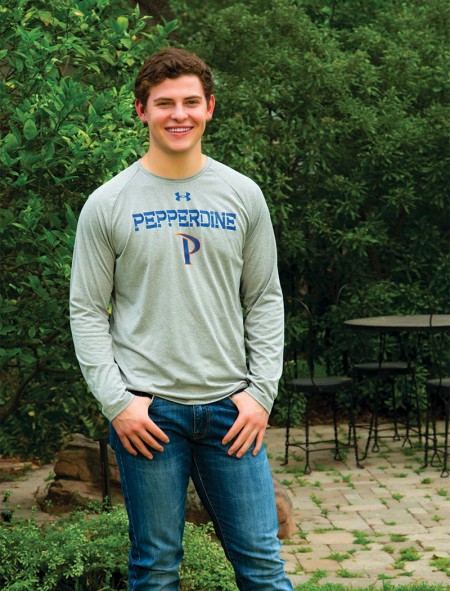 Having the unexpected together time resonates with Julia Vine, whose son Beckett is a senior at St. John's School. It was upsetting to count up all the baseball games that were being taken off the schedule, and it was difficult to find a silver lining in those retractions.
"I hated to look at the calendar because of all the events that were getting cancelled," says Julia. "The high school milestones are always so vivid in your mind and they set you off into your adult life. When you don't get those, it's almost like high school is cut short. We had to give him something."
And so she did, making sure that Beckett, a varsity baseball captain, would be recognized on Senior Night – in their backyard instead of on the baseball diamond. "It's a night when all seniors and their parents are honored before the game, and the player gives their mom a red rose, and the coach talks about the players, and then pictures are taken of the players and their family," she says. "I thought, we can't have the whole thing, but we can have that picture. We had a neighbor come over to take our photo, and Beckett said, 'This is probably the last time I will have this uniform on.'"
Beckett says he was glad his folks staged the at-home ceremony. "My parents thought it would be nice to throw ourselves a senior night," says Beckett, who has committed to play baseball at Pepperdine University. "It was really fun. I went to the garden and picked flowers for my mom."
Although disappointed about losing the end of his senior year, he is trying to be reflective about the time. "Instead of worrying about what could have been, you have to keep moving forward with the same attitude that you always have," he says. "That's why a lot of people say to play a baseball game like it is your last because you don't know what is going to happen."
Susan Welch has tried to be accepting in her approach to the abrupt end to son Beamon's senior year at St. Thomas High School. "This has been tough," she says. "But you know, this is life, and this too will pass. I told Beamon, 'You will get through it. There will be bigger things that will happen.'" That pragmatic approach, she says, is helpful, but it does not entirely take the sting out of the cancelled events that are high school rites of passage. 
"This is a sad time for the students because they are missing so many different things," she says. Beamon is an Eagle Scout and on the school's student council. "And Beamon is not just missing it; the parents are missing it, too. The parents are missing the time to say goodbye to the kids and the school."
Among the multitude of events that she was looking forward to attending, one stands out among the others: the 49th Annual Mothers' Club Style Show & Luncheon that was to have taken place in April. "This event is kind of the beginning of the end for the seniors," Susan says, noting that the luncheon has never been cancelled before. "There are lots of things sentimental about it: the boys model, and the president Father Jim Murphy and our principal Dr. Aaron Dominguez also model; then they have a Rose Ceremony where each senior walks the runway in a suit while his mother watches from the stage all while they read letters out loud that the boys have written to their mothers. And, at the very end, the boys put their hats on and announce where they are going to college."  
Susan had really wanted to be at that special event and watch Beamon, who will be attending the Ogden Honors College at LSU, put on his cap. So did he. "I was kind of looking forward to it, but I will never admit it to her, though," Beamon says with a smile.
Since he did not get to have his letter read, he says the following is what he wanted her to know: "My mom means everything to me. She's been there since the beginning and has always pushed me to where I am now, and I couldn't be more thankful and blessed for her love and support throughout my life."
Want more buzz like this? Sign up for our Morning Buzz emails.
To leave a comment, please log in or create an account with The Buzz Magazines, Disqus, Facebook, Twitter or Google+. Or you may post as a guest.