Because Kindness Rocks
Painting and placing rocks to share smiles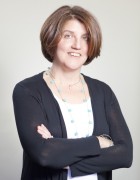 Click the Buzz Me button to receive email notifications when this writer publishes a new article or a new article in this column is published.
On April 5th, their 40th wedding anniversary, Carole and Edward Vesely were feeling a little sad. "Of course, we were sequestered along with everyone else and feeling a bit down at not having a proper celebration as previously planned," Carole wrote in a social-media post. But then, they found a rock that had been placed on their West University doorstep. It had been painted with a flower and the words, "Be Happy. Stay Safe."
"It was like a little treasure, and the timing was incredible," says Carole. "It was so unexpected and so sweet." In her post, written in the hopes of reaching the painter of the rock, she wrote, "This kind gesture made us realize how lucky we are to actually be happy and safe…. It totally made our day…. We haven't stopped smiling."
In Bellaire, Michael Fife and her husband, Creighton Edwards, live next to Newcastle Trail across from Evelyn's Park. They had planted amaryllis plants along the trail. The amaryllises had put on a particularly "spectacular display this spring," explains Michael, and she came out one day to find a rock beneath the most spectacularly blooming one. Painted with a picture of the red flower under which it was nestled, the rock was emblazoned with, "Thank you for sharing your amaryllis, Neighbor." Now that the blooms have faded, Michael keeps the rock on her kitchen windowsill.
Humans have been painting on rocks since the dawn of time. Really. The oldest known examples are, scientists believe, at least 44,000 years old. But "Kindness Rocks" became a trend in 2015 when Megan Murphy, a woman living on Cape Cod in Massachusetts, wrote an inspirational quote on a rock and left it at the beach, only to have a friend text her a picture of it, saying, look, she had found this rock and it had made her day.
Five years later, Facebook and Instagram teem with pages and groups from the very local, like West U Rocks! on Facebook with 168 members, to the global. The Facebook page for The Kindness Rocks Project itself has more than 100,000 followers, while the Painted Rocks!!! Facebook group has almost 45,000 members.
The idea is simple: Paint something happy on a small rock and leave it for someone else to find. Some are meant for specific people; others are left in public. Some are meant to be left for all to see; others are meant to be picked up. Some painters remain anonymous. Others paint hashtags or instructions on the back, asking the finder to snap a picture and post it to one of the social-media pages so the painter can see the rock has been found. July 3rd is International Drop a Rock Day. For 2020, the theme, to be painted on the rocks, is "You Matter."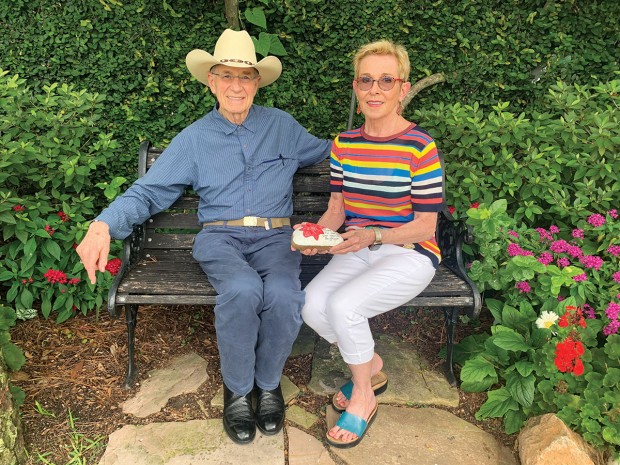 While some groups have suspended placing their rocks in public out of concern about spreading the coronavirus, there has also been an uptick of activity during the pandemic as people take more walks and look for things to do and ways to connect. In keeping with the advice of the Centers for Disease Control, people picking up rocks should wash their hands afterwards and, if keeping the rock, wipe it down with disinfectant.
One place to see some is along the Bellaire Nature Discovery Center's fence on Newcastle. Jessica Laviage, a former third-grade teacher, has been coming up with weekly socially distanced activities for children in her neighborhood. She sent out an email and posted on a neighborhood Facebook page. There are now about 100 rocks at the fence "that all the people walking, biking and running by can see," says Jessica. The goal: "inspiration and smiles."
When Marla Goodman and Trevor Ernsbarger, creators of Space City Rocks, a new Facebook group with 195 members, painted their first rocks in January, they hid them at a playground in a park and sat nearby to watch children find them. Most of the time, though, rock painters, even with their hashtags, don't know what happens to their creations.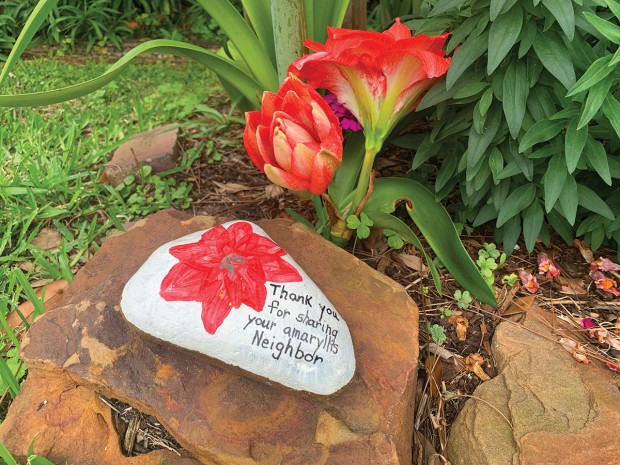 "That's something I had to change my attitude over," says Lisa Dunn, creator of Houston, TX Rocks #HoustonTXRocks, a Facebook group with 1,346 members. "After more consideration, I realized the person getting the most joy from them was myself. I decided to continue painting and hiding them, no matter the response. Even though they don't share it, I know I've made someone smile, and that's good enough for me."
Looking through Facebook, Instagram and Pinterest, you'll see a variety of styles and levels of talent. Some are amazingly detailed and realistic. Others are funny cartoons. Many are painted by children. An oddly shaped rock becomes a fish. A broken rock becomes an M&M character from the TV commercials, with a bite taken out of him. Several small rocks, piled together, become a bunch of strawberries. There are landscapes and still lifes and mandalas, swirling circular patterns. Many have inspirational quotations and phrases, such as "Play nice," "Be the light," and "Throw kindness around like glitter."
"I personally cannot draw a stick figure to save my life," says Lisa, "but that doesn't matter…. The content doesn't matter as much as the thought behind it."
I decided to try it. The first thing I realized, though, is that the rocks native to Houston are jagged, irregular and hard to paint. Many rock painters buy their rocks, particularly river rocks, which are rounded and smooth, from garden centers. During the stay-at-home order, I bought mine from Amazon, puzzling my husband ("You bought a box of rocks?") and probably earning the ire of the delivery person, since the small box weighed 25 pounds. 
I raided my art-school daughter's supplies and found that acrylic paints, including inexpensive children's paints, work well. Paint pens are especially easy to work with for the less deft among us. Because the rocks will be outside, painters usually apply a sealer.
I haven't yet heard back about any of the six to eight rocks that I've hidden, although I do get a little thrill when I see that one is gone from where I left it. My designer daughter, though, who paints whimsical pictures of polar bears driving cars and the like, has received two photos of adorable neighborhood children holding up her rocks and smiling.
"Hide" is a relative term. Painters leave their rocks where people will see them: along sidewalks, on park benches, on the outside window ledges of retail shops. Shunney Nair of Bellaire found one balanced on top of a fire hydrant. State and national parks sometimes have rules against leaving behind painted rocks, as part of their "leave no trace" policies.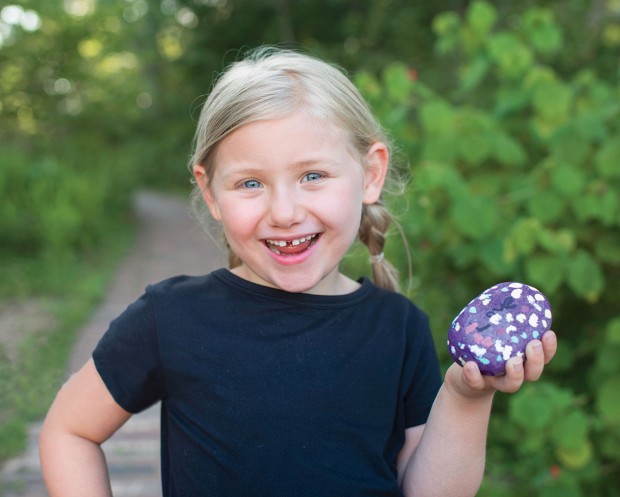 And of course, you could just give them to someone. The medical staff of one hospital in Orlando, Fla., painted matching sets of heart rocks, giving one to the patient and the other to the patient's family, when patients couldn't have visitors. To mark the first anniversary of the 2017 mass shooting in Las Vegas, where 58 people died, Lisa's sister, a survivor of that shooting, asked her to paint 58 rocks with the phrase #LoveWins, which were given away in "blessing bags." Two years ago, a woman from Alabama sent Lisa painted rocks and asked her to place them around the city after Hurricane Harvey. "She wanted us to know that she was praying for us and that the world had not forgotten about us," remembers Lisa, who says she was deeply moved.
These rocks, meant to be a simple moment of connection, are, perhaps, even more impactful now, when we're avoiding going out, getting together and touching. Of the rock she and her husband were given, Carole says, "We shall keep it permanently on our bookshelf to remind us always that there is good in the world."
Want more buzz like this? Sign up for our Morning Buzz emails.
To leave a comment, please log in or create an account with The Buzz Magazines, Disqus, Facebook, Twitter or Google+. Or you may post as a guest.