Pandemic Perspectives
From polio to coronavirus
Click the Buzz Me button to receive email notifications when this writer publishes a new article or a new article in this column is published.
Back in March, Lucy Leonard was enjoying breakfast with her 91-year-old mom, Esther "Grandma Essie" Almaraz. The conversation turned to coronavirus.  Lucy mentioned how disappointing it would be if schools had to close, especially for two of Esther's grandchildren, Audrey Leonard and Daniel Irr, both high school seniors.
"If that happens, they'll be fine," Esther replied. "The same thing happened to me my senior year because of the poliovirus. Schools shut down in May, and we never went back. My diploma came in the mail. I wasn't really that upset. It's just how it was. There wasn't anything we could do about it."
In 1946, Esther Garza was a senior at Sam Houston High School on the outskirts of San Antonio. "I walked nearly three miles to school through some pastures with a group of neighborhood kids," said Esther. "Our school was so small we didn't have enough students for a football team. My senior class only had eight people."
Activities listed under Esther's smiling yearbook photo include choral singing, dramatics club, volleyball and student council. Esther and her best friend, Betty, loved to take the bus downtown to watch movies, especially ones starring Betty Grable, at the Majestic Theatre a few blocks from the Alamo. They were looking forward to graduation. 
The headline on the front page of the May 13, 1946, San Antonio Express read, "All San Antonio Schools Closed – 2 More Polio-Suspect Cases Reported."
In the late 1940s, polio outbreaks disabled an average of more than 35,000 people each year. Children were the most susceptible. Parents were frightened to let their children go outside, especially in the summer when the virus seemed to peak.
Public swimming pools were closed, and people under 16 were prohibited from attending large gathering places like churches, theaters or camps. Hand washing and social distancing were urged. Neighborhoods were even sprayed with DDT fog to kill mosquitoes and other pests that were believed to carry the poliovirus. Eventually, scientists discovered polio was not spread by mosquito bites but by human-to-human contact.
"I don't remember a lot of details," said Esther. "Our house was out in the country a bit, so we didn't really know what we were missing, but I do recall that my mom was afraid my three younger siblings and I might catch polio, so we stayed home a lot of the time." 
Now, 74 years later, the world of Esther's grandchildren was about to change because of another pandemic.
With Spring Break on the horizon, in mid-March, Audrey was trying to stay focused on her schoolwork at St. Agnes Academy, and Daniel was attempting to do the same across town at St. Thomas High School. They had heard of the coronavirus being elsewhere, but weren't worried about it coming near them yet. 
Before long, however, Houston and Harris County officials had declared a health emergency and closed schools. Residents were asked to social distance six feet from others, wear masks and stay home as much as possible. Grocery store lines grew, leaving toilet paper and hand-sanitizer shelves empty.
Audrey, Daniel and their fellow Class of 2020 seniors remained hopeful that schools would reopen before the end of May so they could at least see their classmates and teachers one last time. Unfortunately in mid-April, the dreaded announcement came that students would not return to campus the remainder of the school year, and all activities were cancelled.
The missed milestones piled up: athletic seasons, academic banquets, recitals, concerts, prom and college orientation. Summer was spent at home.
Seven decades earlier, during the polio outbreak, their Grandma Essie moved on after the abrupt cancellation of her own high school senior year and graduation. She was excited to start her freshman year at Trinity University in San Antonio, majoring in English.
"Trinity started back on time. I don't remember any rules or safety precautions like wearing masks," Esther said. "I do remember thinking it was so strange that some of our classes were in military barracks and Quonset huts."
At the time, Trinity University was located at its temporary Woodlawn campus while the current campus was being built. Military barracks and Quonset huts were used for housing and classrooms. 
"I lived at home," said Esther. "I usually took the bus to school but sometimes caught a ride with my friend. It was so fun when he drove really fast in his mom's Studebaker. I also got a job working as a switchboard operator for Southwestern Bell. Some of the supervisors would wear roller skates to get around the room faster."
"My family's main source of information was the radio.... The radio station mainly reported good news. Nowadays it seems like the news wants to scare you more. I'm tired of hearing people being so negative. People seem more preoccupied with Covid-19 than they did with polio, but I guess we didn't know every detail of what was going on back then. Life was simpler."
When she was 23, Esther fell in love with a handsome sailor named Eloy Almaraz, a deep-sea diver who had served in the South Pacific during World War II. The couple settled in Corpus Christi and raised their children. Eloy was a firefighter for 28 years, and Esther worked for Southwestern Bell for 21 years. Retirement relocated them to Alice in South Texas, where they could be closer to their ranch in Hebbronville, Eloy's hometown. They were married for 54 years before Eloy passed away in 2003.  
Two years ago, Esther's daughters, Alma Connor (Daniel's mom) and Lucy (Audrey's mom), finally persuaded their mom to sell her house and move to Houston to be closer to family, including her other grandchildren, Julia Irr and Nicholas Leonard.
"Leaving my house in Alice was difficult," Esther said. "It took me a long time to decide, but then I realized the house and all the things in it are just material things.  Your family is way more important than material things."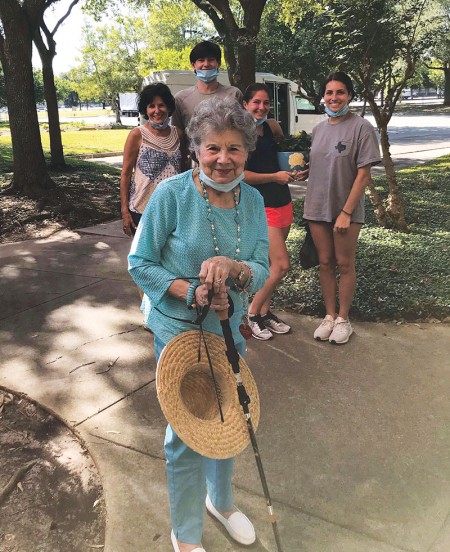 Esther said she has indeed enjoyed more time with her family and her new home at a senior living community. Before the quarantine, she could be found in the dining room laughing with her friends, dancing at her Silver Sneakers exercise class or sipping wine at the sing-along happy hour. She still drove her Cadillac down Beechnut to get her hair and nails done.
"It's been really hard with all the coronavirus rules, especially social distancing," said Esther. "I miss seeing people. I'm 91 years old and only have so long to live. I don't want to just sit in a room all by myself. Luckily I have my cat, Tina, to keep me company."  
Alma said, "I think one of the reasons Mama has done so well during this pandemic, and for the past 90 years, is that she keeps learning. She pays her bills online, knows how to FaceTime, and can navigate Netflix with the best. She's all caught up on The Crown, Nurse Jackie and the Spanish show Gran Hotel."  
The polio outbreak began in America in 1916 and ended when Dr. Jonas Salk developed the polio vaccine in 1955. Looking back, 1952 was the worst year, with 57,879 cases, 3,145 deaths and 15,000 cases of paralysis.
For coronavirus so far, the numbers are shocking. From January through mid-July 2020, the CDC reported 3,335,457 cases and 135,235 deaths. Researchers are furiously working to produce a successful vaccine.
Even though their summer college orientations and camps were transformed into virtual experiences, Audrey and Daniel remain optimistic that this August they will be able to move away from home and start their first year of college 
Audrey is supposed to head to College Station to study public health at Texas A&M University, and Daniel is scheduled to go to Lubbock to major in business at Texas Tech. As of press time, many questions remained: Would all their classes be online? Would they be able to live in dorms with roommates? Would there be a college football season?
"I will definitely be devastated if the fall semester changes to all online and we won't be able to move on campus," said Audrey.
"If that happens, Grandma Essie will probably tell me something like, 'Stay positive and keep your head up. You have a long life to live, and this is only a minor setback.'"
Want more buzz like this? Sign up for our Morning Buzz emails.
To leave a comment, please log in or create an account with The Buzz Magazines, Disqus, Facebook, Twitter or Google+. Or you may post as a guest.